Big news! I sold my first baby quilt on Etsy! I was so excited to see that order come across. My  quilt, Snips and Snails, featuring the 'Here Boy' fabric ,was purchased. I wrote a post about it earlier. After recovering from the excitement of selling a quilt, I decided I needed to make another baby boy quilt to list in my Etsy shop.
So… What to make??  I love reading and/or hearing about the process that an individual quilter uses to develop the design, choose the right fabrics, auditioning different prints and then coming up with the quilt they want to create. It is interesting to hear about those that choose and buy fabric first and then go forward from there  vs those that develop the design and then purchase fabric. I fall into the camp of buying the fabric first.  I love to pick up pieces that strike me for whatever reason.  Once I have a few that go together or even one that will be a good focus fabric, I start to think about what I want to make with it.
This week I made a darling baby quilt for a boy.  I developed the project around a piece of fabric with a vintage design featuring horses. About two weeks ago I found a great deal on some fabric at a garage sale.  I don't tend to pay much attention to garage sales but my husband happened to notice an ad for a garage sale that listed fabric for sale. My interest was piqued and I went to it.  I scored an assortment of awesome fabric!
Back to the retro fabric that I found.  It is adorable.  I became sort of nostalgic as it reminded me of a book I read to my boys when they were little. This book, Cowboy Small, was written in 1949 by Lois Lenski. We read this book constantly and it was especially favored by my eIdest, Andrew (now 29 years). At some point in the story the cowboys are shown sitting around their campfire (eating beans out of a can) singing "Home on the Range." At this point, Andrew would belt out his rendition of Home, Home on the Range. Look at the picture below from the book.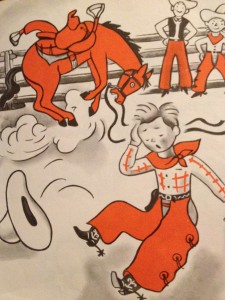 On the fabric there is a bucking horse that is so similar to this. Look to the left side.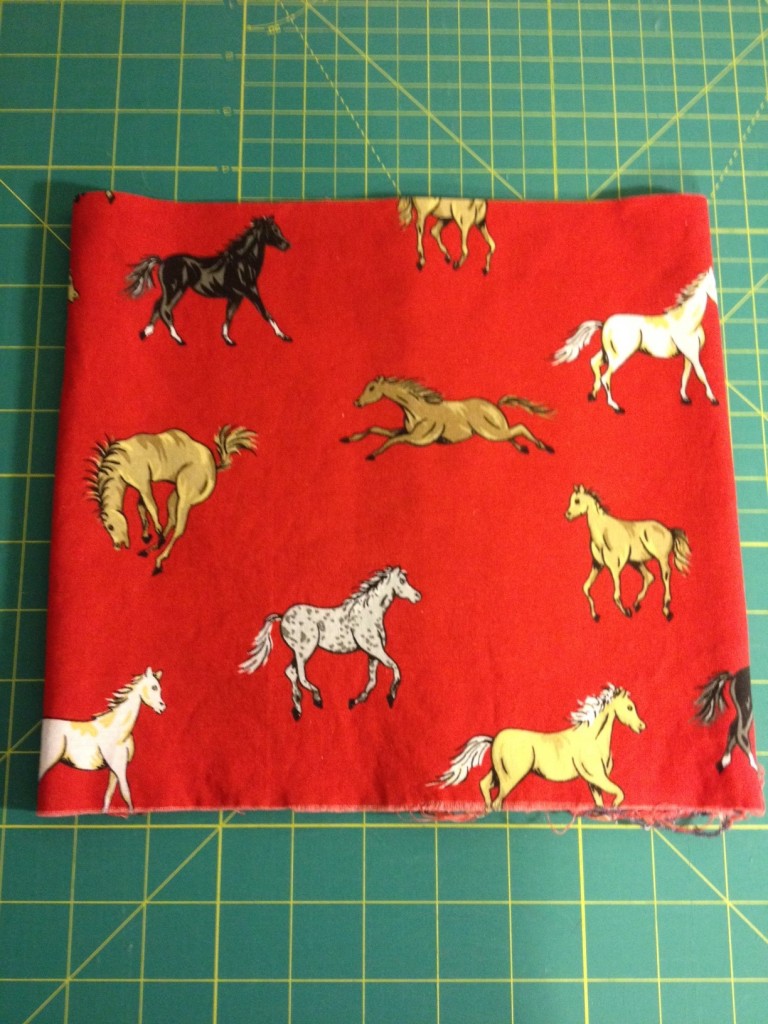 Such a good memory for me. Needless to say, I was pretty excited to use the horse print for a baby quilt for a little guy. I selected a simple pattern alternating whole 8″ blocks with 8″ four-patch blocks.  The pattern was inspired by a quilt made by Amy Smart on Diary of a Quilter. Making the quilt five blocks wide and five blocks tall would give me a baby quilt that measured 40″ x 40″.   Ok, focal fabric selected and pattern decided upon, I just needed the scrappy fabrics for the four patch blocks. I pulled a stack of fat quarters and played around with those. Fortunately my sister was visiting for the weekend so I had her take a look.  As only a sister is allowed, she looked at a number of them and scratched them from the list right away.  She vetoed them saying they were too modern, wrong color, or too contemporary. Looking through my shelves, she pulled a black and white houndstooth pattern and the black, white and red paisley. Perfect additions! She has such good taste. Cutting and piecing such a simple design took no time at all.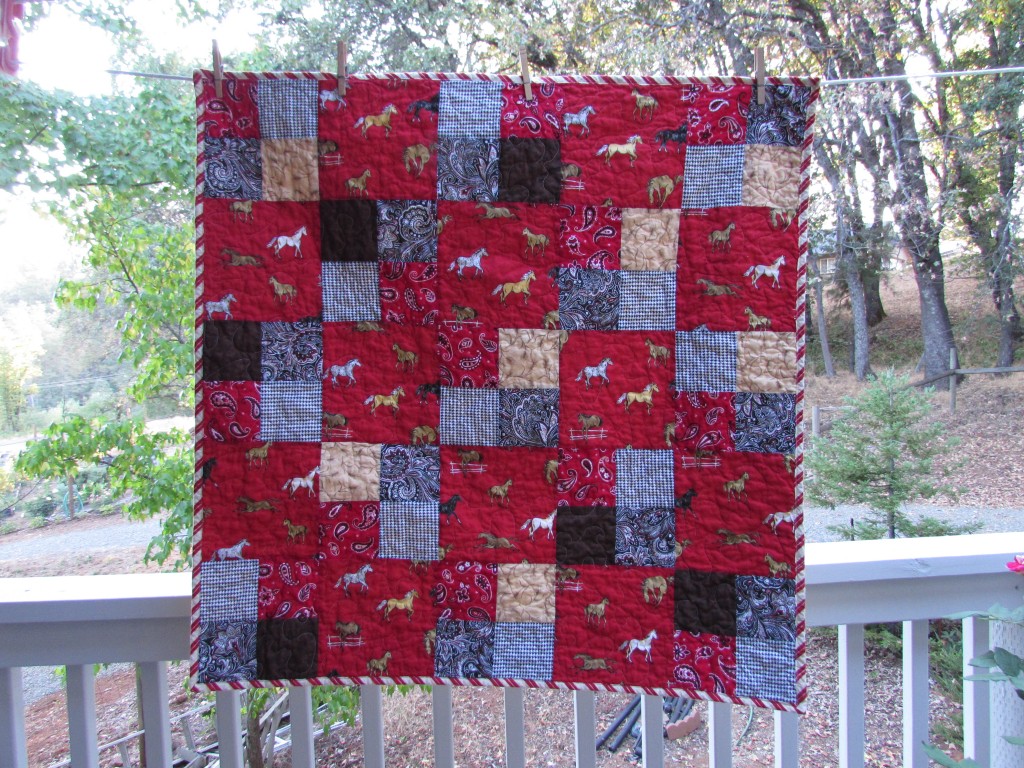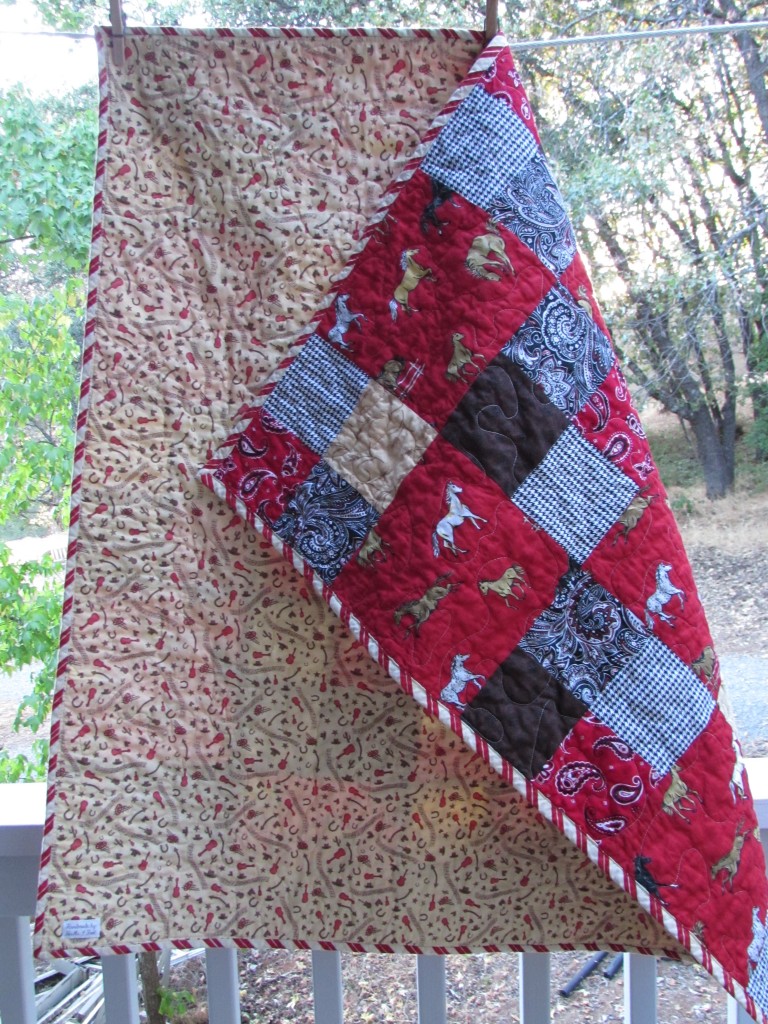 I backed it with this sweet Moda fabric called Honky Tonk. This was the perfect piece to use as backing.  It features cactus, guitars and musical notes – just like Cowboy Small!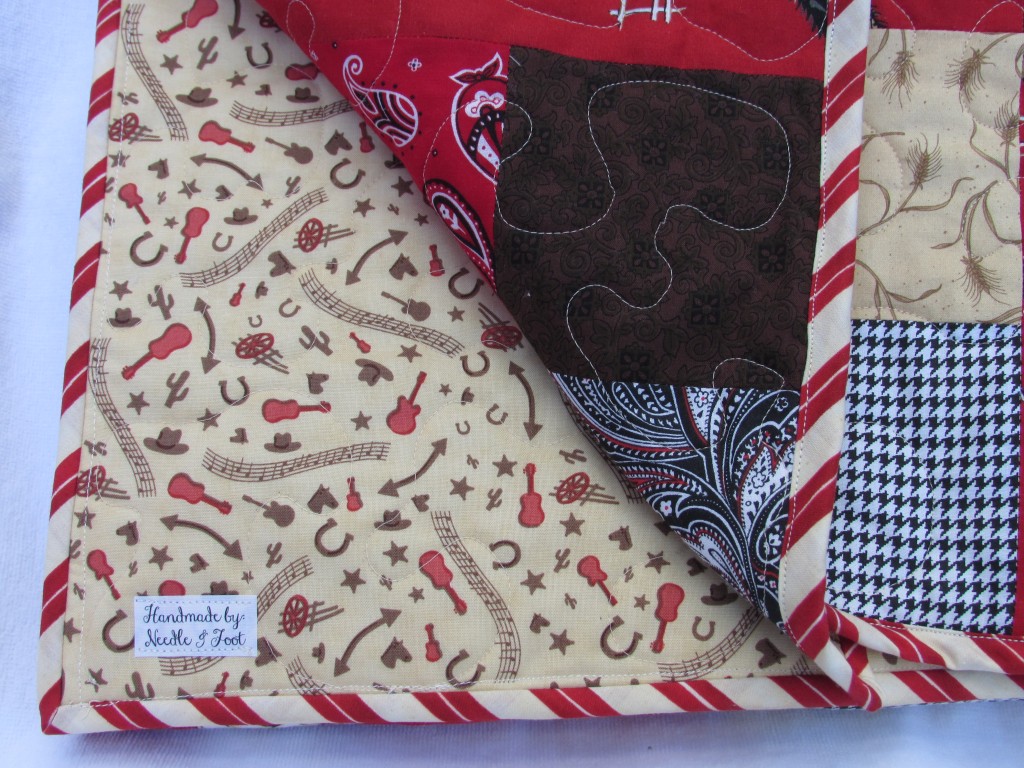 I quilted it with a large meandering pattern.  I really enjoyed quilting this project.  The stippling is a little herky-jerky in spots but overall it looks good (especially after washing and drying the quilt.) The binding is a bias stripe of light tan and red. Adorable! I machine stitched the binding on both the front and back of the quilt. (If you need a good tutorial on quilt binding, check out this one at Crazy Mom Quilts.)
Overall, this project was a blast.  It was a trip down memory lane which is always a fun thing! I will list this quilt in my Etsy shop for some lucky little cowboy.
Linking to: Freemotion by the River, Needle and Thread Thursday, Finish it Up Friday, and TGIFF. Links to each of these sites are available at the top of my page under Link Ups. There are some great projects featured at these linky sites. Take a minute and check them out!