Recently a friend of mine had a birthday. We used to work together for the same company. Since I retired (maybe five years ago?) we try to get together every so often for lunch or coffee. Sometimes we are good about it and set a time each month or so. Other times, we get busy and months pass. But we always find time when either of us celebrates a birthday.
I wanted to make something for her this year. Having recently made two versions of Noodlehead's 241 Tote, I decided to go a third round with the pattern. You might want to read about the first two bags I made – to do so, click here or here. Making this tote a third time was quite easy. I decided to use a basic palette of mocha and denim blue.
To change things up a tiny bit, I bought a magnetic closure for the bag. Prior to this one, I used a toggle button and a loop of fabric. The magnetic snaps are a breeze to install. (If you have not done this before, here is a great tutorial from Craftsy.)  While the snap installed without issue, I did have a bit of a hiccup. I didn't think two steps ahead when I placed the snaps. They were a tad too high and this made it really difficult to topstitch around the opening of the bag. When I realized what I had done, I tried using a zipper foot to enable me to stitch close to the snap. It helped but the stitching was a little bit herky jerky. It wasn't nearly as smooth as I would have liked. Thankfully, my friend is tolerant of my less than perfect topstitching!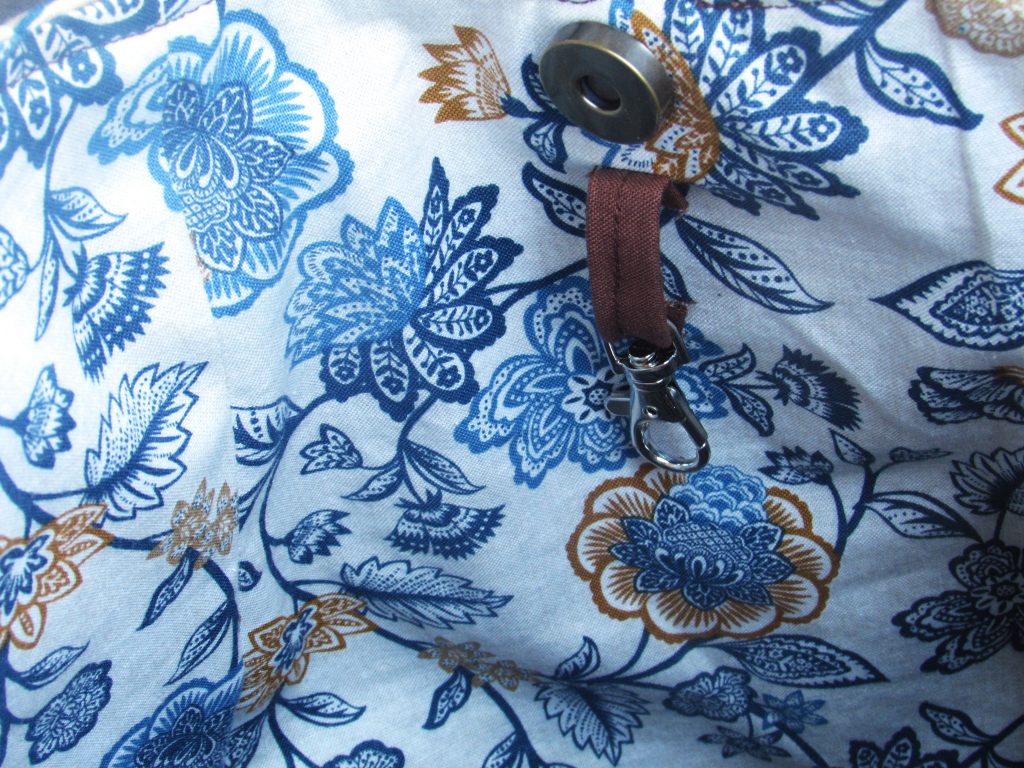 As I did before, I added a loop for a keychain clasp so she won't have to dig at the bottom of her purse for her keys. I love this little feature.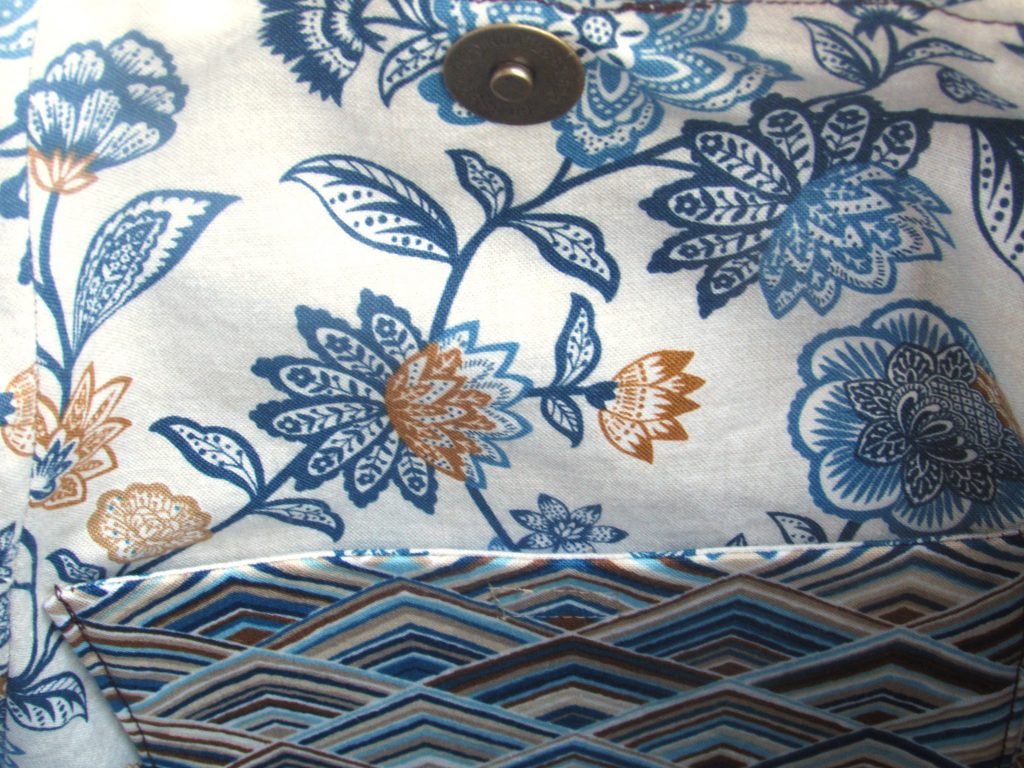 On the opposite side is a patch pocket with a velcro closure.
On the exterior I placed a pocket as well.  It was supposed to be a zip pocket but somehow when I cut the opening for it I made it way too wide and I couldn't install the zipper. This was so irritating. Try as I might, I couldn't find a solution. Rather than a zipper, there is just a pouch type of pocket. Dang it. You'll see in the picture below how wide that opening is. On the upside, it shows a peek of the fabric used for the pocket and I think that is sort of sweet.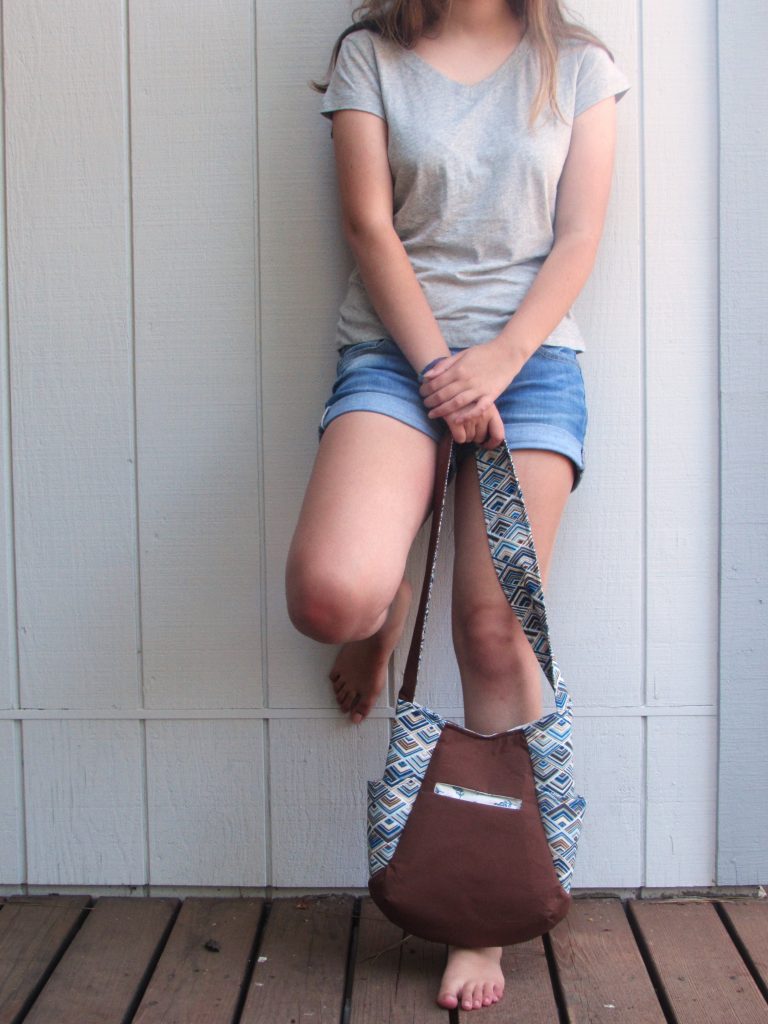 And for a shot of the back side of the purse.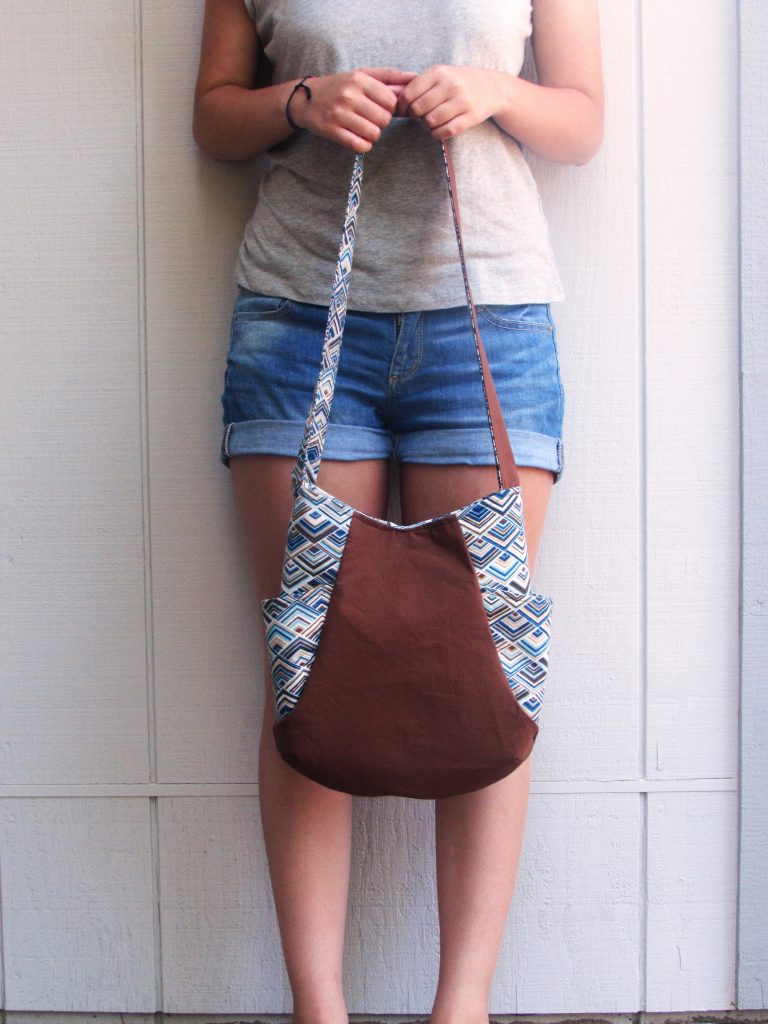 It is really pretty and the brown fabric should be great for hiding dirt that seems to appear after setting the purse on the ground or the floor of the car. Hopefully my sweet friend will enjoy the tote for a long time to come!
I will link this post to all sorts of fun places. For more info, click on the Link Ups tab at the top of the page.