I am in a quilting and reading phase. Quilt a little, read a lot, quilt some more. There are always so many projects to make and books to be read, am I right?
But – the sewing! I have been getting lots done. Today I will share this cute picnic quilt I made for my grand daughters. I carried this line of fabric (it is all gone – sold so fast!) and before I sold out, I stashed away some of the red and yellow yardage as well as a panel of the animals.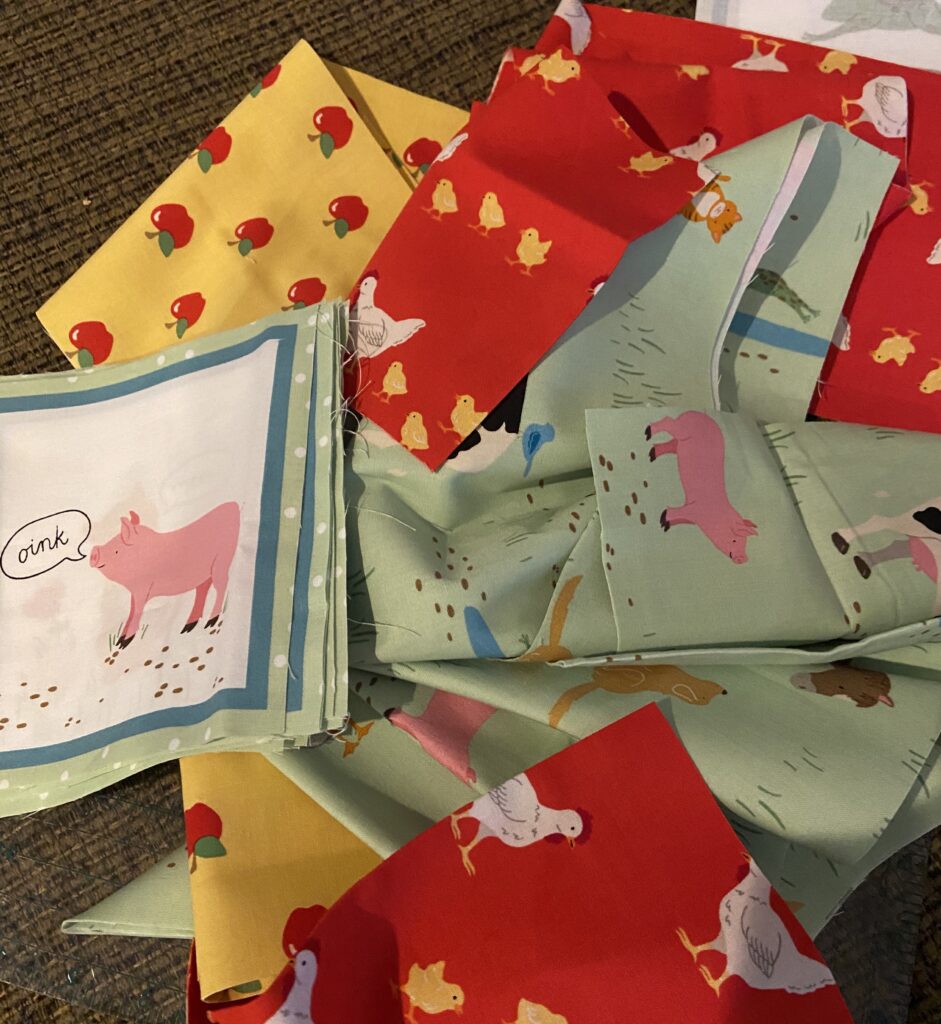 I love seeing red and yellow together. It makes for a really cheerful combination. I need did use the green fabric with this project. I decided to save it for another day.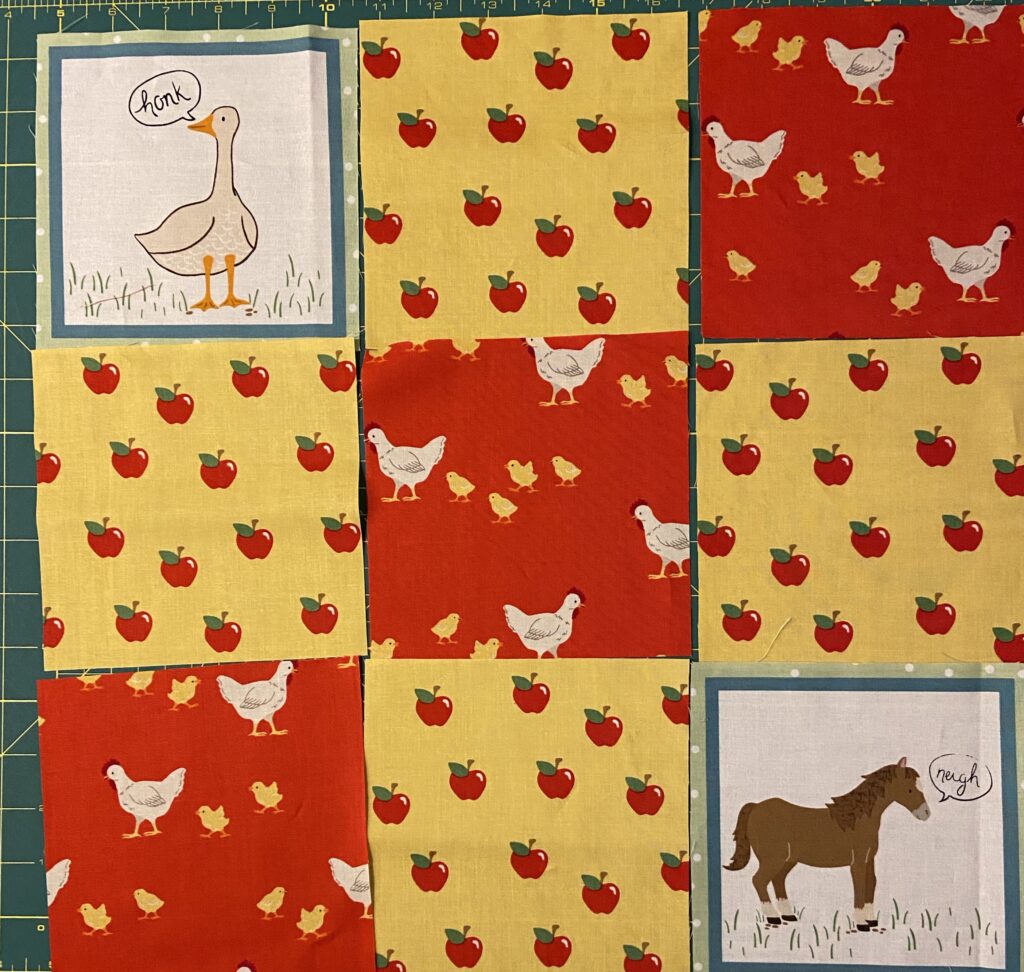 I started to make nine patch blocks last January and split them up, sewing them back together for a disappearing nine patch design.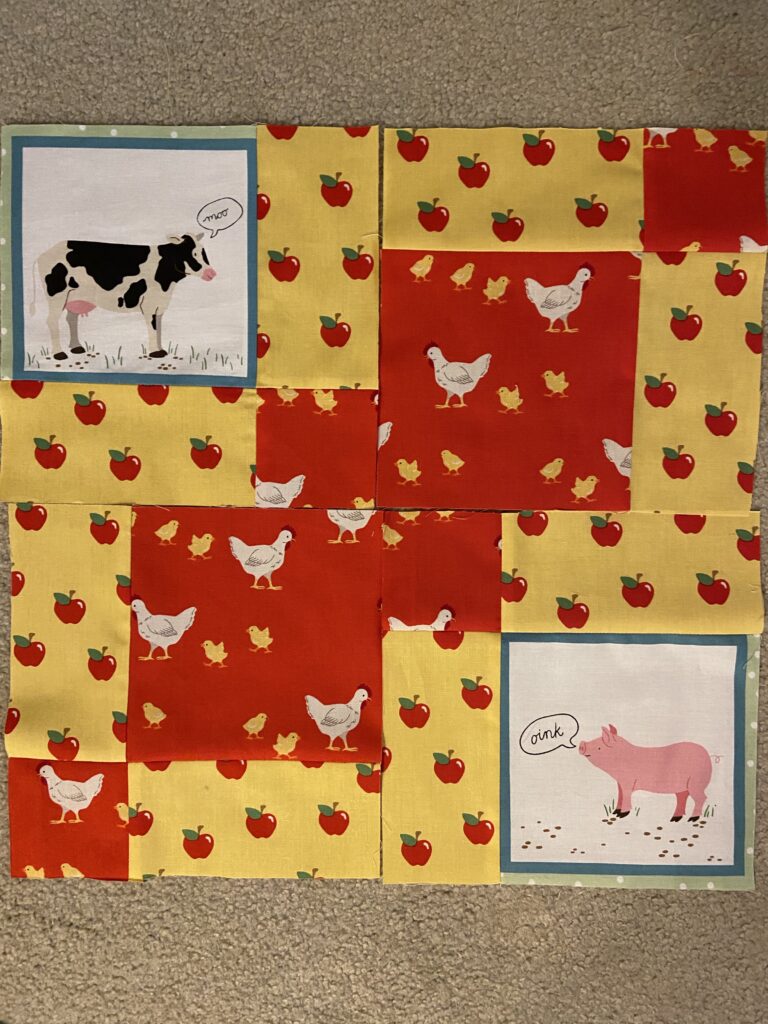 Some had red centers.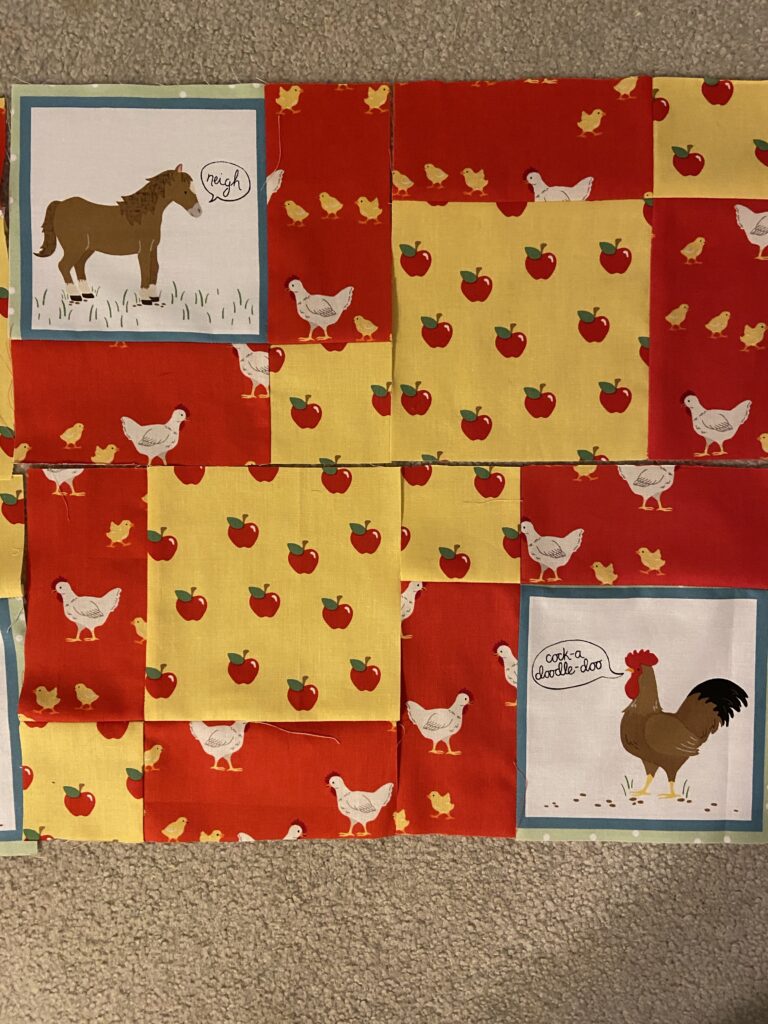 Some had yellow centers. But once made, the blocks were always set aside for some other project.
Well my son and his wife recently bought a house outside of Seattle and we have been calling it "the Farm House". It isn't really a farm but it is on 1.5 acres and has a lot of raised beds, greenhouses, and a chicken coop. So, farm enough in our opinion.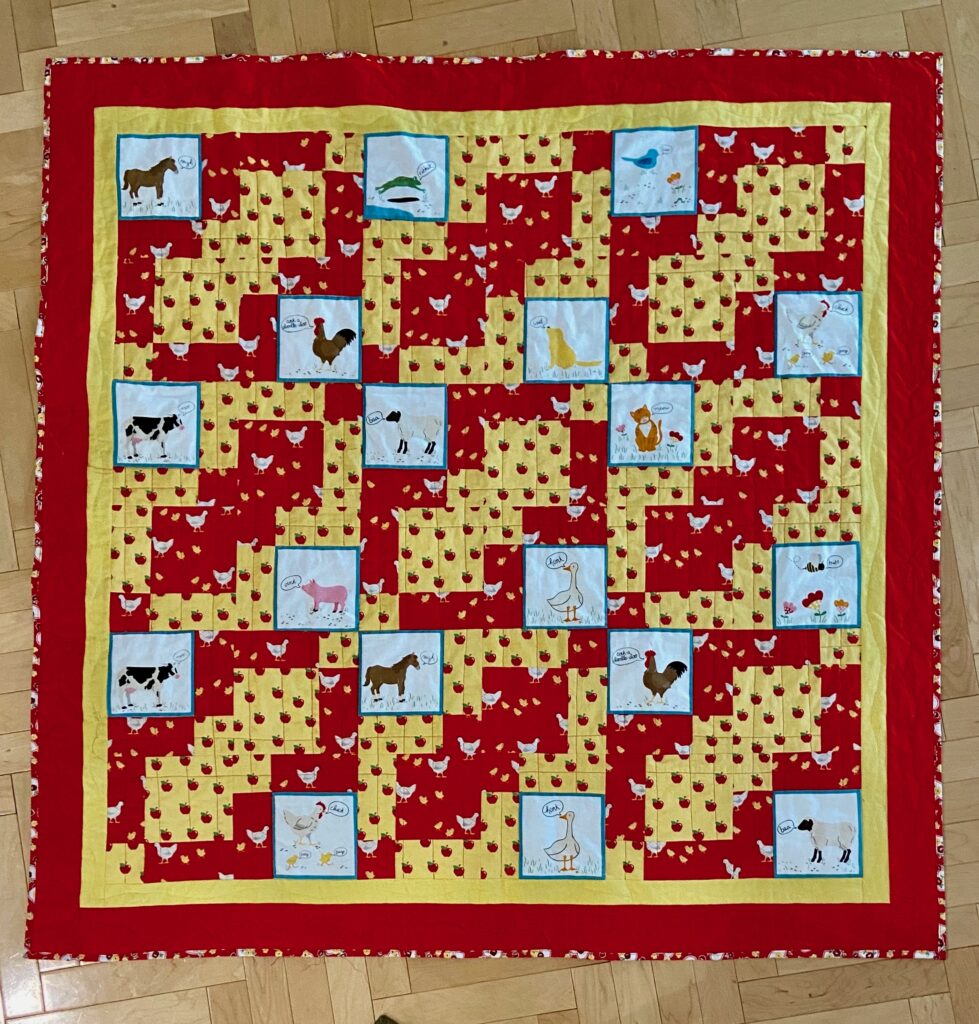 I decided I needed to finish the quilt so the girls could sit on it outside and eat a snack or bring their lunch outside. The three year old is always filled with energy and I know she will love their big yard. This property is perfect for them.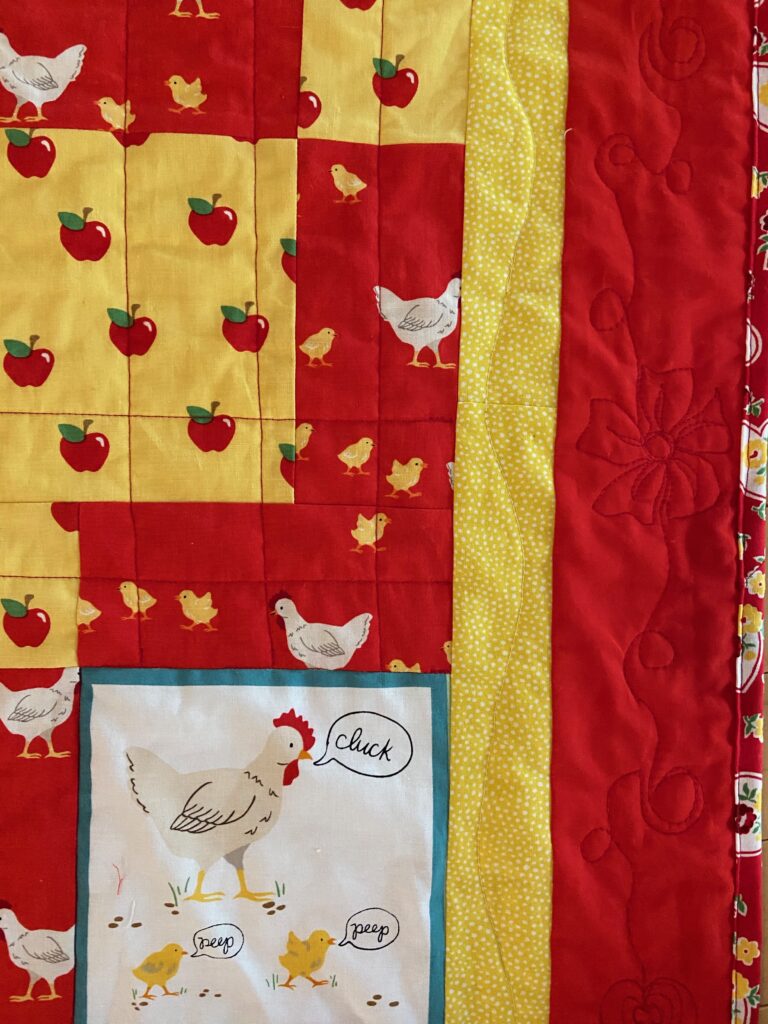 I had some fun quilting this. In the center, I stitched in the ditch around the white animal squares. Then I used vertical and horizontal straight lines at various intervals. In the yellow border I just did a wavy line through each one.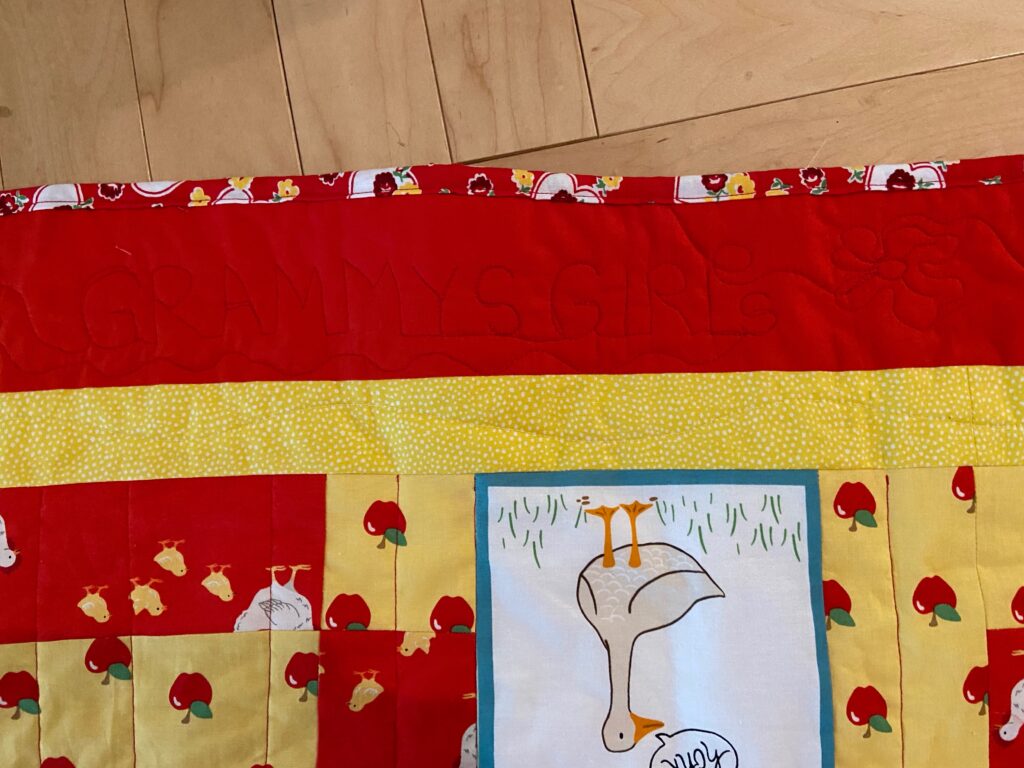 I played with the red border. I did swirls, hearts, flowers and whatever else came to mind. On two corners I put the girl's names which was fun. On the bottom border I stitched "Grammys Girls" but wasn't thinking of the orientation so it is upside down. Sigh. Not a huge deal but I do wish I had thought to flip it before I stitched the words. Not enough to spend the time unpicking the stitching though. Haha.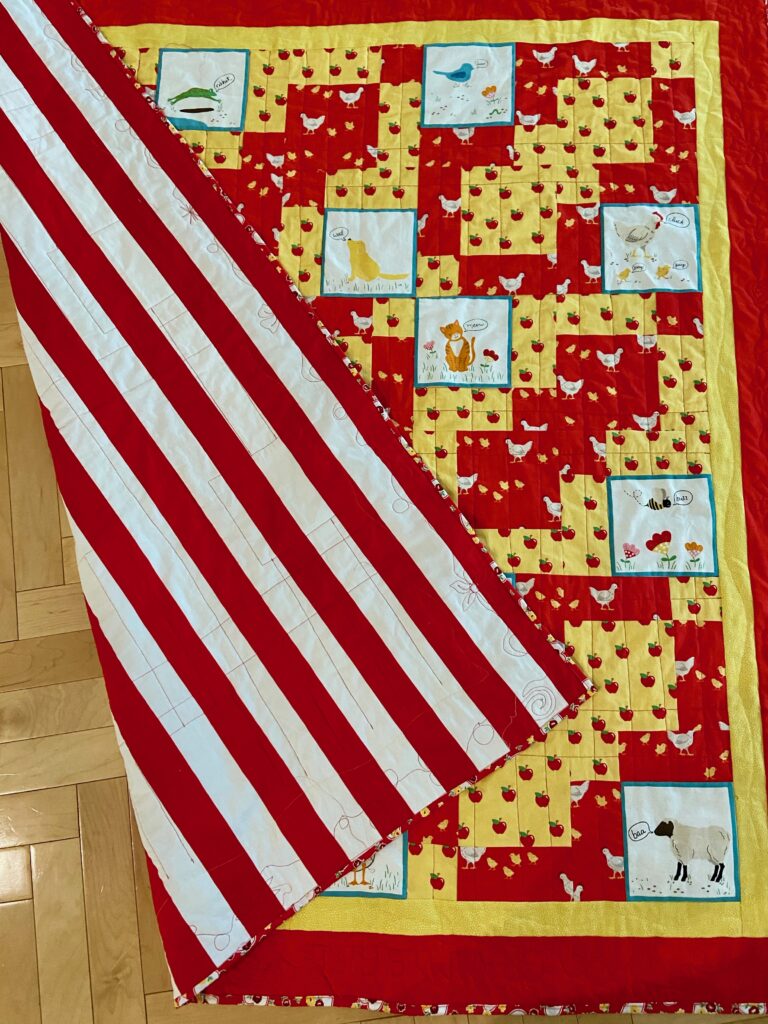 The backing is a super wide stripe from Michael Miller. My sister was clearing her sewing area a couple of years ago and gifted me this piece and a few others. I knew it would come in handy at some point. The binding is a repro feed sack print I have in the shop. I like the little flowers framing the quilt, though this picture doesn't really show the binding off very well.
I ran into a snag when I washed the quilt last night tho. The red bled onto the white animal squares. (I was too annoyed to take any pictures.) Ugh. I haven't experienced this and was a little freaked out. Both Wendy of Pieceful Thoughts and Jan of Colorful Fabriholic recommended this method by Vicki Welsh to removed the red. By the time I asked these lovely women, I had already cold water washed it twice and rinsed it two more times. After reading Vicki's method, I chose to alter it a bit. My washer is large and the quilt is about 50 x 50″ so not terribly big. I put it in the wash on the "deep water wash" cycle with hot water. The hot water was the part that scared me but Vicki says that is what needs to be done. Before I put the quilt back in I decided to spray each of the white squares liberally with OxyClean stain remover. I didn't rub it in aggressively but I did sort of massage it into the stained areas. Then I used a fragrance free "free and clear" type of laundry detergent and put in more than I normally do. Once the machine was filled with hot water I stopped the cycle and let it soak, making sure it was all under water. Finally I let the machine finish its cycle and ran it through a couple of extra rinse cycles since there was a lot of soap in there. It worked! The animals are back in their little white squares as opposed to the pale pink squares that I saw last night. Phew! Thank you Wendy, Jan and Vicki!!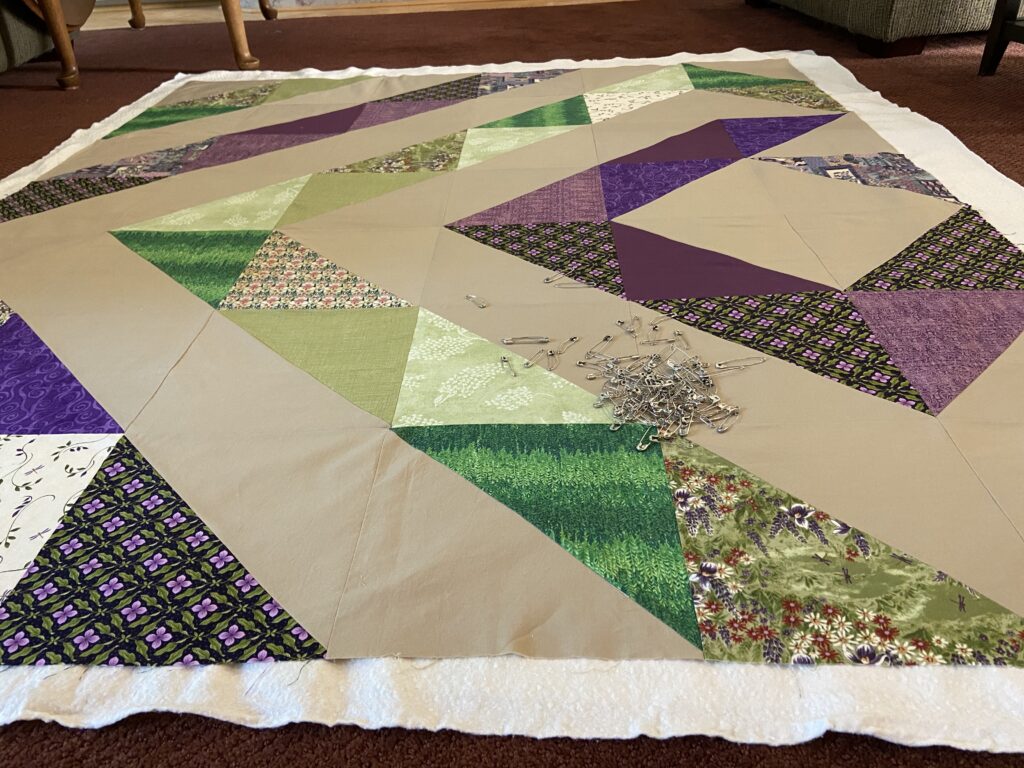 Now that this is finished, I have moved on to another quilt top. I basted it yesterday and plan to quilt it this weekend. It is miserably hot and smokey outside – I did get a little yard work done early this morning but will be inside all afternoon. We don't have any plans for the long weekend. Hope you are all well. Enjoy your long weekend and make sure to spend a little (or a lot) of time sewing!
Linking to:
Brag About Your Beauties, Whoop Whoop, Tish's UFO Busting & TGIFF