I am so happy with the finish of my Sewcial Bee Sampler quilt.  I loved making the blocks along with the billions of other quilters that followed along with this QAL hosted earlier this year by Sharon Holland and Maureen Cracknell. I posted progress shots along the way as I made the blocks, but just in case you didn't know, the QAL included 25 blocks but I stopped after making 20.  This quilt is a comfortable size for a lap quilt and I felt like if I went for the full twenty-five blocks, this would just be set aside and not finished.  The colors of the quilt are so pretty and I was anxious to finish it and use it.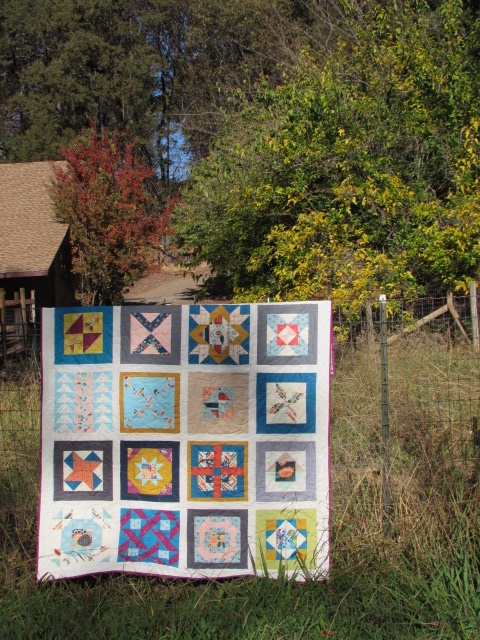 After sashing the blocks and rows with Mesh Joy, a gorgeous low volume print from Sharon's Gossamer line, I took the quilt over to the long arm shop where I rent a machine.  For the backing, I used a piece of soft vintage gingham that I purchased at a thrift store over the summer. The light brown color is lovely and works well with the quilt top.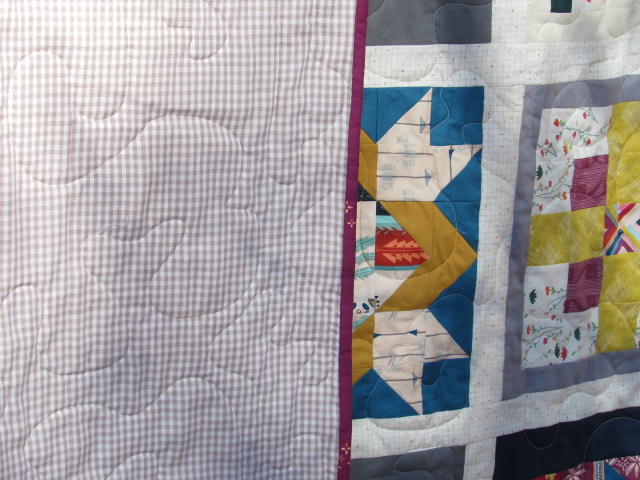 When I picked the binding, I was trying to choose between two fabrics, Terra Firma in deep yellow and Twinklestar Berry  from the Garden Dreamer line by Maureen Cracknell.  I couldn't make up my mind so I asked Julia to choose between  them and she immediately went to the Twinklestar fabric.  It works well with the front and back.
I took it to the long arm shop a few weeks back and quilted it with a loose meander pattern. Because each block is different and the quilt is fairly busy, it made sense to keep the quilting simple.  More importantly, I wanted to use this quilting time to practice my control on the long arm and by using such a basic quilt motif, I could focus on the speed and evenness of the stitches on the long arm.  It was really helpful to practice like that.  It amazed me how little time it took to quilt it!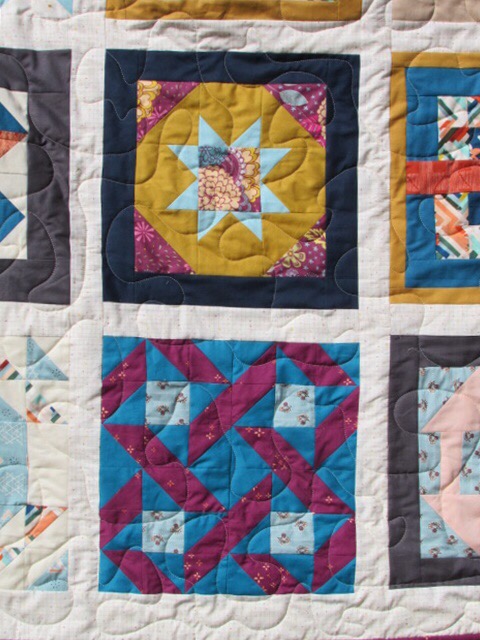 I really like the loft the quilt has with the loose quilting.  This quilt is so cozy.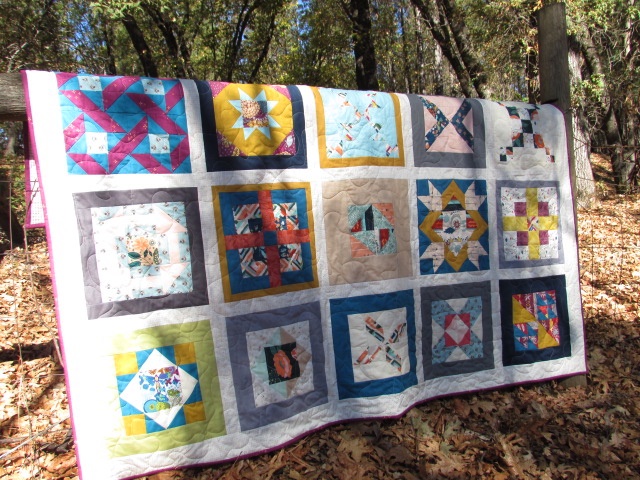 The rich colors – cheddar yellow, the deep blues and the raspberry colors are my favorites.  This was such a fun quilt to make.  I know there are a lot of QAL's popping up for the new year.  I think I will look through them and choose one. I have two more quilts in process and I hope I can finish those up before starting another one.  Tomorrow I plan to take my nephew's jersey quilt to the long arm shop and quilt it.  Hurray for finishing up some projects!!
Have a wonderful weekend all!  Linking to some of my favorites. Please feel free to check them out at the top of the page, under Link Ups.