Julia has always come up with fun ideas for what she wants to be for Halloween.  Over the years, she has dressed up as Wednesday Addams, a devil, a ladybug, and a bat to name a few. This year she decided to dress up as Mickey Mouse.  She is long past the age of trick-or-treating but her high school has an annual Halloween Dance and they all dress up for that.
Did you know that Mickey Mouse was developed by Walt Disney and the very talented Ub Iwerks in 1928? He is the official mascot of the Walt Disney Company and has been making people smile for years.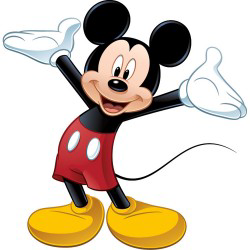 "I only hope that we never lose sight of one thing – that it was all started by a mouse."
Let me tell you, Mickey Mouse was such an easy costume to put together.  Julia had black leggings and a black t-shirt to use so the main task was to make the red shorts and the Mickey ears.  For the shorts, we dashed out to Ben Franklin and bought a 1/2 yard of red fleece.  I used a pattern I had for pajama pants and did a few alterations to the pattern pieces before cutting them out.  I had to make the waist sit a bit lower, shorten the inseam quite a bit and add a pocket to the right side. (Pockets are a must-have on all clothing so she can keep her phone nearby!) Between cutting, fitting, adjusting, and sewing them — the shorts took about an hour or so to make.  Julia cut two white ovals out of felt and I lightly tacked them to the shorts. She plans to use them as pj shorts so it will be easy to take the buttons off when she is through being Mickey.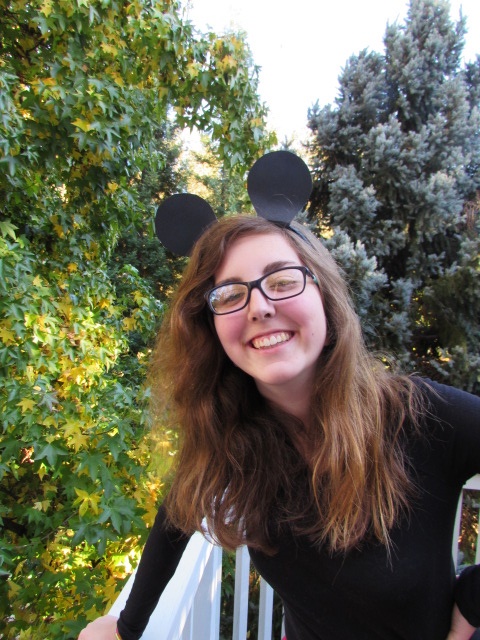 The only challenge (and it wasn't a huge deal) was making the Mickey Mouse ears.  I had a remnant of black vinyl on hand and we cut circles out of that.  But the vinyl proved to heavy and the ears constantly flopped over.  Browsing ideas on Pinterest, we found a great alternative using black poster board and a head band. This called for another trip to Ben Franklin!  I was extremely proud of my self control when I was able to go into the shop, grab the head band and poster board and not even wander through the fabric department.  Didn't even go near it!  This is probably the first time I have achieved this feat and may well be the last! While I did go get the supplies, I didn't actually make the ears.  Julia and Ray took care of that.  Here is a link to the site they used if you need inspiration.
We couldn't think of an easy way to achieve yellow shoes so she skipped it.  But really, she looked so cute – Seemed like they all had fun at the dance too.  Living out in the country, we don't really get trick-or-treaters so Halloween night is usually quiet for us.  I hope you all have more treats than tricks tonight!