It's finished! The bed in my sewing room is currently sporting a gorgeous quilt made of vintage sheets that I have collected, thrifted and received as gifts over the past two years. I love it and the springlike, feminine look it brings to the sewing room. I am calling this one "Romantical" which is how one loyal reader described it when I posted last week. What a cute word.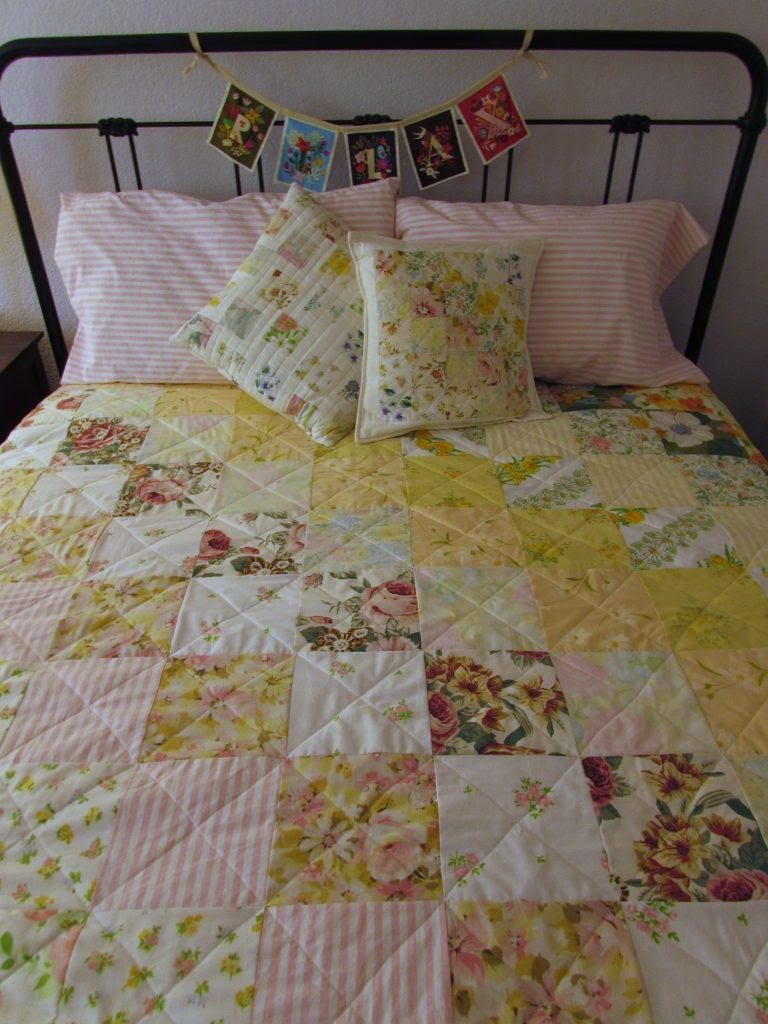 Quilting this  went so fast since I did straight line quilting on both diagonals of the quilt. Because I was stitching across seven inch squares, it was not a problem to just eyeball it. No marking made for very fast stitching. For a short time I considered quilting only one of the diagonals. But it was finished so fast and quickly became evident that it really wanted to be quilted in both directions.
After receiving such helpful input on selecting the binding via comments on last week's post, I went with the pink striped binding. I debated cutting the binding strips on the bias since I had enough fabric to do so. But that would have created some waste so I decided against it. Look at it though! It looks great, especially next to the squares of the same fabric. I had another one of those fortunate occurrences when the fabrics line up just so, as though I worked diligently to make it happen. But you and I both know me better than that. Happy coincidence!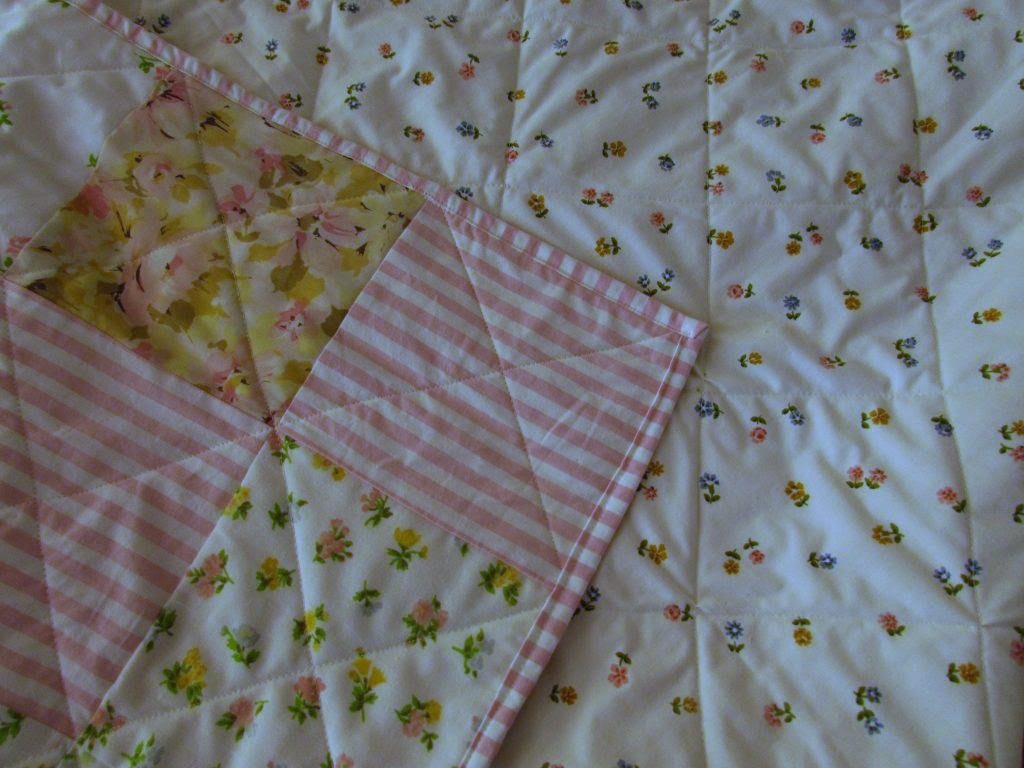 Do you see the sweet backing I used? It was a queen size flat sheet that was brand new. The little floral is so pretty and works well with the binding too.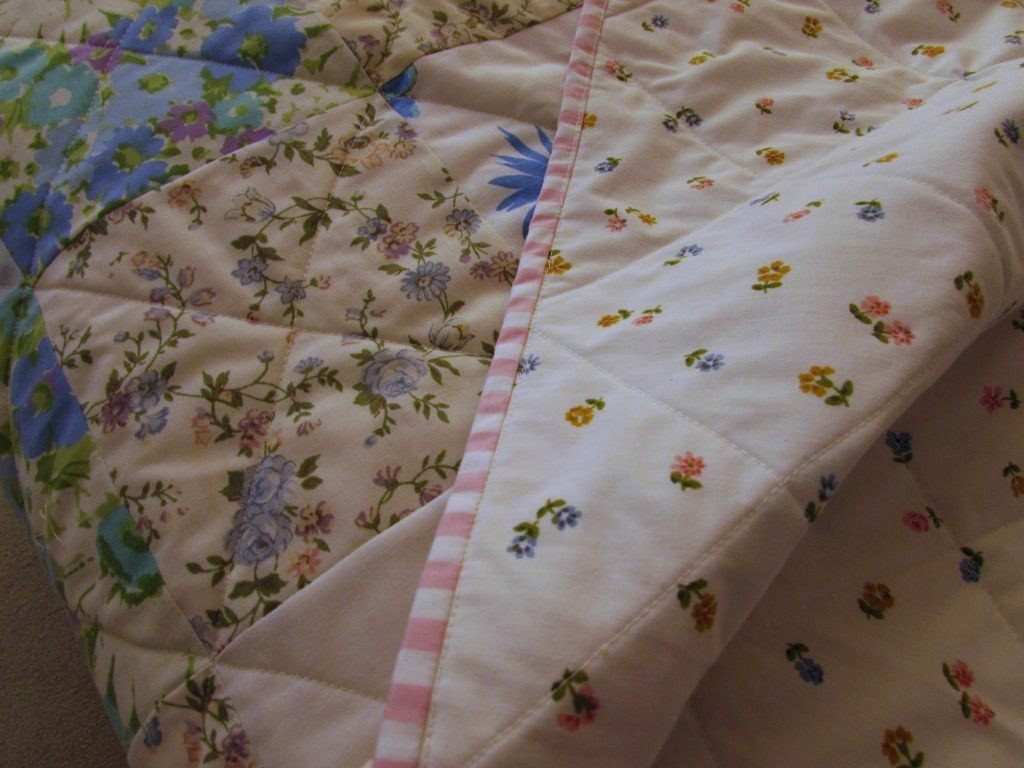 My quilt model and I went outside to take some photos. It was mid-afternoon and the sun was a bit too bright. The pictures are fun even though the colors of the quilt look a bit washed out.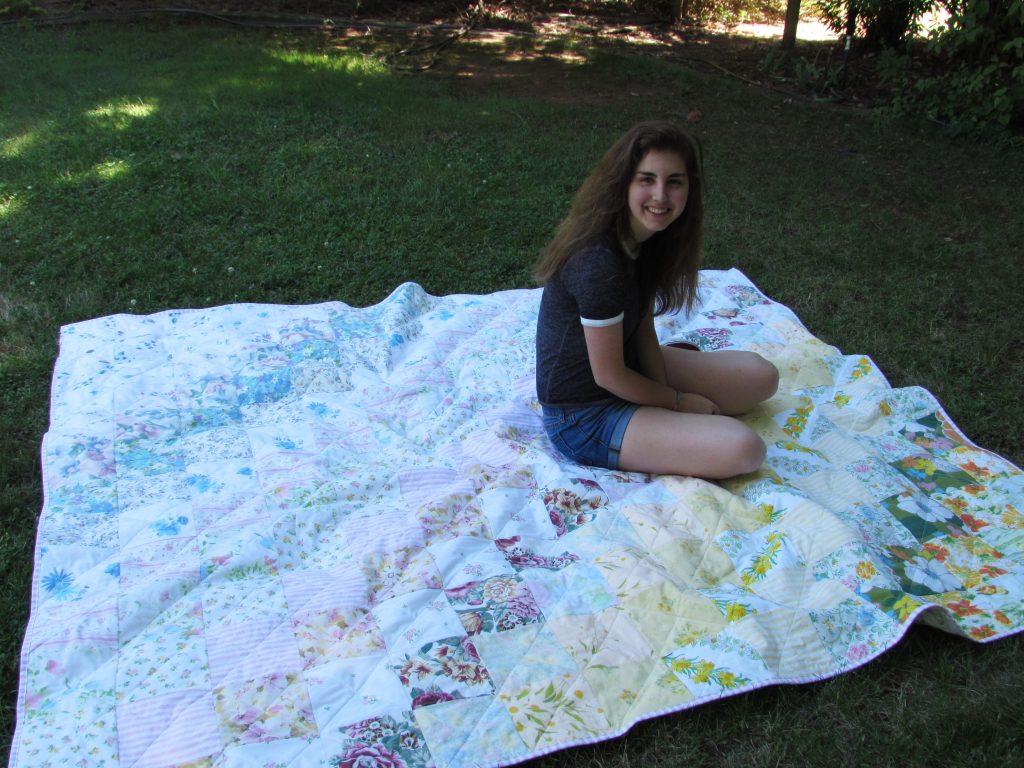 My model was in rare form so I took advantage.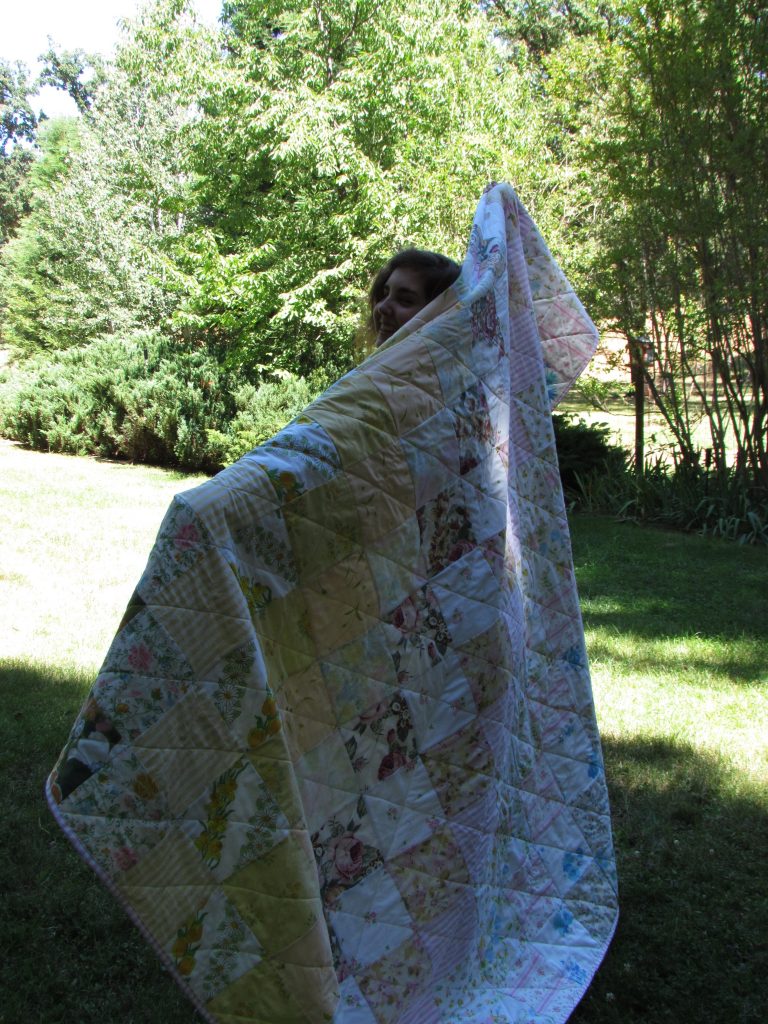 This was such a simple and satisfying project. Having a quick finish like this has left me in the mood to tackle something that takes a bit more thought. My nephew is getting married in September so I think a quilt is in order for him and his bride. I have a couple of months to work on it which is plenty of time. I have two stacks of fabric pulled and I keep deliberating between them. I'll show you the pull once I make some decisions.
Thanks to all who left comments on yesterday's post about social media. It made for good discussion. If you haven't had a chance to read it, check it out and let me know your thoughts.
Linking today with my favorites, Amanda Jean over at Crazy Mom Quilts and Sarah at Confessions of a Fabric Addict. Links to both can be found at the top of the page, under Link Ups.