A few weeks before Christmas I wrote a post about this baby quilt top that I made using orphan blocks purchased at a little  shop in town. I added some solid blocks and borders and created it in a matter of a couple of hours. This week it is a finish; a satisfying, bright, cheerful finish!  It was a joy to put someone's blocks to good use.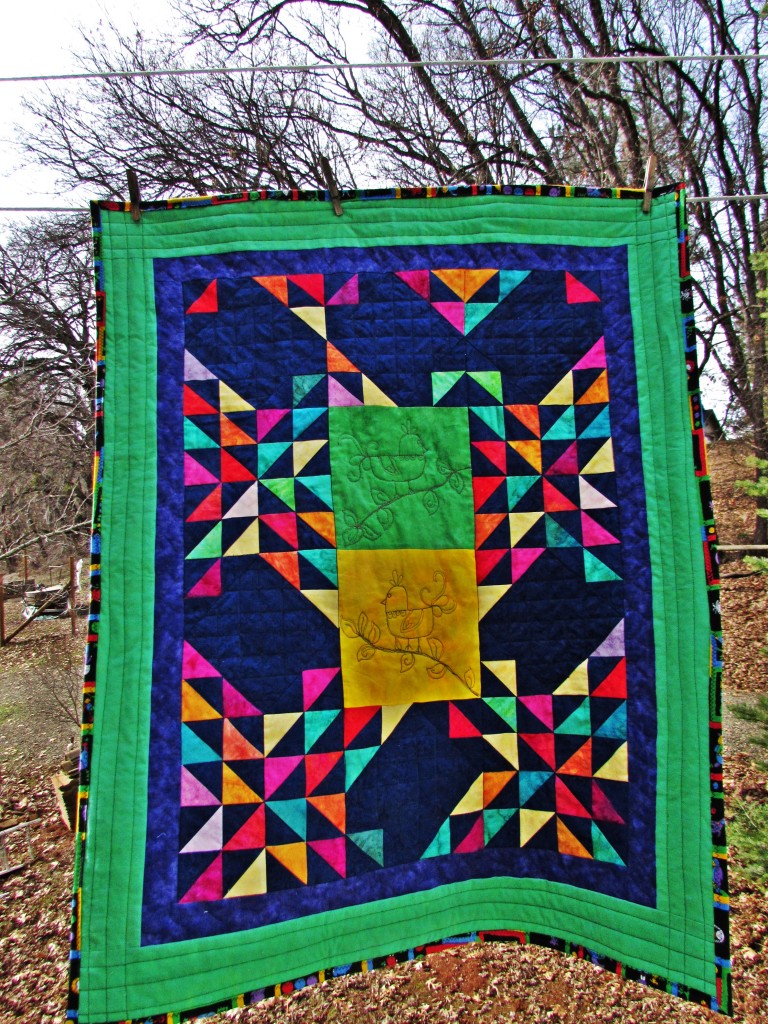 I spent quite a bit of time deciding how I wanted to quilt this. It was a perfect slate for practicing but I wanted to stay with a theme that a child would enjoy. As I tend to do, I turned to Lori Kennedy's site, The Inbox Jaunt, for inspiration. Her site overflows with inspiration and tutorials for all sorts of motifs. Please take a look if you haven't yet seen her site. You will surely find something that motivates you to play with some FMQ. At first I stitched turtles. Lots of turtles. They were cute but mine didn't have enough personality. I tried kitties. Same thing. I liked them but I didn't love them. A little more time spent found me stitching dragonflies and bumblebees, again, very cute but not what I wanted. Then I found her birds. I combined two tutorials. This one called Baby Birds and this one called Spring is in the Air. These were so much fun to stitch. Lori's quilting is near perfection and as such, very precise. Mine… not so much. I like to sketch the design and go back and forth, filling in as I like.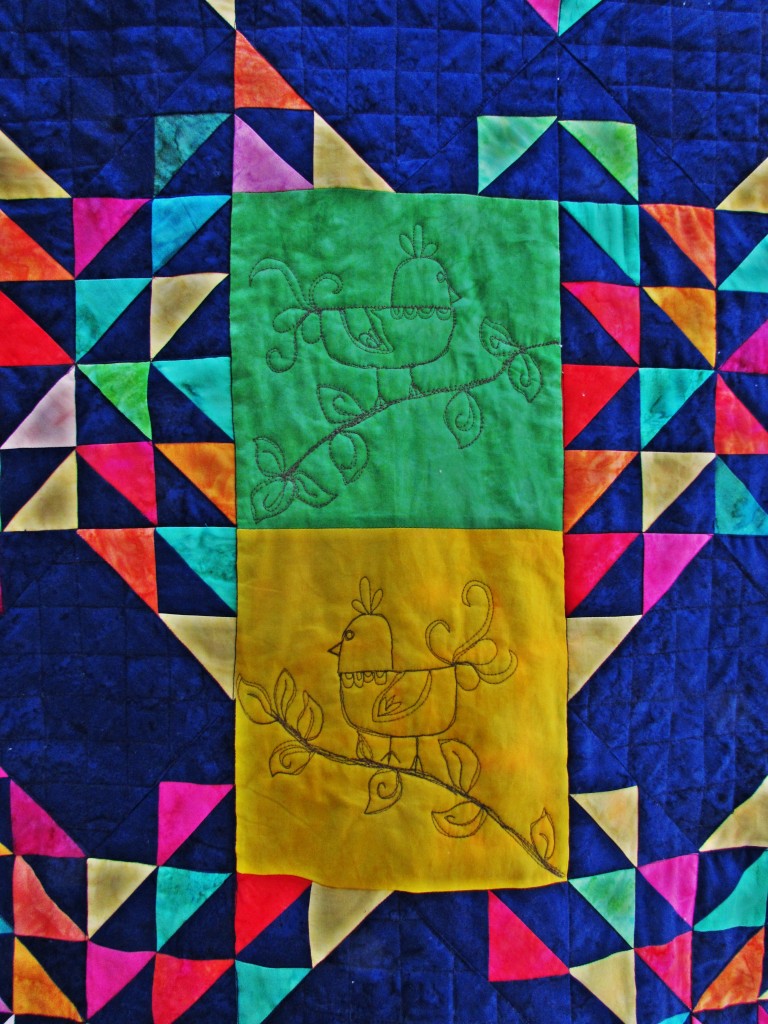 I love them. I drew a wavy line for the branch and from there I just stitched. I think they are sweet simplicity.
This quilt is a busy one. There is a lot of color and movement with the layout of the HST blocks. Because I just had this incomplete set of blocks, it was difficult to piece it in a fashion that made sense. In an effort to keep it relatively calm and avoid having any child that plays with this quilt being overcome with dizziness, I kept the quilting simple on the main body of the quilt. I think this allows the baby birds to be a calming point of focus and the multicolored part of the quilt is less overwhelming. Before I started to  quilt it I stitched in the ditch along the length and width of the rows of blocks. I wanted to be sure that the quilt was solid before I worked on the birds, especially since they are front and center on the quilt. After thread sketching the two birds and the branches, I worked on the plain blue squares. At first I was going to do simpler birds but it seemed like too much. Instead, a simple cross hatch worked out wonderfully.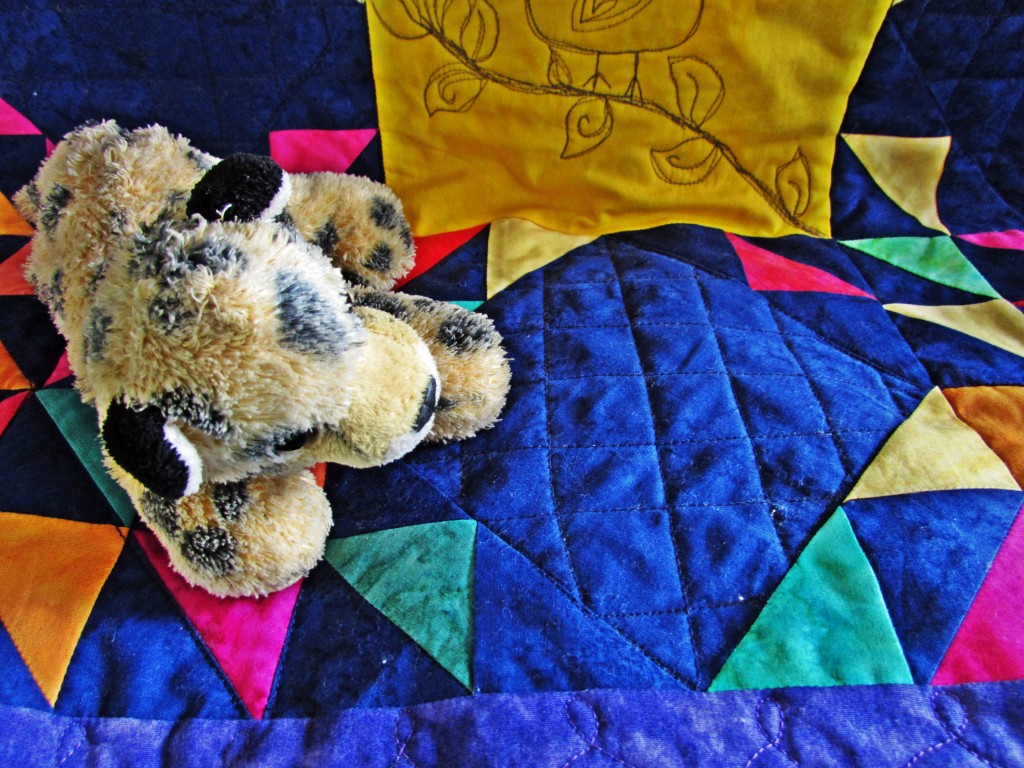 I quilted the HST blocks along the seam lines. The purple border was fun. I played with Lori's tutorial, Do the Twist and came up with this. My twist is elongated and filled the border quickly.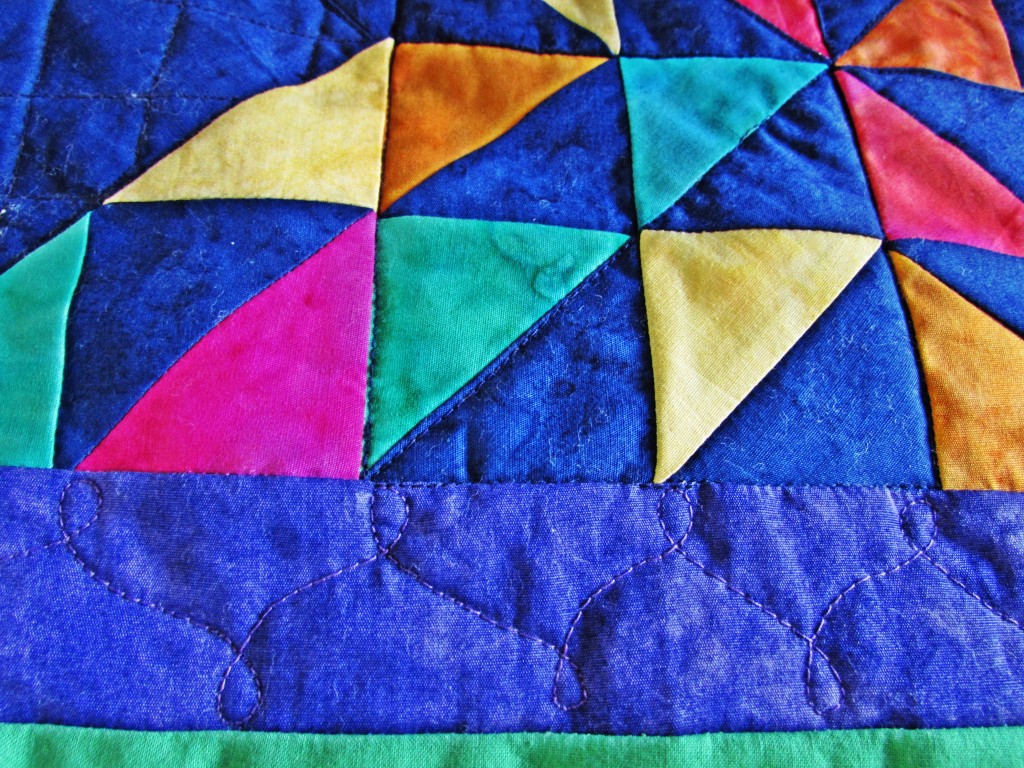 The green border was quilted with simple straight lines that I allowed to cross in each corner. No marking needed – nice and simple.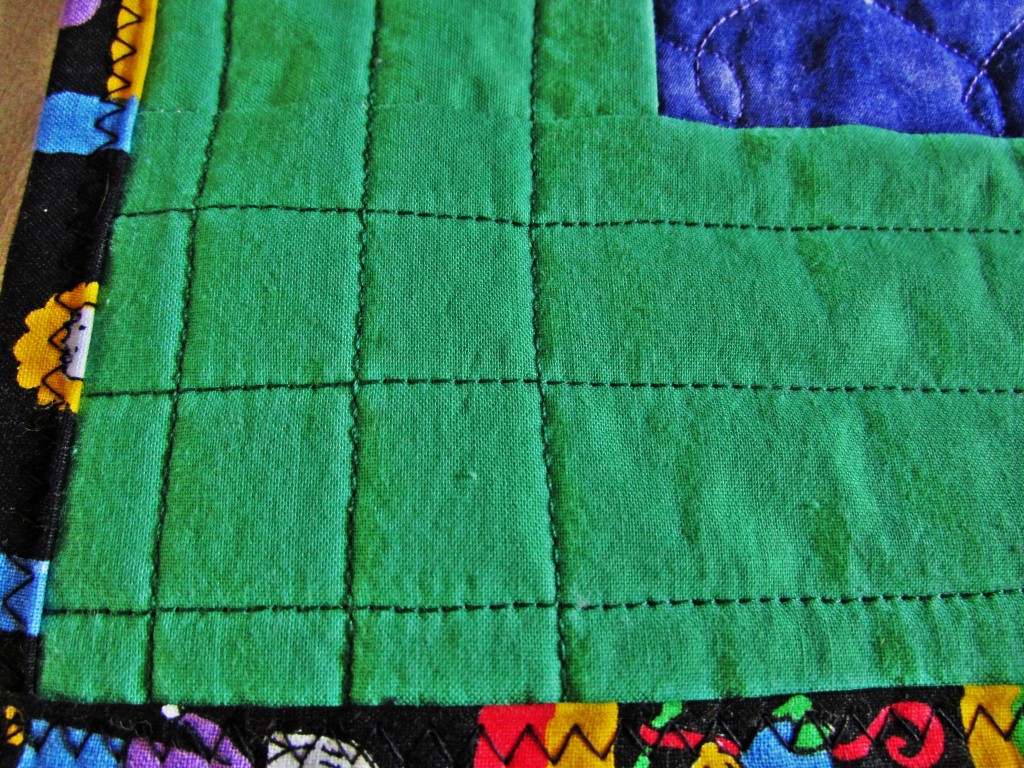 The backing and binding were from a piece of yardage I have had in my stash for over twenty years! I remember buying it at a WalMart when we lived in Pennsylvania so that dates it to anywhere between 1992-1994. It was in a clearance bin and I probably paid a few bucks for several yards. I love that I finally found a use for it and it looks perfect with this quilt. The quilting doesn't really show on the busy print but the colors (particularly the shade of green) couldn't be better.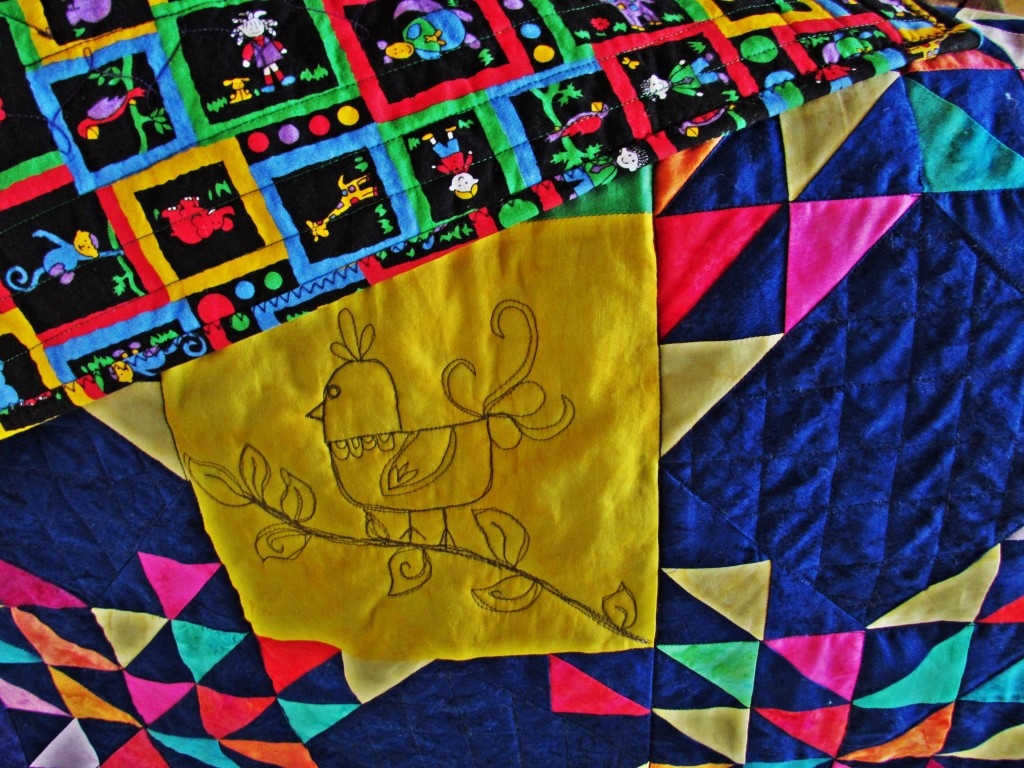 The binding is machine stitched on both front and back so it should hold up for lots of laundering. I have not yet washed it and with the bright batiks used for the HST's, I will put a lot of Color Catchers in with the wash. Crossing my fingers that nothing bleeds.
I am actually a bit sad to give this one away because of the birds but really, it will be better to have it loved by a child than sitting in my sewing room.
Linking to Freemotion by the River, Let's Bee Social, Freemotion Mavericks, Confessions of a Fabric Addict and Finish it up Friday. All links can be found at the top of the page, under Link Ups.