I don't have very many unfinished projects. Right now the count stands at four.  There are two quilt tops that need basting, quilting and binding. Plus two WIP's – my Tula Pink project using her 100 Modern Quilt Blocks book and a quilt that I am piecing with (mostly) American Jane fabrics. While this is quite reasonable compared to what I have read about quilters with lots of quilty UFO's, I want to work toward finishing them all up. There are always projects swirling around in my head but I don't want to start too many at once.
This week was derailed with a series of migraines but I was able to spend a little time sewing and I got several  blocks done for the Tula Pink City Sampler quilt.  I am using Floriography fabric for this project. Last year I won a gift certificate to Doe Street Fabrics and spent it on some 1/2 yard cuts of Floriography. I started to cut it up for the City Sampler project. The blocks finish out at 6″ so you can imagine that many of the pieces are small (1″ to 6″). Because each block is different from the next, it isn't a project where I can cut a stack of anything ahead of time. I am cutting each block independent of the next. I soon found that I didn't have enough variety in the 1/2 yard cuts that I bought.
As luck would have it, last November I found a jelly roll and charm pack of Floriography on sale at The Clever Quilt Shoppe. I bought them right away as it would give me small pieces of the full line and would be so much easier to cut from.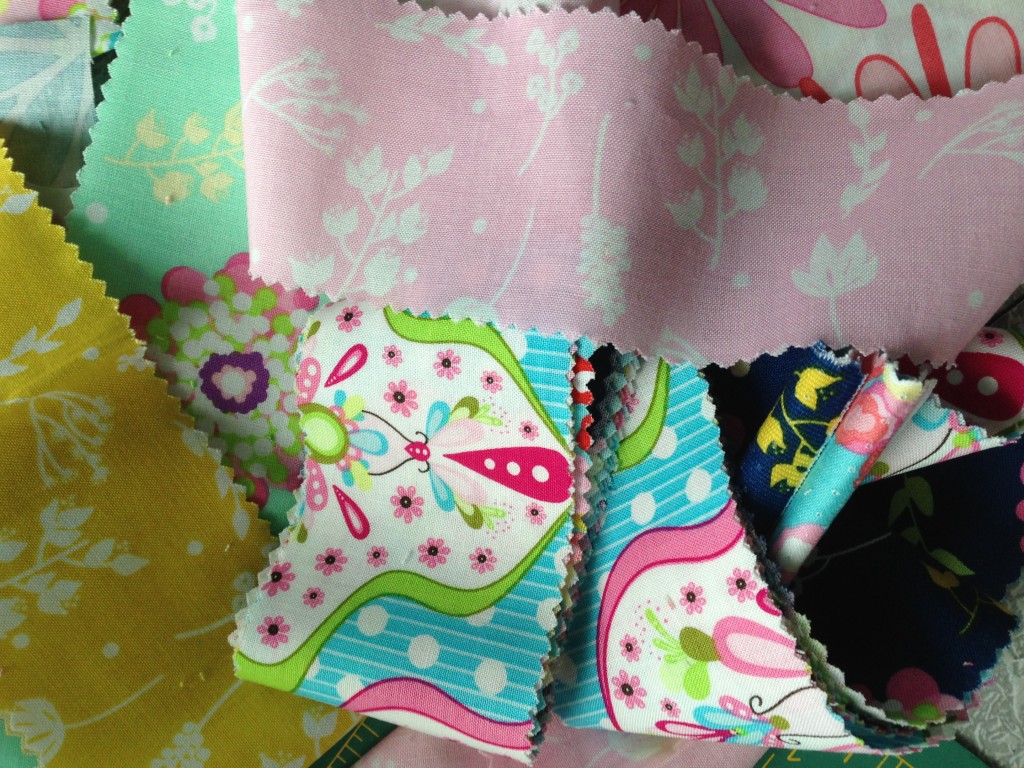 While spending last weekend up in Downieville, I was able to cut the pieces for eleven blocks. I'm not sure it even matters but I have been doing blocks from each section in no particular order. The book is organized with the blocks divided into sections such as triangles, squares, rectangles, etc.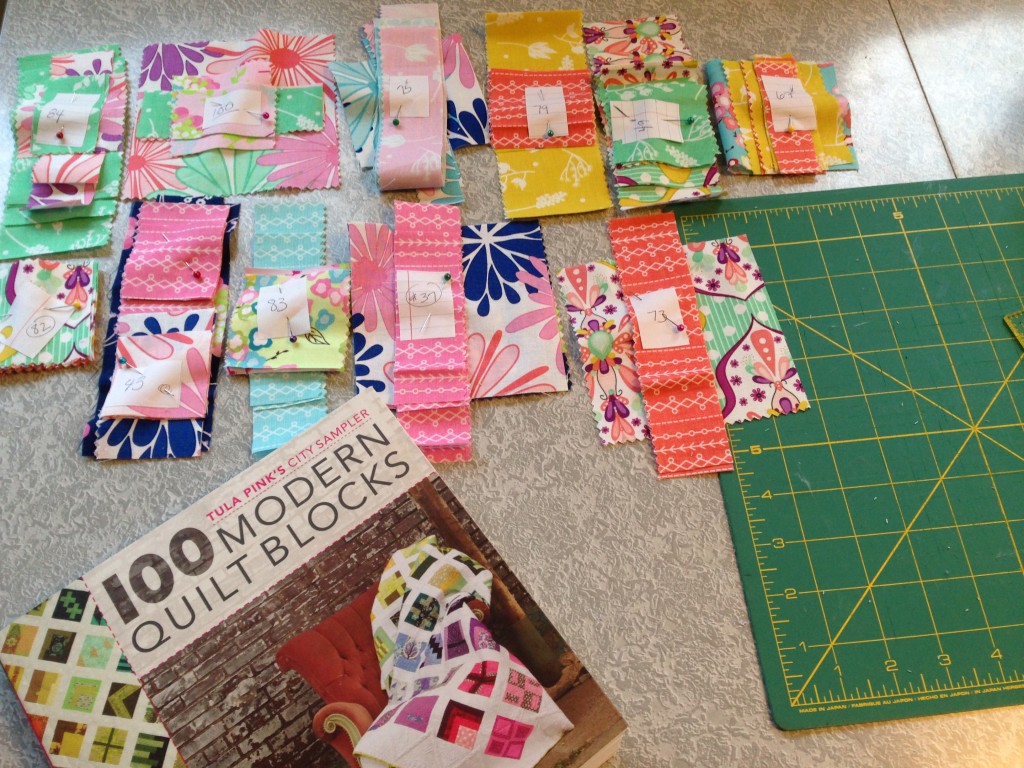 I have stitched ten of the eleven prepared blocks so far. I love having a stack of blocks cut and ready to piece.  Each block is actually quite simple to piece. More time is spent on planning which colors to use in the block and cutting the pieces. I made several errors with fabric choice when cutting the blocks and it wasn't until they were up on the design wall that I could really see it. Not enough difference in value which causes the design to be lost. This fabric is busy and many of the prints are the same value. Even though I plan to sash the blocks when I make the quilt top, I need to start adding in a couple of solid fabrics to tone things down a bit and increase the change in value. After I take Julia to school today, I will make a quick stop at the store for some solids. When I cut the next set of blocks, I will incorporate the new fabrics in the mix. There are a few blocks that I will take apart and replace pieces with solids.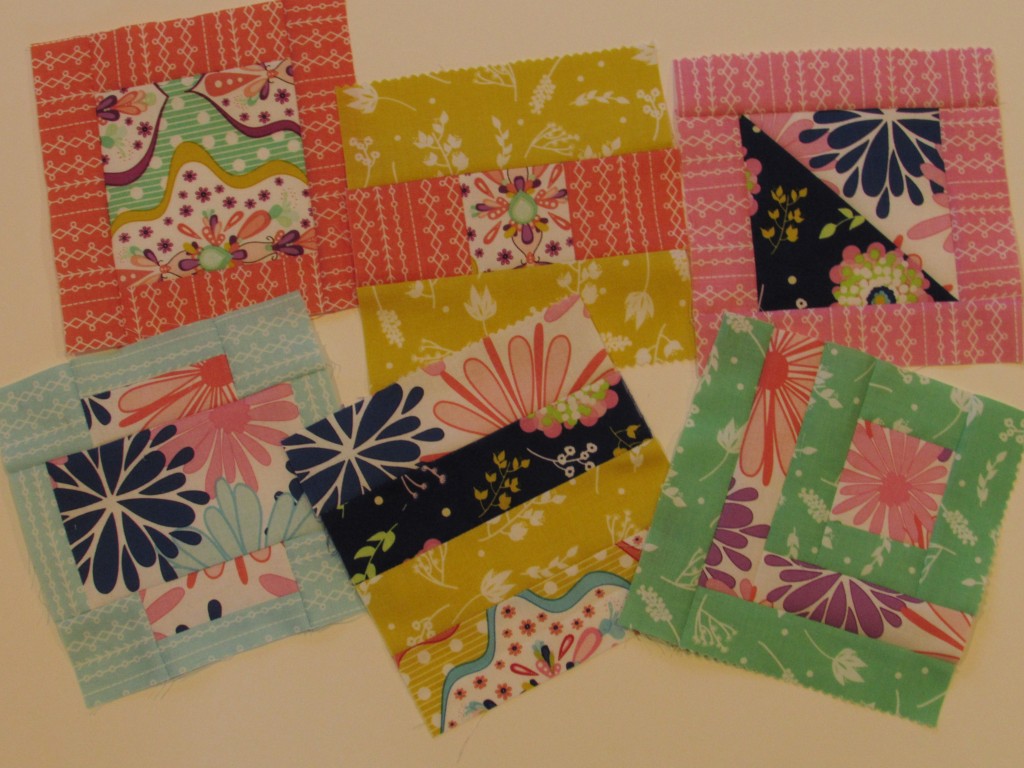 Overall, I am very happy with the blocks this far into the project. I am not sure I will do the full 100 blocks. I need to decide how big this quilt will be and how I plan to sash it. The blocks will be arranged in color groupings or it won't "make sense" to me. The colors are what will define the layout. Look at the difference.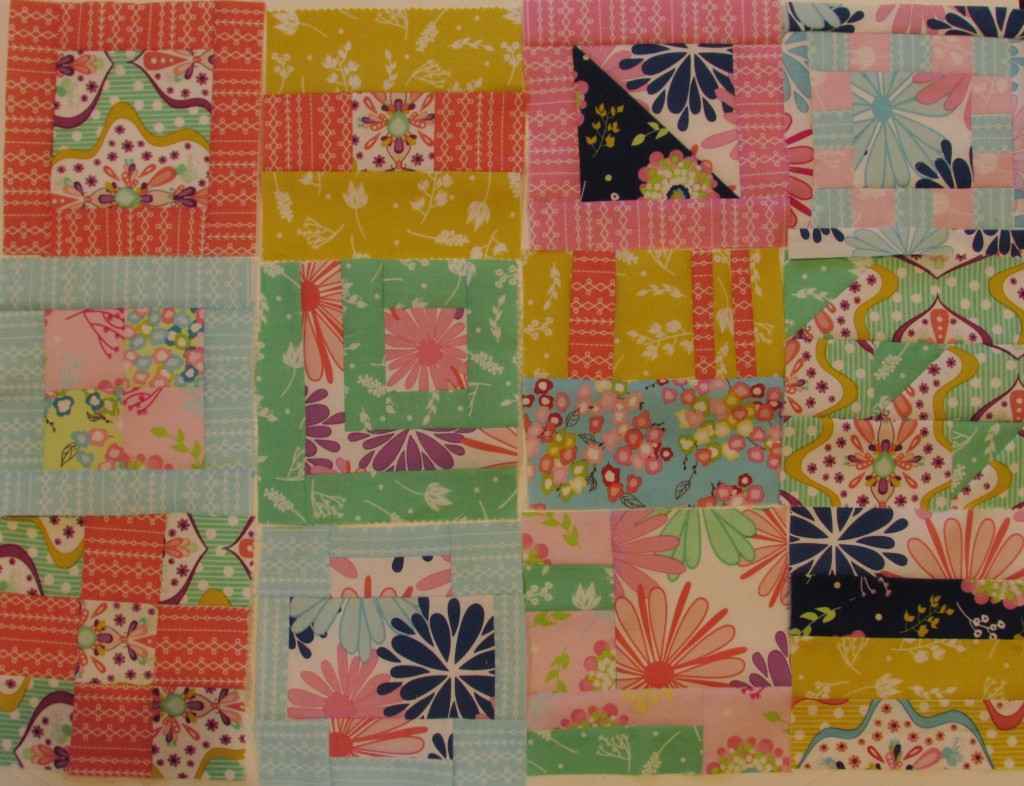 And with sashing and organization by color: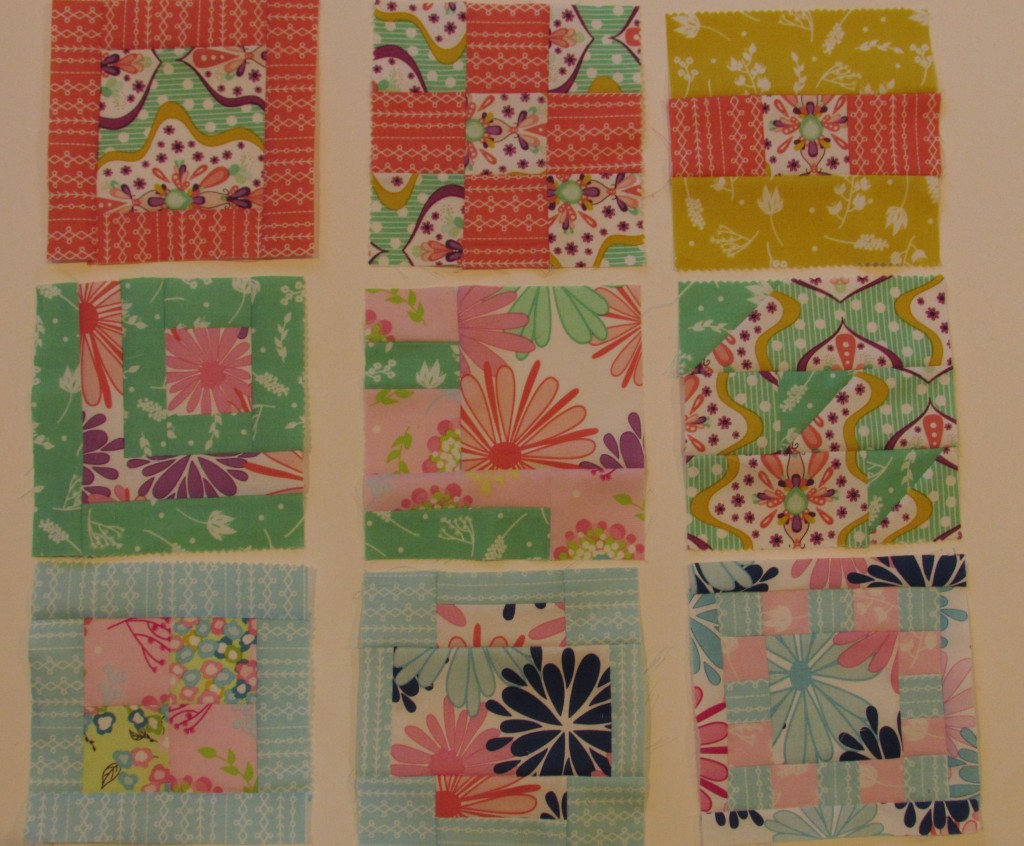 For an example of a horrible fabric choice with values in the same range, look at the green block, middle line on the far right. The flying geese are lost in a fog on that block. For that one, I probably won't rip it apart – it will be quicker to just make a second one and ditch the first. Quilting is always a learning experience, and this quilt is all about color.
The weekend promises to be a fun one. My sister and her two girls are coming along with their husbands and boyfriends. We are going to dinner at a fundraiser for my parents' church. Yay for family time.  🙂  I hope all of you have a nice weekend with family or friends and at least a little time to sew.
Linking to Sarah at Confessions of a Fabric Addict.