First of all, I really want to thank everyone that entered the giveaway last week. I loved reading about all of the Christmas memories. So many really sweet stories were told; I encourage you to take a peek at the comments and read them.  It was very heartwarming. Julia drew two winners. My gifts were sent off to Kelly (she won the bunting) and Sarah (she won the tablerunner). Interestingly, both winners hailed from Pennsylvania!  Congrats to both!
I have been busy in my sewing room over the past week. Working on my row quilt, Christmas gifts (which I will share after the holidays), a very frustratingly fluffy yellow bathrobe and a gift for my dad for his upcoming birthday. Where to start? Let's go with the frustrating stories and end up on a more pleasant note, shall we?
Oh, this bathrobe! The fur and fluff that flies when I work on it is truly amazing. I had NO idea what I was getting into and never will I buy such a fluffy fabric again! I have the robe basically assembled – I sneezed my way through it only to find that it will fit nicely once I gain about 75 pounds. I don't know how to account for this. I made it a size small (8-10) but honestly, I could wrap it around me twice over.  When I re-read the post about planning to make this, I can hear a very cocky tone in retrospect. I said that garment sewing came naturally to me because I had done it so often. In some ways that is true. I knew how to put it together, didn't need to ponder the directions, just dove in and sewed. But what about trying the thing on? At least holding it up to me in front of a mirror at some point?? Nope, as I was getting ready to hem it, I thought,  'hmmm, this looks a tad large'. I put it on and my jaw dropped. It frustrated me because I can only imagine the fluff that will fly if I try to take a seam ripper to it.
I tossed it on the bed in the sewing room where it landed in a cloud of yellow. There it sits, waiting until I calm down and decide how to fix it.
Next project update:  My Classic Stitches project that I have been working on all year. You probably remember that I have been doing a BOM project led by Mari over at Academic Quilter. All I had left was to complete the green row of 'Peace and Plenty" blocks. Well,  I can honestly say these blocks gave me no peace. Not a moment, in fact.  It started out well enough. When I was up in Downieville over Thanksgiving weekend I got all of the green pieces cut and I felt so proud. All organized and ready to go.  I came home and assembled the first block. It was adorable and I even shot an email with a picture of it to Mari. (What is it they say about pride????)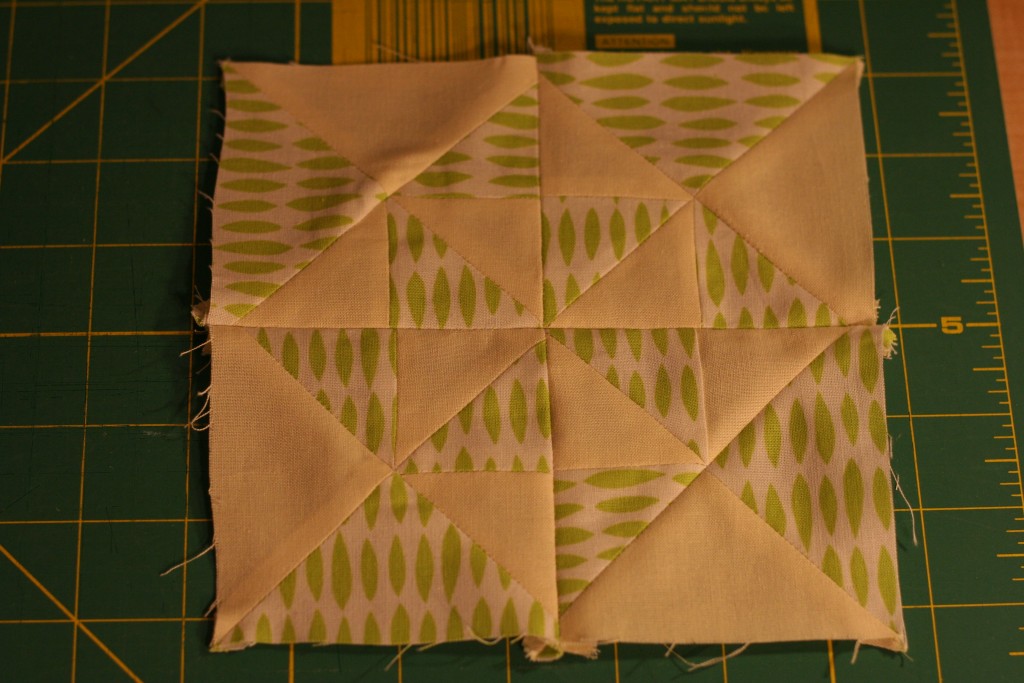 With that one done, I quickly made another.  So far, so good.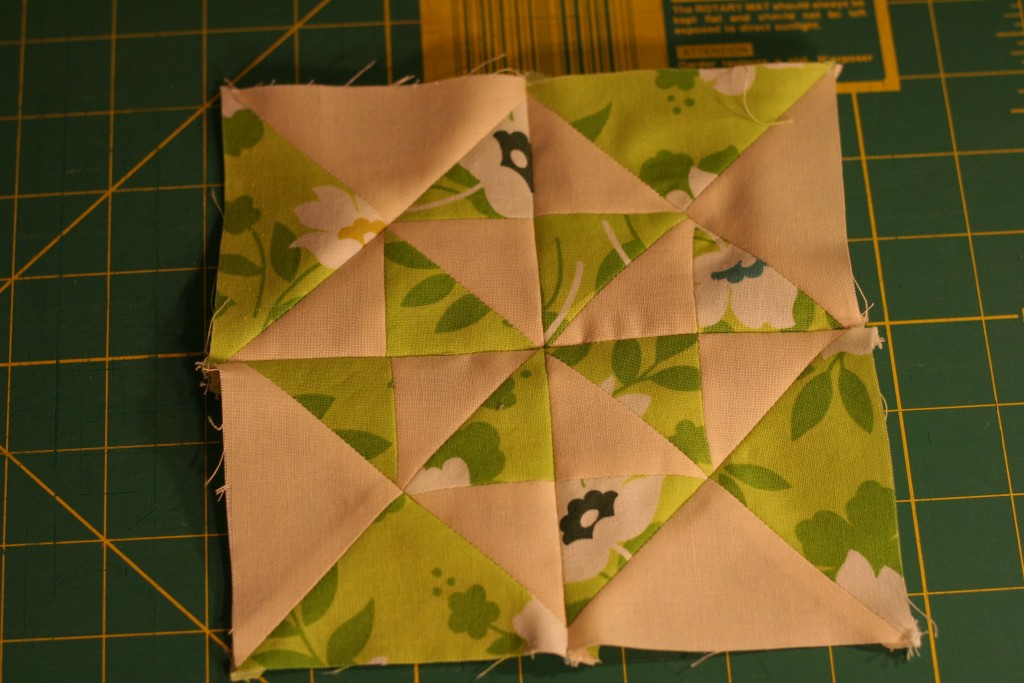 After those two, everything hit the fan. For some unknown reason (though it may have to do with that whole pride thing) I couldn't assemble block number three. COULD. NOT.  I sewed it and picked it apart and sewed it again and picked it apart. After the third time using my seam ripper (you know when the edges of the fabric are frayed and you know that the integrity of the block is nill?)  I gave up. Luckily, I had just read Mari's post about finishing her row quilt (which is spectacular – take a look here!) I saw that she had issues with the brown row and decided to just make a checkered row of simple squares. Since I had my green blocks cut, I just trimmed them down to 3 and 1/2″ and called it good. I figured I was really just taking my cue from the master. So my green row is now a simple row of blocks. (See it to the left of the pink hearts?) I actually like that it is a small row. I wanted a change in the height but couldn't see myself really making any of these blocks in a three or four inch size. At least not without a considerable amount of pain. 😉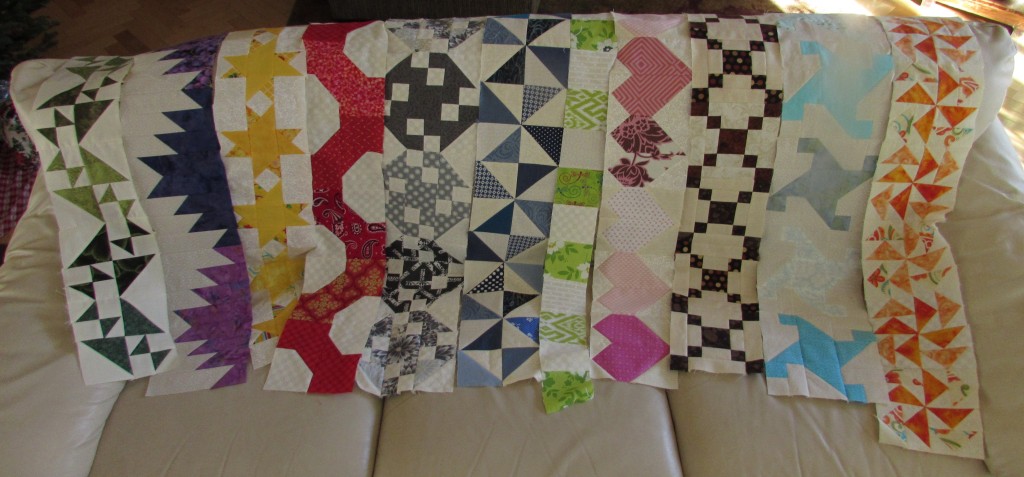 Right now I have all the rows hanging over the back of the couch (luckily we have two!) I am at the stage where I am moving rows around, trying to decide what order to put them together with. I need to get sashing fabric too. I don't have any stash that is long enough and I don't want to piece the sashing. I do love how this is coming together and hopefully I will get it assembled in the next few days.
Finally – to leave you on a good note… I went to the monthly meeting of a gardening club that I belong to. Since there really isn't much gardening to be accomplished right now, we made wreaths for the holidays. I decided to make a really big one so i could hang it on the front of the house. All of the boughs were cut from trees in out yard, which is a nice thing.  It turned out so pretty and was incredibly easy to put together. (I really needed a win at this point!)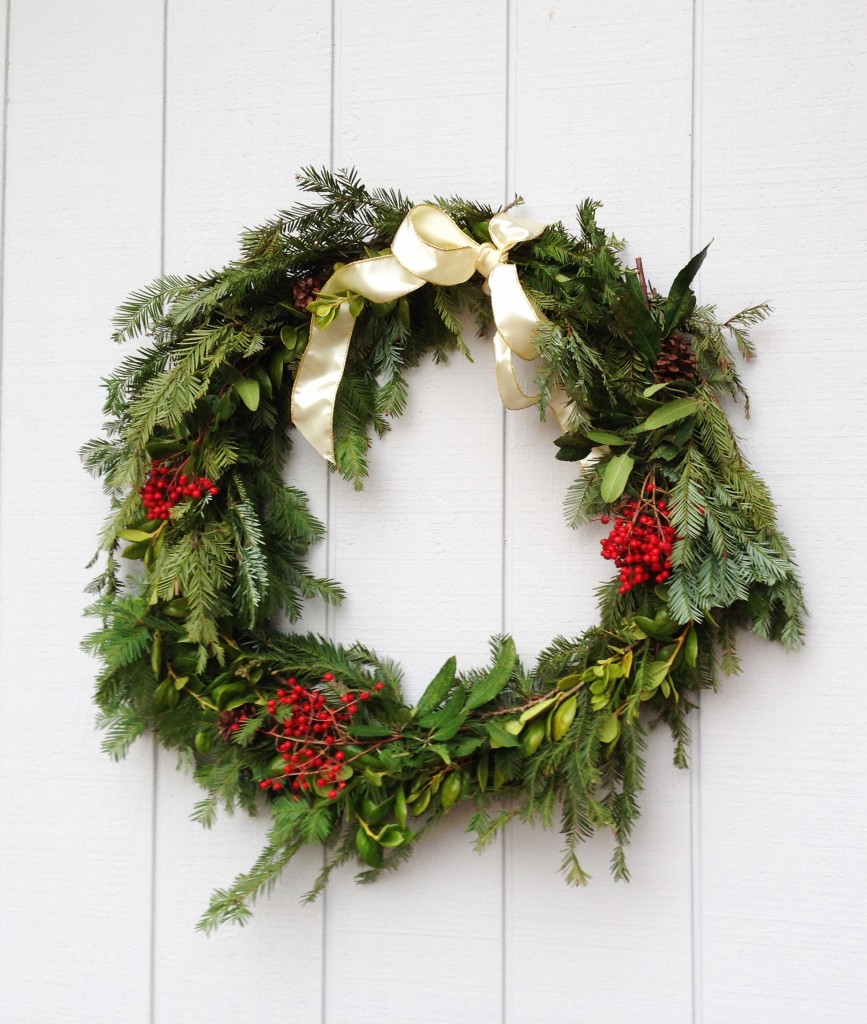 I also wanted to show you how pretty the Swoon Mini looks. I hung it on the wall behind the Christmas tree and the lights just make it glow. I just love it. I need to make another one that doesn't have a holiday theme.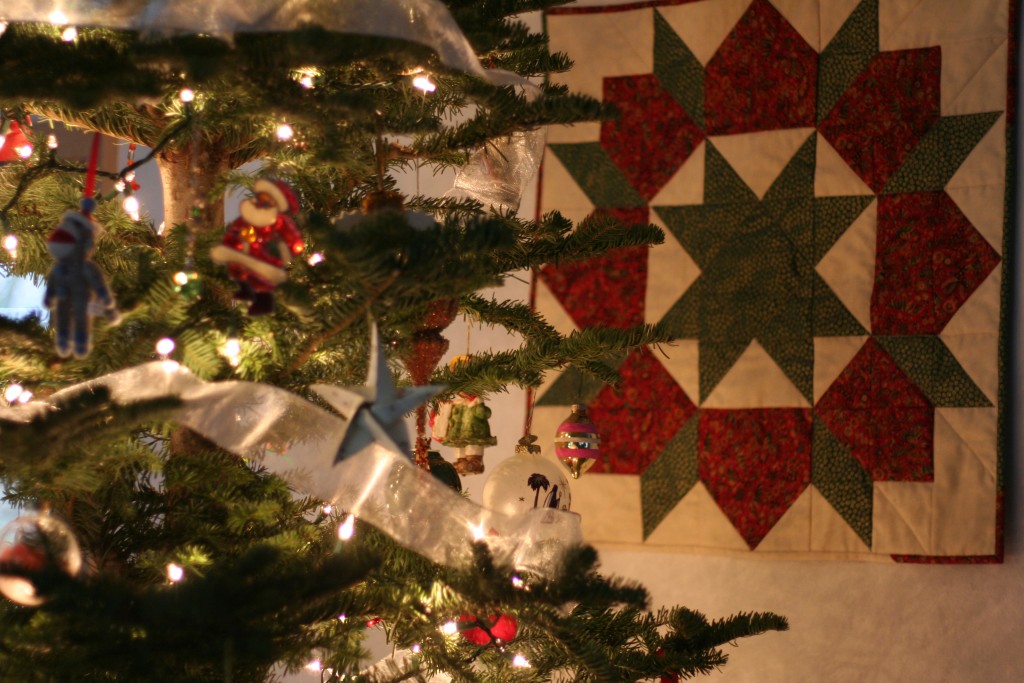 I hope your recent sewing efforts are a bit more successful than mine have been. I feel I am turning the corner though. Ready for success.
Linking to Freemotion by the River and Let's Bee Social.  Links to these two lovely blogs are at the top of the page, under Link Ups.