Hi Everyone!  Welcome to one of my favorite events of the year. Twice each year, in December and May there is a huge giveaway link up sponsored by Sew Mama Sew. It is a fun way to check out blogs you may not otherwise have read. If you have not checked out the giveaway yet , I encourage you to do so. So many craft bloggers have linked up and there are all sorts of prizes to be won.
If this is your first time visiting Needle and Foot, welcome! I hope you will take a minute to look around my site.  I have been blogging for approximately 18 months and have made so many friends via this blog and the others that I follow. To learn more about me, click on the About Me page at the top of your screen. I  have many of my quilts displayed in the Quilt Gallery page (also at the top of the page). If you would like to read the blog post associated with a particular quilt, click the title showing just below the picture.  I love blogging and sewing and spend most of my time with one or the other. Comments and questions are always welcome and I try to answer each one. (With the exception of this particular post – I won't be able to answer each comment on this post. I hope you understand!)
On to the giveaway.  I have two giveaways to offer.  (Before I get to far into it, I want to be sure to tell you that I will be shipping within the United States only. I apologize but it is fairly expensive to ship outside of the US.)
The first is a holiday table runner that I made. It measures approximately 40 x 14″.  The center of the runner is a pieced stripe of various Christmas prints. The various fabrics feature holiday ornaments, poinsettias, and holly. The color scheme is green, red, cream and gold. Along the length of the center strip is a border of dark cream and gold fabric. Next to that is a deep red border.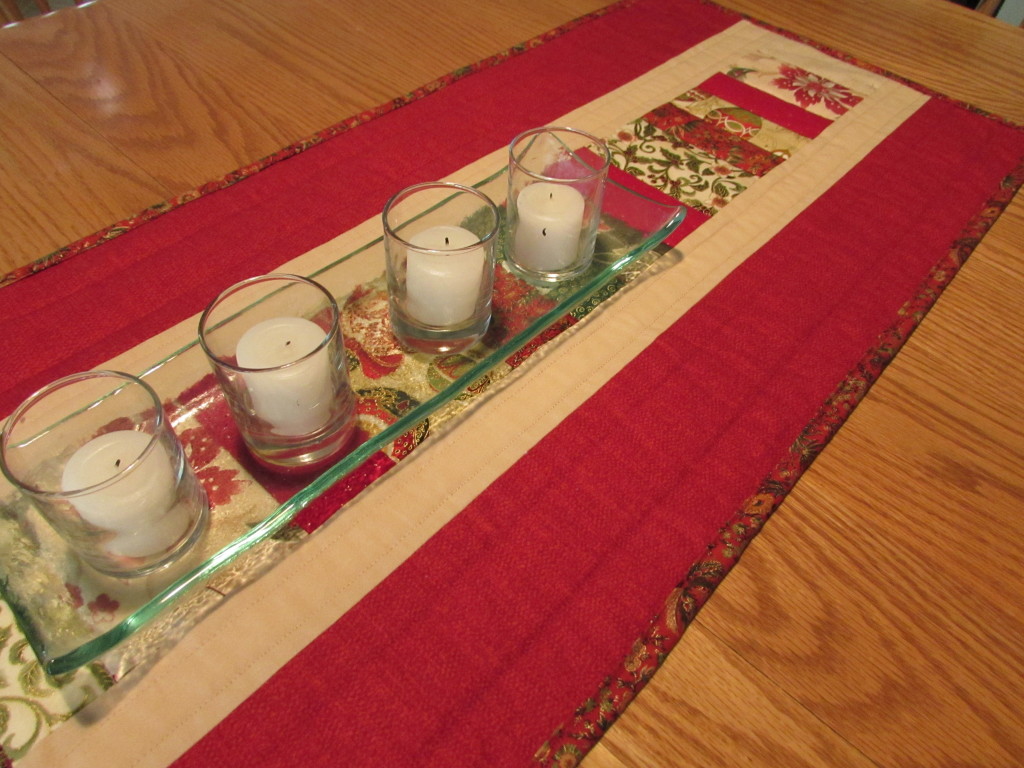 The backing fabric and binding are the same deep red, gold and green print. I quilted this table runner on my home machine by stitching the length of the table runner at various widths. I would love to give it to one of you!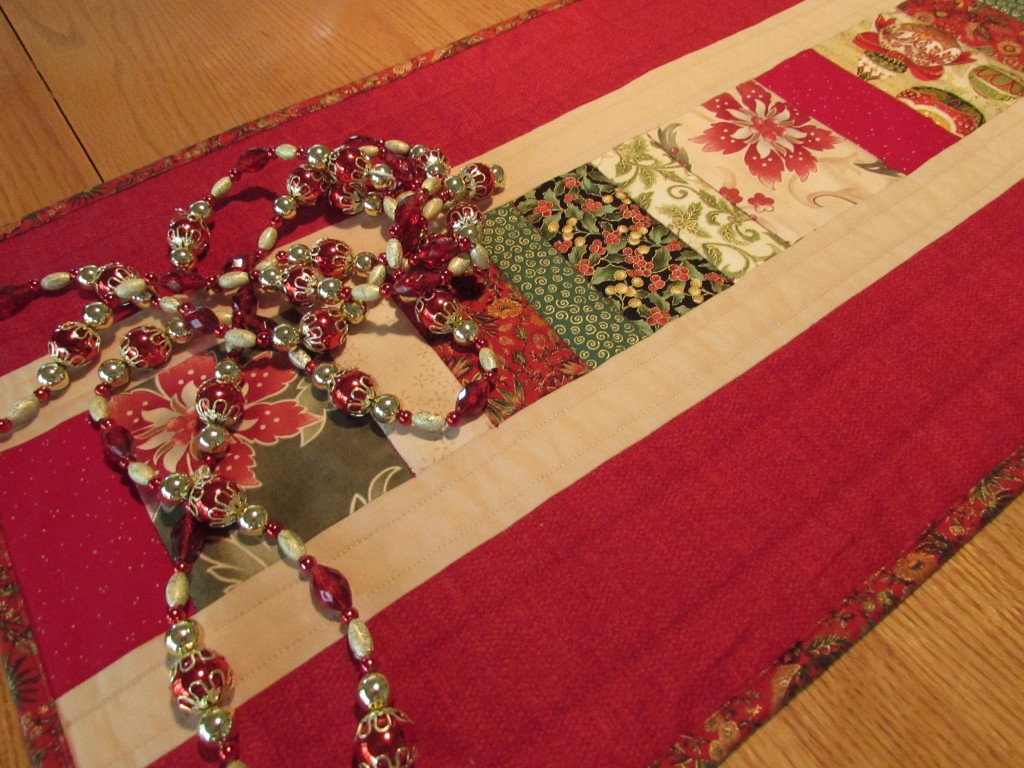 The second giveaway is a holiday banner, or bunting. The flags are double-sided so it looks nice where ever it is hung. Across the top is red ribbon with an extra length left at each end t give you some flexibility when you decide where to hang it. These buntings are a fun holiday decoration and I would love to send it off to one of you!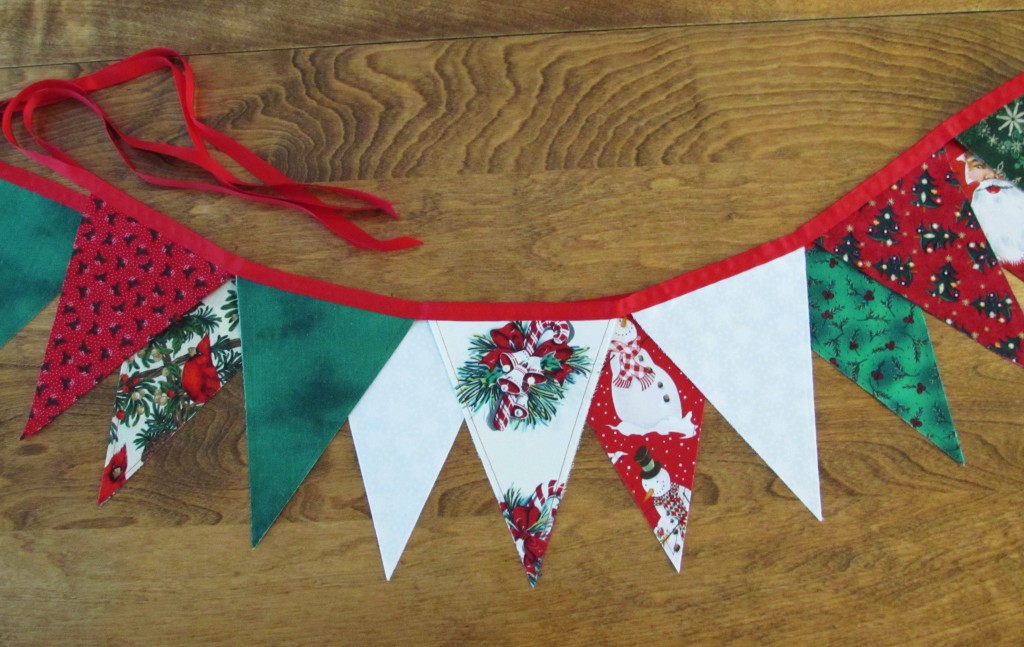 I used traditional colors and many of the fabrics have a vintage look to them.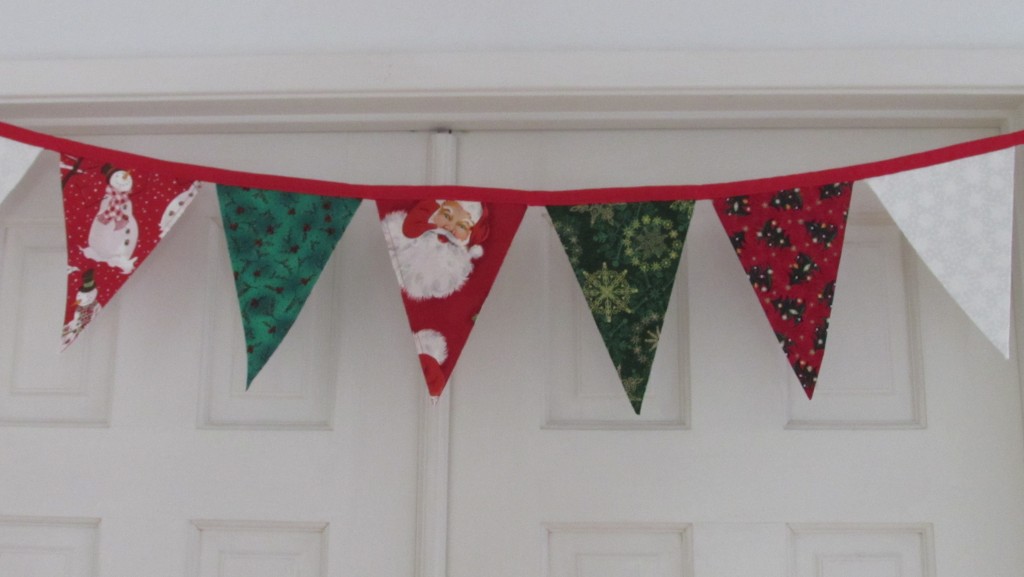 .Each flag measures 6″ across the top and is 9″ in length (down to the point of the flag). The entire banner measures 80″ in length from first flag to last. There is 20″ of ribbon hanging freely to use to hang it. To make this, I cut the triangle shapes and fused them together with Wonder Under. I topstitched the perimeter to add strength to the flags.( I don't think it will do well in the washer. I would just spot clean the flags as necessary. )
OK – Here is how you enter to win one of these giveaways!  Please leave me a comment  describing the best (or favorite) gift you have ever given or received. It can be either one. I am looking forward to reading your memories!  If you follow me, you get an extra entry. Just comment and let me know how you follow. The giveaway will be open through Sunday, December 13th. I will pull two winners on Monday morning. Be sure that you are not a no-reply blogger (if you like, you could leave your email address in the comment.)
Thank you so much for stopping by! I wish you luck with all of the giveaways this week. I hope you have enjoyed looking around my blog and invite you to follow me via Bloglovin or sign up to receive posts in your email. (Rest assured that your email address is never shared or used for purposes other than to send you blog posts.) Both links are on the right at the top of the page.  For a little more fun, follow me on Instagram. I am @kringelb.
THIS GIVEAWAY IS NOW CLOSED.
Again, thank you for visiting. I am wishing each of you a fabulous holiday season, whichever way you choose to celebrate.