The beast has been tamed. The pile of oversized yellow fluff has been transformed into a cozy bathrobe at last.  I received so much encouragement after that last post that I decided to dive back in and take control of that yellow monster.
It was easy!
First I took a bit of time with the seam ripper and picked out the hem on both sleeves. Turning it inside out, I laid it on the floor and carefully smoothed it out. I pinned two inches or so along the inside of the length of the side seams and the seam of the sleeve. Then I just cut – cut off the two inches along each side.
The nice thing about this robe is the fluff. Conversely, the worst thing about this robe is the fluff!  Once everything was stitched back together I tried it on. Amazing how this helped! ( If only I would have thought to do this the first time around!)   It fit much better but was still too puffy. Topstitching around the entire collar and all the way down the front of the robe, on both sides, really helped to tame it. Because of the fluff, it was hard to sew accurate straight seams. When I was sewing on the "wrong" side of the fabric, there was no issue. However sewing on top of the fabric was really tough. My presser foot would get lost in all that fluff! There was a lot of drag on the fabric and my top thread shredded over and over. (I tried my walking foot but that seemed to make it even worse.)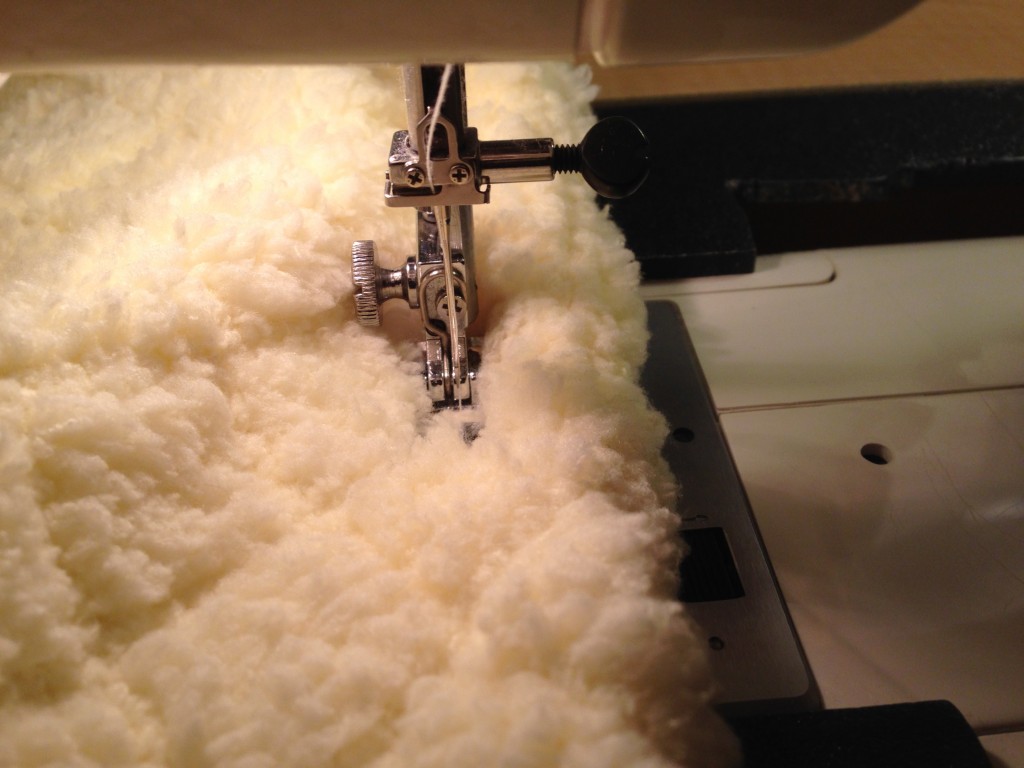 Like I was saying before, the fluff was also a positive attribute in that it didn't truly matter how straight my seams were. The depth of the fabric made it difficult to see the actual seam, you only see the impression the seam leaves.
Here is my first attempt at modeling the robe (in my sweats and socks!)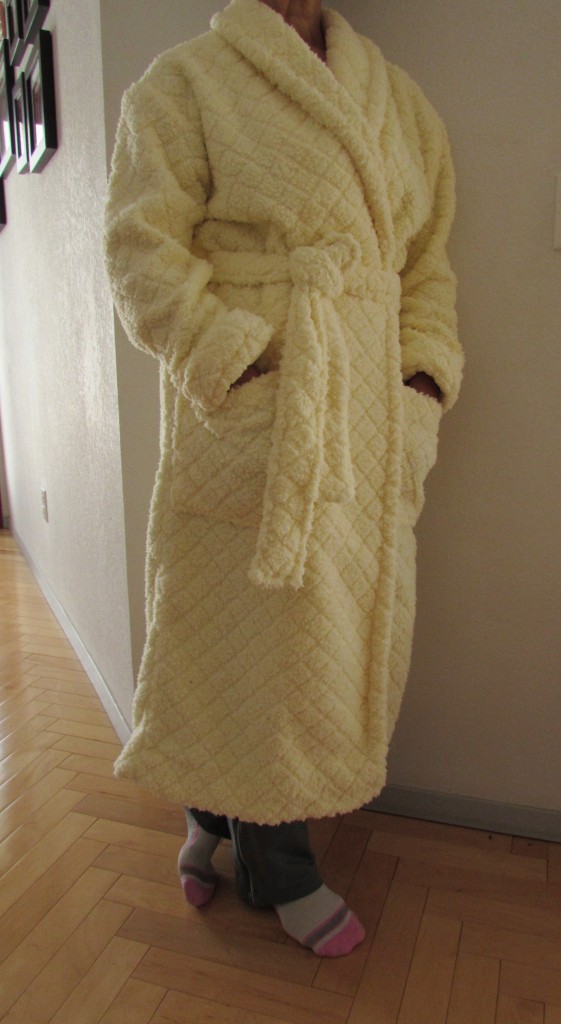 Photo credits to my kind husband for these modeling shots. I may send them into a bathrobe modeling agency. I feel a new career beginning.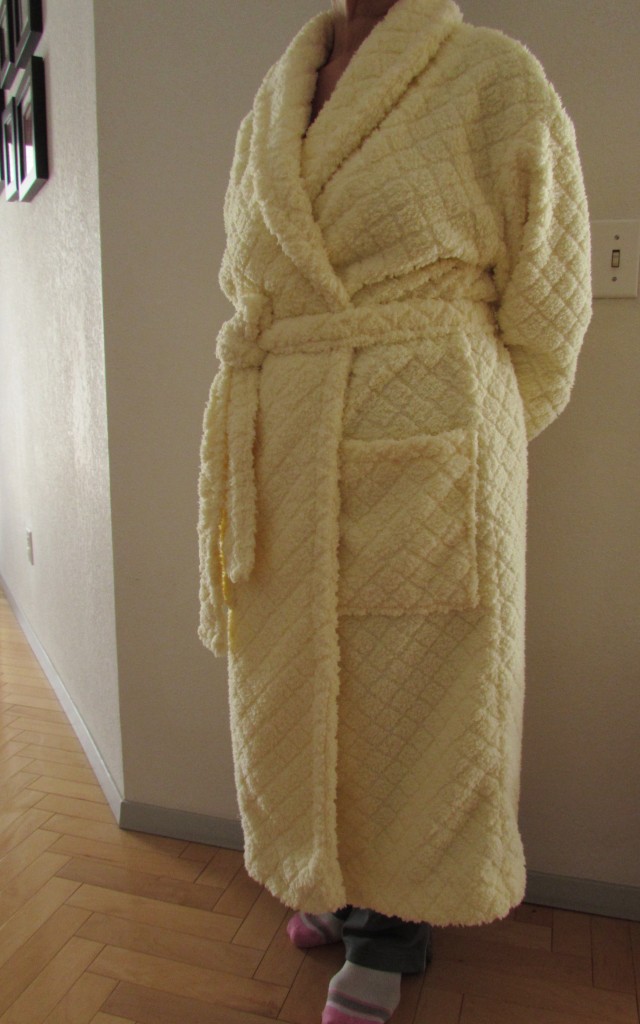 Looking at these amazing photos, I noticed that the pattern on the fabric almost matches where I put the patch pockets on. I cannot take credit for this – it certainly was not planned! I found that hand stitching was much faster than top stitching so I sewed the hem by hand while watching some TV last night.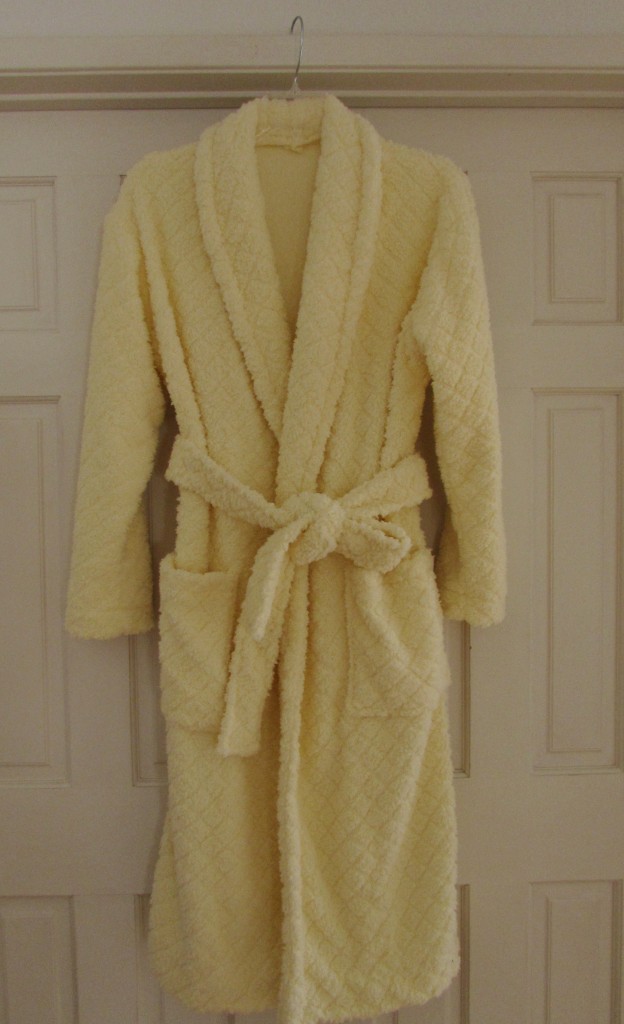 At this point my only remaining concern is that this is one very warm robe. Maybe too much so for this post menopausal model.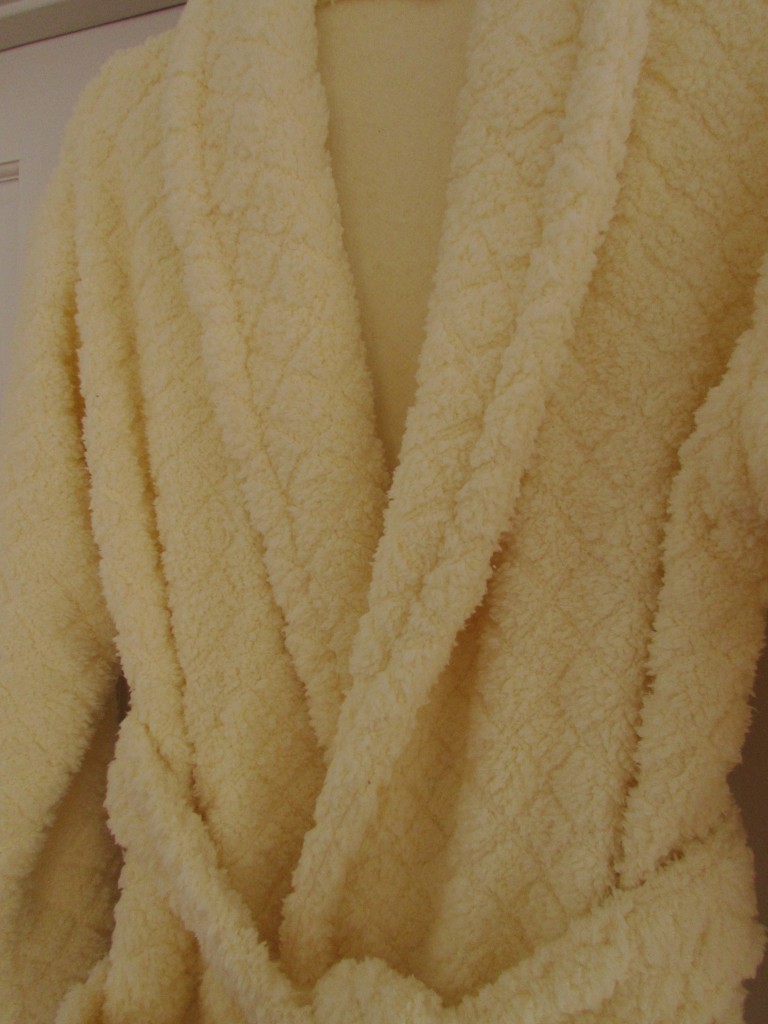 Linking to Crazy Mom Quilts and Confessions of a Fabric Addict. Also with Sew Bittersweet Designs, once the December ALYOF link up is posted.  Because, with 13 days to spare, I just completed my December goal!  Woot woot!
Both links are found at the top of the page under Link Ups.