OK – while it doesn't really seem possible, June is here. School is on its last legs and summer is around the corner. So crazy. Julia graduates from 8th grade (though this year the administration has quite vehmently changed the terminology from 'graduation' to 'promotion').  Whatever it is called, it is a big change and she will move on to high school in August!
We spent Saturday and Sunday in San Francisco. Even though it is a quick 140 miles from home, we rarely go. This weekend was my daughter-in-law, Naomi's, graduation from medical school. She is officially a doctor and we couldn't possibly be more proud of her. She has worked so very hard over the past four years.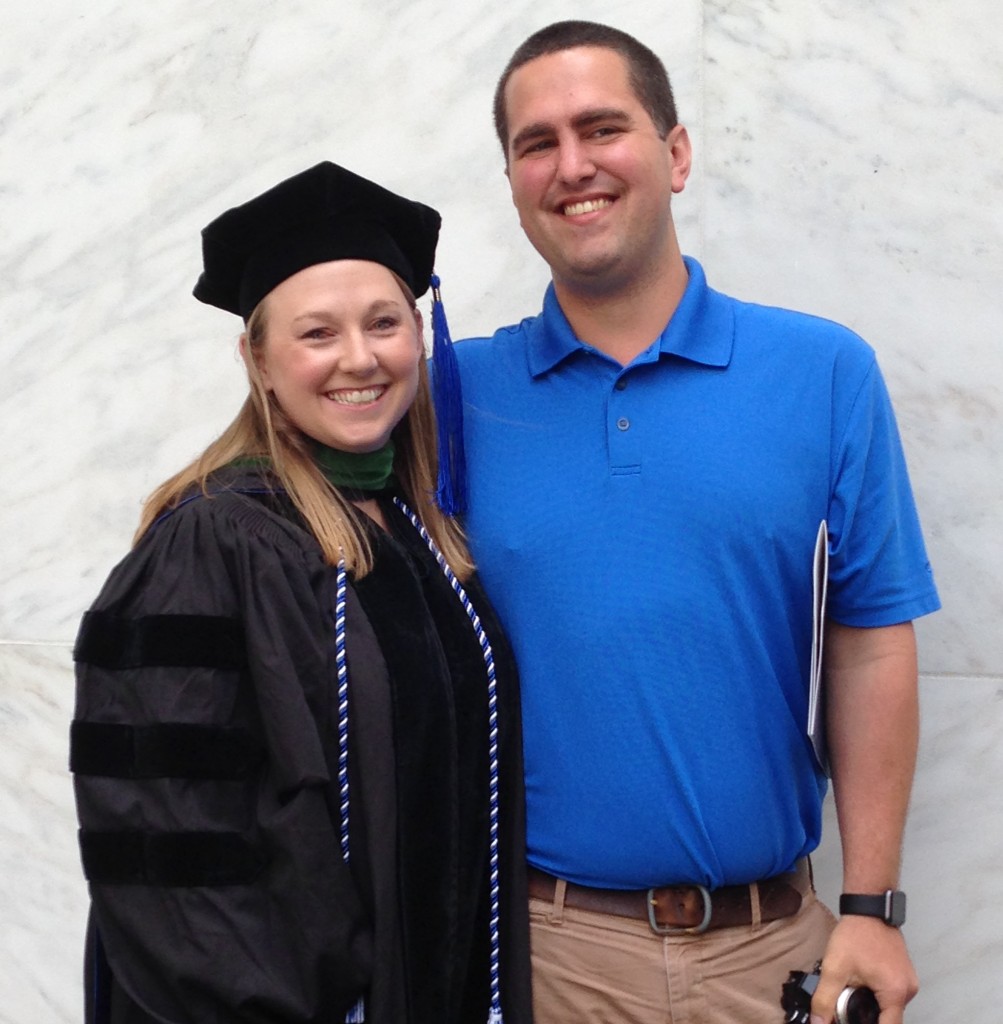 The ceremony was touching and, with about 100+ graduates, small enough that we could reallyt enjoy and see everything. Naomi will be starting her residency in Diagnostic Radiology in a few weeks. This will take them to Burlington, Vermont for a good four or five years. I haven't been to Vermont so this will be a good excuse to visit.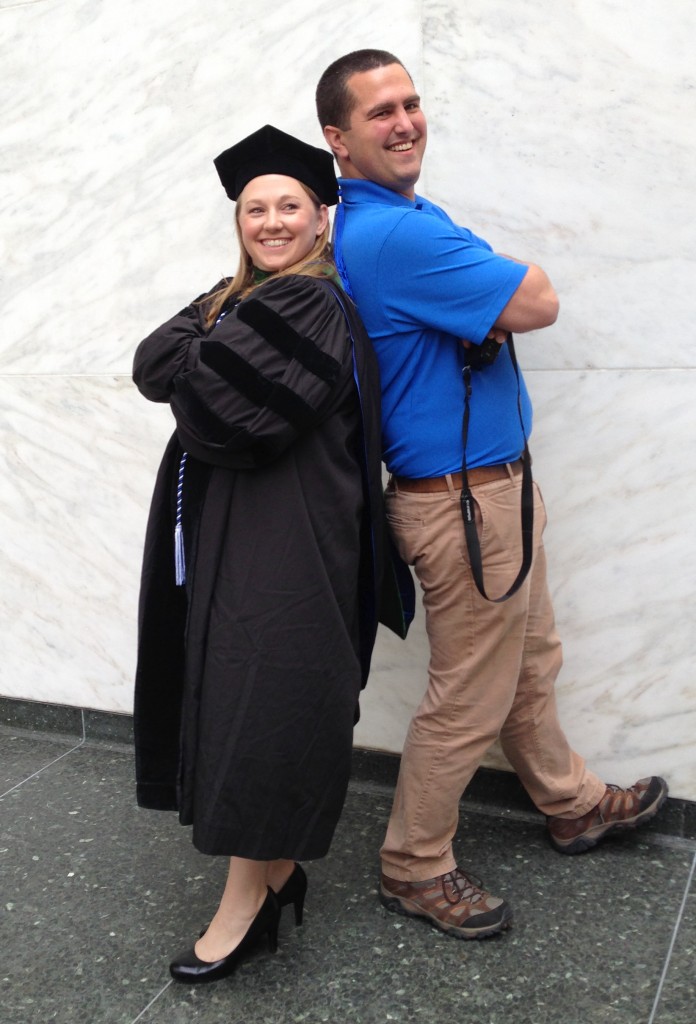 I didn't accomplish a whole lot in the sewing room last week.  I made sure to do a bit of FMQ practice. I am trying hard to fit at least a little practice session in each week. This round was just a quick rectangle (7″x 8″) with a loopy figure eight running side to side. I used a tutorial by Rachel over at Stitched in Color.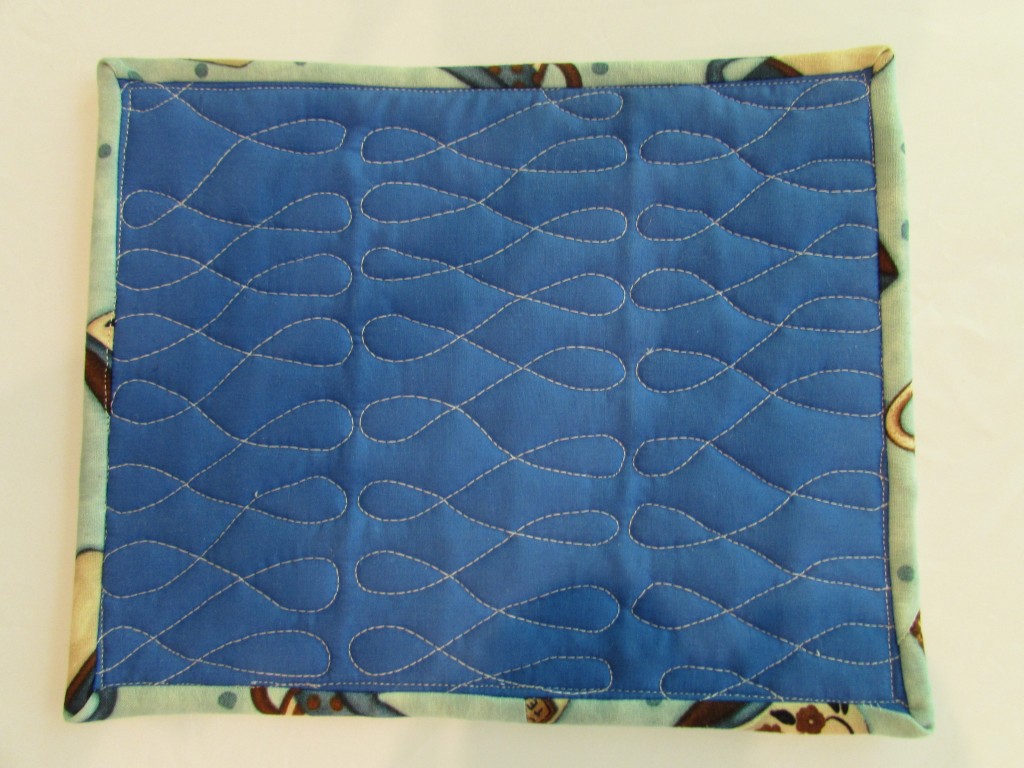 This side looks reasonable. I purposely quilted with a light gray thread against the blue so i could see my results clearly. A bit uneven but not too terrible.  The other side shows a bit of pulling or uneven speed, whatever it is that gives that "eyelash" effect on the curves. I put an Insul Bright scrap in the middle and bound it off to be used as a hot pad. I even machine stitched both sides of the binding, very quick.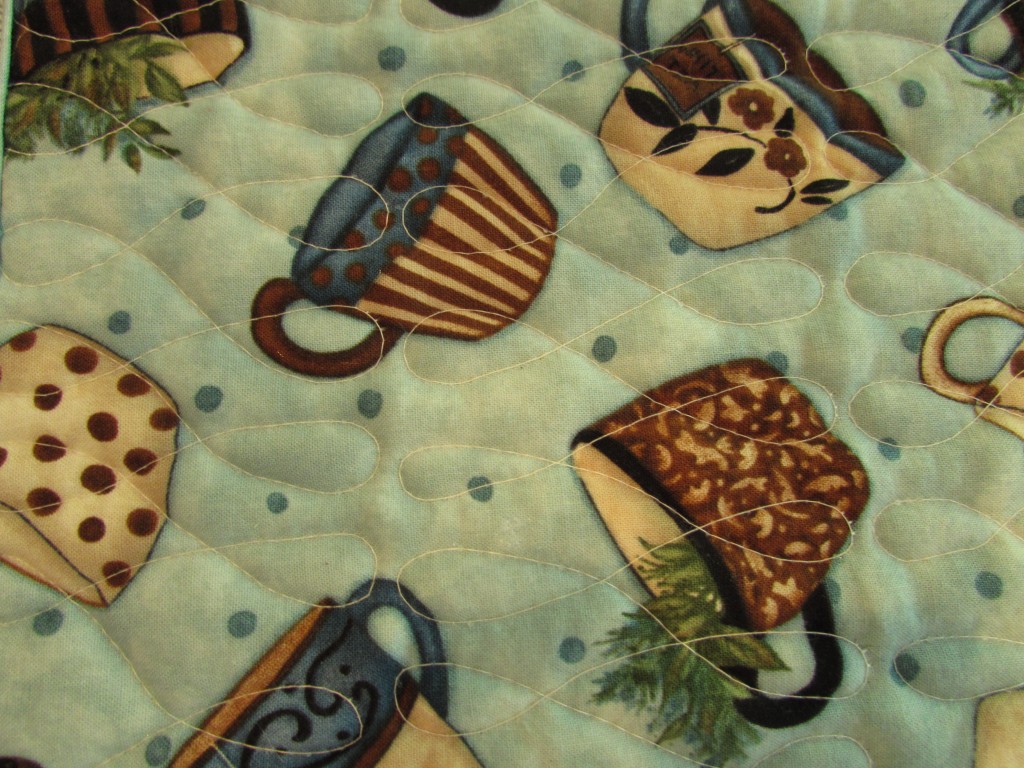 Being the first of June, it is time to link up to Sew Bittersweet Designs for ALYOF.  I have one last quilt top to finish up so that is the goal for the month. I made a batik nine patch back in August of last year. (Posted about it here.)  I love this top and was sort of waiting until my quilting abilities improved before I put it together. Enough waiting. I am going to finish it this month!!  The plan is to free motion it with some sort of all-over pattern.
While that is the main goal, I have others. (Of course I do!) I will make the row for June for my Classic Stitches row quilt. The color is light to medium blue for RSC15 which should be fine. I have quite a lot of blue scrap. Hopefully, I can continue to do a bit of FMQ each week, though quilting the batik quilt will probably make up a few of my practice sessions. Finally, I have a quilt idea that will use some of the 1940's vintage fabrics that I recently received. I want to use this as a donation quilt for an event in mid-October. At  minimum, I need to get the cutting done for that (hopefully I will get some of it pieced though.)
OK, that's it for me – what's on your list for June???
Linking to Freemotion Mavericks, ALYOF, Sew Cute Tuesday and Freemotion by the River.