When the family was all here for the wedding last month, I asked my daughter in law if I could make a Halloween costume for H.  I know she won't really 'trick or treat' since she isn't even 2 years old yet.  But the kids at daycare will likely celebrate Halloween.  Also, she is starting to enjoy pretend play and dressing up with silly hats, wearing her mama's 'pretties' (bracelets), etc.  I think even if she doesn't trick or treat, she will enjoy having the costume to play with.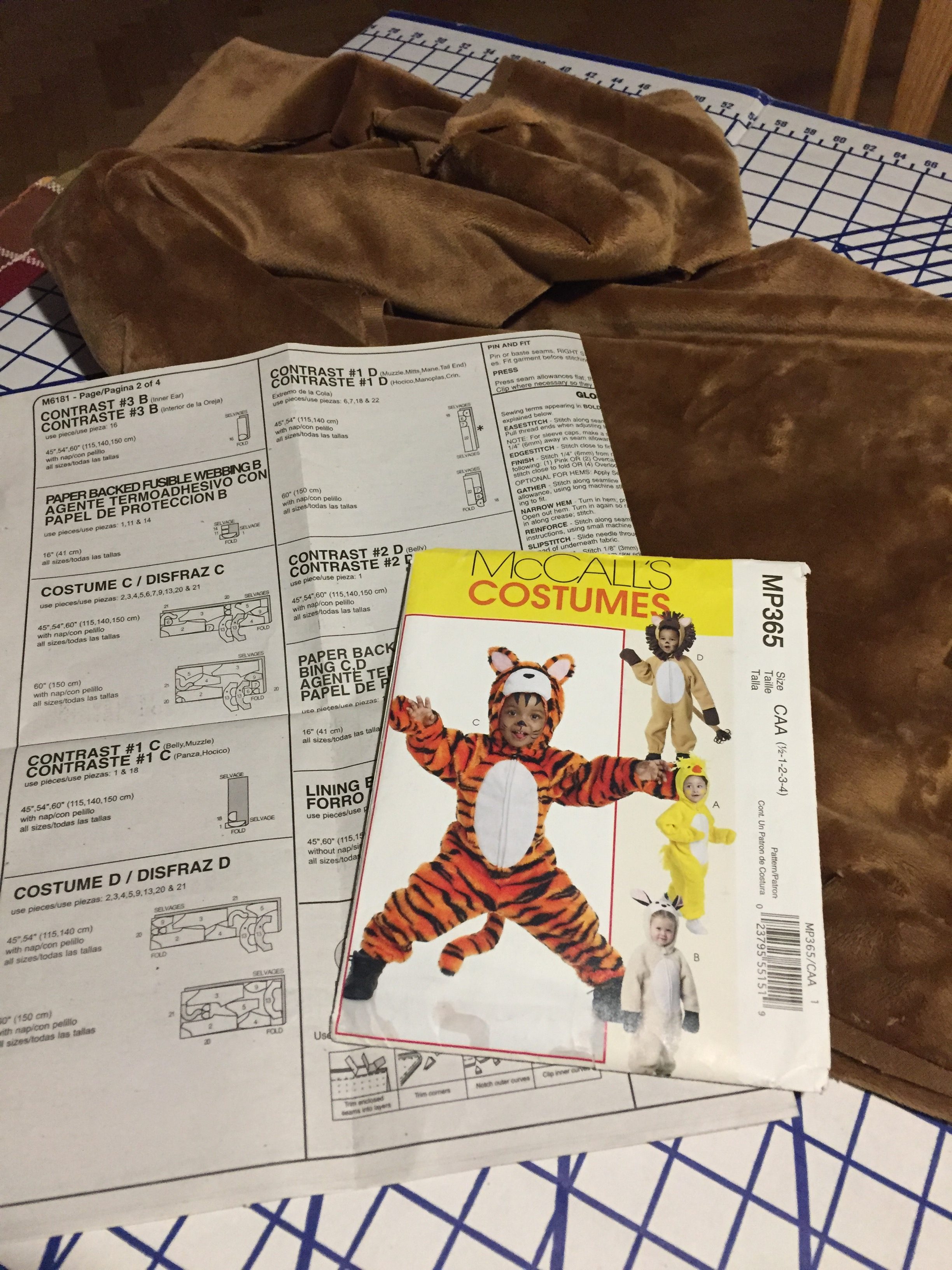 After chatting, we decided on a lion costume.  It will be fun for her to play with and she does enjoy roaring like a lion (which just cracks me up).  I ordered a pattern, which was silly because I have so many costume patterns in my pattern shop but I had sold the lion pattern already. Anyway, I selected McCall's MP365 as it looked like it would be pretty simple to make.  I decided to leave the hand mitts off and make the tail detachable in case it was annoying when H was pretending to be a ferocious lion.
I chose a soft minky fabric for the body of the costume.  So cuddly….and so evil!  Honestly, cutting the minky was incredibly frustrating.  It slips and slides all over the place.  I would begin pinning the pattern piece from the center and work outward.  By the time I was to one end, the other would be off.  It was crazy!  So after putting nine billion pins in it, I finally started cutting. It made me nervous that sewing it would be a miserable experience but it wasn't at all.  I had talked to my minky-expert-friend, Sophia, and she told me to use lots of pins and my walking foot.  The walking foot made all the difference.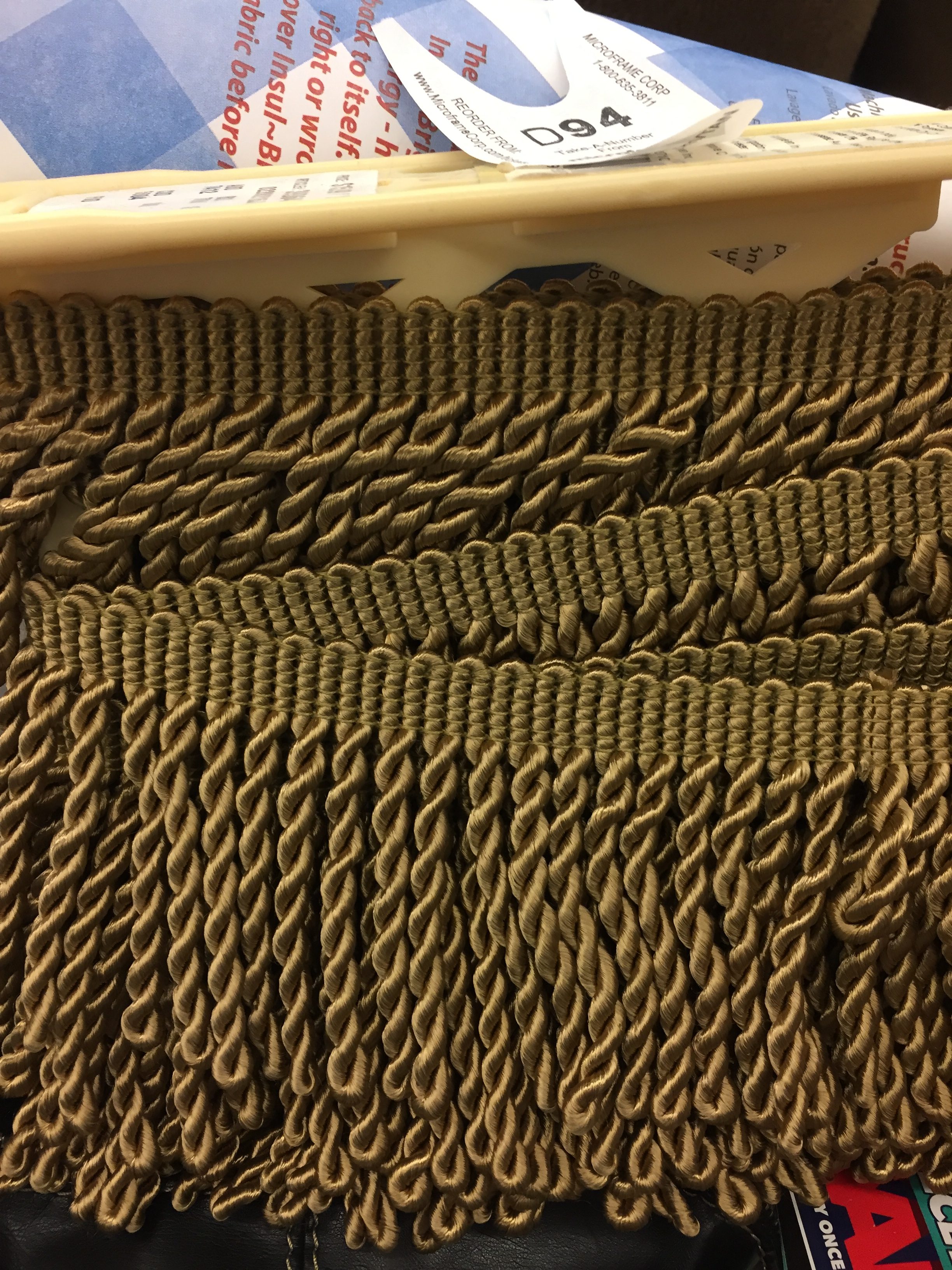 One of my favorite parts of the costume is the lion's mane.  I had bought brown fabric and was supposed to cut fringe to create the mane. But if H uses this very much, it will be washed a lot and I wasn't about to finish each edge of the fringed mane.  I could have used minky because I wouldn't need to finish the edges.  Then one day I was at Jo-Ann's and I took a look at prepared trims.  I found this fringe and it was perfect!! It makes the lion sort of sweet.  My DIL says it reminds her of the Cowardly Lion from the Wizard of Oz. It was so easy to attach and saved me a lot of time. I also hand stitched a bit of it to the end of the tail.
Making the tail detachable was not a huge deal.  I took a strip of minky and folded it wrong sides together and top stitched around all sides.  Then I used "steam a seam" and fused a square of fabric to the inside of the costume just behind where the tail would hang.  I wanted to reinforce that spot so the tail didn't stretch out the fabric when my little lion was roaring over the grasslands.  Once the back side fabric was reinforced, I used the strip of fabric to make a belt loop of sorts.  Then I made a second strip of fabric in the same was as the first. After putting velcro on each end of the strip, I hand stitched it to the end of the tail. This strip passes through the loop and Velcro's to itself.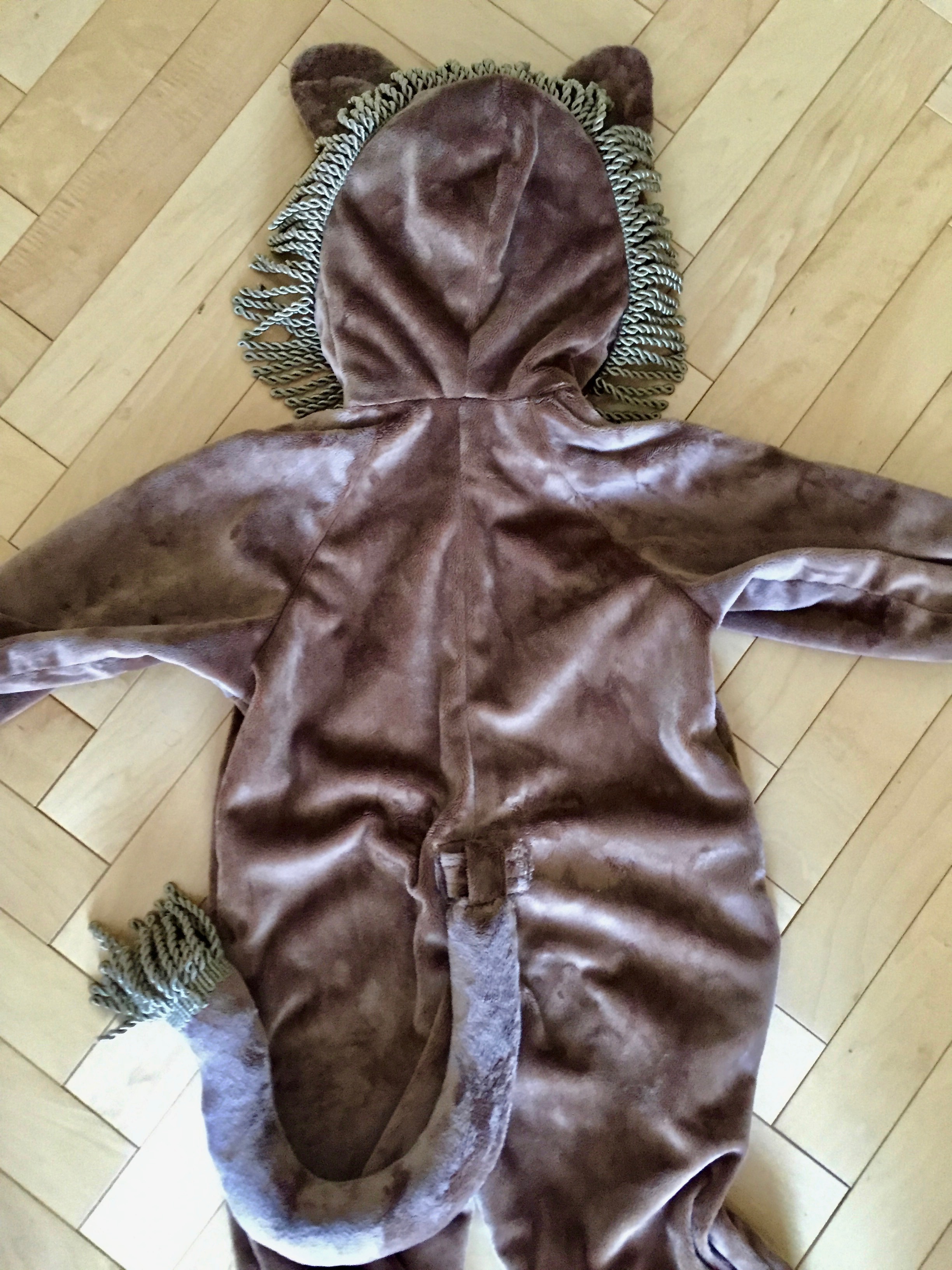 All in all, it turned out really cute.  I just hope it fits!  I had measurements to work with but I won't know until they try it on her.
I can't wait to see this on H.  I am putting it in the mail this morning.  When I have pictures of it on her, I will share one.  Of course, one never knows how a toddler will react and she may decide she hates lion costumes.  In which case, I am sure the next child will enjoy it.  I can remember my kids wanting to be something for Halloween and I would not want to start that costume until just before Halloween because surely they would change their mind at least a couple of times.
Other than the costume, I have been focused on adding new versions of Chemex Cozies and French Press Cozies to my shop.  This is the season where people begin shopping for the holidays and these two items sell quite well as gifts.  That will likely be what I concentrate on for the next couple of weeks.  When I select another fabric to offer, I make one as a sample and then my customers order them according to the size they need.  I make them to order which keeps me busy but it also means I am not sewing and sewing unless the item is sold.  Otherwise, I am guessing at which size and version to make.
Are you doing any Halloween sewing this year?  Maybe fall decorations?  Tell me what you are working on!
Linking up with lots of fun places.  Check them out at the top of this page, under Link Ups.
Newsletter!
Have you signed up for my newsletter?  It is published every month or so and is full of information about my shop, new arrivals, sales, and events.  Click here to sign up!