Wasn't that a wild Super Bowl game yesterday? I think that is what all the cool kids are saying today, so I am joining in. Truth be told, just a few days ago, I had to google who was going to be playing. We are not a football family. Like, not at all.  Somehow though, Ray and Julia have developed a tradition of watching the game together.  They each pick a team, based on scientific evidence, such as the color of their uniforms or the mascot on their helmet. The fighting begins just as soon as one team has scored. Let's just say Julia was very cocky for the majority of the game, lording the success of her team over that of her father's. The tables unexpectedly turned during the dramatic ending of the game. Ray was merciless this morning and will surely fit this into any conversation, as much as possible, over the next few days.  As for me, once the nachos were gone, I was in the other room playing on my iPad.

Last night I spent quite a bit of time on-line meeting a new group of quilters. (Doesn't get much better than that, does it?)  Last week I received an email stating I was selected to be one of the ambassadors for Island Batik.  Island Batik has been in business since 1997 and is located in Southern California. Their product is made in Bali. I am very impressed by the philosophy held at Island Batik. They diligently strive to enrich the community their employees live in.  I can tell from the amount of communication and direction I have received from their Marketing department that this is going to be a good experience. She is so organized, very creative, and responsive. Ask a question and she is back with an answer within an hour or two.
Each year Island Batik accepts applications for their ambassador program. Once they make their selections (of about 30 quilt bloggers), a closed Facebook group is created so we can all work together on Island Batik promotions and blog hops. I felt like it was the first day of school. Would I know anyone? Would I make new friends? But everyone seems so nice and there were several names of bloggers I am very familiar with. I am really looking forward to the arrival of our box of supplies. It should be here this week.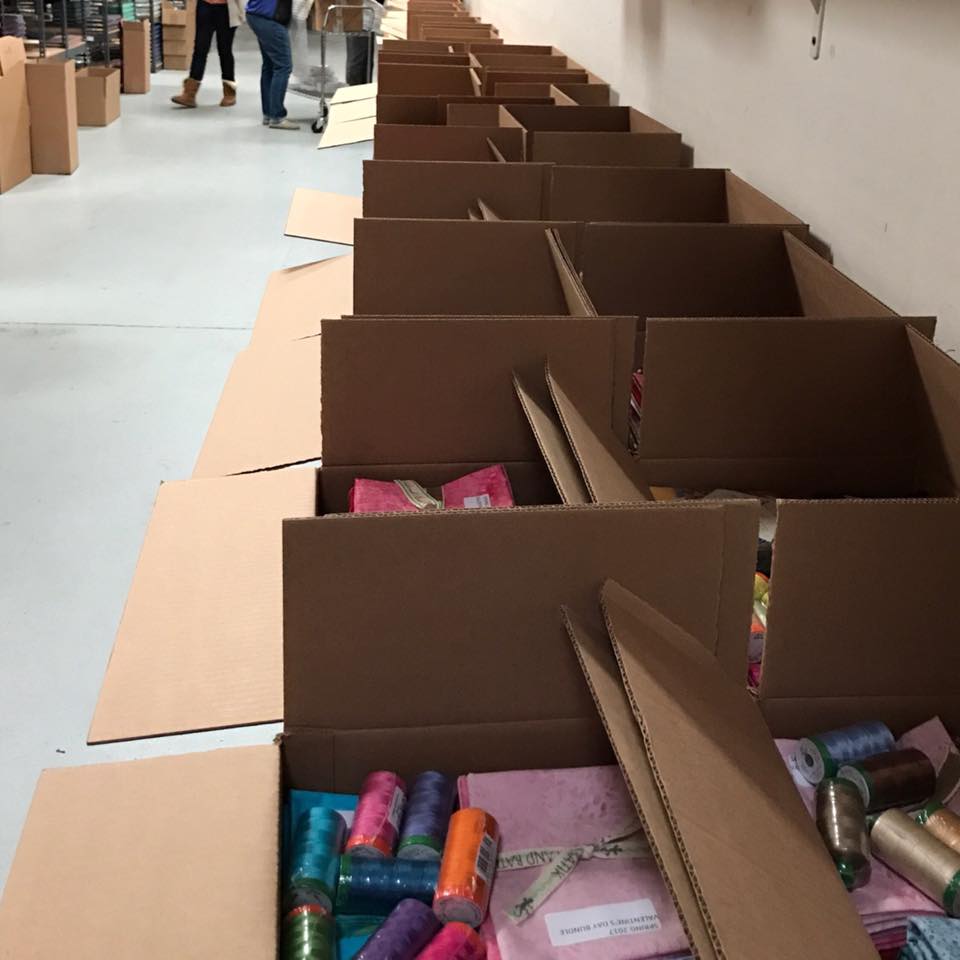 This picture was posted on Facebook the other day – doesn't that just run a chill down your spine? So much possibility is contained in that cardboard box. You can expect to see some fun projects, blog hops and giveaways as a result of that magical box that is headed my way.
On to other business. The name has been picked for the giveaway of the I Love Precut Quilts book. I used Random Number Generator this time because my amazing name-drawing daughter is at school this morning.  Random Number Generator picked number 2!!  So, Wendy of Piecefulthoughts.com, it is your lucky day! A copy of the book will be sent off to Wendy soon. Thanks to all who participated in the giveaway. Looks like I am not the only person hoarding charm squares and fat quarter bundles!
Time to go. I have a binding to make – I finished quilting my Knock Knock quilt the other day. I am volunteering in the See's Candy Shop for Julia's 4-H group this afternoon.  It is pouring rain today which will likely keep the shoppers at home. Since I don't expect to be terribly busy selling Valentine candy, I want to take some hand sewing with me. Hope to have a finish to share with you later this week.
Linking to Main Crush Monday.