I was recently given the opportunity to review a newly released book by Tricia Maloney. Having already published two quilting books, Maloney just authored her third, I Love Precut Quilts.  Like many other quilters, I enjoy the ease of creating with precuts. Using a bundle of fat quarters or fat eighths, a set of charm squares or mini charms, or maybe a jelly roll makes fabric choice a quick decision. Using the bundle means you will have scale and color variation as the designer of that line meant it to be. Sometimes I do add a few solids or prints to the bundle and sometimes I use it as is. Precuts can be a lot of fun. Just take a look in my closet and you will find a large stack of charm squares, several fat quarter bundles, one fat eighth bundle and (just) one jelly roll.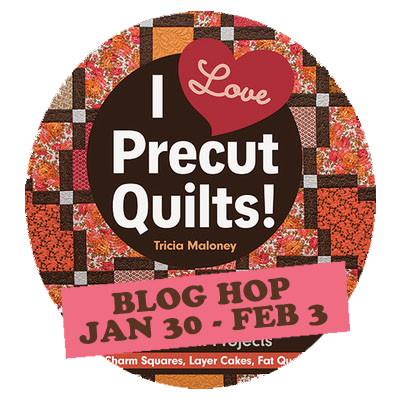 Since I have never published a book, I posed a few questions to Tricia. I thought it might be interesting to hear about her experiences with the three books she has penned.
Q. How did you come up with the precut theme? What inspired this?
A. I originally pitched a slightly different idea, but with some give and take with C&T, we tweaked my original concept and came up with I Love Precut Quilts!. I did have to rework several designs, but it was definitely worth it because I am very proud of the final product.  It wasn't really a hard transition for me though because I was already in love with precuts.
Q. What is your writing process? Do you design the quilts first? How much direction does the publisher give you?
A. Once I have my design direction (basically my idea or focus) then I sit down in front of my computer and rev up my Electric Quilt 7 software because most of the time I start with a design first, add fabrics, make the project (taking notes as I make it), and then write the full instructions.  Of course, there are times that my approach can vary like when I find an awesome fabric collection that really inspires me and I just have to create a quilt around the fabric (like Cocktail Party in my book).
I don't know how my experiences translate to other designers as a whole, but by the time I'm working actively with a publisher I have already designed all of the quilts, selected the fabrics, probably already started making quilts and possibly writing basic instructions.
Q. How long does it take to write a book, from first pitching it to the publisher to release? You've got three under your belt so I bet you have a good idea here.
A. I would estimate about a year or so from beginning to end, more if there are any bumps along the way.  Writing a quilt book is not for the feint of heart because you really have to be committed 100% to the project for a long period of time.  It can be very stressful when you're trying to balance your book project with family, work, and everything else.
Q.  What is the best and worst part of a project like this?
A. The best part of writing a book is sharing your love of quilting with a broad spectrum of people.  I also really love creating the concept and the designs, picking out the fabrics (who wouldn't love that part?), and making the quilts.  The "worst" part of the process is how long it takes from beginning to end.
Q.  Any words of wisdom to a wanna-be writer out there?
A. If you think you'd like to be a writer, I would suggest you try out working with magazines and smaller publications before tackling "the book."  Find out if working within deadlines is for you.  Can you write instructions that others can understand? Do you enjoy the whole process?
Once you've determined that YES! you want to write your own quilt book, find something that you're passionate about that hasn't been done before or a different way of doing something and then start researching possible publishers.  When researching publishers, the first place to start is your own bookshelf — who publishes your favorite books?  Once you have some publishers in mind, visit their websites to learn more about them.  If they have submission guidelines available, follow them to create your book proposal.
I think Tricia provides valuable insight into the process of authoring a book. It gives me a solid appreciation for the designers out there who take the time to write books and patterns for us, the quilty consumers.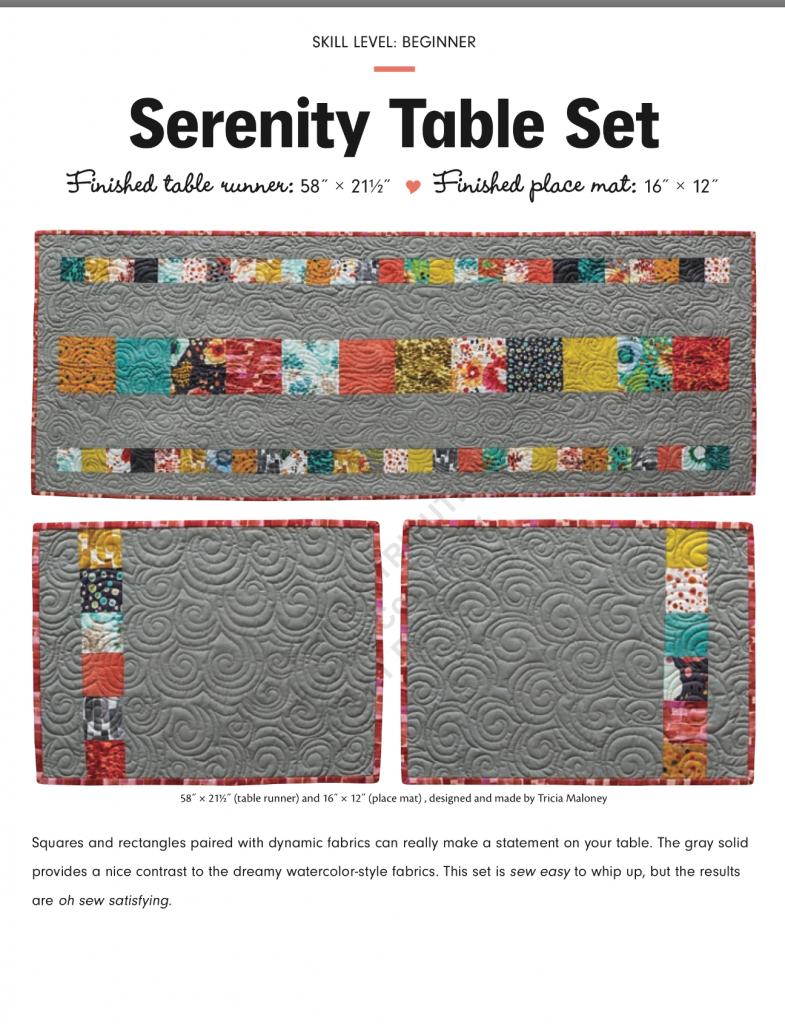 When I was reviewing the book, I decided I would make something with a set of Basic Grey mini-charms by Moda. They have been languishing on the shelf for a while now. Placemats or a tablecloth are used at our house each night. I chose to make the placemats from the Serenity Table Set. Rather than making two placemats and a table runner as the pattern suggests, I made four placemats. I think I will use them more often if I have more placemats. Actually, I have enough fabric for two more placemats so hopefully, I will get those done at some point for a total of six mats.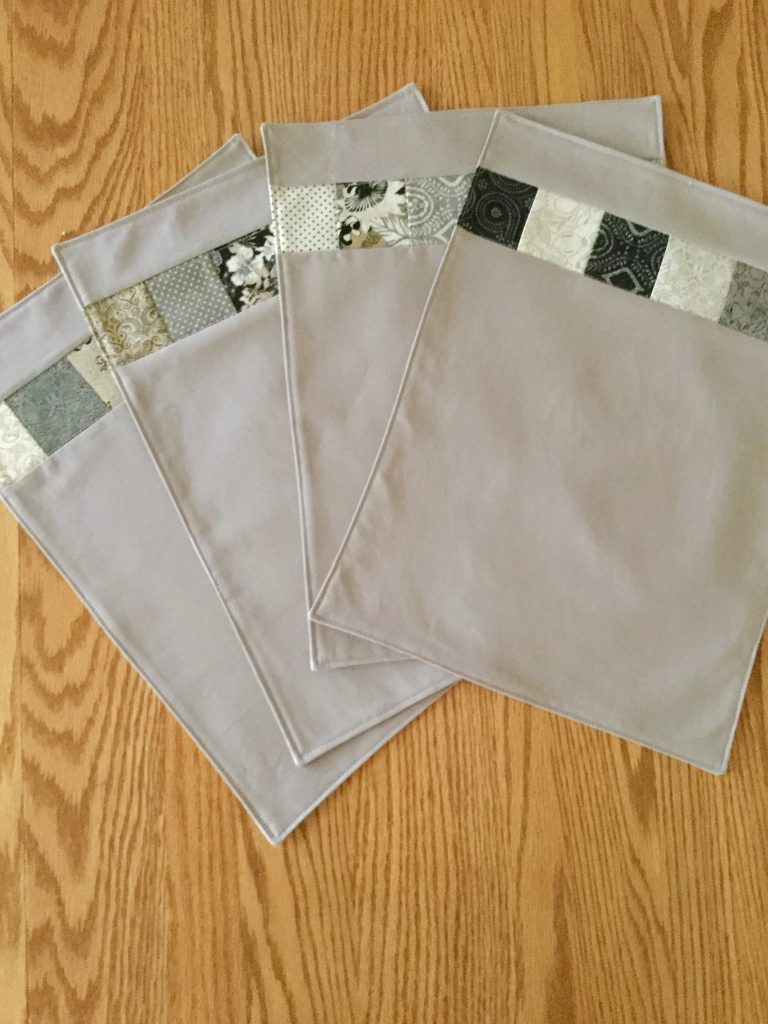 I think they are so pretty. This simple project took me very little time at all and gives the table a fresh look.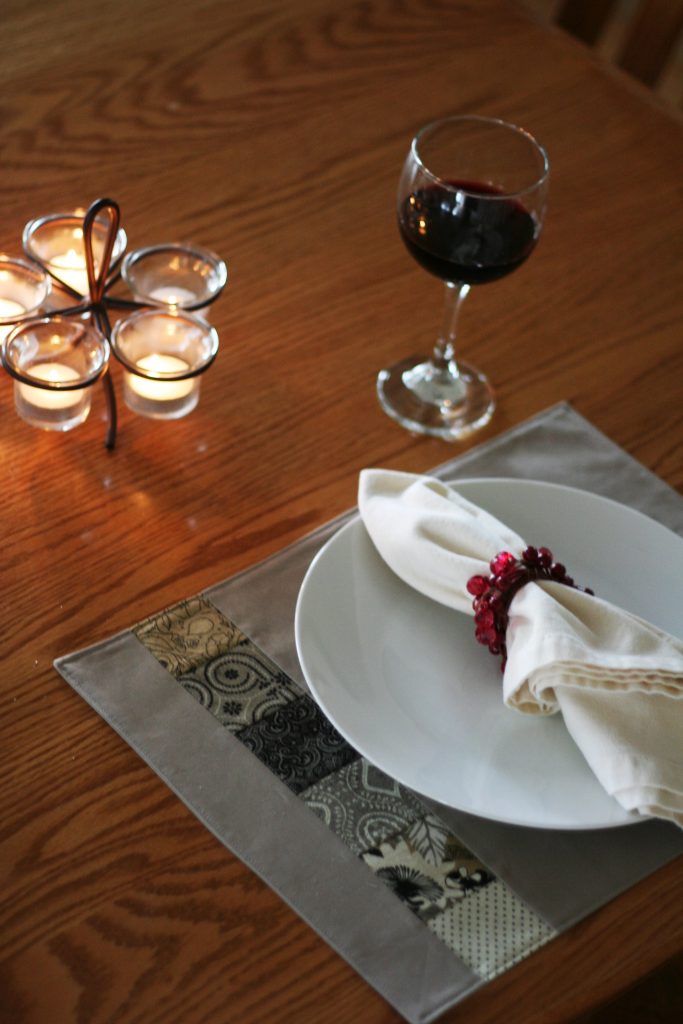 I did try something different. I wanted a thinner placemat so rather than batting, I chose to use a fusible interfacing which I fused to the top of the placemat. Next, I sewed the top and bottom with rights sides together, leaving a small (approximately three inch) opening to turn it right side out. After making sure the corners were crisp and everything was nicely pressed, I topstitched around the edge with a generous 1/8″ allowance. Using a narrow seam allowance ensured I caught both sides of the opening at the bottom of the mat. I also topstitched along both sides of the column of pieced mini charms. I think this gave the placemat a very polished look.
I Love Precut Quilts has a number of projects to be enjoyed by both the beginner and intermediate quilter. The instructions are clear enough for a novice and the designs are such that an intermediate quilter could build on them, making the quilt uniquely her own. Finally, I appreciate that Tricia shows her designs not only in the colorway she used but also in one or two other palettes that provide inspiration to the reader.
C&T Publishing and Tricia Maloney have generously provided a copy of this book as a giveaway! To enter the giveaway, please tell me about a certain precut you have been hoarding (we all do it!). Maybe now is the time to create something with it! The giveaway will remain open through Sunday, February 5th with the winner announced on Monday, February 6th. Domestic winner will receive a hard copy book, while international winners will receive an e-book.  So, this is open to all!
Remember that all Needle and Foot readers are invited to shop for fabric, yardage or precuts, at my shop. Use the code NANDFREADERS15 and receive 15% off your purchase of $5.00 or more. This code expires on February 13, 2017.
Here is the schedule for the blog hop. If you hop over to some of the other sites, you will find not only quilty inspiration, but also more chances to win a copy of Tricia's new book.
BLOG HOP SCHEDULE
Monday, January 30th
Tuesday, January 31st
Wednesday, February 1st
Thursday, February 2nd
Needle and Foot  (You're here!!)
Friday, February 3rd
Note: I was provided a copy of the book, I Love Precut Quilts, for this review. The opinions stated are my own. I am an affiliate of C&T Publishing which means if you make a purchase after clicking over to their site from my blog, I will receive a small compensation for purchases made.