I had a finish this week! Remember I did some pattern testing for Sarah of Sarah Goer Quilts? I was able to quilt and bind it over the last week or so. The quilt is just adorable.  If you would like a copy of this pattern, click over to Sarah's blog and sign up for her newsletter. I just read the second newsletter and I am enjoying them.
This quilt has been a multi-faceted project for me. It began with pattern testing the new pattern for Sarah. I made the quilt with fabrics from the Fiesta Fun line (which I just happen to carry in my shop!) I chose the Fiesta Fun fabric so I would have something to display the brightly colored fabric. When I looked at the quilt top, I knew it would be a fun one to quilt. The quilt is filled with big open spaces to play with. At about the same time Fil-Tec provided me with a lovely spool of white Glide thread to play with.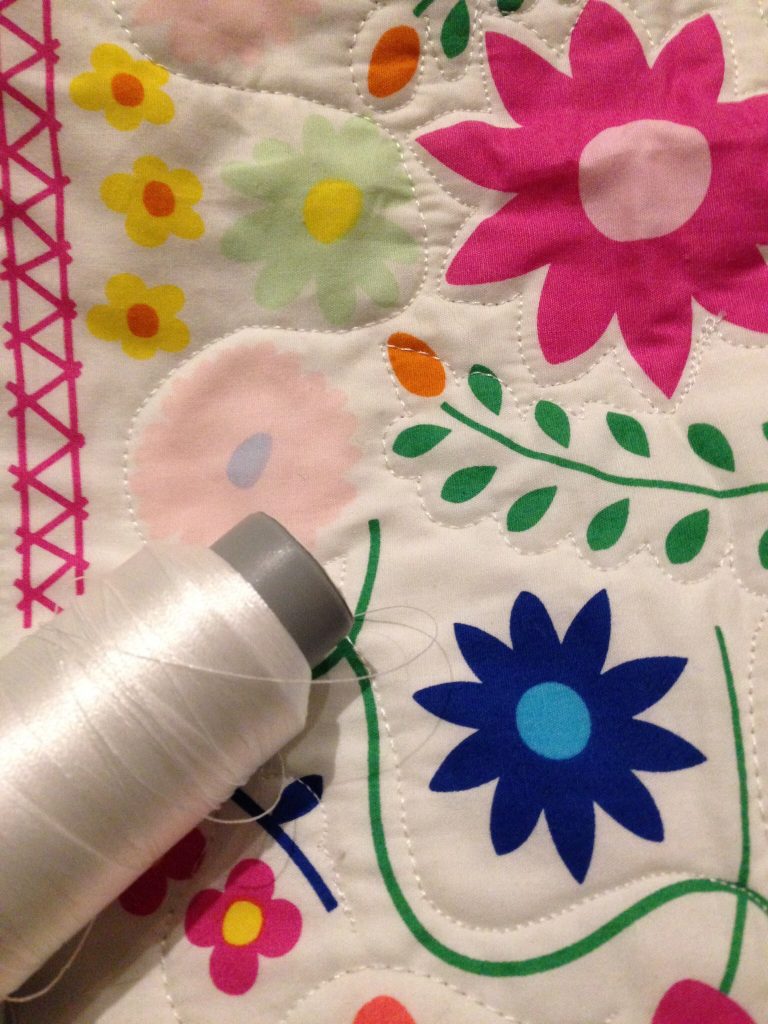 I decided to quilt the floral block and the striped blocks with the white spool of Glide.  Wow. I loved it! Glide is a polyester thread with a very pretty sheen to it.  It was a dream to quilt with – honestly, just amazing. It is very clear where the thread earned its name – I felt very little pull when I was quilting. I will absolutely stock up on a few more colors. Ok – back to the quilting. For the floral block, I basically outlined some of the flowers and leaves. Very simple and quite fun. For the striped blocks (made with the adorable Happy Streamers fabric from Art Gallery) I followed the pattern of the stripes, stitching on the white space between the streamers. When the fabric is as busy as this Happy Streamers is, I think it works well to keep the quilting simple.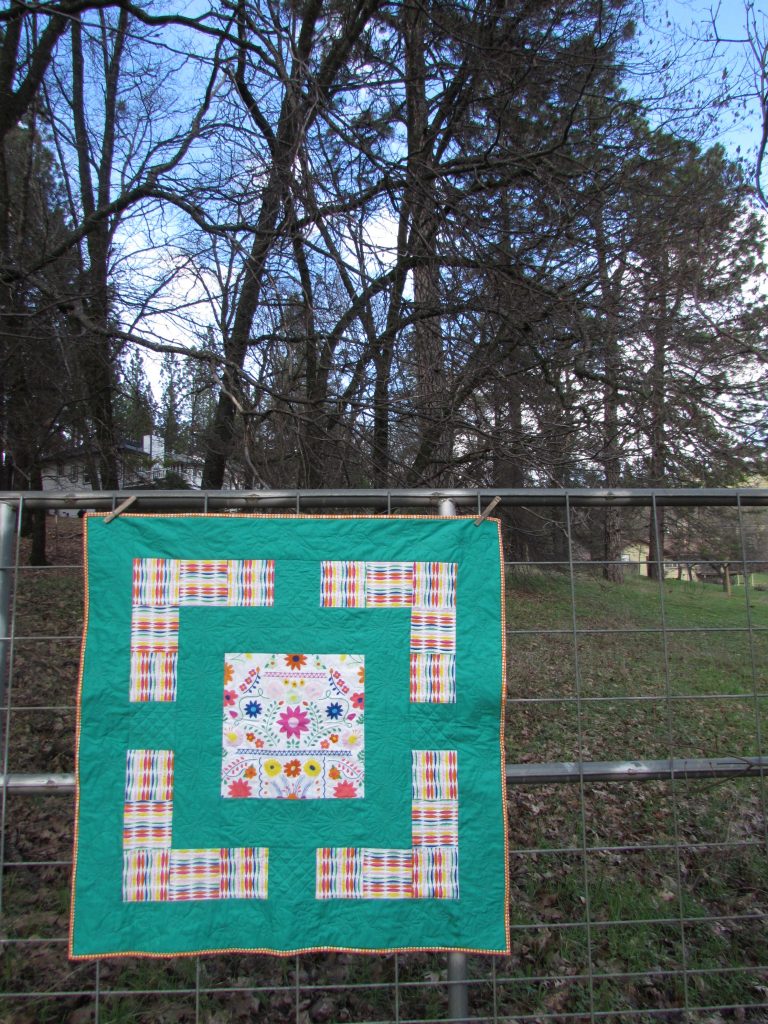 Then I worked on the green background. I used a spool of Mettler thread to quilt this because I had a spool that worked well. Honestly though, I am not a huge fan of quilting with Mettler. It gives off quite a bit of lint and I fight the tension more when I use Mettler. But I had a good time quilting this. For the inner border I used large, free form flowers.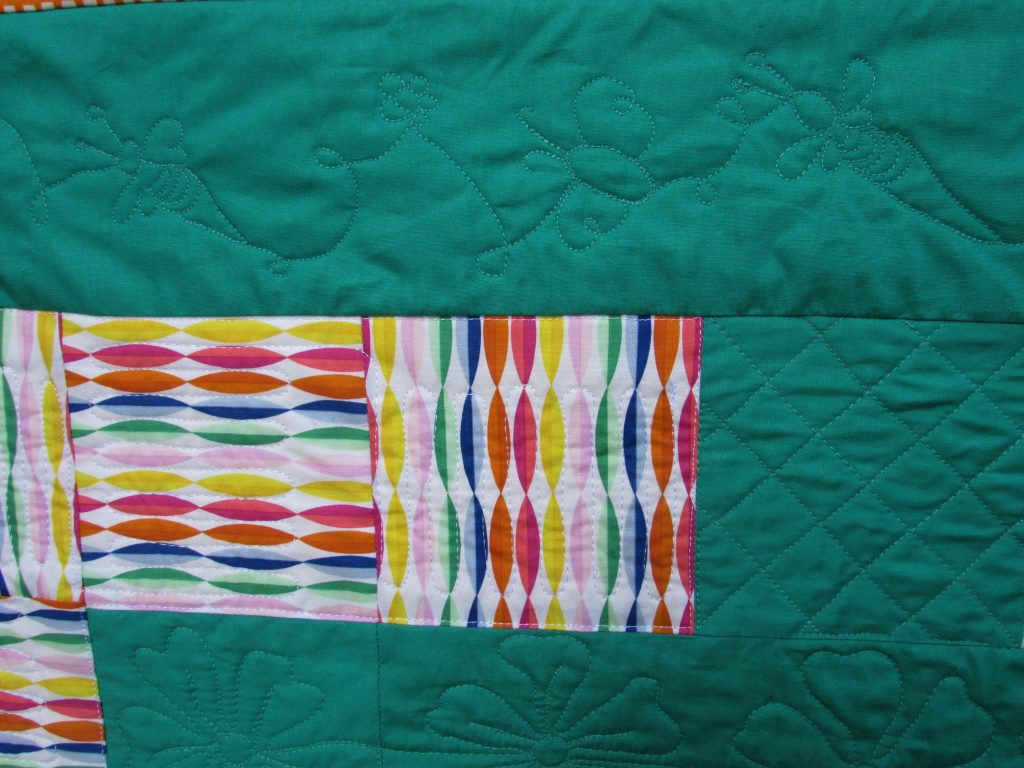 On the outer border, I did a an organic wavy vine with small flowers, bumblebees and butterflies.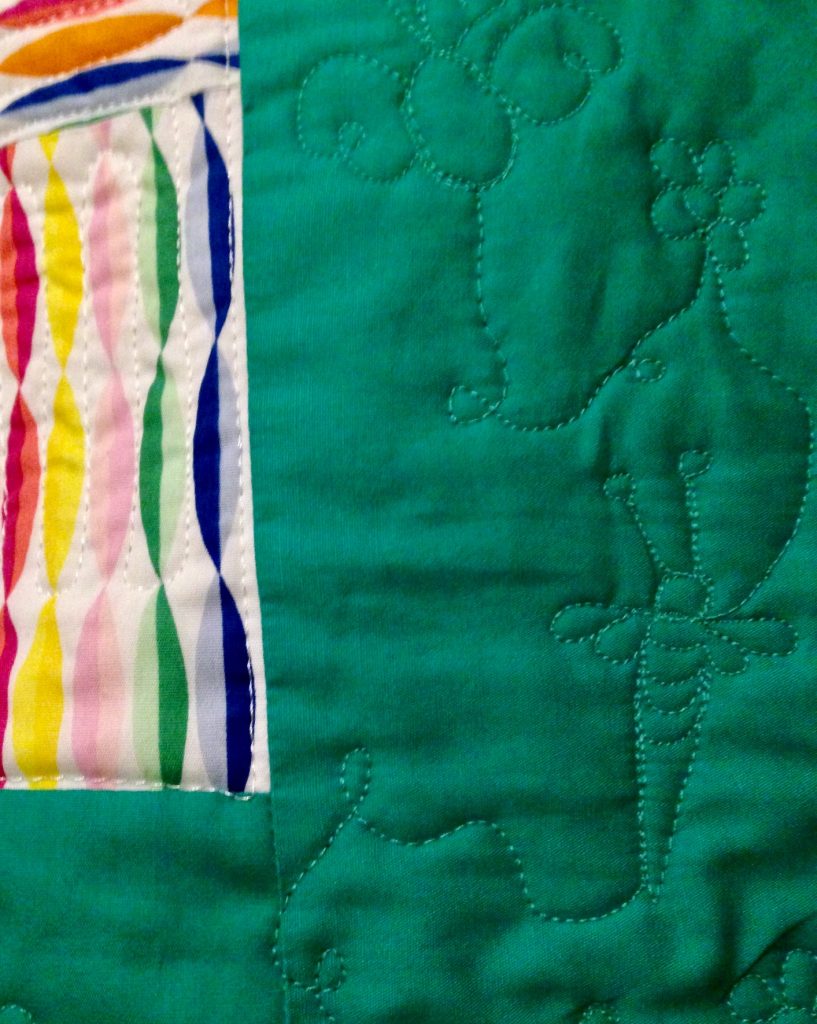 For the bees and butterflies, I found inspiration at The Inbox Jaunt. Lori Kennedy has a vast library of tutorials for different quilting motifs. I think the bees and butterflies are so cute. Some of the butterflies are a bit lopsided, which adds a lovely touch of whimsy to the quilt (right?). Finally, on the block between each section of directional fabric, I quilted a cross hatch pattern.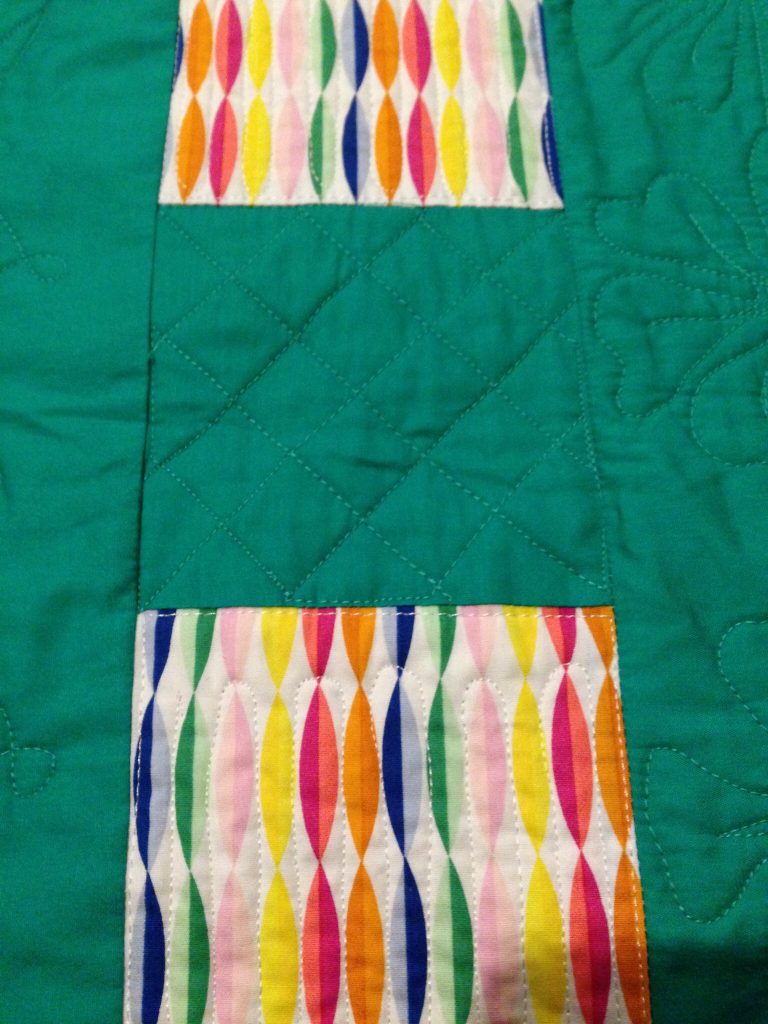 The backing was cut from a sheet that I thrifted a long while back. I think the bright, primary colors work well with the top.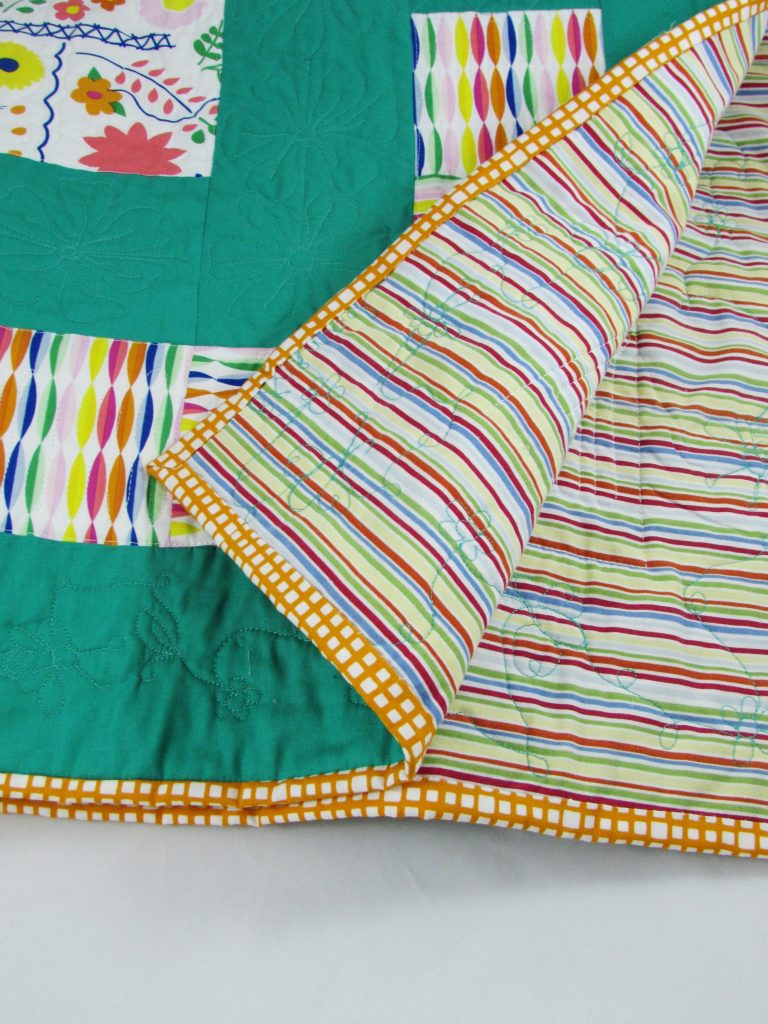 The binding is a cheerful print from Art Gallery, Squared Elements in Mandarin. Guess what? I have it in my shop! 🙂
I am happy to call this one done. Bright and colorful, perfect for these gray, rainy days we have been having. (But I am not complaining. I welcome the rain!!)
I would like to thank everyone for your support of my shop. I really appreciate it. The discount code for Needle and Foot readers is good for just a few more days. Enter  NANDFREADERS15 follow meand receive a 15% discount on orders of $5.00 or more. This code is valid through February 12th.  Next week there will be a giveaway on Instagram. If you , keep an eye out for that. If you don't, now might be a good time to start!  😉
Linking to my favorites. Check the list at the top of the page, under Link Ups.