Now that Christmas is done and gifts have been given and received, I thought I would share what I made with you. Usually I try to find a fun project to make and give during the Christmas season.  In recent years I have made purses, zip pouches, table runners and hot pads. This year I decided to make an apron for my Vermont daughter-in-law.  Also, I made hot pads for my California son and his girlfriend as well as my Toronto son and his wife.  These projects were quick and satisfying.
For the apron, I upcycled a duvet cover that I had bought a while back. I was thrilled to find this cover in a tan and cream stripe.  The neutral colors and the feel of the fabric assured me I would easily find many uses for the fabric.  I had a vintage pattern from 1975 that I have been holding on to, thinking it would make a really cute apron.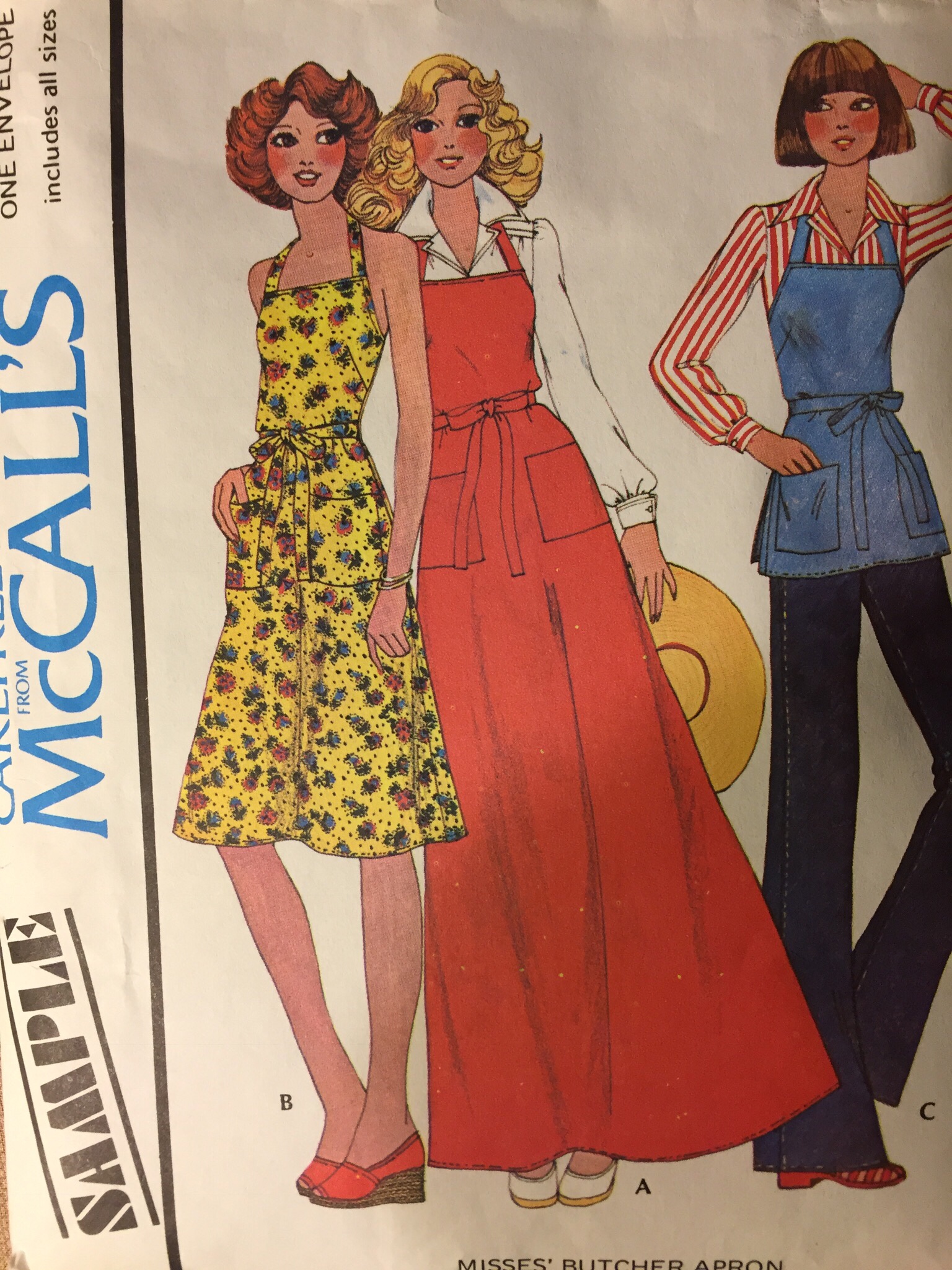 Originally the pattern was designed for a wrap around dress and let me just say, I would have totally loved wearing this dress at age 15 (not that I was necessarily 15 in 1975… oh wait, I was.)  Anyway, I had a really similar dress that I made out of a green striped seersucker fabric.  I was so cool.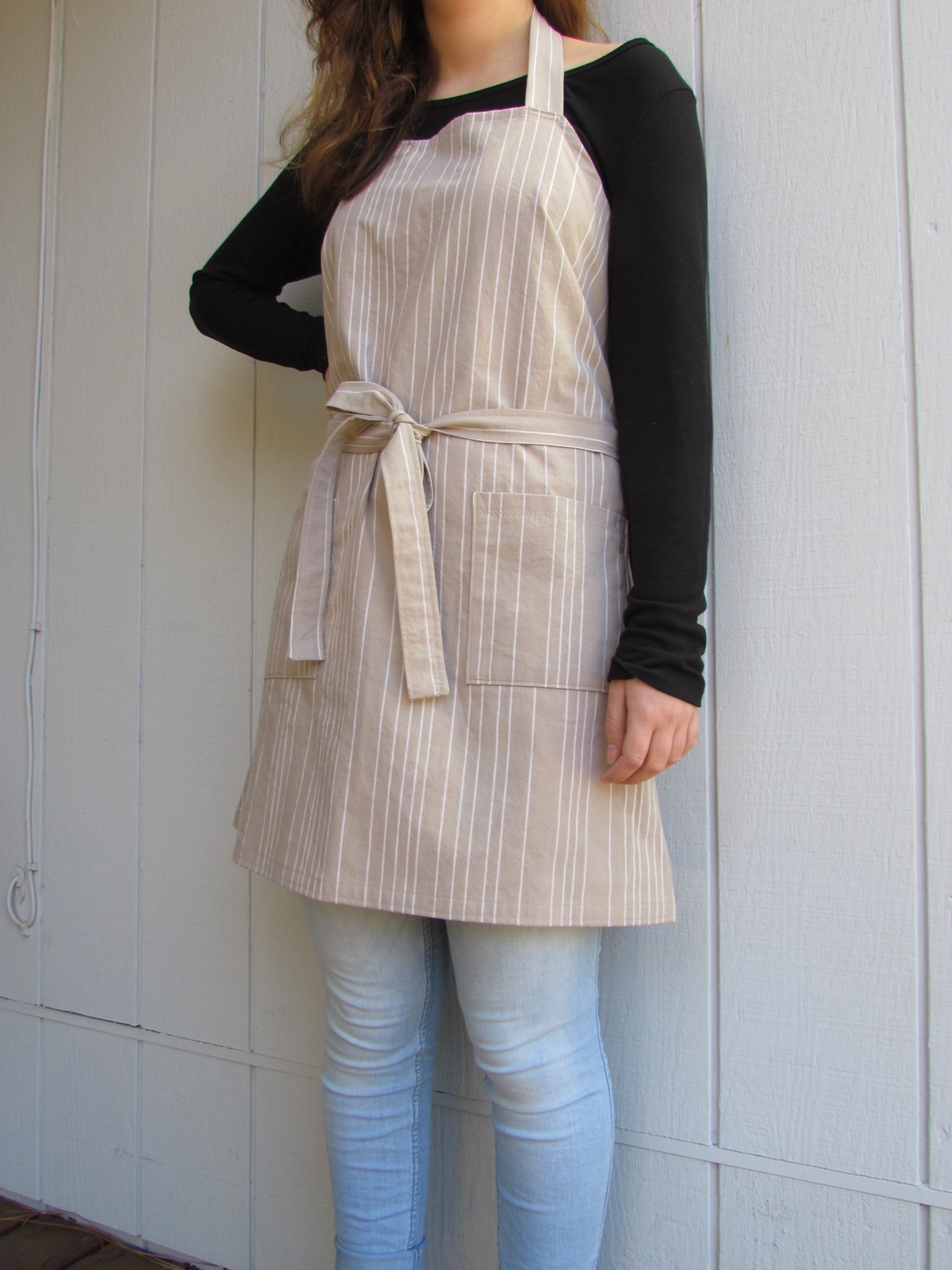 Ok, back to the apron.  I had seen these Japanese work aprons and really liked them – this pattern is a bit of a compromise between a standard apron and the Japanese wrap style. This one is more fitted with darts in the bodice.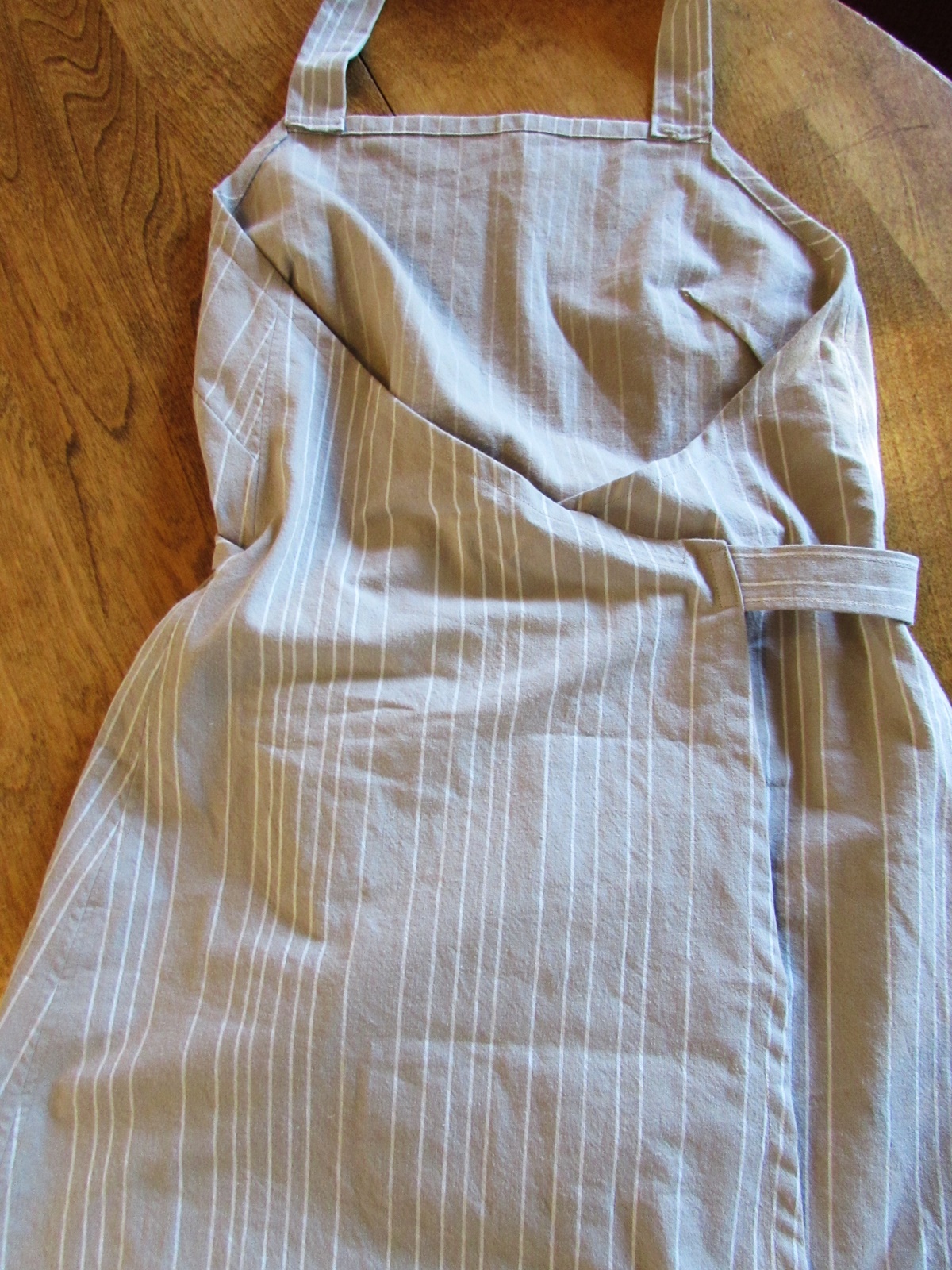 It wraps around the back with the tie coming through an opening left in the side seam.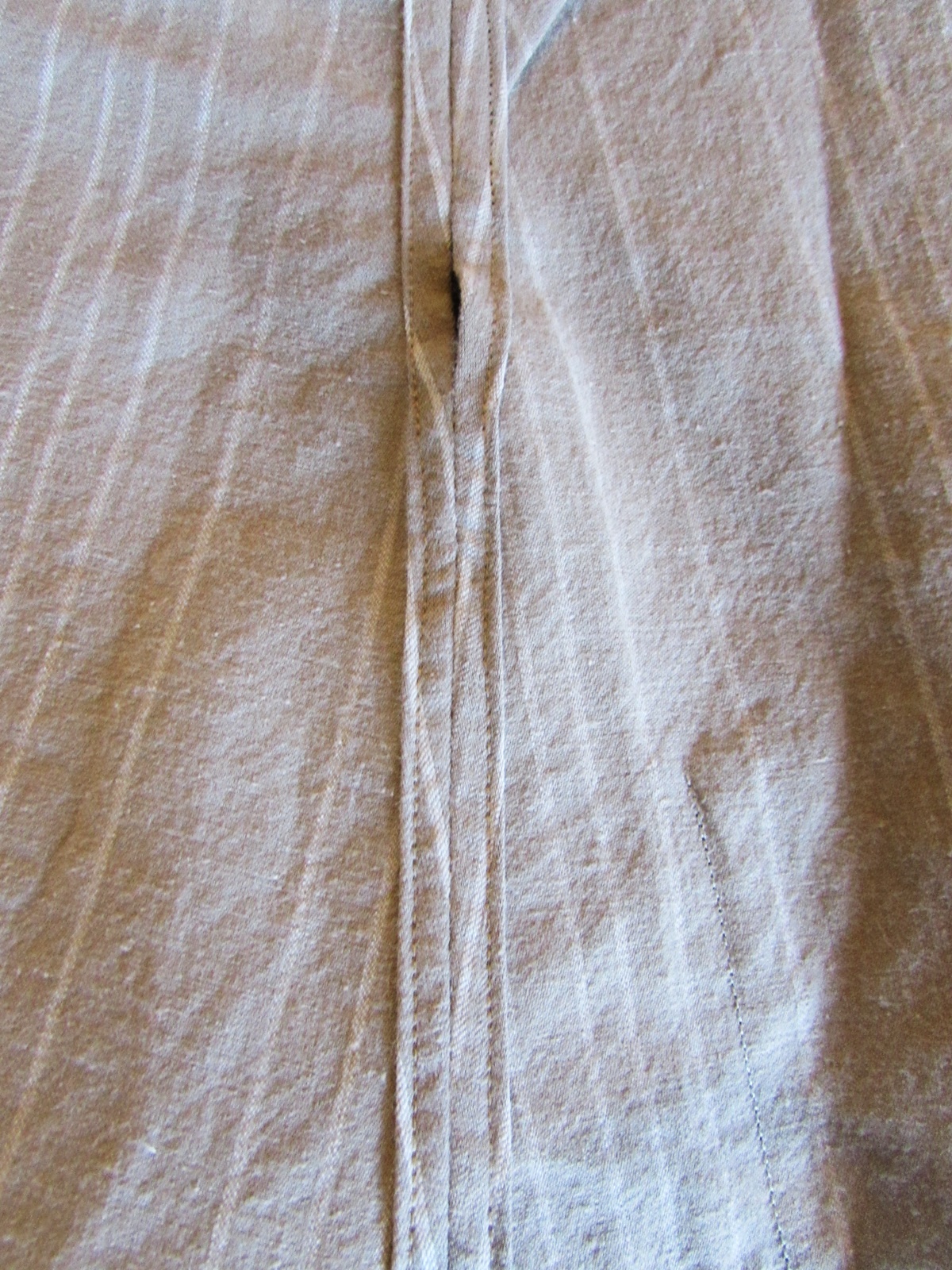 I finished the interior seams by folding the raw edges in and top stitching them for a clean look.  This fabric would likely fray in the wash so this will prevent any issues.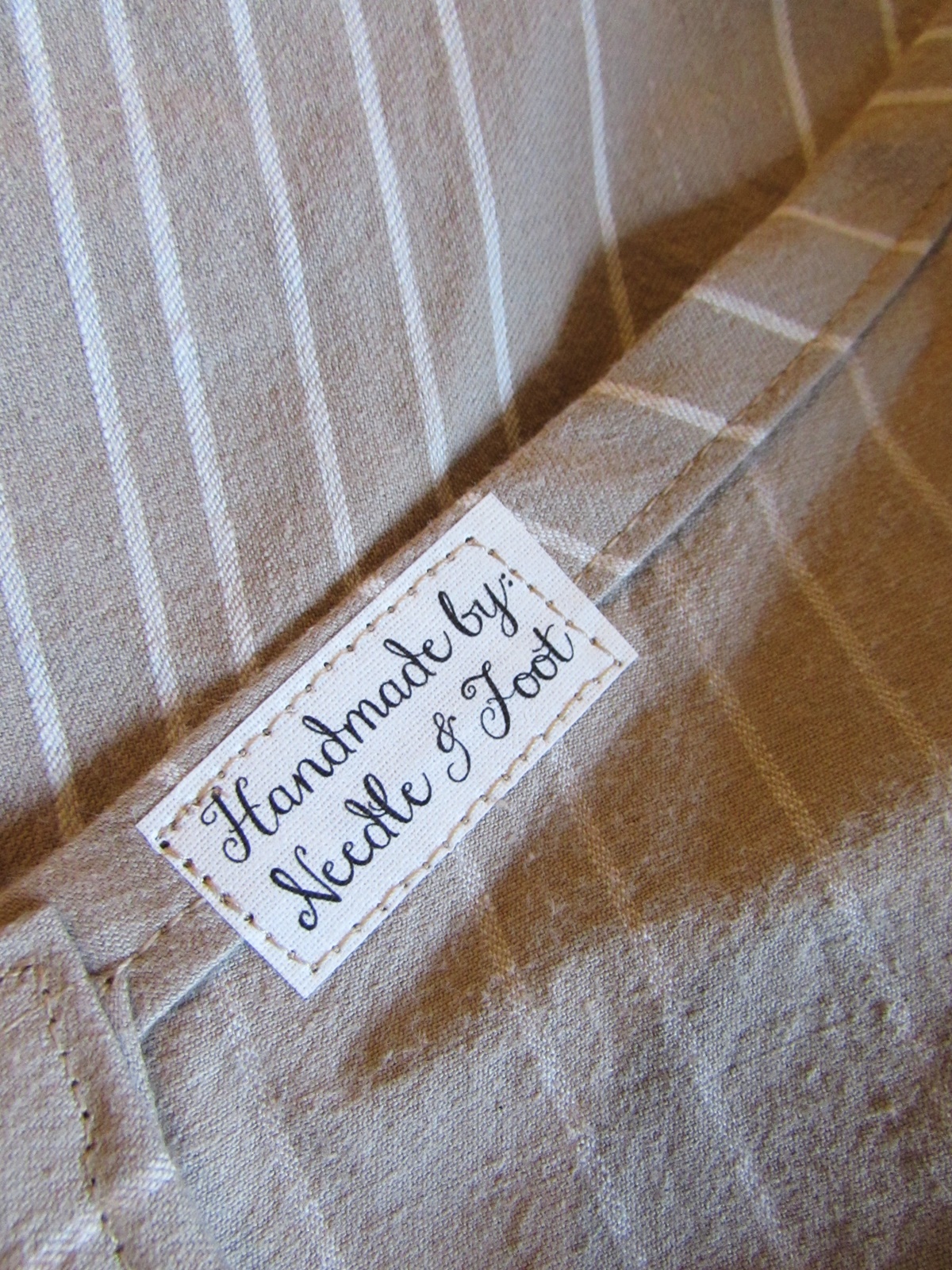 I even remembered to put a little label on the inside.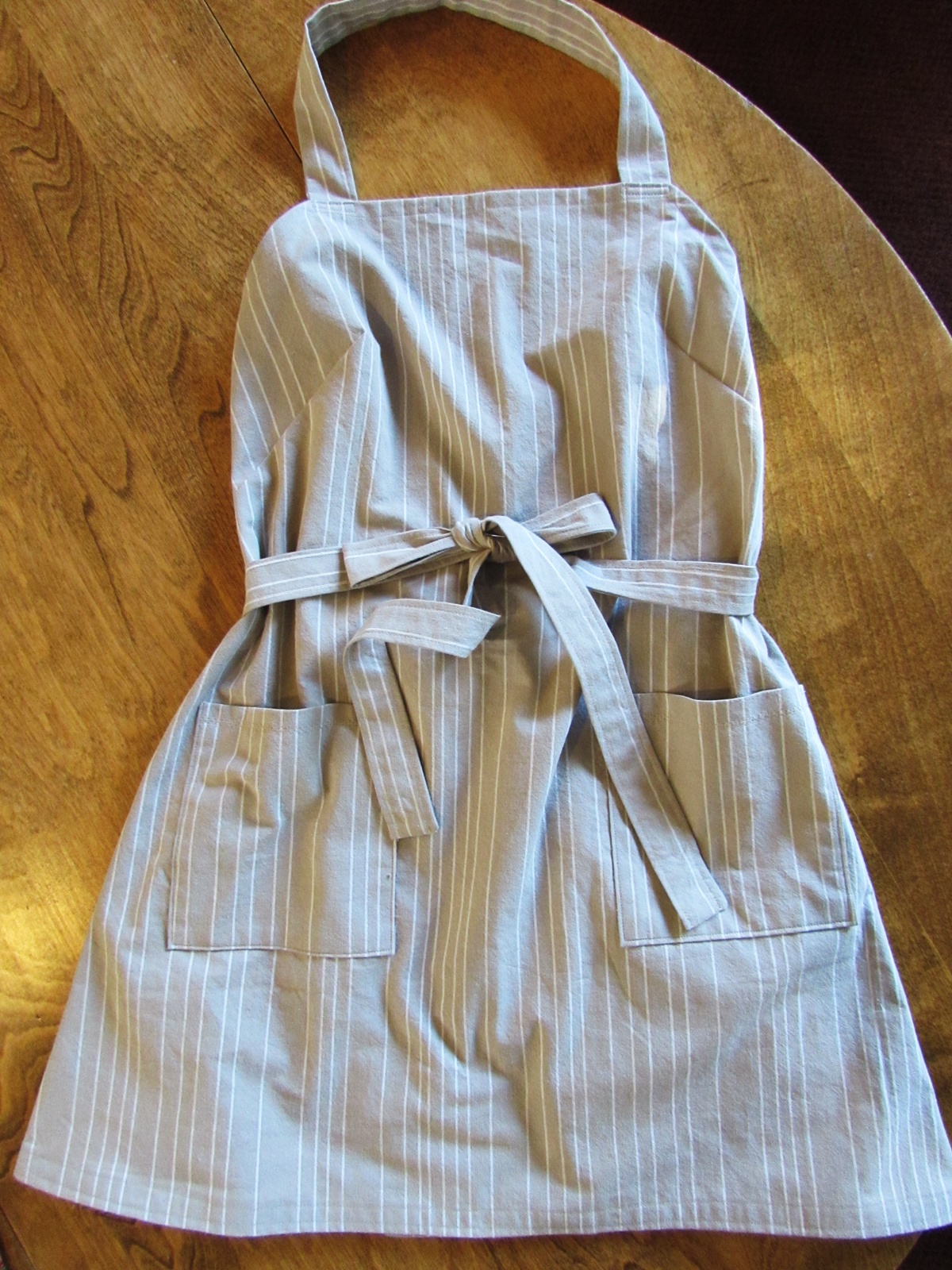 Overall, this was a fun project and hopefully my daughter-in-law will get lots of use out of it.  She is a great cook so I suspect she will use it.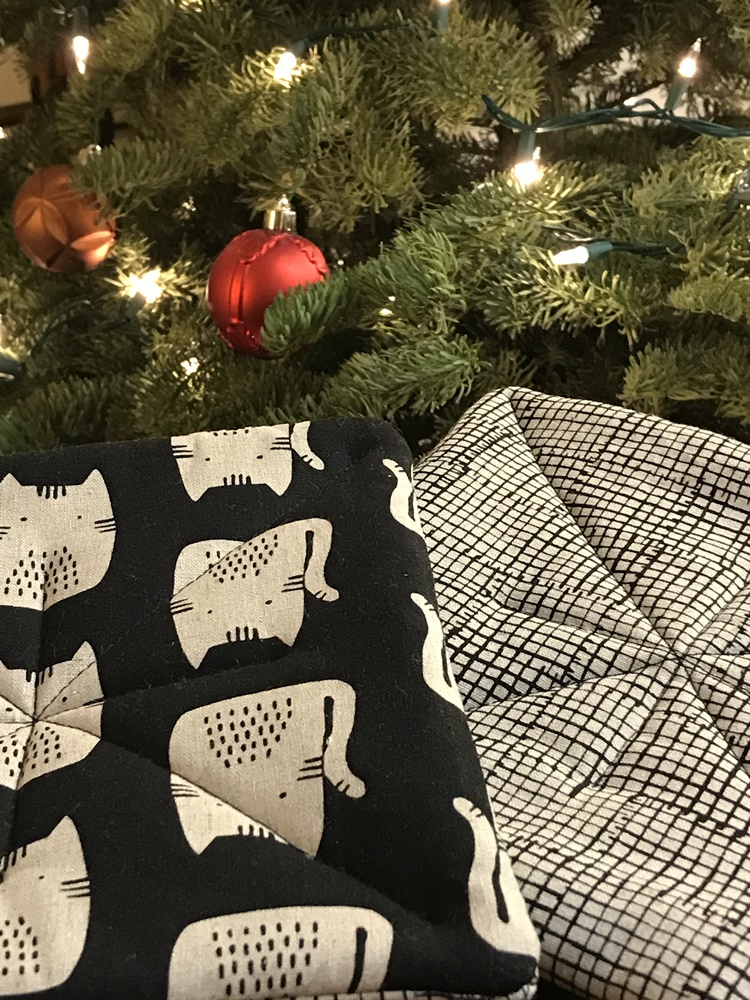 On to the hot pads!  I wanted to make something with the Maker Maker fabric I have in the shop.  I cannot even express how much I love this fabric!!  I made Chemex Cozies out of the Grid fabric and the gray and black Lines fabric.  They were far and above, my top sellers for the Christmas shopping season.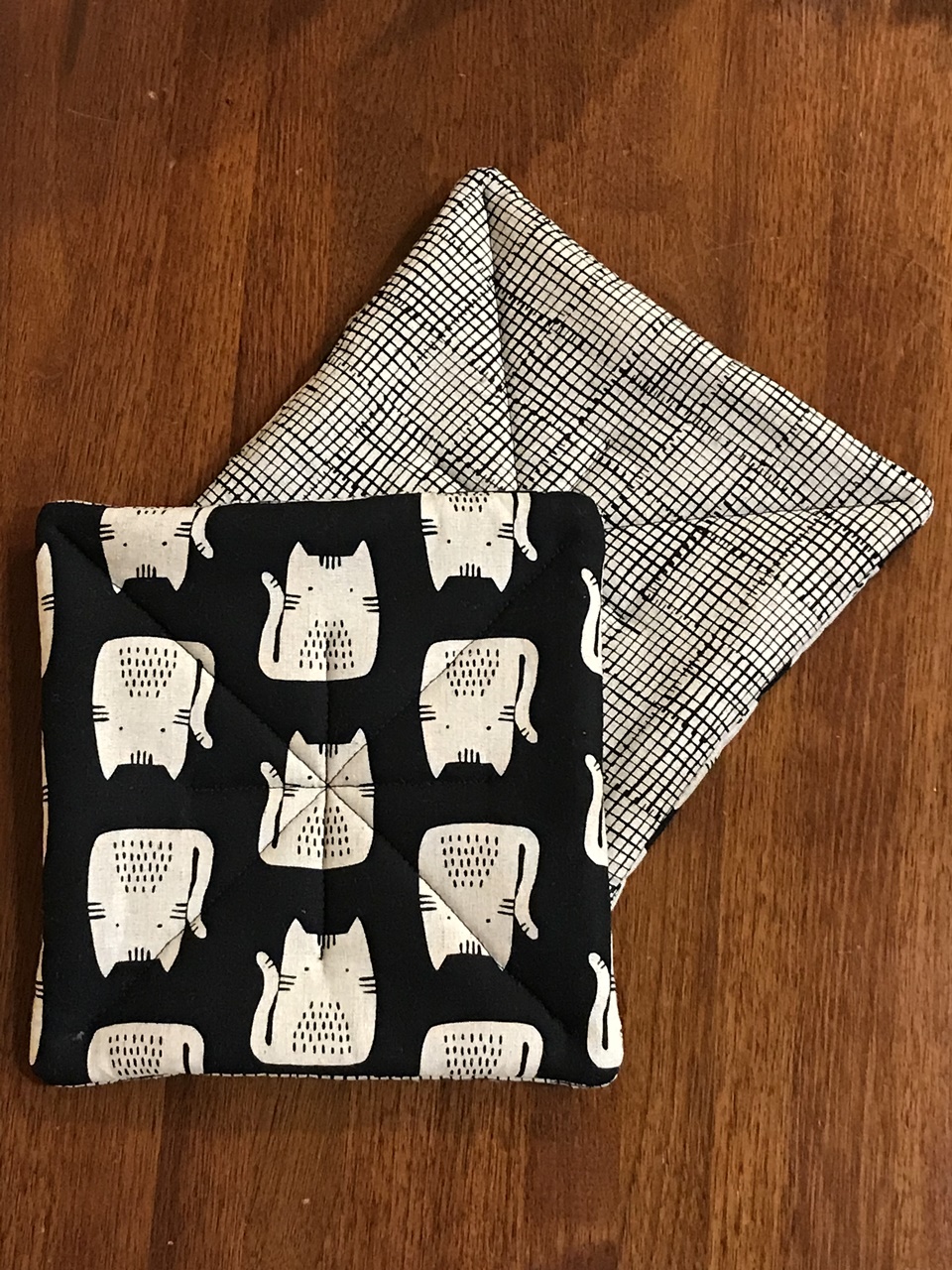 Anyway, I thought I would make some hot pads using the Grid fabric and the cats.  The linen has such a nice texture and weight, making it perfect for kitchen accessories.  These finished at at eight inches square and are filled with two layers of Insul Bright, making them nice and thick.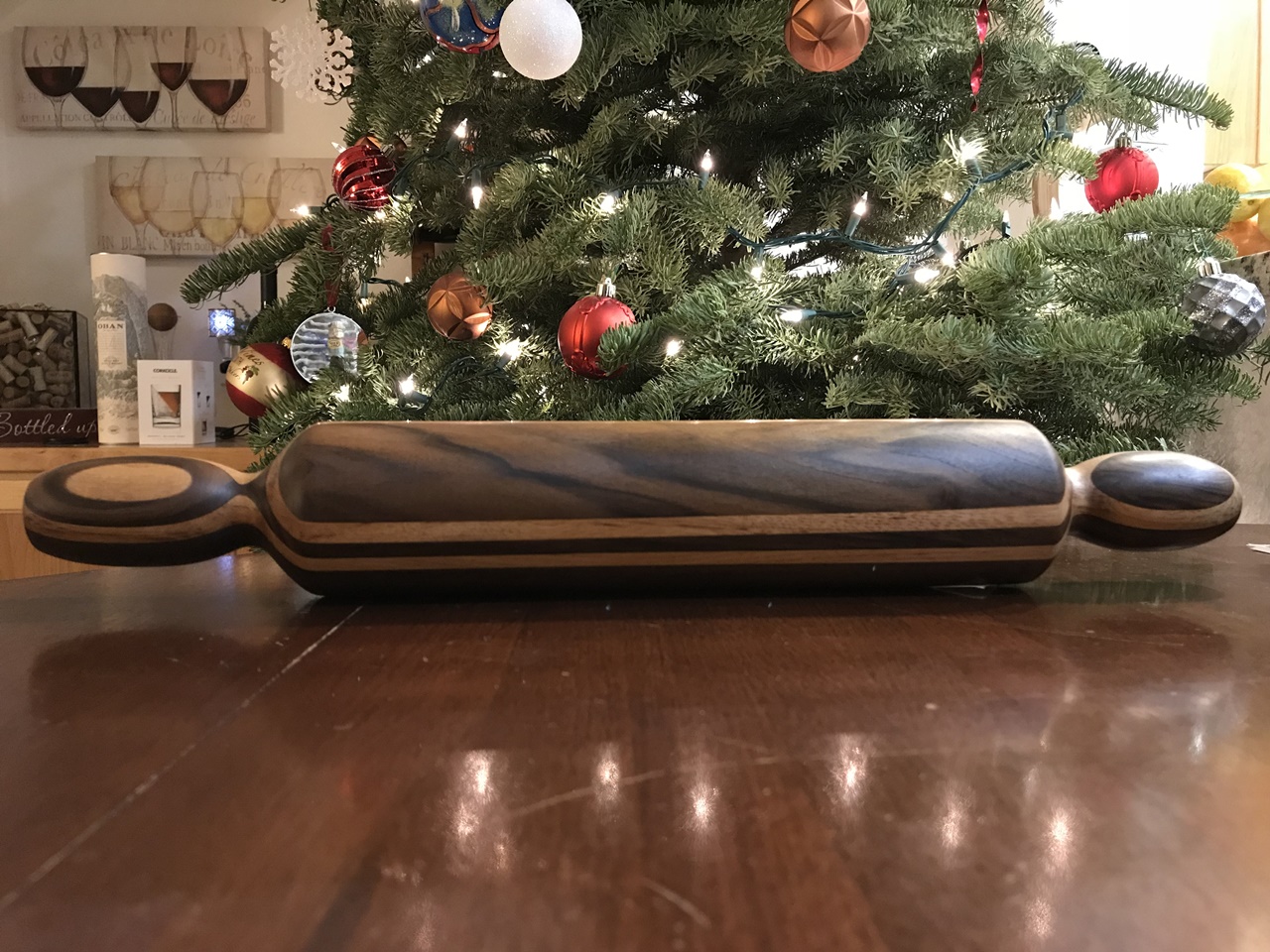 The next gift I want to share was not made in the sewing room!  My husband decided he wanted to make a gift for each of the kids. The boys and their spouses received gorgeous rolling pins made with pieces of walnut and oak that he laminated together.  He turned them on his lathe to make a one piece rolling pin.  I just love them!  The kids were taken with the wonderful finish and really appreciated the work that went into these.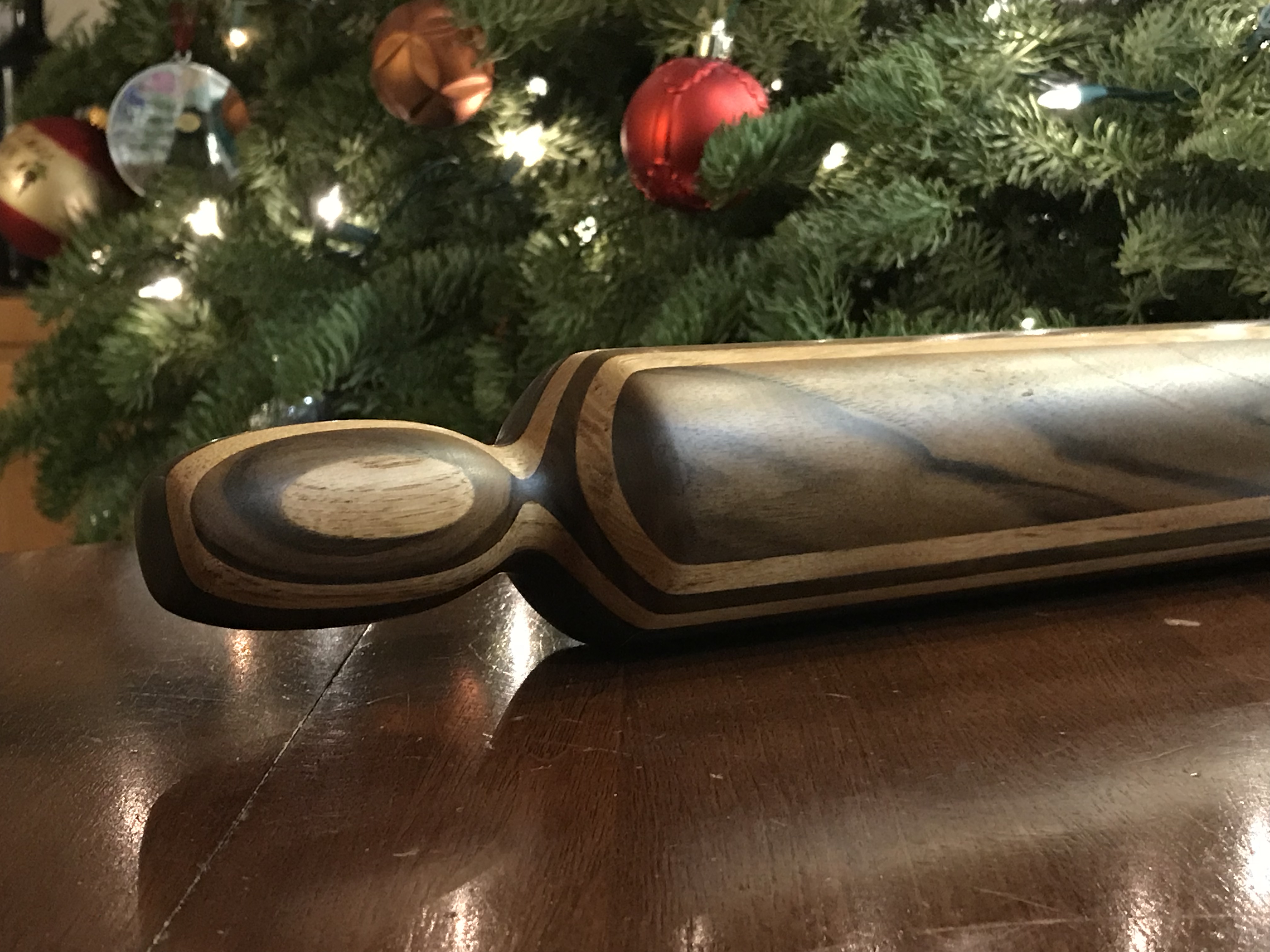 Each piece is different from the next with the stripes and color variations making them unique.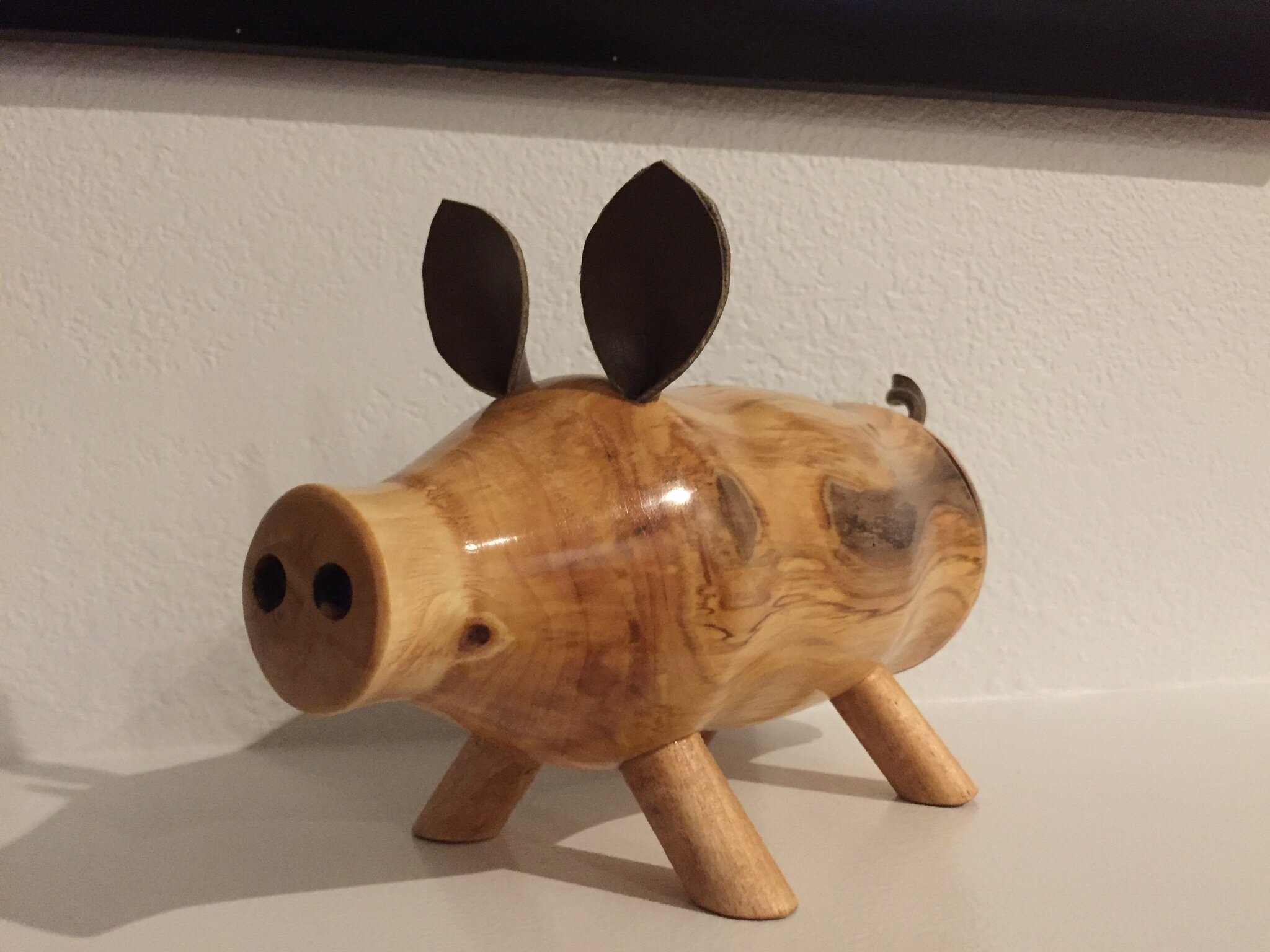 Since Julia isn't really in need of a rolling pin just yet, he made her a piggy bank.  She had such a great time with Daisy and Ella last year, he thought this would be a fun way to remember that summer.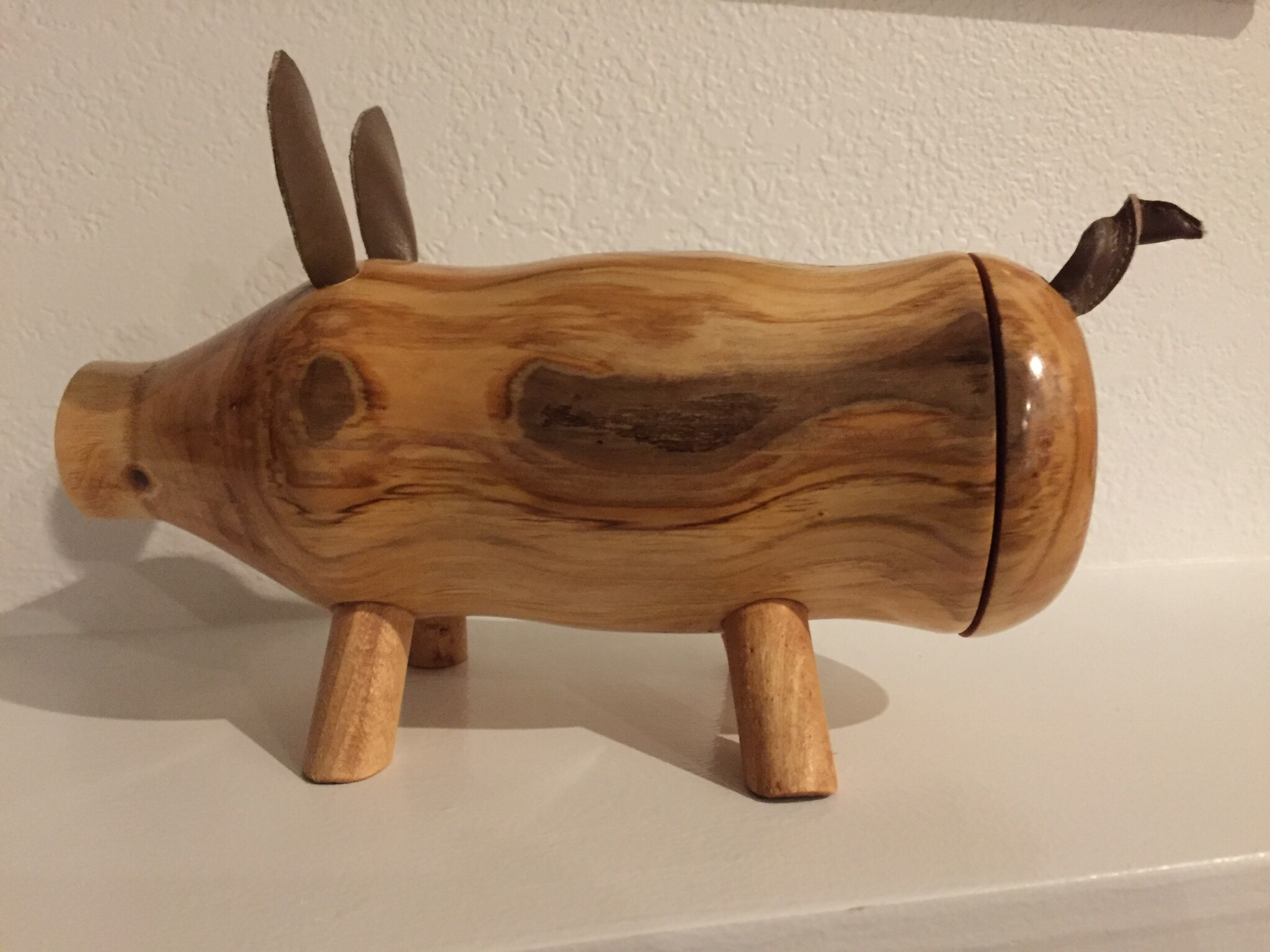 This was a challenging project but it turned out so cute!I love the shape of this little pig's body and her curly tail.  It was so much fun to watch Ray making these projects during the months before the holidays.  I love having a few handmade gifts under the tree.  I also made some placemats for my parents but didn't think to take pictures.  I will take some the next time I am up at their house so I can share them.  Were you able to make any of your holiday gifts this year?  If so, share in the comments.  I would love to hear about them!
Linking to my favorite parties, including Finished or Not Friday hosted by Busy Hands Quilts.  Check the Link Up tab at the top of the page for more info!  Have a great weekend all.  🙂