Life in western Washington is going well. The house is shaping up and starting to feel like home. I wanted to check in and share a bit about the past couple of weeks.
It has been many months since I sat at a sewing machine for any reason. No quilting, mending or sewing has been enjoyed since who knows when? Maybe January or February?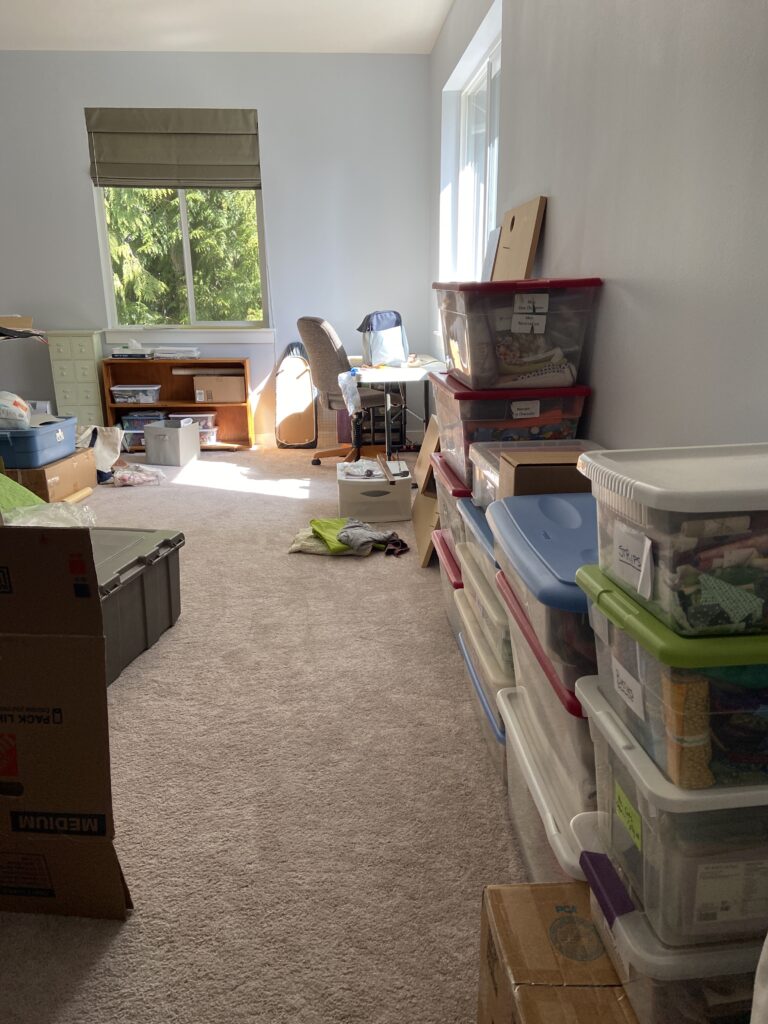 Clearly, this had to be fixed. I spent an evening shuffling bins and plastic totes around to create a path to the corner of the sewing room.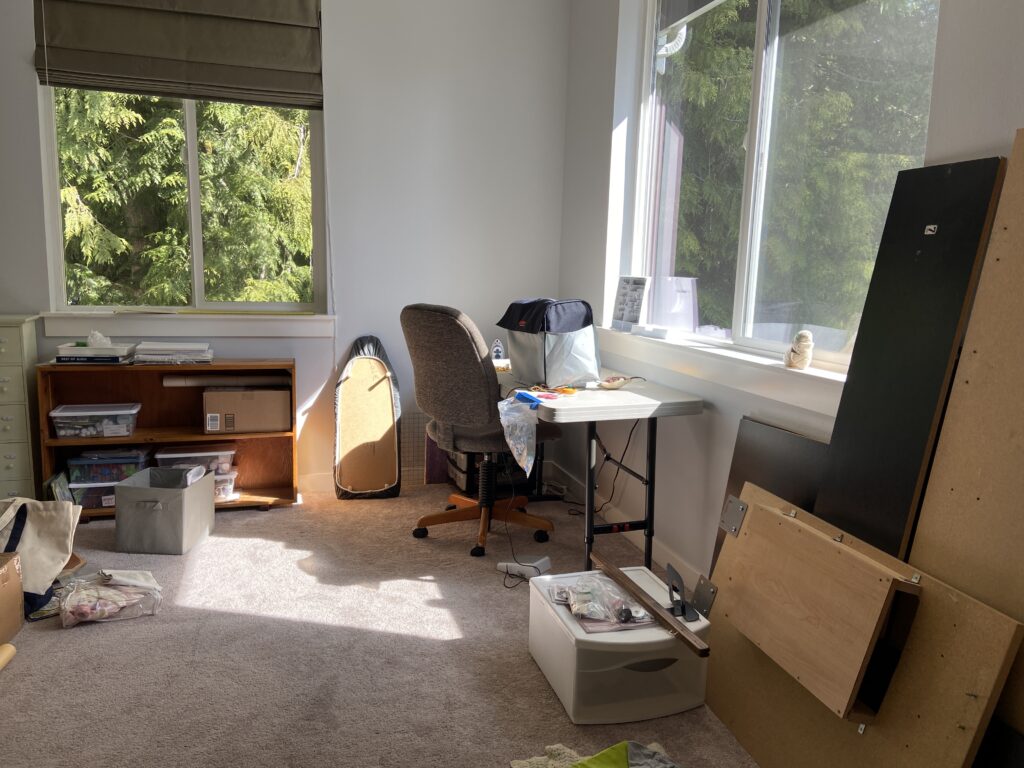 For the time being, I set up a folding table in the corner to hold the machine. I have a sewing table where I can drop the machine down which is great but it is currently in pieces and one of the pieces was damaged in the move. At some point Ray will fix it, but for now, this is good enough. I have a wonderful view of the yard and room to sew.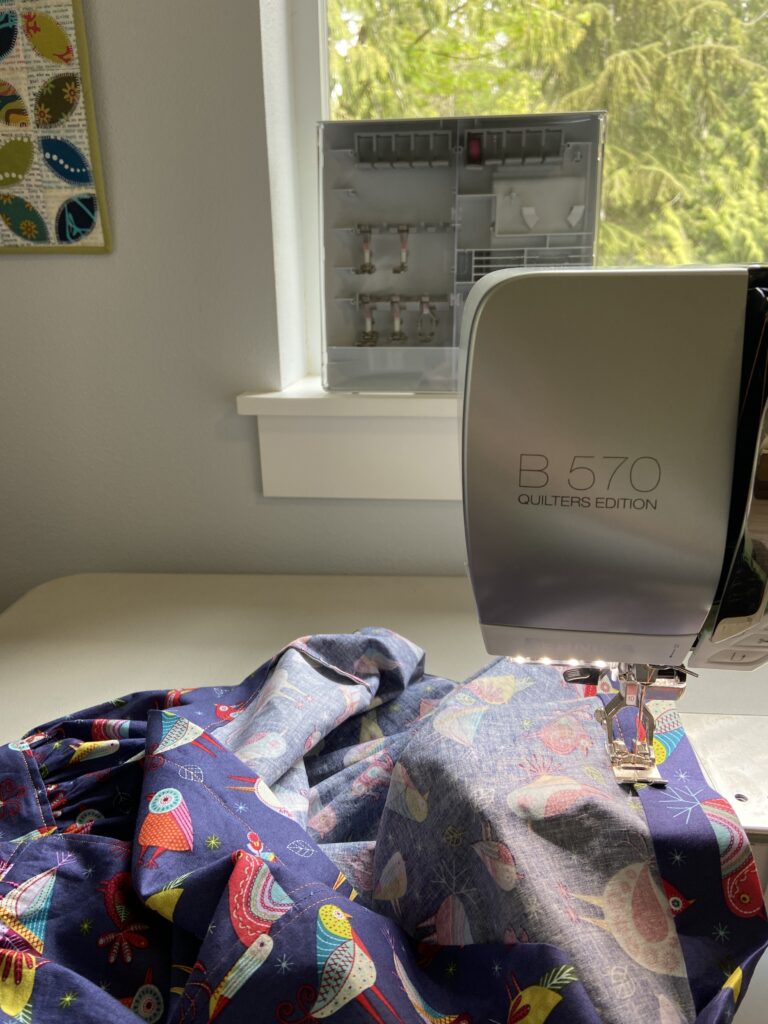 Currently I am working on matching summer dresses for H and A. After moving all of the fabric tubs to the wall, it became painfully clear how much fabric I have. So, time to use it up!!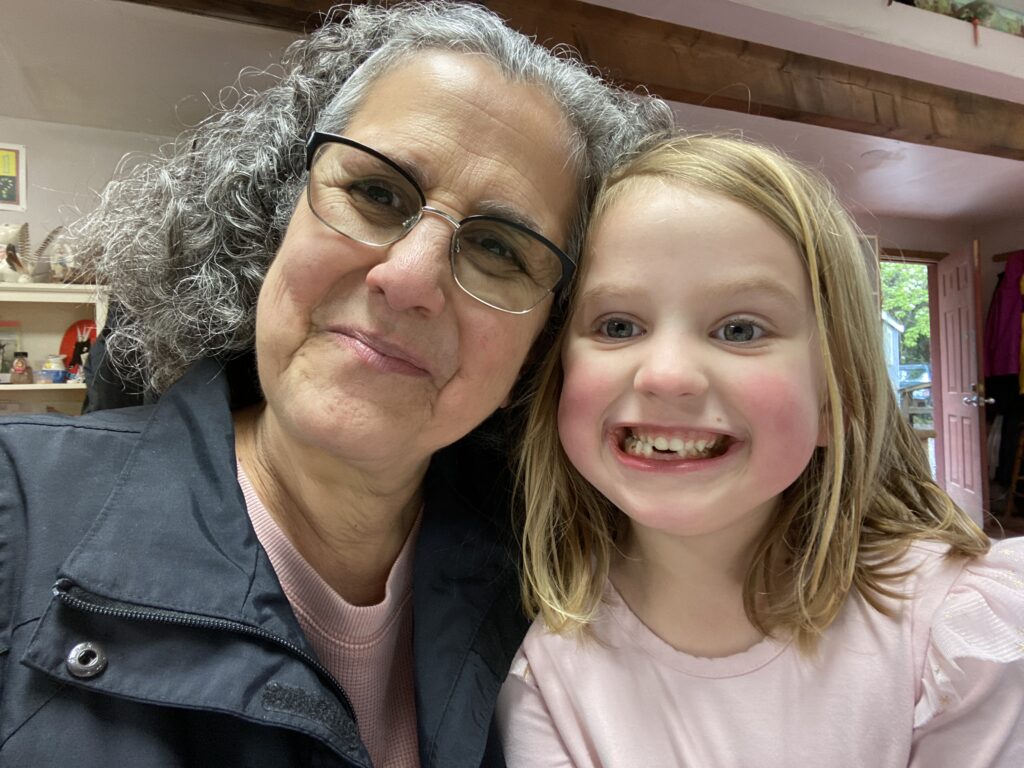 I was honored to attend the Mother's Day Tea at H's preschool a week ago. She was so excited. My daughter-in-law has a very inflexible schedule and the preschool didn't give enough notice for her to arrange to be there. So I was the substitute. A sign of the times though; I was certainly not the only Grammy filling in. For a class of 16 children, there were three grandmas in attendance. I had so much fun with this sweet girl.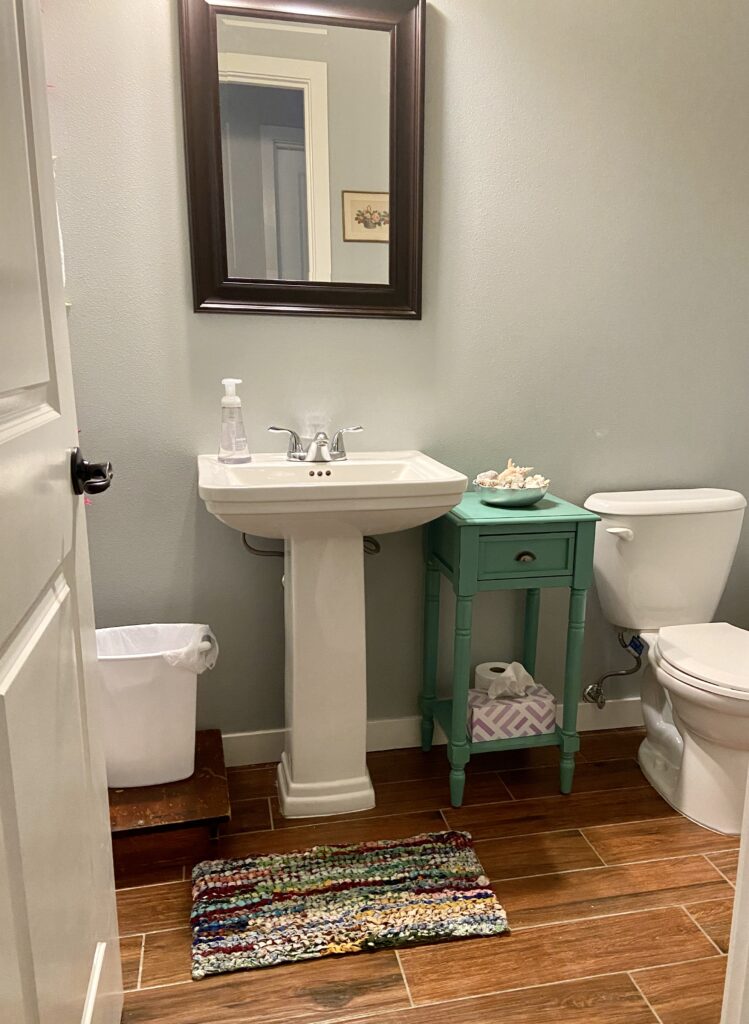 Not that the guest bathroom is a very exciting topic to write about but I did want to show you how cute my rag rug looks in there! I knew it would fit somewhere. Also, isn't that flooring cool? It is tile but looks like wood.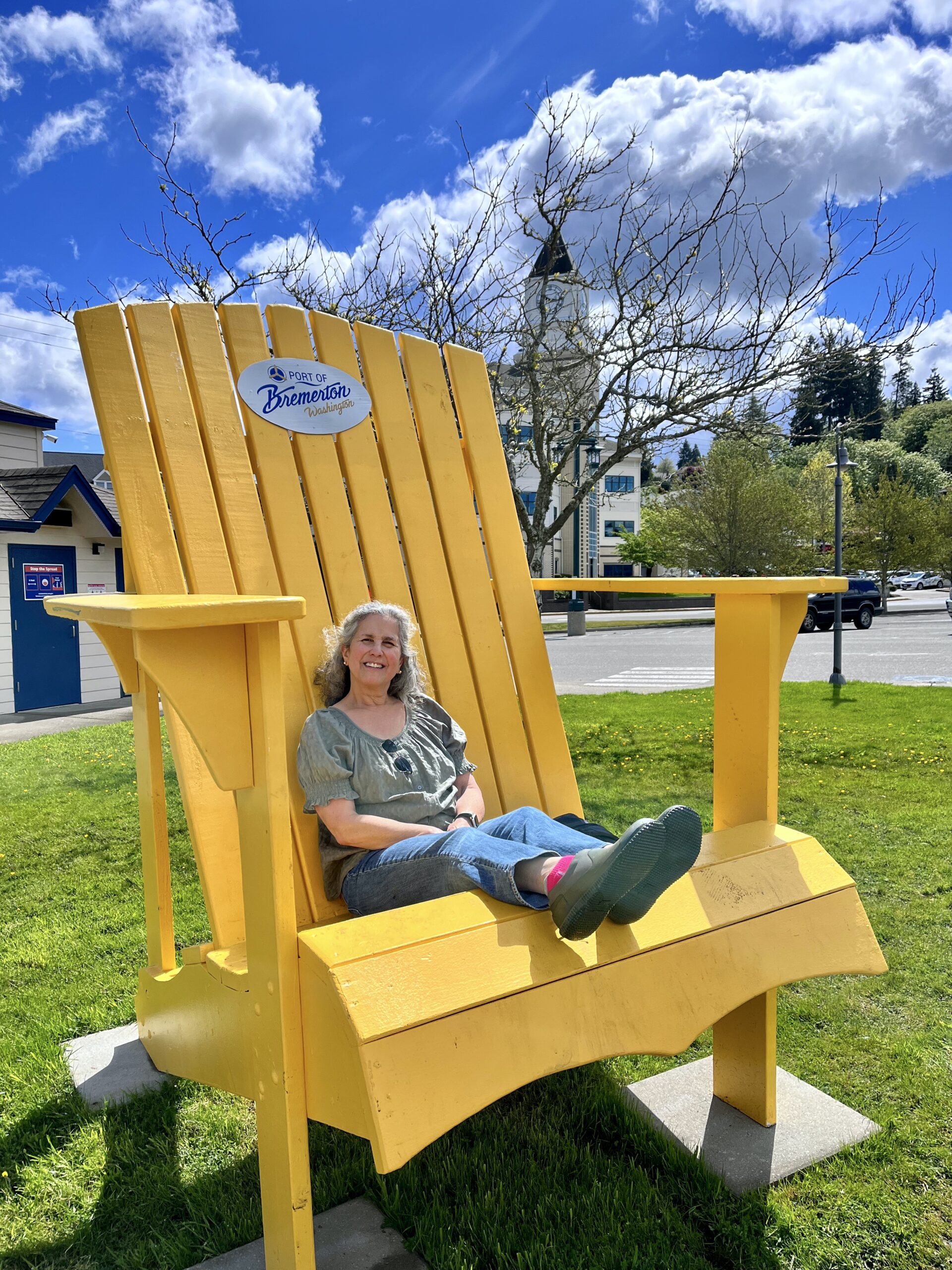 My sister and I met for a long walk and a coffee last week. It was gorgeous out. I had not seen these silly chairs before so we took each other's picture in them. Who is thinking of Edith Ann now? Just showed my age there… 'and that's the truth.' 🙂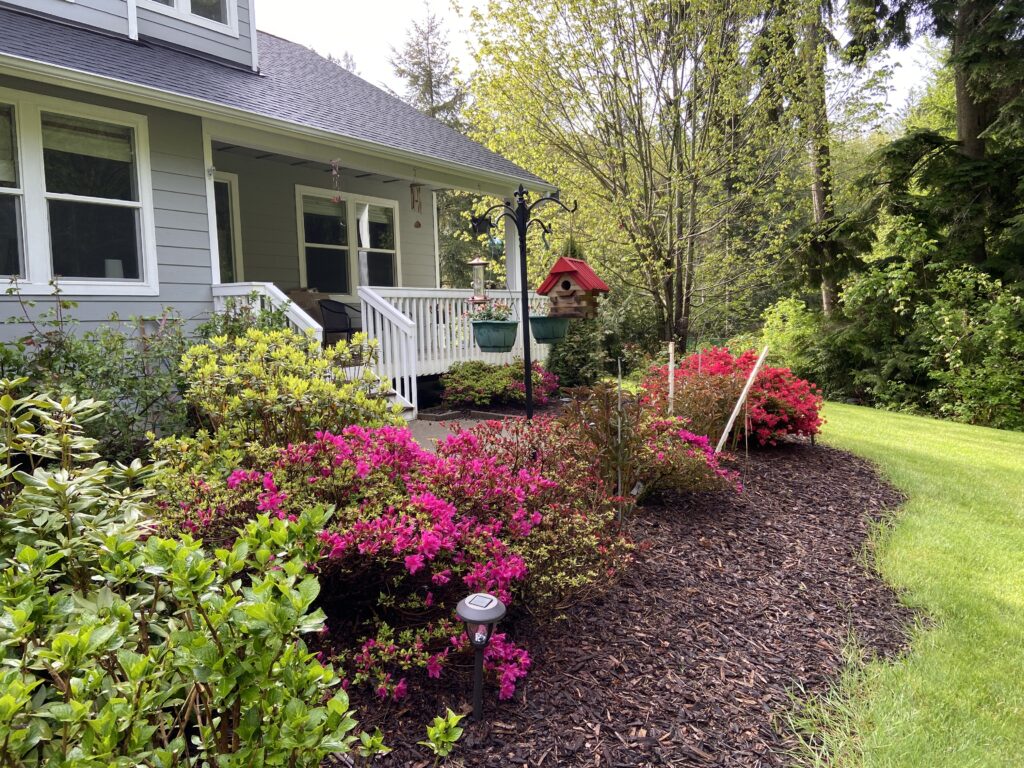 Springtime is here – at least as far as the azaleas are concerned. It has actually been quite cool and rainy. But these gorgeous shrubs are not bothered in the least. They are so pretty!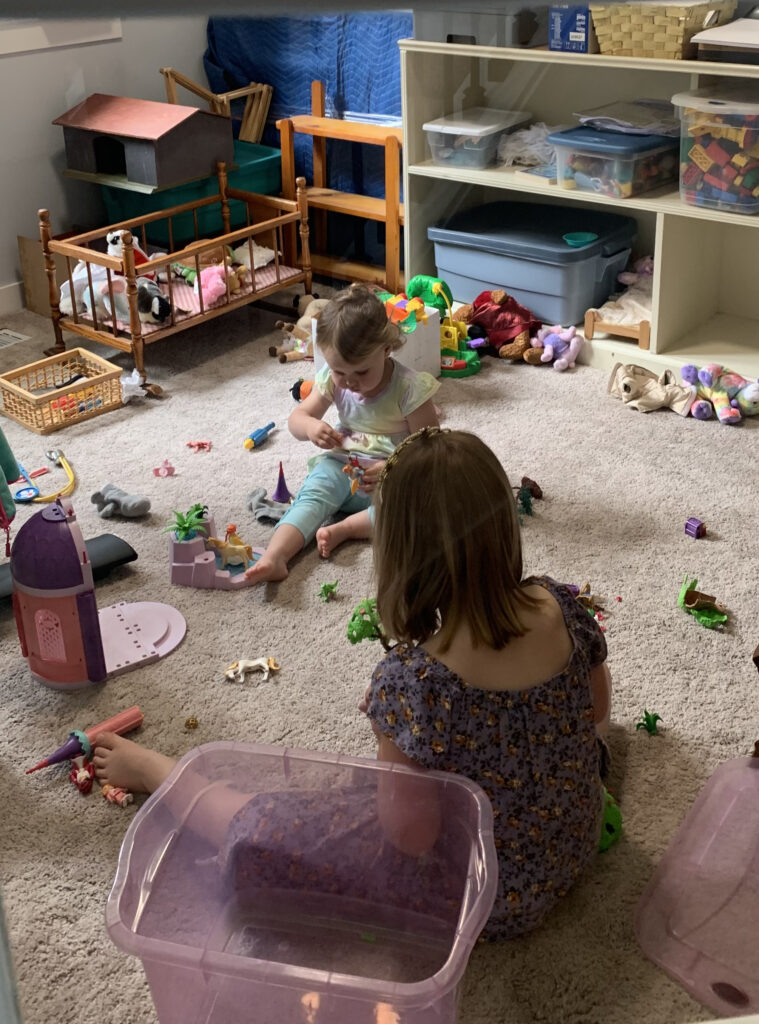 It took no time for the girls to make a mess in the play room last week. We had them for a short while when their parents were out buying some equipment for their latest hobby, beekeeping. H and A settled right in and we had a lot of fun. It is just nuts that we can do this all the time!!
I will be back soon to share the dresses I am working on. Hoping all of you are doing well. Feel free to leave me a comment and tell me how you are!