This is a tale of personal stubbornness, my own to be exact. It is a long story because I am quite the stubborn person. Some months ago, I found a cute piece of fabric while shopping at Ben Franklin. It was green with tiny black and white cows all over. I thought it would be fun to use it for a pair of sleep shorts for Julia. Then it sat on the shelf, patiently waiting to be cut up and used.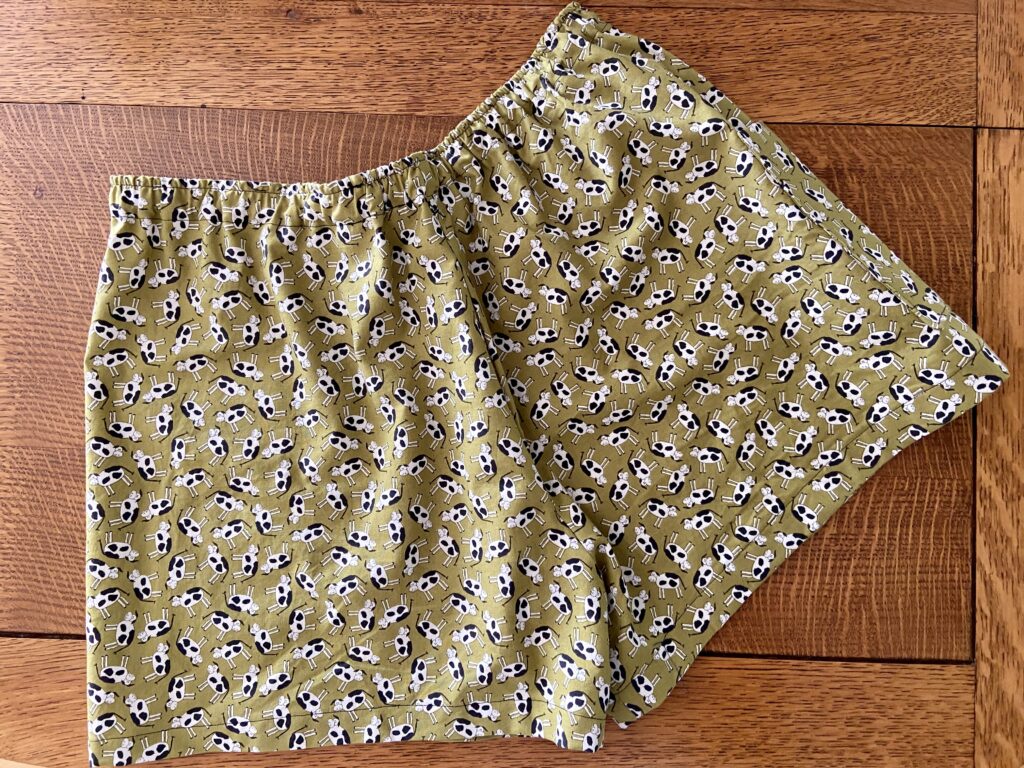 When I finally got around to making the shorts it all came together quickly. The shorts were so cute.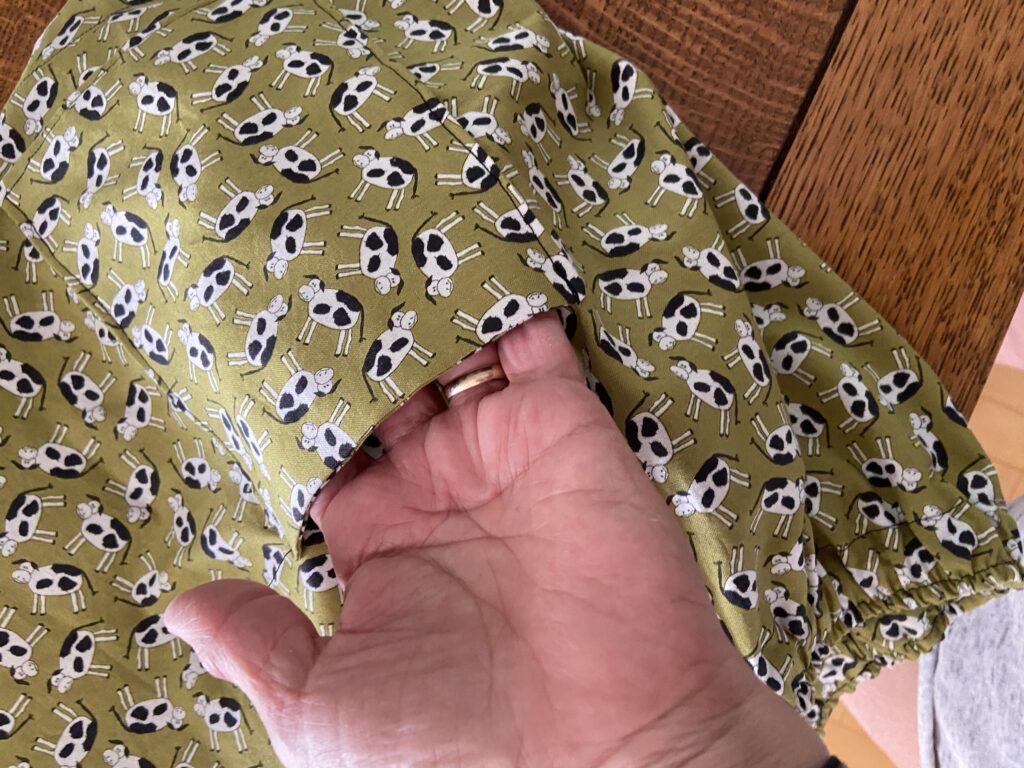 I was even feeling smug that I thought to add on a little pocket on one side for the ever present cell phone.
But smugness is not a quality that bodes well for a person. The shorts didn't fit Julia at all. They were very tight across the bum and the rise was too short. I had already finished and trimmed the seams and couldn't let anything out to make them bigger. Why I didn't have her try them on earlier in the process is unknown to this sewist. Another mystery is I have made her flannel pajama pants from this same pattern a couple of times and they fit just fine.
Luckily, they fit me so I decided to just keep them for myself – who doesn't want a pair of shorts with tiny cows all over? Determined to make my daughter a pair of shorts, I decided to take the pattern, cut it a bit larger and have another go at it.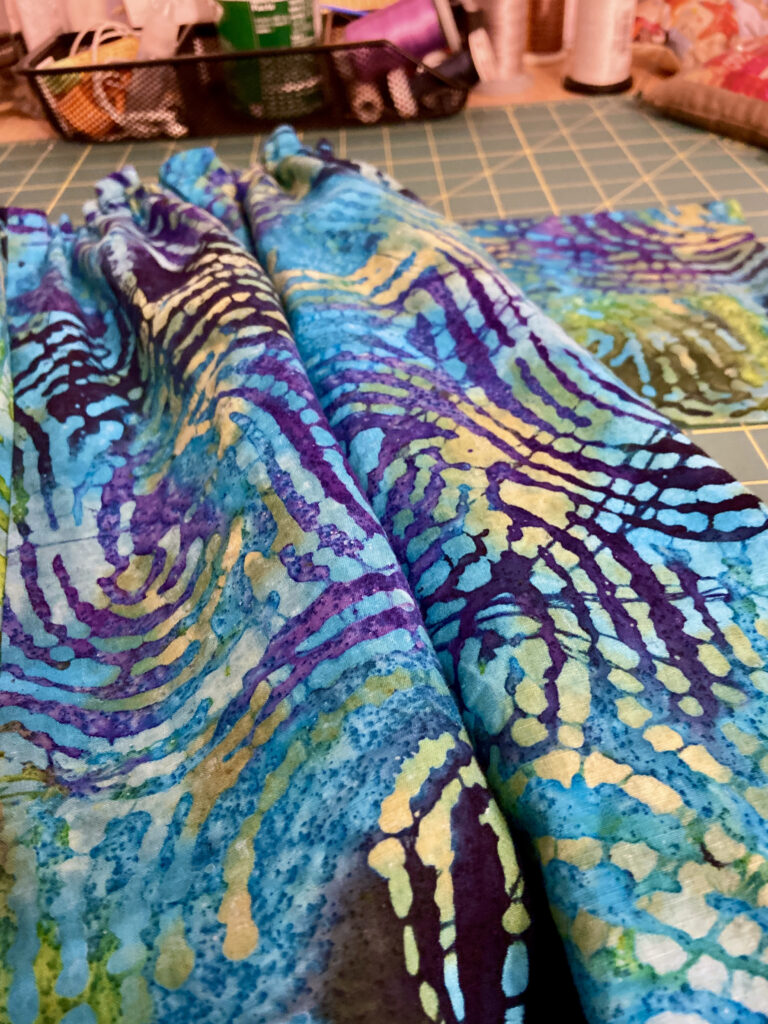 This time I used a batik fabric I had on hand. I knew she wouldn't really like them but I wanted to figure out how to cut them to fit her and then I could make a pair that fit her. (Note – I knew I liked the fabric and would keep them for myself anyway so no loss of effort here!)
This pair fit better across her backside but was still too short in the rise. Of course they were too short in the rise, I had not adjusted that at all. I only adjusted the width of the hip area. Oh well, another pair of shorts is put in my drawer and I returned to the proverbial drawing board.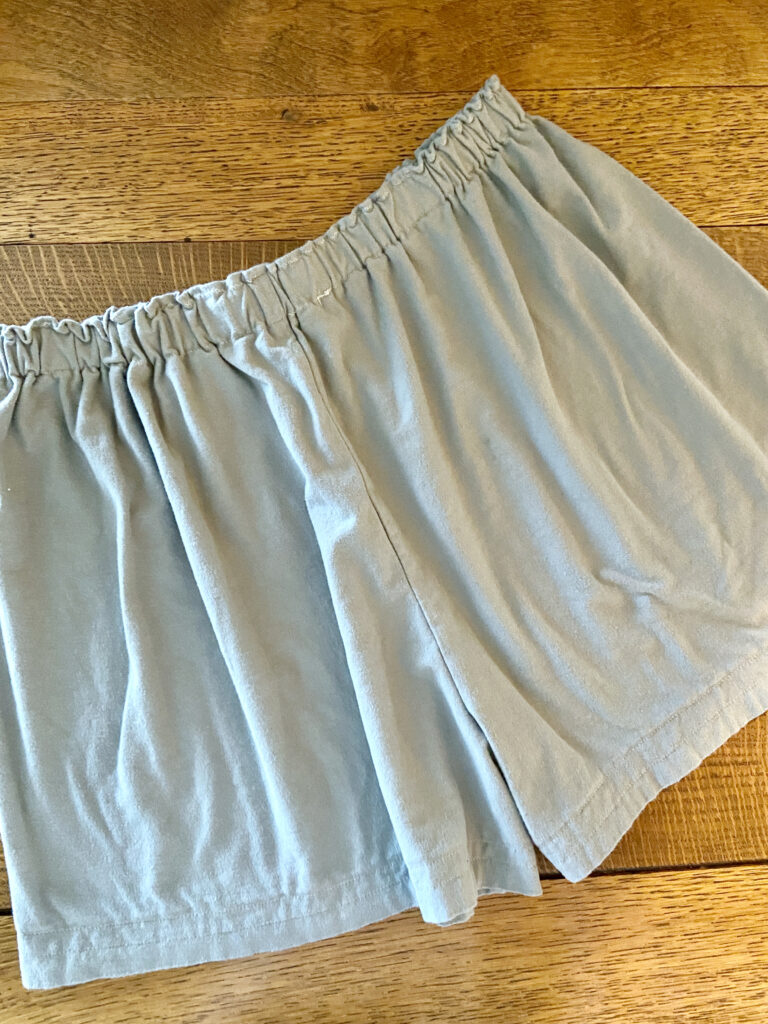 Talking to Julia, I decided I would try making jersey knit shorts. Maybe a stretchier fabric was what I needed. I have some knits left from my shop and cut out a pair of gray shorts – after prewashing the fabric to avoid any shrinkage problems. But guess what? They didn't fit – not at all. OK – what is that saying? Insanity is repeating the same mistakes and expecting different results. (Rita Mae Brown) I was absolutely stuck with this whole project – totally stuck. Julia very patiently asked why I continued to use the same pattern (well because I am stubborn, that's why). She pointed out the rise in the front and back was the same. She needed the back side to have a higher rise than the front. A lightbulb burst into flames right above my noggin. Of course! Without sharing too much info, I have a very flat bum and Julia's is not. She is much curvier than I (lucky girl)! Jeez, why didn't I see this? Because I am s-t-u-b-b-o-r-n, that's why.
I went on line and looked at tutorials and patterns. I landed on the Life Sew Savory page and found what looked to be a great (free!) pattern. Lounge shorts that could be made with either a woven or knit fabric. I printed it out and got it all taped together.
I made a pair right away with an old piece of knit I had bought at a thrift store some years ago. They fit!!! Julia loved them! Success! OK – the story doesn't end here. Come back tomorrow for Shorts, Part 2 – the Spoonflower Version. See you then!!