Like the really creative title says, I finished up the mini I shared with you earlier! It is so cute. When I was piecing the Mosaic Mystery Quilt (yet to be finished) I had loads of bonus HST's – you know, the bits that are left over when you make a flying geese block? Luckily, I stitched them as I made the blocks so they were all ready for me to use.
Making this mini used only a small portion of the little 2 1/2″ HST's. I saw the idea to incorporate a friendship star with the fussy cut center on a site and I cannot remember which it was. I think it was something like All People Quilt but I am not sure. If I figure it out, I will update the post accordingly.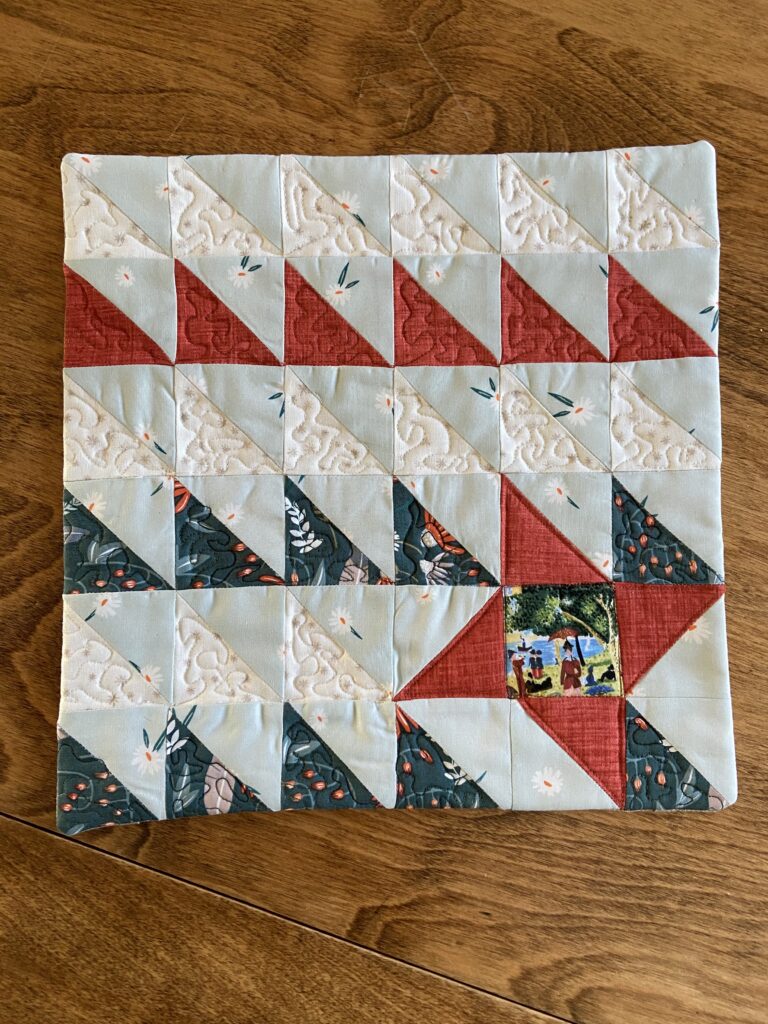 At twelve inches square, it will be easy to find a little spot to hang this. I quilted all triangles except for the background (pale green) pieces. It looks cute and for the most part went well. There are a few wrinkles near the friendship star that could look a little better.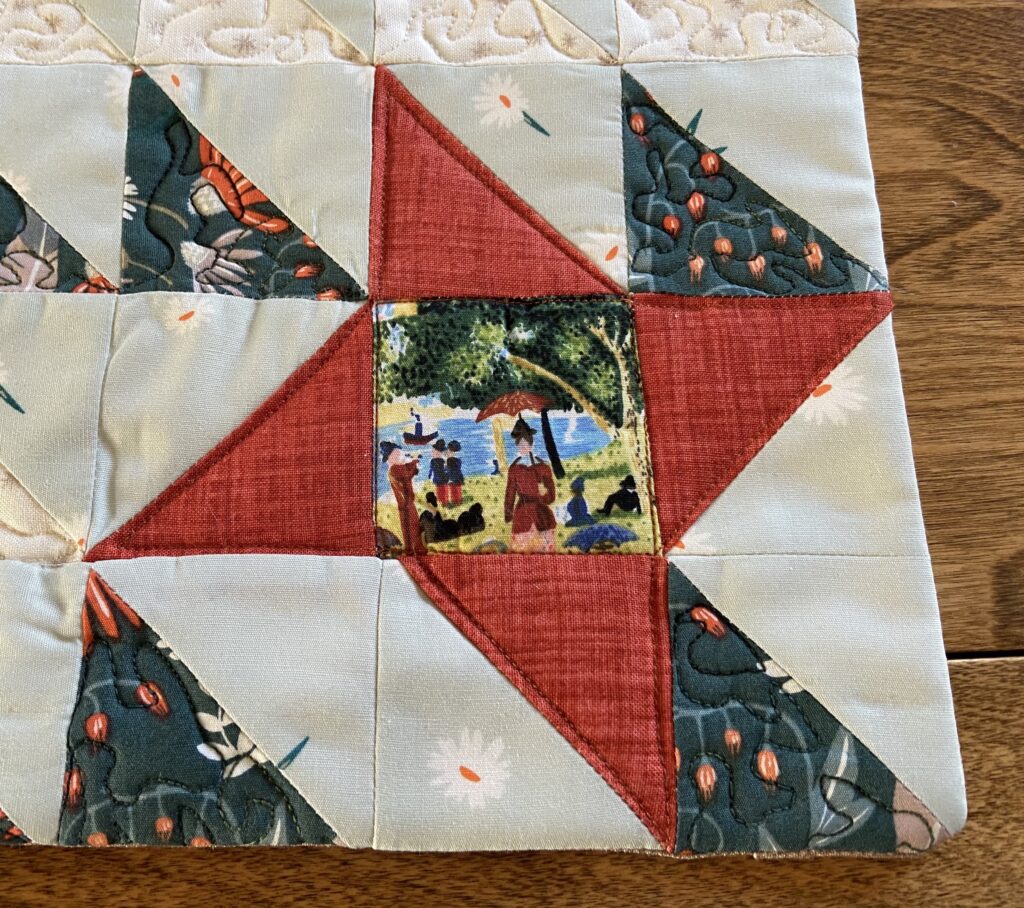 The fussy cut square in the center of the star is my favorite part. I have a stack of squares of this fabric depicting the very famous Sunday Afternoon on the Island of La Grande Jatte painting by Georges Seurat. While on a trip to the Chicago, I saw this painting at the Art Institute of Chicago. It is so beautiful. When I saw a handmade shirt at a thrift store made with this fabric, I grabbed it, deconstructing it for the fabric.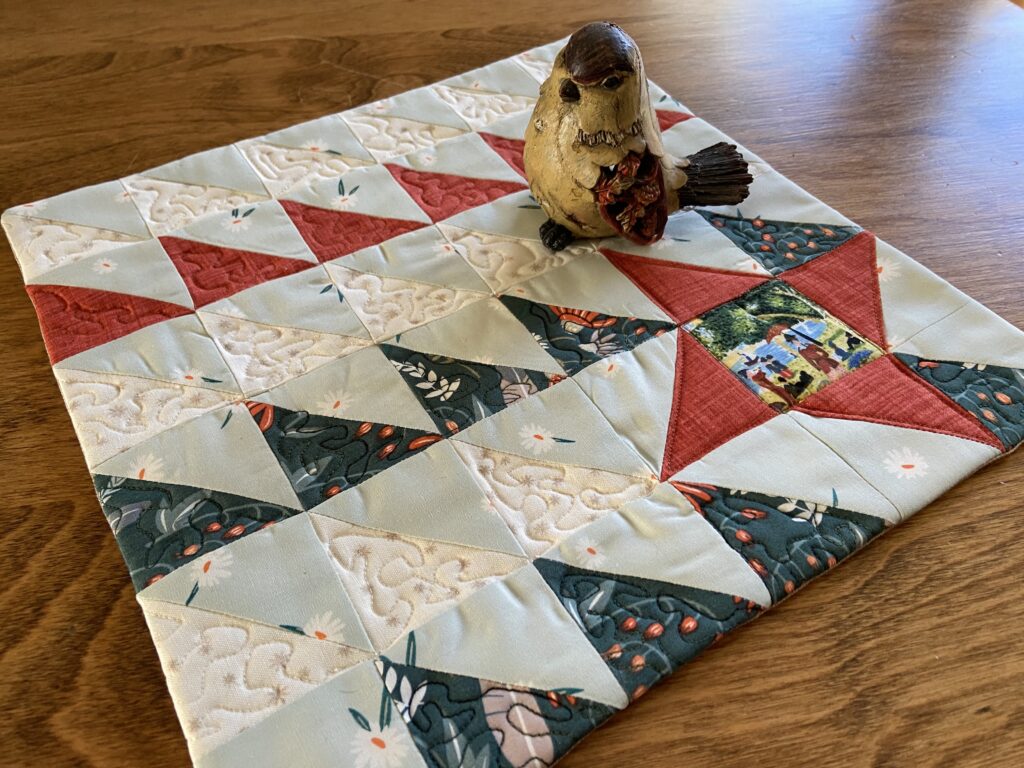 There are only so many ways to take a photo of this little quilt. But here is a cute one. You probably noticed I decided to face the quilt, rather than bind it. I like the look of this but it caused me to lose some of the points on the top and right side of the mini. I didn't lose them by stitching over them with the facing. Rather it was when I rolled the facing to the back, those points are rolled over just enough to make the points round off. Sigh. This was disappointing but I have managed to recover from the trauma. I didn't have leftover strips of any of the fabrics used on the mini and when I looked at using other fabric for the binding, nothing appealed to me. I do like facing quilts; I just hadn't considered the issue of those points.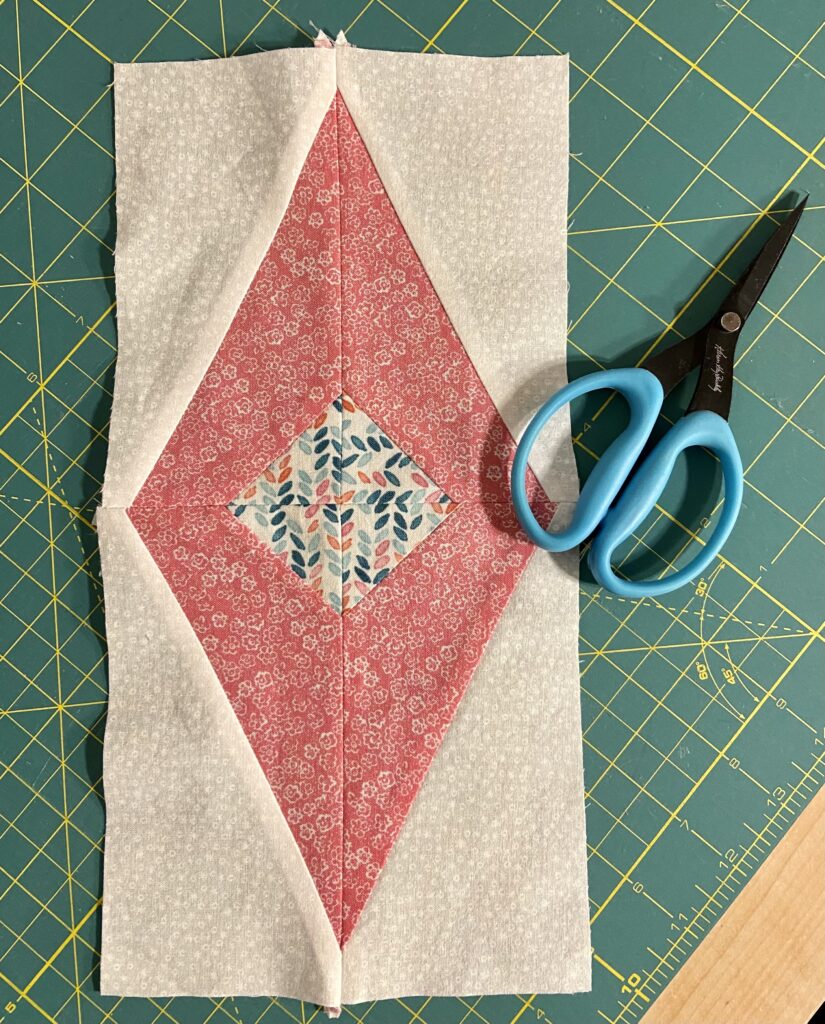 In other projects, I decided what I would do for an RSC quilt this year. Since I skipped doing anything for Rainbow Scrap Challenge last year, the bins are loaded. I need to make some scrappy projects for sure. I saw these pretty diamond shaped blocks over at Bonjour Quilts and thought they would be fun to make each month. Not hard to piece and they will use up some fabric. The blocks will be 6″ x 12″. I suppose I should figure out how many I need to make but I have plenty of time for that. This month is pink and I have cut pieces to make three of them. Pink is probably the scrap bin with the least fabric in it so three will be plenty.
Not a whole lot more to report today! I have had an annoying cold this week. Where the heck I picked that up from, I have no idea. But it means I got no exercise this week and took lots of naps. Hoping to be a little more active this weekend! Hope all of you are well and staying healthy.
Post Update: Now that I am informed about the fussy cutting challenge for Project Quilting this week, this will be entered! Thanks to Wendy and Kathleen for commenting and letting me know. 🙂
Linking with my favorites – check them out at the top of the page under Link Ups.