You know how you set something aside for so long and then somehow your mind decides it is going to take forever to finish it and you don't want to so you just leave it there? Yeah, me too. Last fall I pieced a cute strip quilt using a focus print from Pandalicious. I had yardage in the shop and thought it would be fun to make one and then make up some kits for others to make it.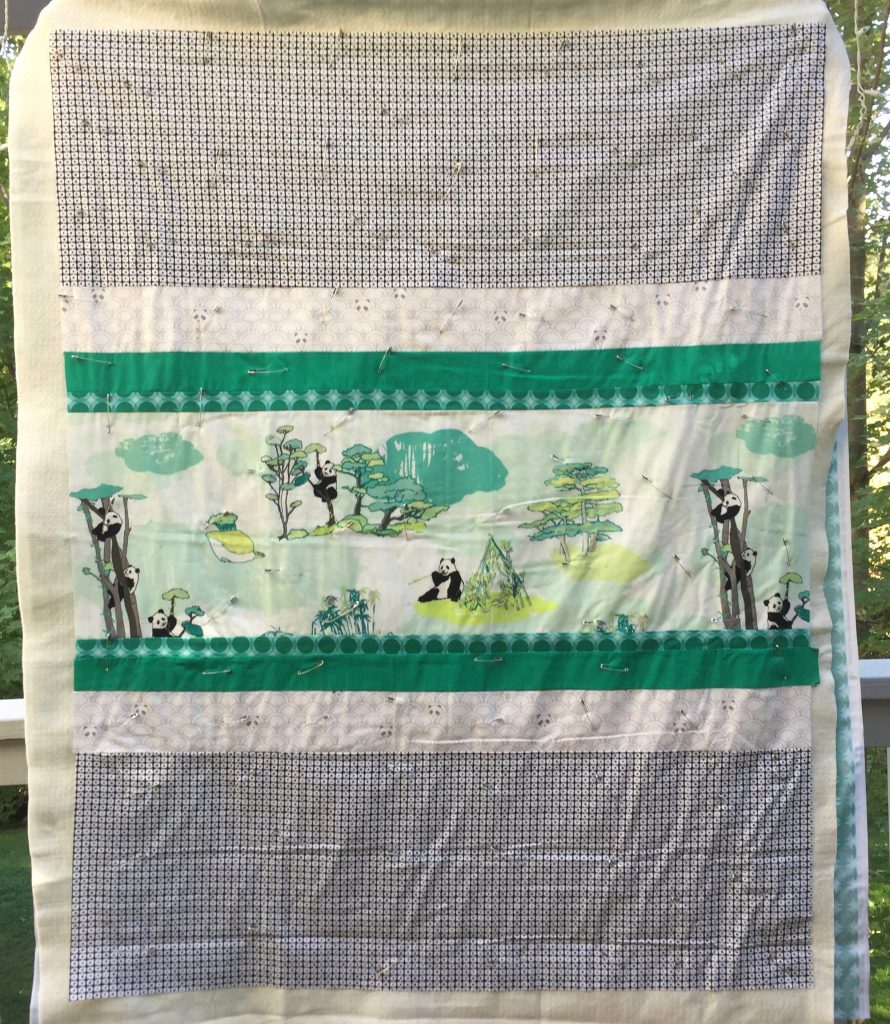 So I made up the quilt top and got it basted. I started to free motion quilt each of the strips and all was going well. When I got to the large section of pandas in the middle, my tension got screwed up. Of course I didn't know this and just kept going because the top side looked fine. Ugh. When I saw the back, I knew it all had to be unpicked.
Onward I went and got all the messy stitching ripped out. By then I developed some serious dislike of the project and set it aside? Why do this? It wasn't the quilt's fault. But I did anyway. Folded it up and put it on top of a pile of fabric.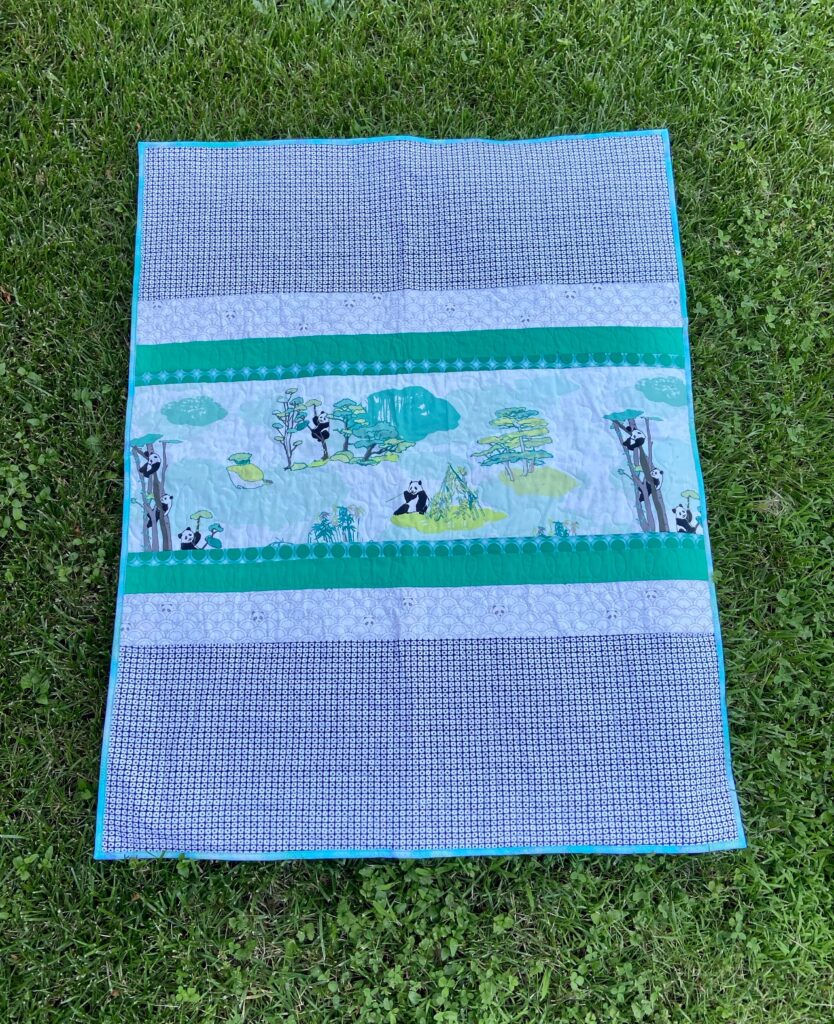 This week I thought it was time to finish it. Of course, by now, the fabric is gone and I can't make any kits. Sigh. Quilting the remaining sections (the pandas in the middle and both of the black and white sections on top and bottom) took no time at all. Like an afternoon of playing at the machine and it was done. So after sitting there for 9 months or so, it is done!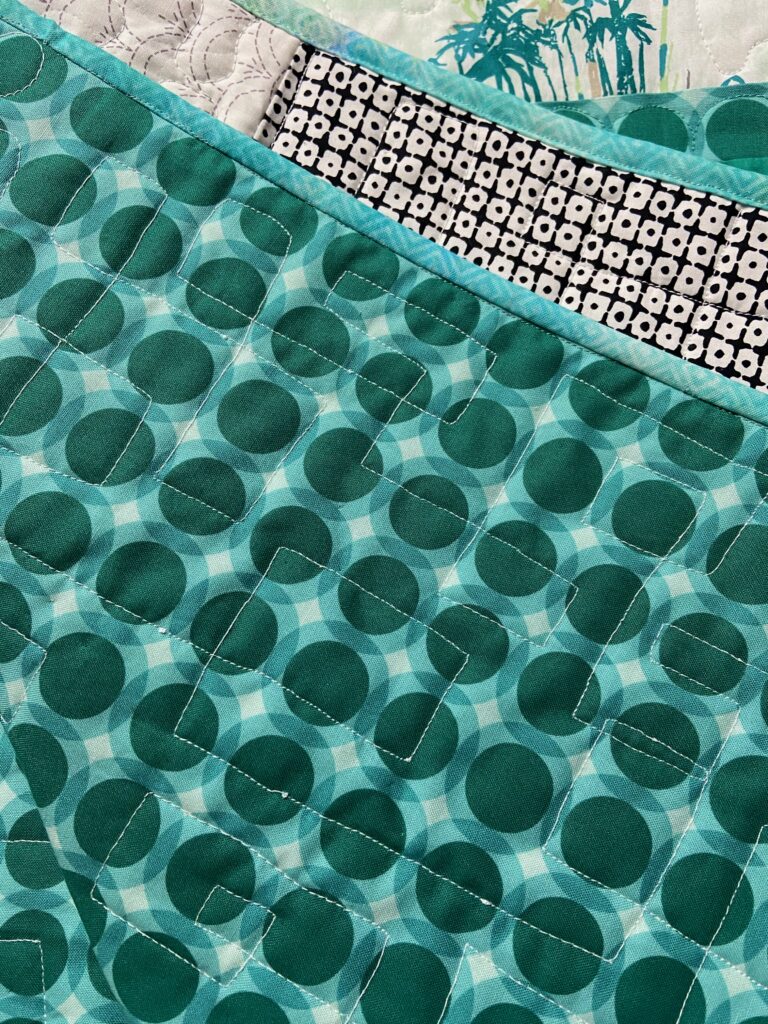 I attached the binding with machine stitching on front and back. It is adorable! I quilted the top and bottom sections with a meandering motif of interlocking squares. I am not sure what was going on, but there are some little tension issues on the back side. Not enough that I am going to fix it though. I suspect after being washed, it will all work out.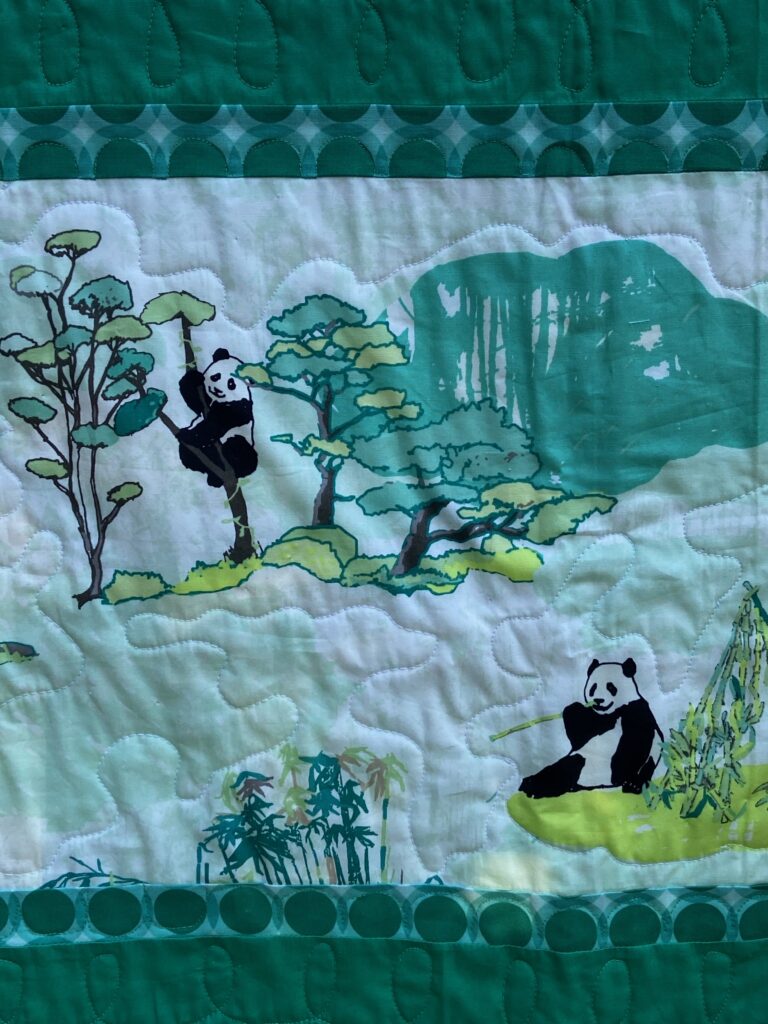 I did a very loose meander over the middle section going around the pandas. They are such happy little guys!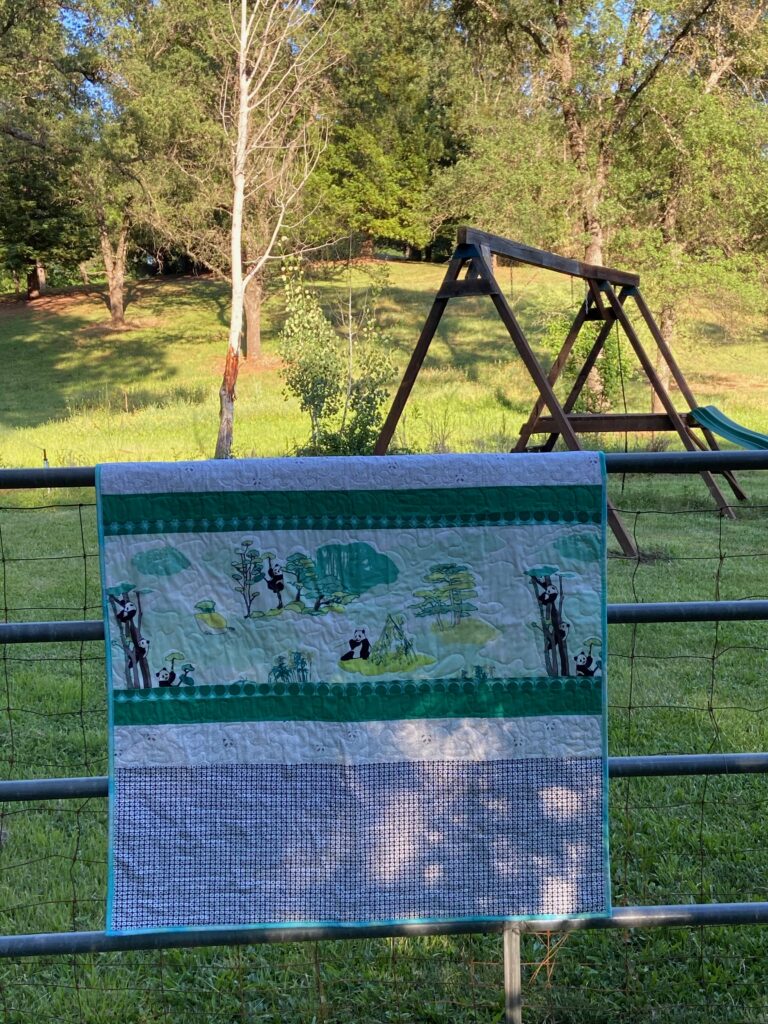 I took the photos in the early evening so the sun was creating lots of shadows. But no matter, just look at how happy this little quilt is. What should I do with this one? I will likely donate it. It will be fun for some child to snuggle under.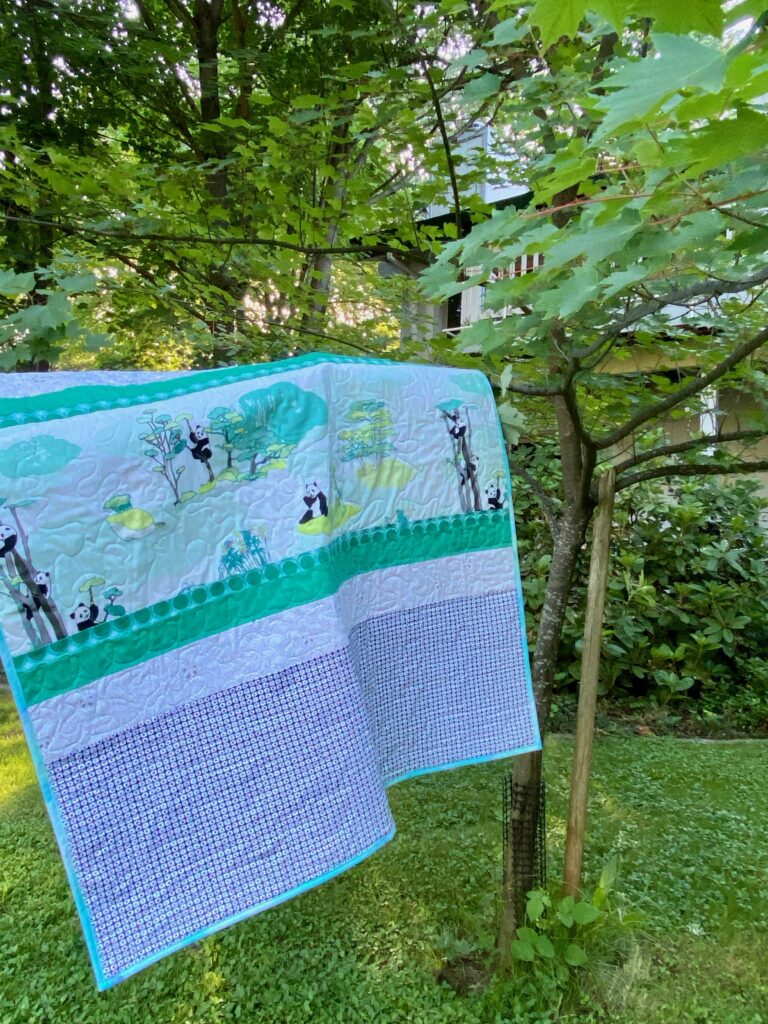 Happy to cross this off the UFO list and wish I had done it long ago. Makes me happy to get it finished up.
Anyone have anything fun planned for the weekend? Hahaha…. sorry to be so ridiculous! I feel like each day (weekend or not) is so much the same due to the quarantine. Our town is loosening up just a bit but we are still very careful. So it will be the usual. Taking walks, a little bit of gardening, shipping orders and sewing, sewing, sewing!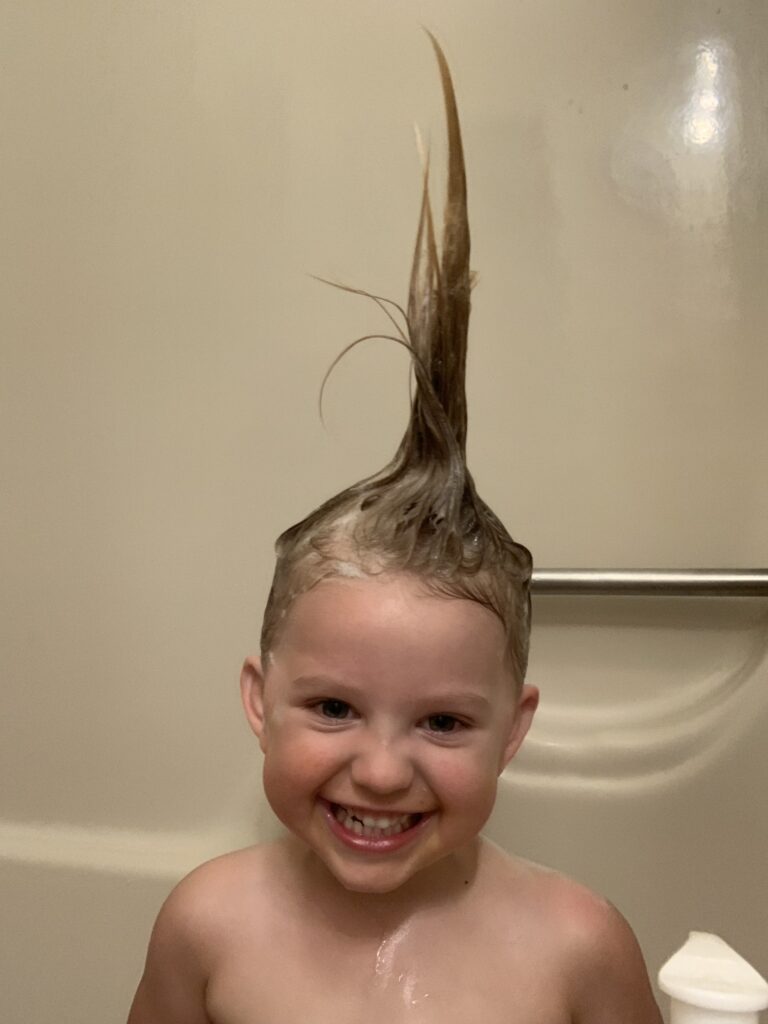 Want to leave you with a smile. Isn't this just a classic fun-in-the-bathtub picture?? This girl makes me laugh all the time. She is such a joyous kiddo. Enjoy the day everyone!!
Linking to Brag About Your Beauties and Can I Get a Whoop Whoop! Go check them out to see lots of fun projects.