UPDATE: The giveaway is now closed. I have emailed the winner, Darlene H, to let her know. Thanks everyone for entering. I hope you will encourage your library to carry Carol's books and/or head over to Amazon and get one for yourself!
I am not sure you remember but about two years ago, I reviewed a book called Tie Died which is the first book in a large series authored by Carol Dean Jones. At that time, it was my first experience with these cozy mysteries. I had a lot of fun participating in the blog hop promoting these books for Carol and CT Pubs. Even better, because of the event, Carol and I became acquainted and now enjoy a nice friendship.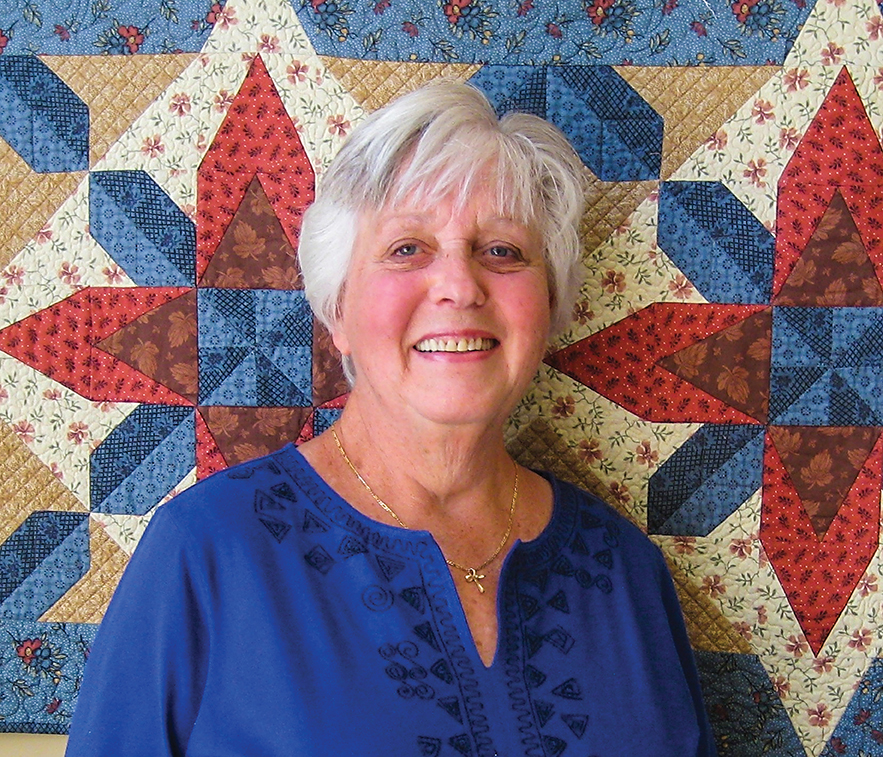 Some months ago, I found out Carol would be publishing book 11 in her series this spring. Titled Beneath Missouri Stars, I hoped to review it. I contacted C&T and they agreed to provide me with a review copy of the book.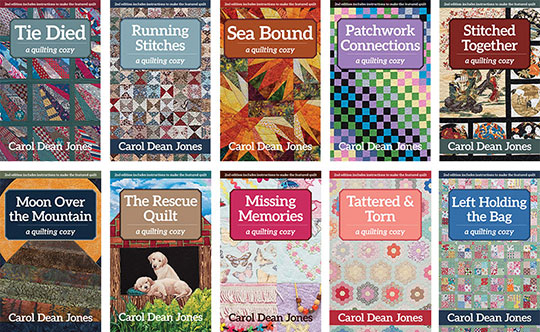 The book is really fun. If you aren't familiar with cozy mystery novels, click here and read my first review where I explain what cozy mysteries are all about. There is some order to the Quilting Cozy series of books but I didn't really have any problem reading number one and then jumping to number eleven. Lots had happened to the main characters (Sarah and Sophie) in between but the author does a wonderful job of telling you just enough so the reader can fill in the blanks.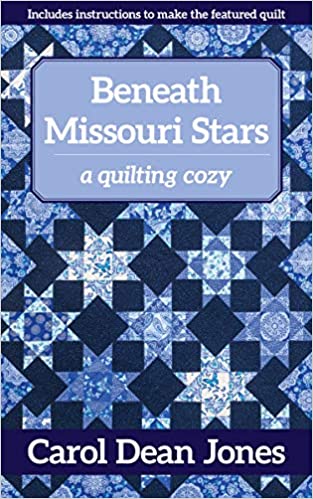 In Beneath Missouri Stars, Sarah and Sophie are trying to solve a mystery (typical for these two best friends) which revolves around the murder of a young girl. The crime occurs when a popular country western singer is in town to perform. As Sarah and Sophie work to solve the mystery there is (as always) a sub plot involving a quilt or two. I love how the author (who is also a talented quilter) weaves the quilting tales into these books. There are quilt shops, club meetings at the local quilt shop, community service projects and more. Drawing on her career in geriatric social work, the author also touches on various issues that often arise with older people. This is done with sensitivity and sometimes a bit of humor. The book is well written with several twists and turns to keep the reader engaged.
When Sarah, the protagonist, decides to make a quilt emulating the night skies of Missouri, she ends up with the beautiful dark blue quilt featured on the cover of the book. Of course, behind the scenes, Carol (the author) actually designed and made the featured quilt using the traditional Missouri Star block. Looking at this quilt and the pattern for it (which is included in the book) I was quite taken with it. Two tone quilts (blue and white in this example) are a favorite of mine.
After reading the book, I emailed Carol and suggested we work on a kit for this quilt. The look of lap size (54″ x 72″ finished) quilt is dramatic, just like a starlit night sky. She agreed it would be fun so the two of us got to work. When Carol made her original version, she used squares from two layer cakes as well as a bit of extra yardage. I tried to emulate this and thought it might be nice to offer layer cakes in the kit. But it would have required two full layer cakes to have enough fabric which would have made the kit quite expensive.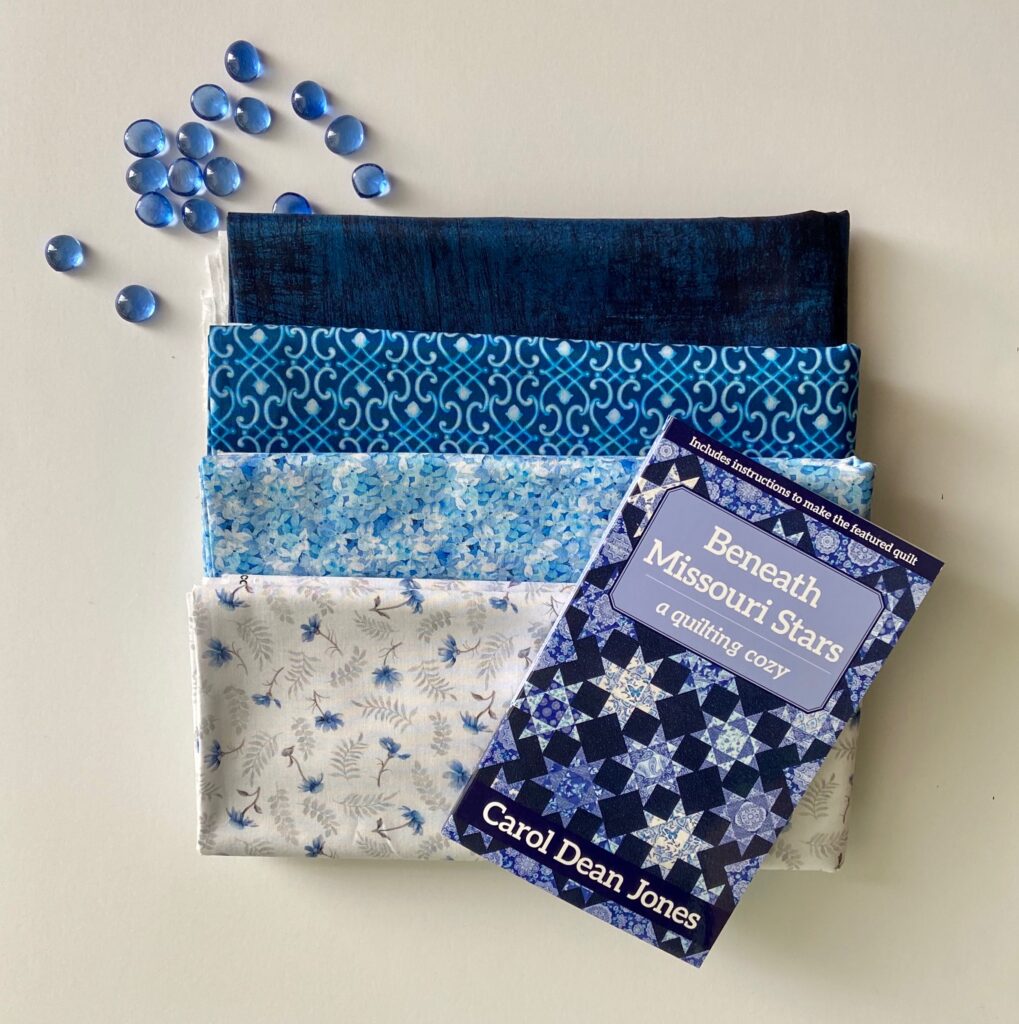 Deciding against using layer cakes, we chose beautiful yardage from a PB Textiles line called Spring Blue and a very dark blue background from Terra by Norm Wyatt. It works so well together and while the quilt isn't scrappy, the effect is much the same.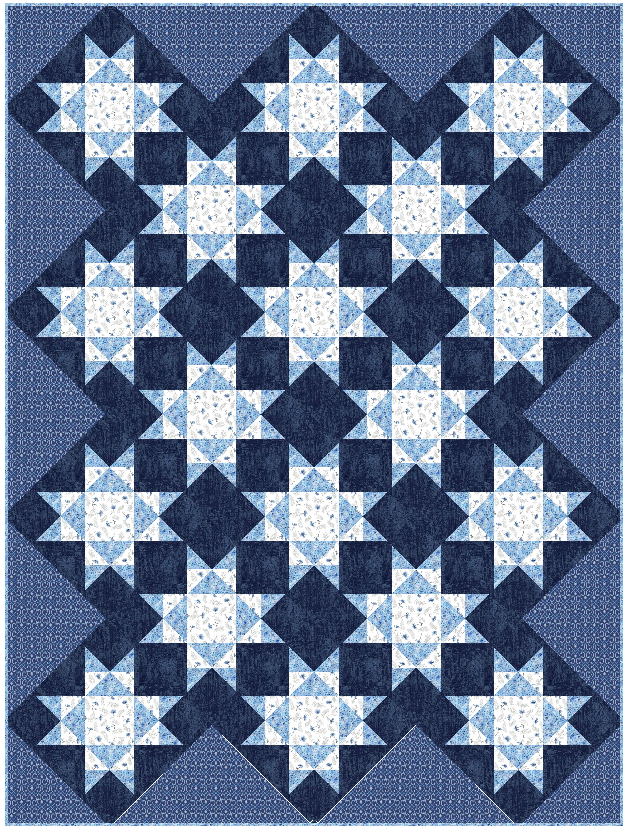 Included in the kit are three fabrics from Spring Blue, a light, medium and dark print. These work to make up the blocks and the setting triangles used to put the blocks on point. The medium blue print is also used as the binding.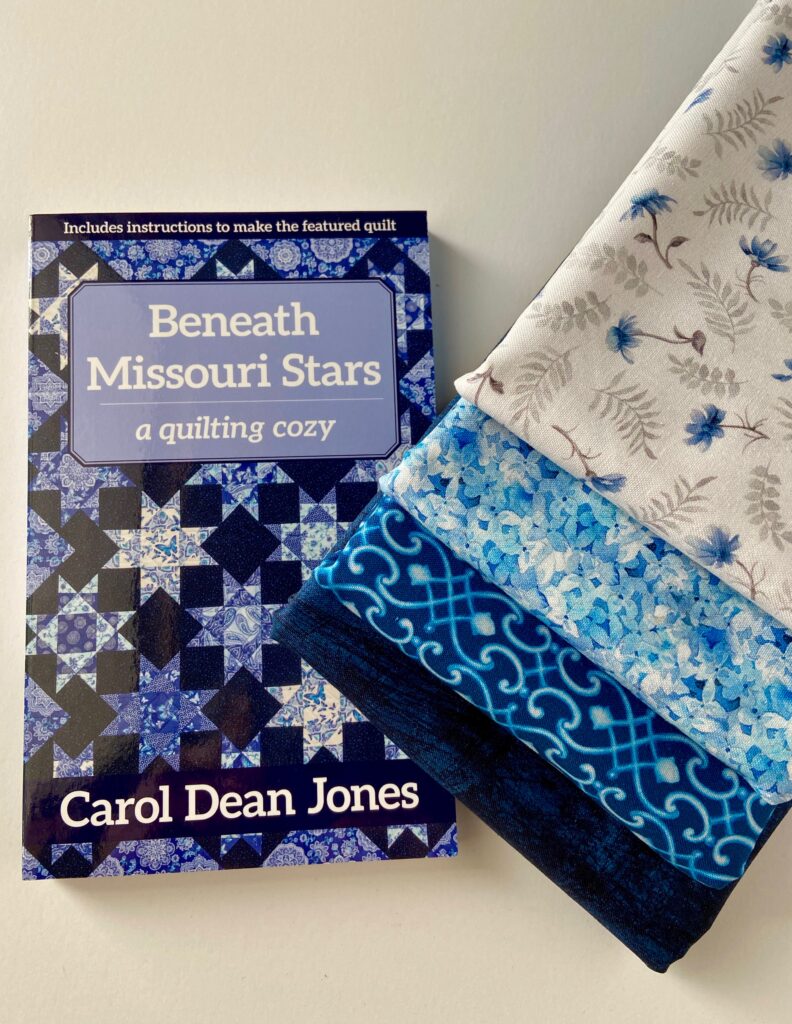 Included with the fabric in the kit is a copy of the book which has been signed by the author. The Quilting Cozy books are a great deal considering you get a novel and a pattern for just a bit more than the price of many quilt patterns. The number of kits is limited so most likely they will not last long. If you want to see the details of the kit, you will find it here.
To celebrate the release of Carol's 11th book in the series, I have a signed copy to offer as a giveaway prize!! I am excited to share this book with all of you and to send a copy to one lucky winner. Carol's series is entertaining with fun characters and lots of quilting fun. How can you go wrong with that??
To enter to win the autographed copy of the book, please leave a comment and tell me if you have made a 'two color' quilt before. If so, what colors did you use? If not, what colors would you choose to make one with. I love blue and yellow, red and white and also blue and white. I think limiting the colors of a quilt creates a very dramatic look. The giveaway is open until Friday of this week. I will select a winner and notify the person by email. Make sure you are not a no-reply commenter.
Congratulations to Carol on the success of this fun series of cozy mysteries. I hope we haven't heard the last about Sarah and Sophie!!