It is the first week of July, so you know what that means, right? The annual Meadow Mist Mystery Quilt kicks off! Cheryl Brickey of Meadow Mist Designs is back with her 5th annual mystery quilt, called the Mosaic Mystery, beginning on Thursday, July 4th. This confident beginner level quilt along is completely free to join and has a relaxed pace with monthly instructions posted on the first Thursday of each month. All quilt instructions will be posted on the Meadow Mist Designs blog and you can find all information about the quilt along on the Mosaic Mystery page. Join over 3,700 other quilters in the friendly and quite active Meadow Mist Designs Facebook Group . Cheryl is also offering a non-mystery option for those that want to join in, but would rather see the design ahead of time. You can sign up for the non-mystery option here.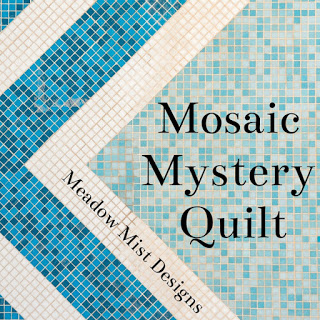 This year I am involved on a couple of levels. Needle and Foot is sponsoring two different prizes during the event, one in August and another at the final reveal when the QAL wraps up. Additionally, Needle and Foot has two kits curated specifically for the Mosaic Mystery Quilt. This is really exciting! Cheryl and I worked together to create two kits, each with very different vibes.
For some quilters, a Mystery Quilt can be somewhat daunting. It might feel a bit nerve wracking to pick fabrics without knowing what the pattern looks like. To this end, Cheryl and I thought it would be nice to have kits available for you to choose from. Both collections contain a selection of fabrics from Art Gallery Fabric, with a solid as the background and three prints used in the quilt and as the binding.

One of my kits contain three prints from the Sun Kissed line. Designed by Maureen Cracknell, these fabrics are summery and so cheerful. The Sun Kissed kit is available here.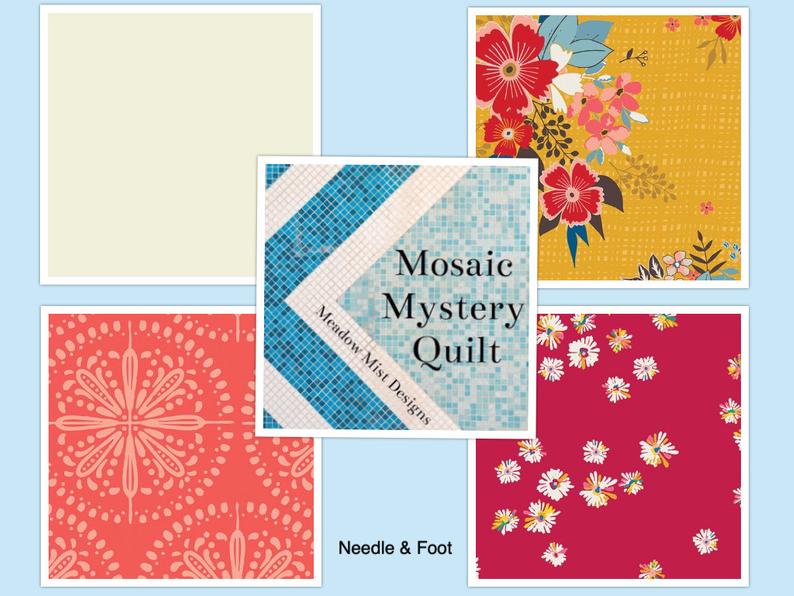 Going clockwise, there is Linen for the background, Summer Dress Dreams, Hazy Daisies in Scarlet, and Bandana in Grapefruit.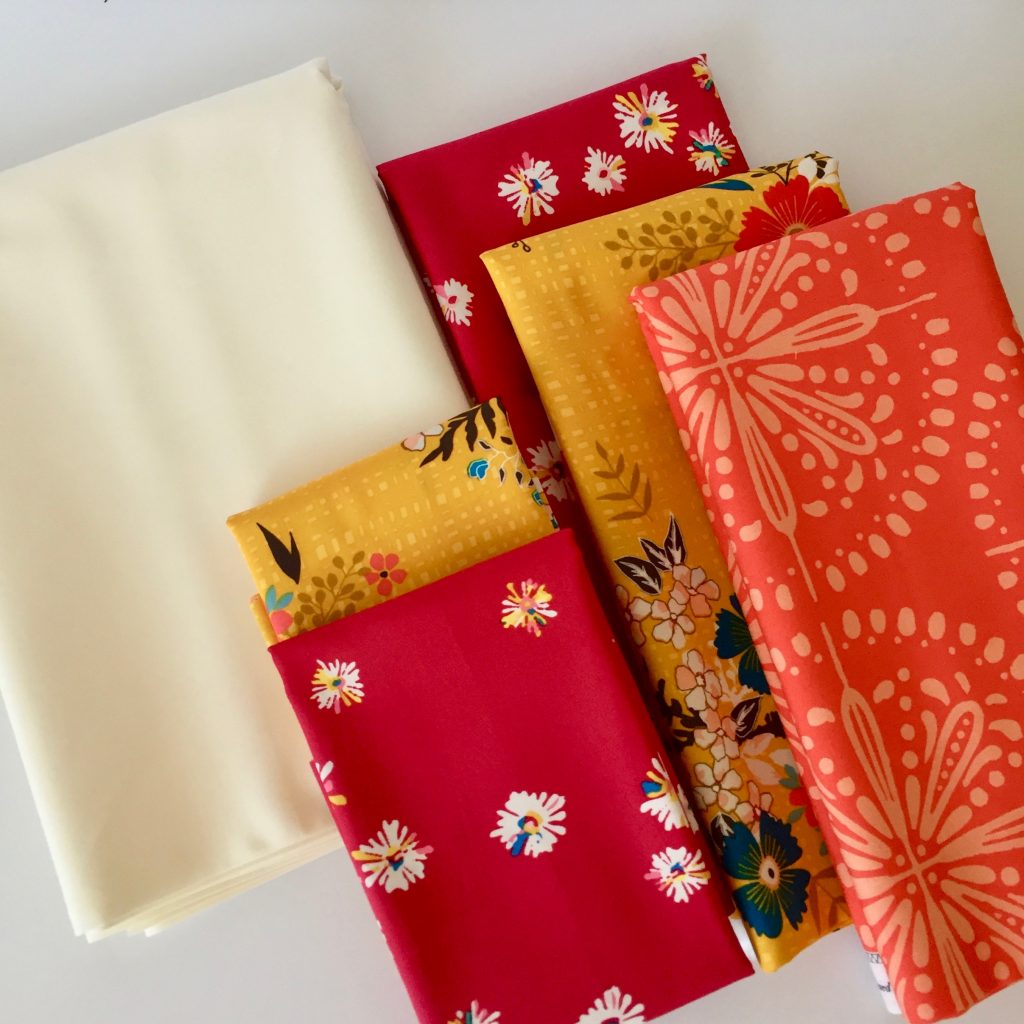 The prints include large and medium scales which just happen to work well with the design of the Mystery Quilt.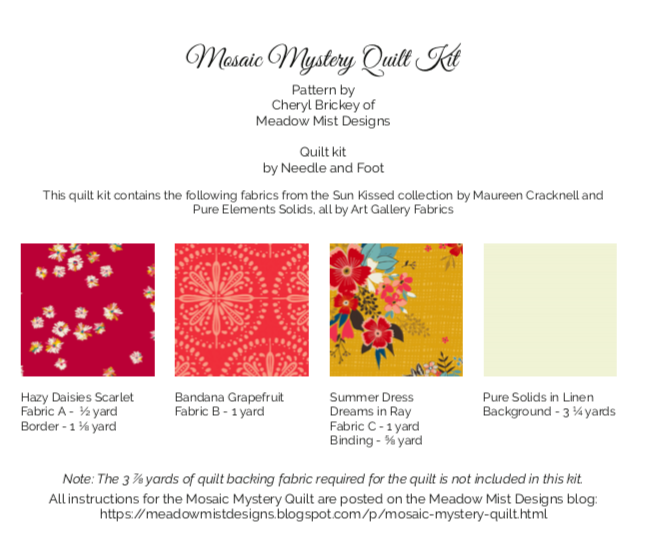 Above are the details on the Sun Kissed kit for your review.

This stunning kit contains print fabrics from Pat Bravo's Matchmade line. Created by Pat as a line of blenders, the range of color used for the Matchmade fabrics is bold and saturated. To see more details, click here.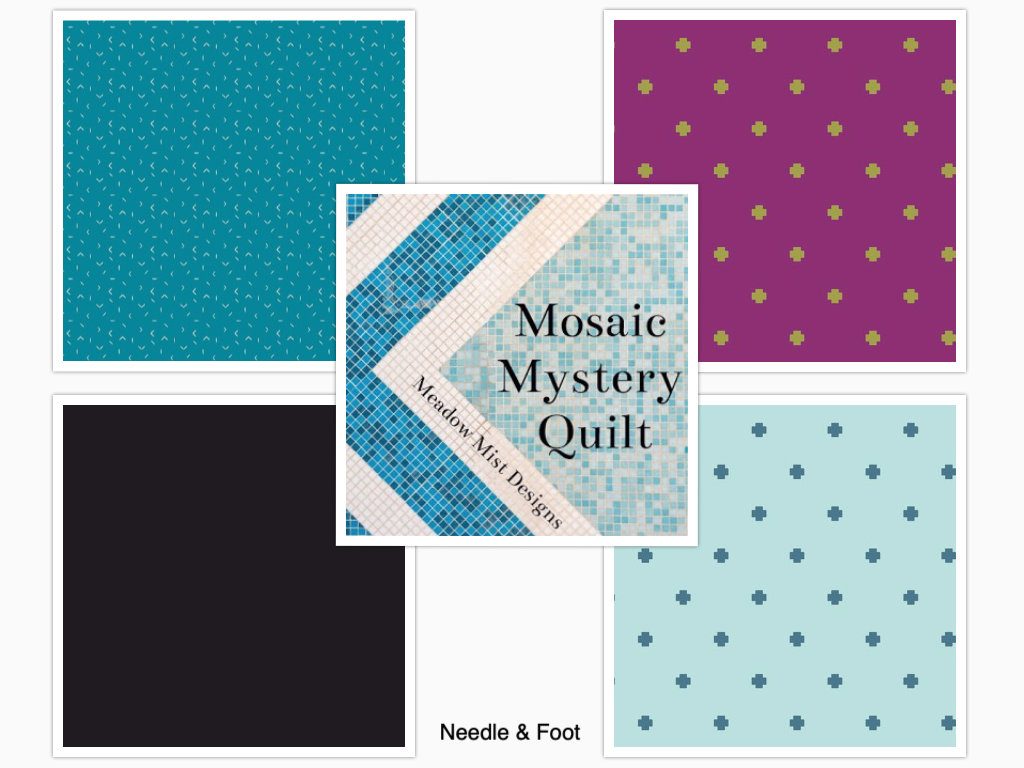 The background is a solid black called Caviar. The prints starting in the top left and going clockwise; Indication Midnight, Positivity Berry, and Positivity Midnight.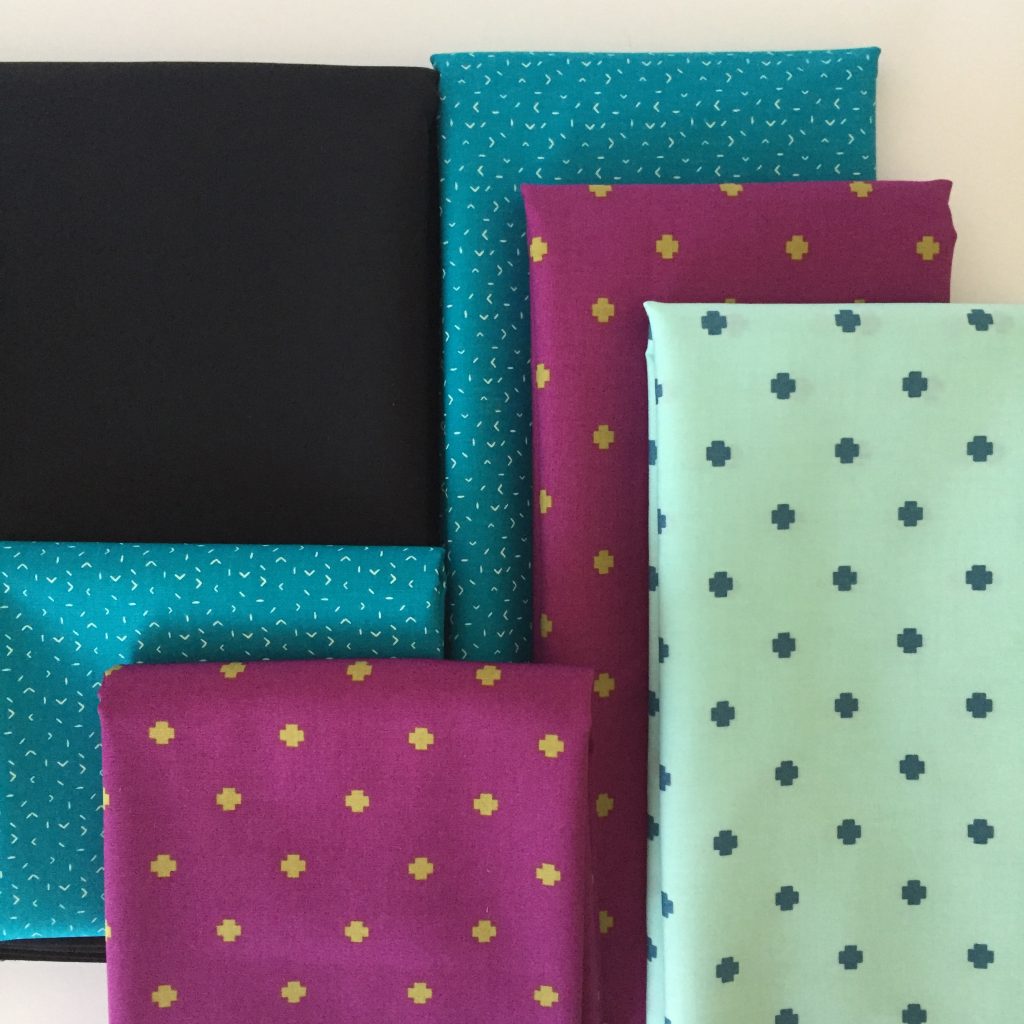 This kit is very modern with strong contrast. The prints are small scale and not the primary focus of the kit. The color is the focus – shades of teal and berry with a dramatic black background. Gorgeous!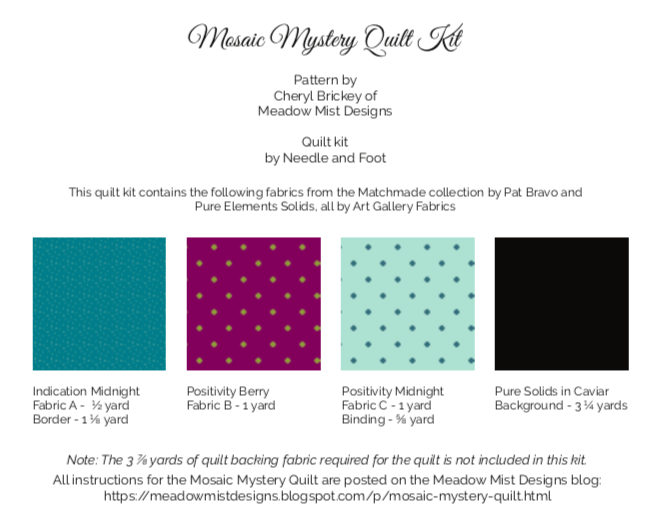 Here are some details on the Matchmade kit for you to review.
I have had such a great experience working with Cheryl creating these two kits for you. If you are someone who is intimidated by the prospect of selecting fabrics for a mystery quilt pattern, be sure to take a look at the kits. Cheryl and I tried to create two very different kits, both modern with bold colors and yet each with a very different feel to them. Using strictly Art Gallery Fabrics in the kits means they are of the highest quality. Kits do not include the backing fabric or batting. However, I do have fabrics in stock that work really well for the backings for both kits. You can see backing suggestions when you click through to the kit links.
There are a number of each kit available in the shop. Come take a look! If you have any questions about the QAL – hop over to Cheryl's so she can assist. Questions about the kits? Leave them in the comments or shoot me an email. And…. just to have some fun, let's take a vote. Which kit is your favorite? Let me know in the comments. I am so curious.