Over the past two years or so, I lost contact with my friend Susie. We used to take long walks together, never running out of chit-chat. We both really enjoyed it but life got so that we fell out of the routine. In January of this year, I contacted her about a volunteer commitment we both work on and she told me her husband had recently passed away of lung cancer. I didn't even know Rick had been ill. I felt awful that we had lost touch and I hadn't been around to support her during his very serious illness. I know all too well how important it is to have friends helping you during such a dark, painful time.
We got together a couple of times soon after and I offered to make a quilt for her with Rick's clothes, whenever she thought she would be ready to part with some of his shirts. About a month later, she brought me a large bag containing his bathrobe, some shirts and shorts. We took a look at everything and talked about whether she was ok with me cutting them up. Then we looked at different quilts I had pinned to a memory quilt board on Pinterest. She was drawn to a simple four patch block with sashing. Easy enough to make! Susie also asked if I would include two photos of her with Rick she had printed on fabric. I haven't used that sort of thing before but of course I was happy to add them to a block.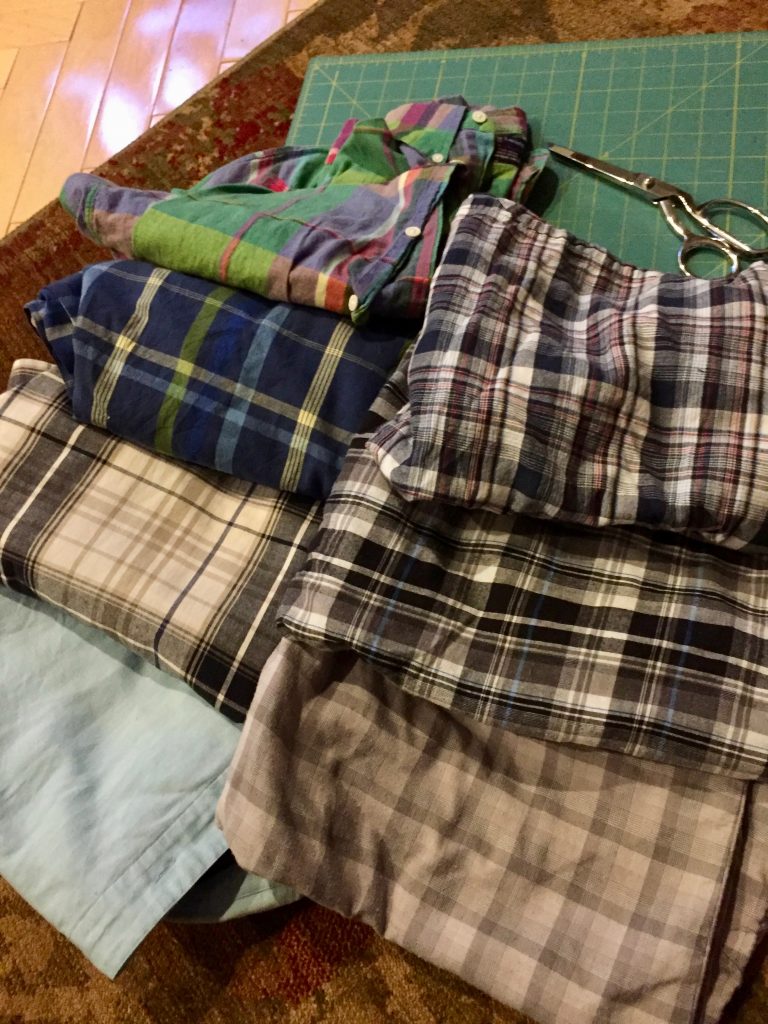 Looking at the collection of shirts and shorts, it seemed best to use the two pairs of solid blue shorts and then two plaids for each four patch. Susie looked in the shop downstairs and chose a very neutral textured solid for the sashing and border.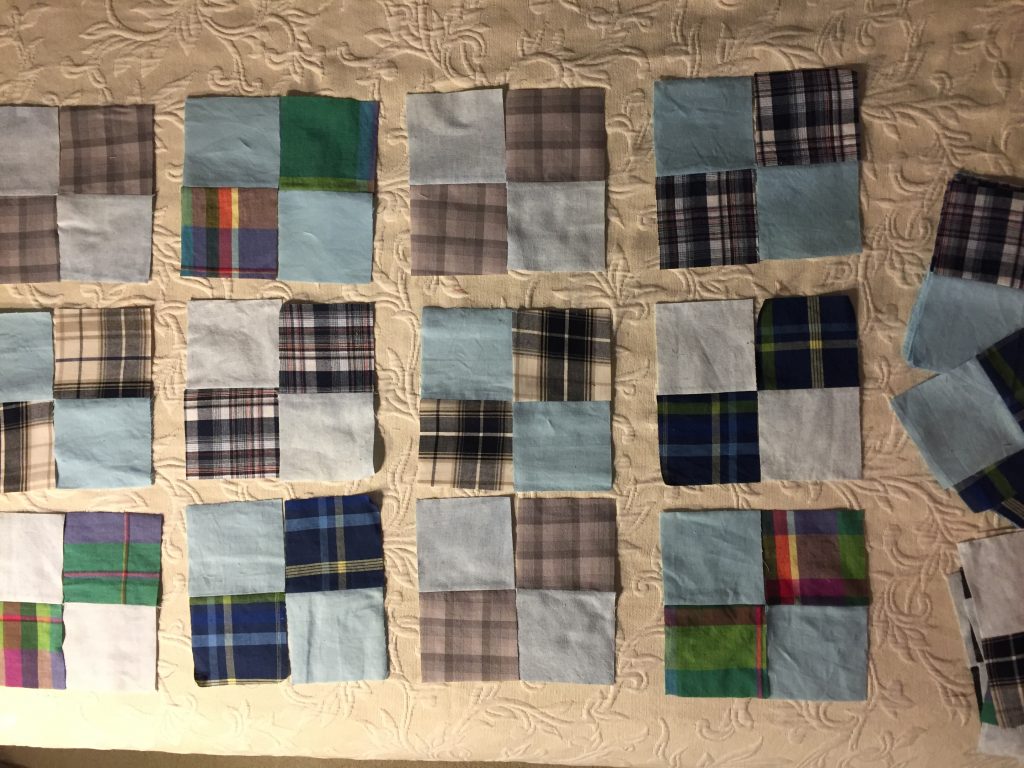 Working with clothing that has been worn is a bit tricky. Susie chose the items Rick favored most because she had the sweetest memories of him in those shirts or shorts. Of course this means some of them were well worn. I wish I could remember who it was, but on Instagram, a nice quilter reminded me to back any thin fabrics with a stabilizer of sorts. This was perfect. I fused a woven interfacing to the back of some of the chunks of fabric before I cut the strips. Once that was done, I cut 3 1/2″ strips wherever I could. Then made strip sets and sliced them up to make the four patch blocks.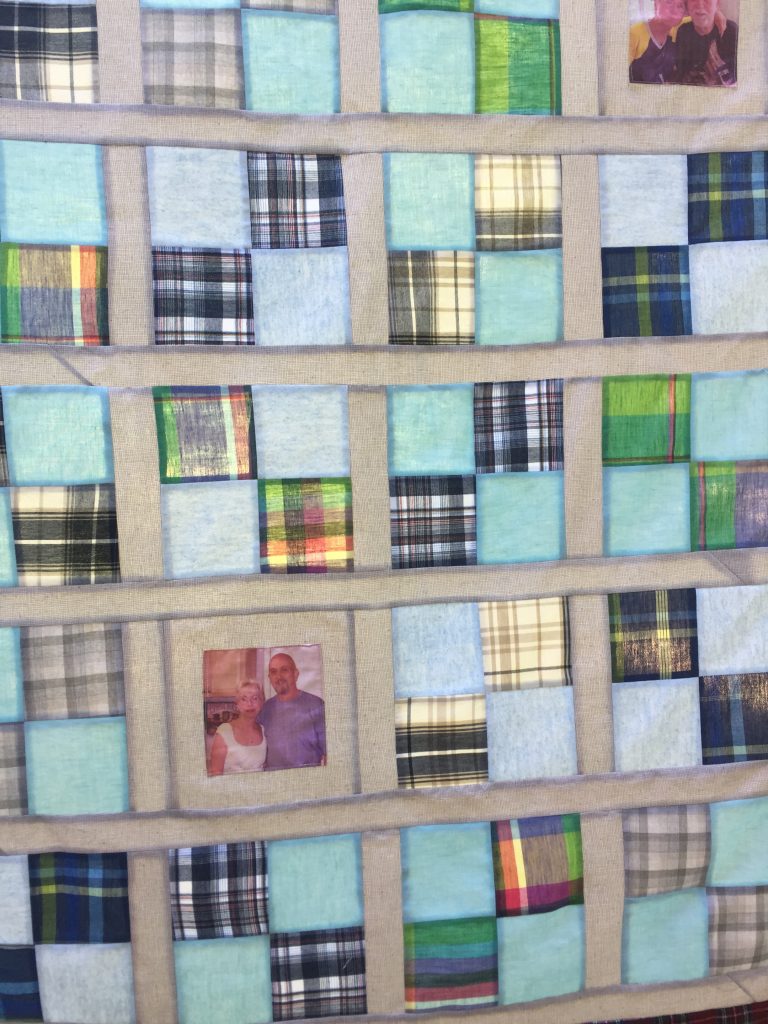 The next step was to create two blocks where I could utilize the pictures of Rick and Susie. I wasn't really sure how to do this? The fabric they were printed on seemed to fray easily so I didn't want to stitch a border directly to the printed piece. Instead I chose to fuse the photo to a square cut from the neutral sashing fabric. After fusing it (with each edge pressed under to create a clean look) I topstitched around the perimeter.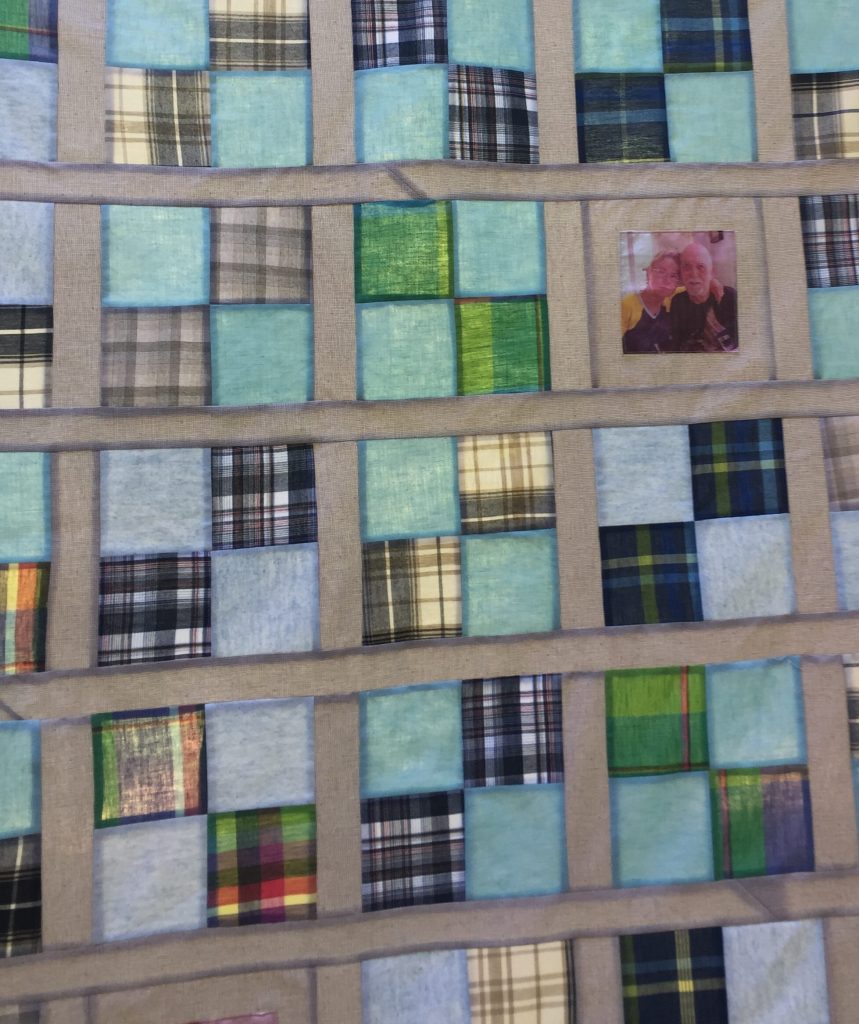 I think that worked quite well. One limiting factor was the shorts I used as a solid. I ran out of that fabric with two blocks to go. What to do? I decided to cut two more plain blocks from the sashing fabric. Then I took bits of the flannel bathrobe and cut two hearts from it. Those were fused to the background squares and appliquéd to the fabric. They look very cute and I like the pop of the deep red plaid.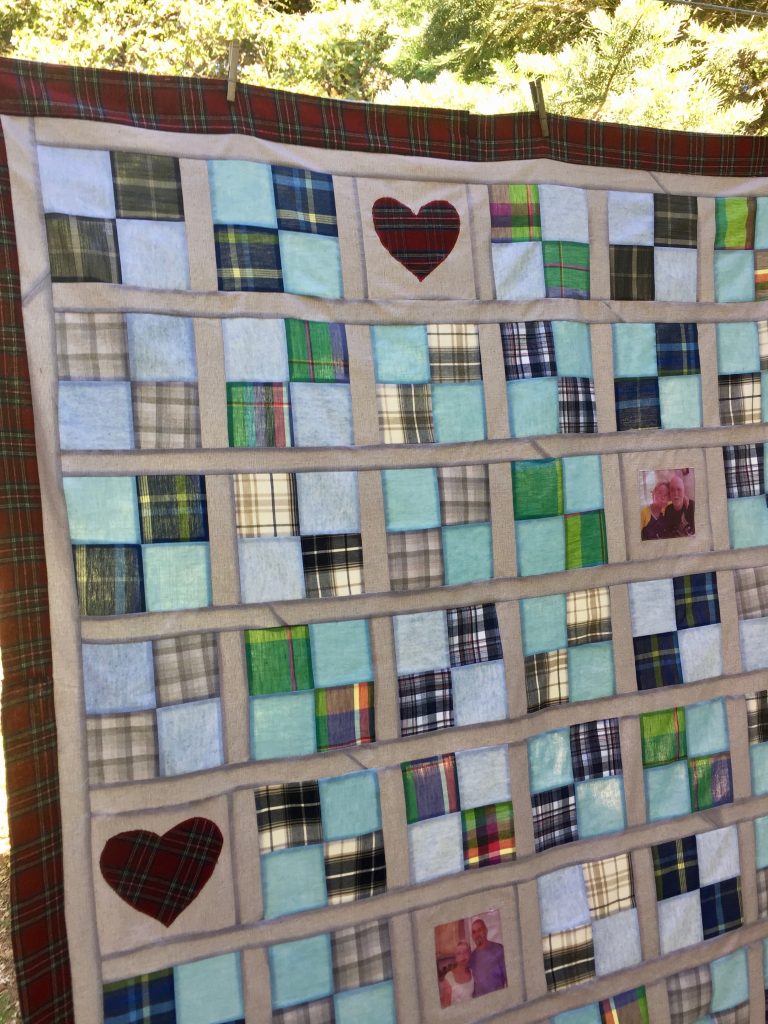 Finally, we agreed the red plaid flannel robe would be the perfect outer border. I really love how the red flannel gives a cozy and rustic look to the quilt top.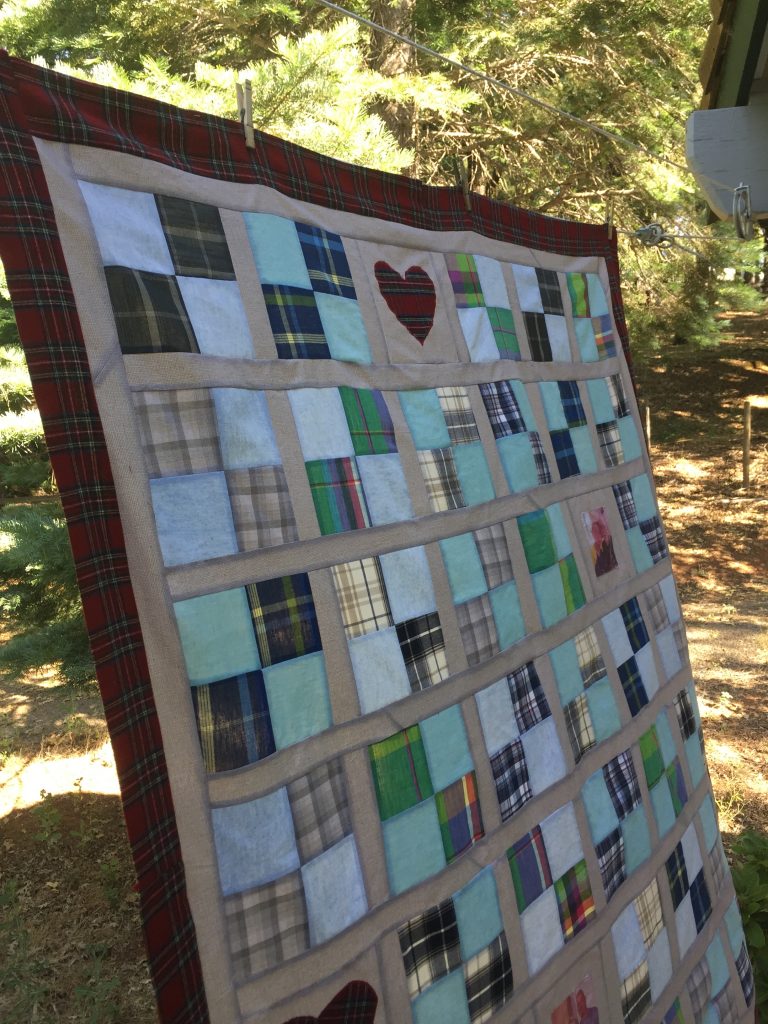 The quilt top measures roughly 60″ x 70″ which should be perfect for my very tiny friend. Now I need to choose a backing and get it basted. This is the type of project I really enjoy. It holds meaning and comfort for my friend. I really regret not having made something like this when Mark – my first husband – died in 1994. I was overwhelmed with being widowed, single parenting my boys etc. Sewing was not at the forefront of my mind – in fact I didn't really sew for many years after that. Making this for Susie is very satisfying. I am really looking forward to quilting it up so she can enjoy it. September will mark the one year anniversary of Rick's death and I want to be sure she has this before then.
Linking to my usual spots – check them out at the top of the page, under Link Ups.
Watch for a special post coming up on Friday!! Until then, to my US readers, have a wonderful Fourth of July holiday! Also, I have a fantastic giveaway happening today and tomorrow over on my Instagram feed. Be sure to check it out. 🙂