A few days ago my grand daughter face timed with me. She had a very specific request. "Grammy, I need a basket." After chatting for a bit, she showed me how her parents had strung a line across a wall in the living room. It is right at her height and she now has a place to clip her art work on display. Sort of her own continuous gallery showing! But it seems she has nowhere to keep her extra clothespins and this was bothering her. Who am I to deny a toddler in need?
When asked what color, she immediately replied pink. Of course in the mind of a two year old, I wonder was that the first color that came to mind? Is pink her favorite color (or was it on that particular day?) No matter. I have plenty of pink fabric. 🙂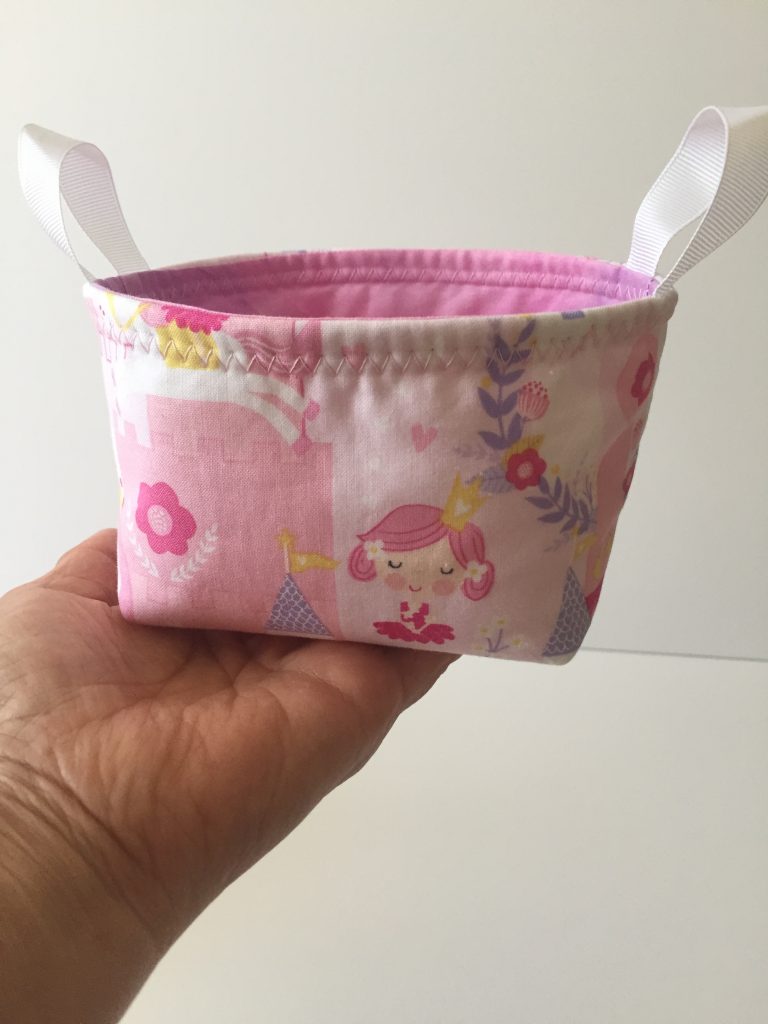 I used the ever-popular pattern for the One Hour Basket over at Kelby Sews as the starting point. I have made these a couple of times before and it truly takes only an hour (or less) to make. But the pattern size was too large. I cut it back and used rectangles measuring 6″ x 9″ for this little one. The little loopy handles are two bits of gross grain ribbon. I didn't ever measure the finished size but you can see in relation to my hand, it isn't large. Perfect for a few clothespins.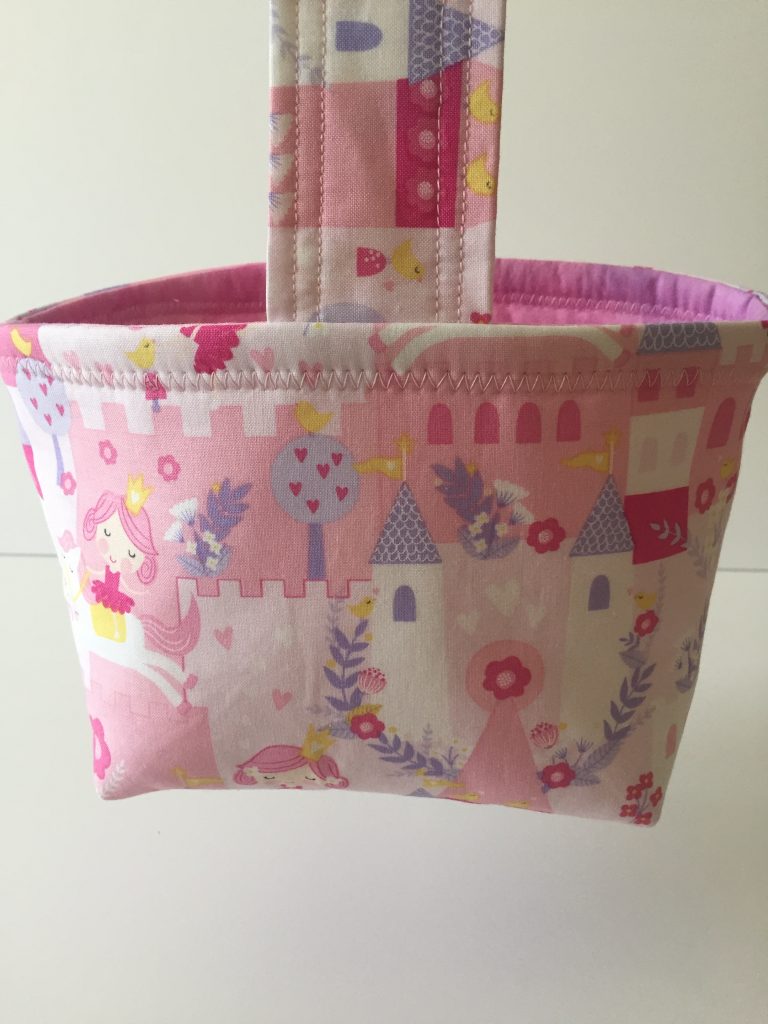 When I chose the piece of fabric down in my shop, I wasn't really thinking and cut a 1/2 yard. The print is from Timeless Treasures Kidz and it is adorable. Loads of pink, with princesses and castles too. Since I had the extra fabric, it seemed like I ought to go ahead and make another basket. This one was cut with rectangles measuring 9″ x 12″. Like the tiny basket, I adhered a fusible Pellon batting to the outer fabric. But with this larger version, I also fused a stiff interfacing to the lining fabric to give it more structure.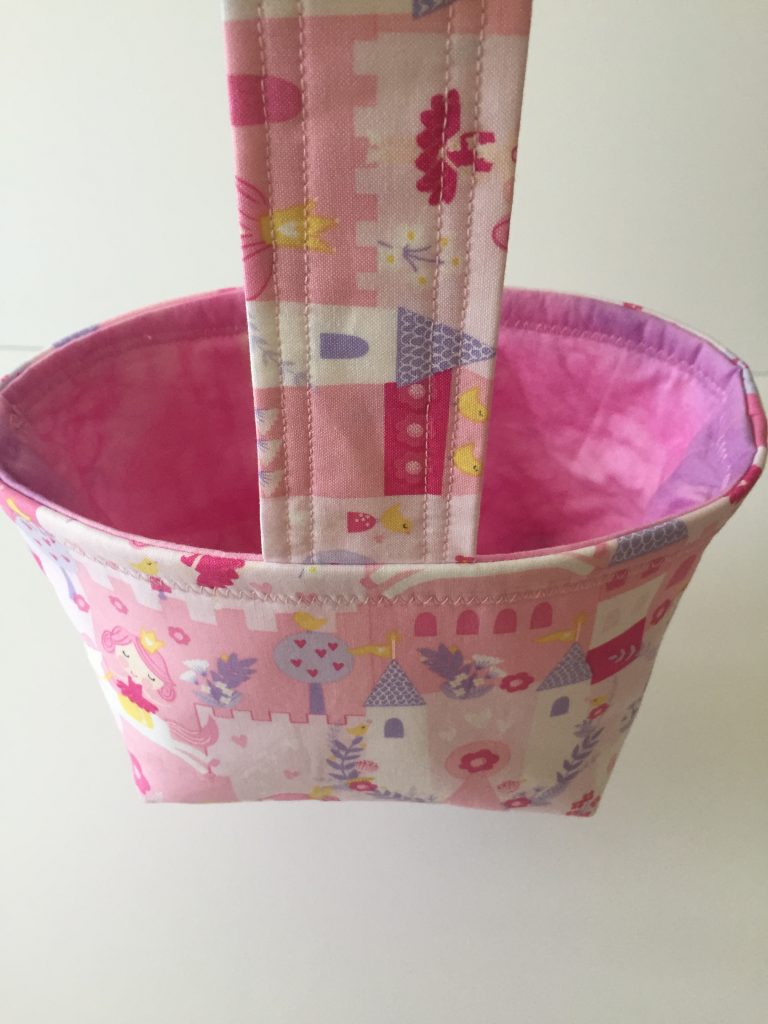 I made a handle so she can easily carry this one around if she wants to. The lining was from my stash – Julia had some wild pajama pants years ago with this faux tie dyed fabric.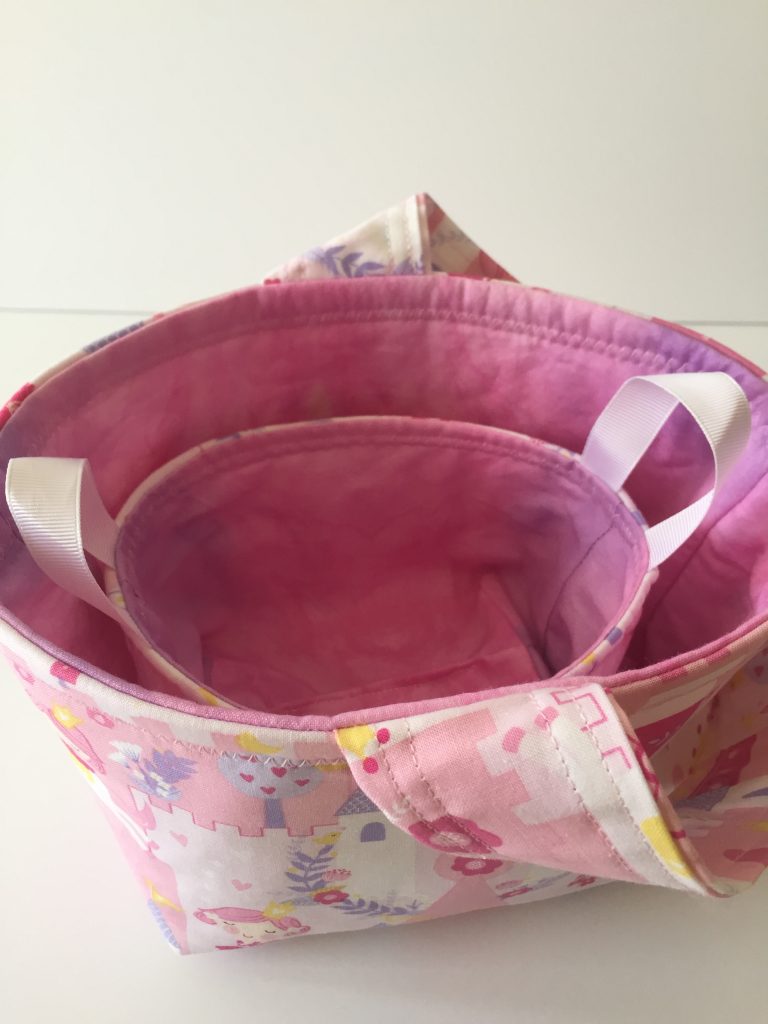 Aren't they cute? It was fun to make them and to think of H playing with them. When I finished them yesterday, I texted a picture of them so she could see. She was apparently quite pleased. However about 15 minutes later the UPS truck went up their road. It was distressing for her to see him drive by. She thought he was going to stop and drop off the package from Grammy. Poor thing. The timing just seemed perfect to her. Hopefully her package will come on Saturday.
This was definitely a fun little project to whip up. I will link up with Sandra at MMM Quilts when she has her next DREAMI link up as this was surely one of those Drop Everything and Make It sort of projects!