I have thought about hosting an event like this for a long while now. Occasional frustration while scrolling my various social media feeds got me thinking. While I do love the inspiration found on Instagram and Facebook, sometimes it makes me wish I were more skilled or more artistic or more prolific a quilter or more, just more. Know what I mean? It seems to me we should share both – the mistakes and the achievements, the blunders and the best of our work. This would present a balanced picture, it would show quilting – in real life!
In an effort to do this, I invite anyone who wants to share to leave a story in the comments. Explain what your mistake was, how you did or didn't fix it, and what you learned from it (if anything!). Bloggers – if you write a post describing the same, please put the URL in a comment so we can all click through and read about your silly mistake or misunderstanding.
I have so many I could tell you about but I have chosen one big one that I chuckle about almost every time I bind a quilt. I would define this as a complete misunderstanding. I don't have any wonderful pictures to illustrate this so I will just have to tell the story.
When I started quilting, I basically taught myself. This was back in the late 1970's. At that time, I made three quilts – each one queen size. I had no clue about actually quilting a quilt so they were hand tied. Also, I didn't know about binding a quilt so they were sort of made 'envelope' style. I layered the front and back, right sides together. Then I stitched around the perimeter, leaving an opening large enough to turn it right sides out. Then, get this, I took a layer of polyester batting and inserted it into the quilt and basically crawled in with it as far as I could to smooth it out. So the batting wasn't really stitched in to anything and you can bet it was lumpy but I was 17 or 18 and I thought this was fine. This is sort of the back story – it isn't the misunderstanding. We haven't gotten there yet! I just wanted to tell you where I was coming from as far as quilting knowledge goes! It helps to know that though I began sewing when I was 11 years old, I made clothes – not quilts. I took home ec classes in high school and learned a lot about sewing then. You can read a post here that talks more about those classes if you like. The rules for making clothes are quite different than those for making quilts. This is what caused my major misunderstanding!!
Fast forward from 1978 to 2010 and I began quilting again. This time I had the benefit of all the tutorials on the internet. I read many and they were (and still are) very helpful. Some of the first projects I made were minis and table runners. Then I moved on to trying to make some lap size quilts. Binding quilts was quite tricky for me. I would look at the pictures of other quilts and the crisp bindings with beautifully mitered corners and wonder why the heck mine looked so weird.
Want to know why? Let me tell you. For the most part, I understood the process of making the double fold binding, stitching to 1/4″ before the corner and then off the corner, then I mitered the corner as I turned. All of that worked well. Once I got the binding entirely stitched on, I made my mistake.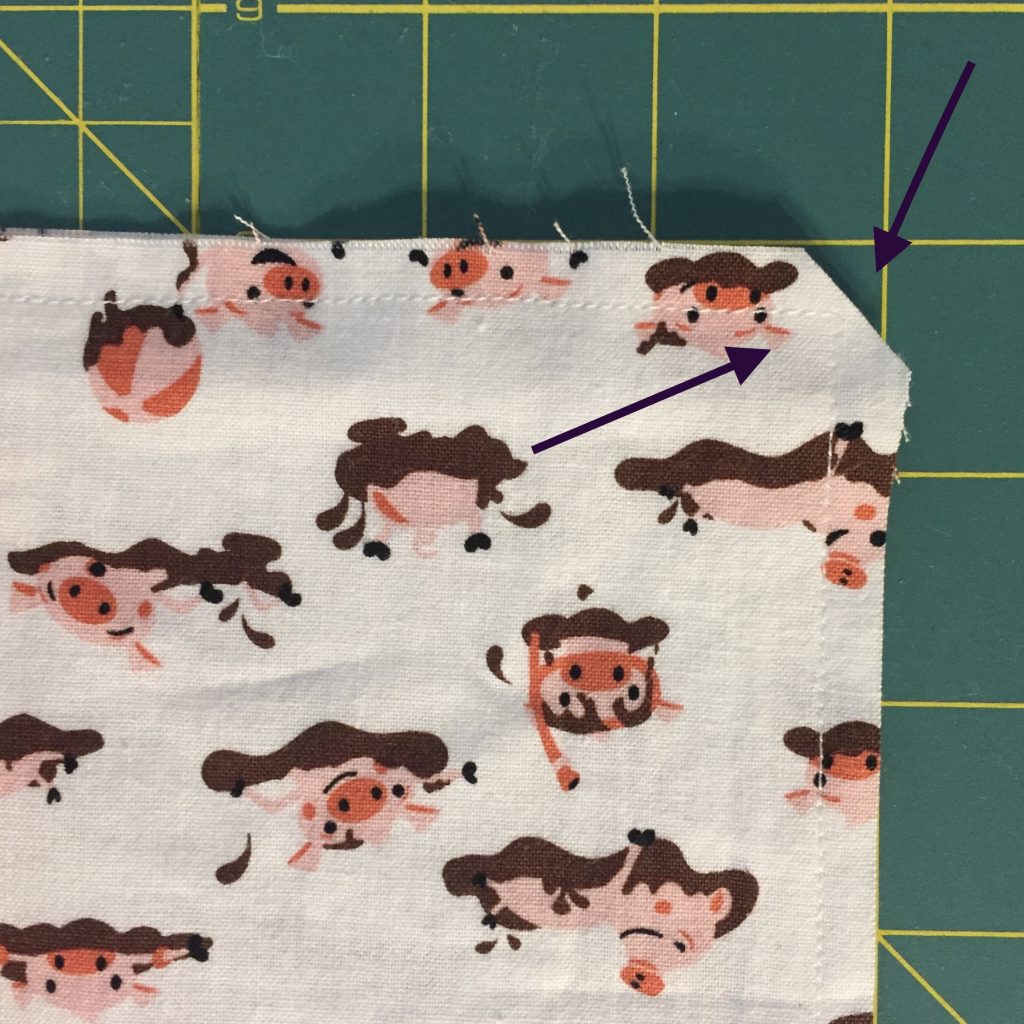 I assumed that the 90 degree corner needed to be clipped! After all that work, I went to each of the corners and snipped them off!!! No kidding. I didn't do this only once either. I did it to a couple of quilts before I figured it out. When sewing clothes, pillow cases or anything with a 90 degree angle, the corner is clipped off so when you turn it right side out, there is a nice crisp corner without excess fabric bunching it up. Well, as we know, bindings are folded over the corners and the corners need to be intact so they fill the binding. My habit to clip those corners was so strong I just did it automatically. Let's just say the bindings on the first couple of quilts were very weird indeed. I don't have any pictures of this. But I assure you, I did it repeatedly.
There were actually several habits that were hard to change when I started quilting. Using a 1/4″ seam felt so wrong to me. It didn't seem like such a small seam could actually hold the pieces together. When sewing clothes, it is standard to use a 5/8″ seam. Also, I am used to back tacking each time I start and stop a seam. Most of the time, I still do this. Old habits die hard. But when I am piecing small blocks, it is problematic if I tack at the beginning and end of the seams – it can make my seams too fat, make the blocks too small, and sometimes causes those bitty pieces to get sucked into the machine at the feed dogs (which makes me crazy!)
We are all constantly learning. Many of my readers are amazing quilters, some are quite new to it and others are like me – gaining confidence with much still to learn. But – we are all right where we should be. Our projects should not be compared. They are as unique as each of us which is what makes life interesting.
I am looking forward to reading tales from others about your blunders, mishaps and misunderstandings! I had planned to have a link up ready for those with blog posts. Well, the weekend got away from me and it didn't happen. Instead, bloggers, please leave the URL link to your blog post in a comment. Readers, please scroll the comments and click through to read the mistakes others have made. I can almost guarantee I will both learn something by reading these and will also have a laugh or two. For readers who are not bloggers, will you tell your story of a mistake or goof you made? Explain it, tell us how you did or didn't fix it – share with us! Your story in a comment enters you in the drawing for the prizes! Readers, if you want to comment on others stories, please feel free. I think this will be a lot of fun.
At the end of the week, I will close the comments. Then I am going to draw names from all who entered their story and prizes will be given! Remember from the prior post? We have a gorgeous fat quarter bundle from Art Gallery Fabric, a $30 gift certificate to my shop, three pdf patterns from Bonjour Quilts, one pdf pattern from Devoted Quilter, two mini charm packs from My Sewcalled Quilts. Also, one more prize has been thrown into the mix – one book from C&T Publisher will also be awarded. Lots of fun things to give away!! (Note, when you leave your comment, please let me know if you live outside the US. I have to limit the fat quarter bundle to US residents only – darn those shipping costs!)
Thanks to everyone for participating! We need to encourage each other – one way to do this is to show both sides; our successes and our blunders!