A couple of months ago I read about some fun table runners over at Pieceful Thoughts of My Quilting Life.  Wendy had been pattern testing for a friend and actually made two versions of the runner.  I really liked the simplicity of the pattern and immediately hopped over to Craftsy to purchase the pattern. Designed by Vicki of Vicki's Crafts & Quilting, it is a fun pattern and a quick project.  My kind of sewing!!
So, I had the pattern and I pulled some fun autumn fabrics from my (currently very messy and unorganized) stash for the runner. I cut out the pieces and got ready to start. Then I had to set it aside because this happened!
Once the wedding was over, life returned to it's regular routine and I was able to make the table runner.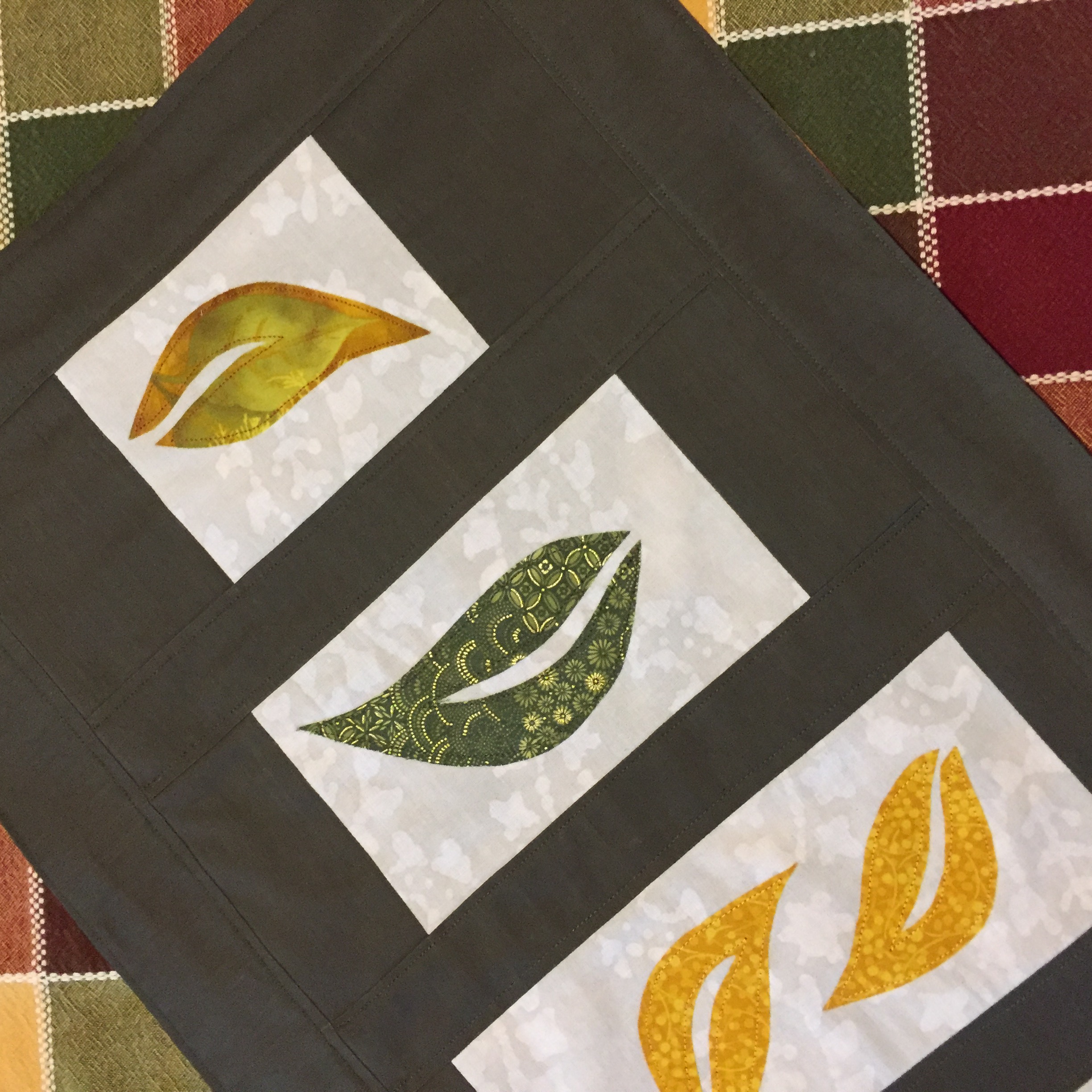 When I did the appliqué, I used Steam a Seam for the first time.  I loved it!  Prior to this, I usually used any fusible product such as Wonder Under.  But Steam a Seam works so well and it can be repositioned if needed. Really good product ( no affiliate here – just a recommendation). I didn't do any appliqué stitching until I put the front and back together. I chose not to use the usual batting and binding process that the pattern called for. Instead, after piecing the top, I sewed it right sides together, to the backing, leaving an opening to turn it right side out.  After trimming the four corners to get nice, crisp corners, I turned it right side out.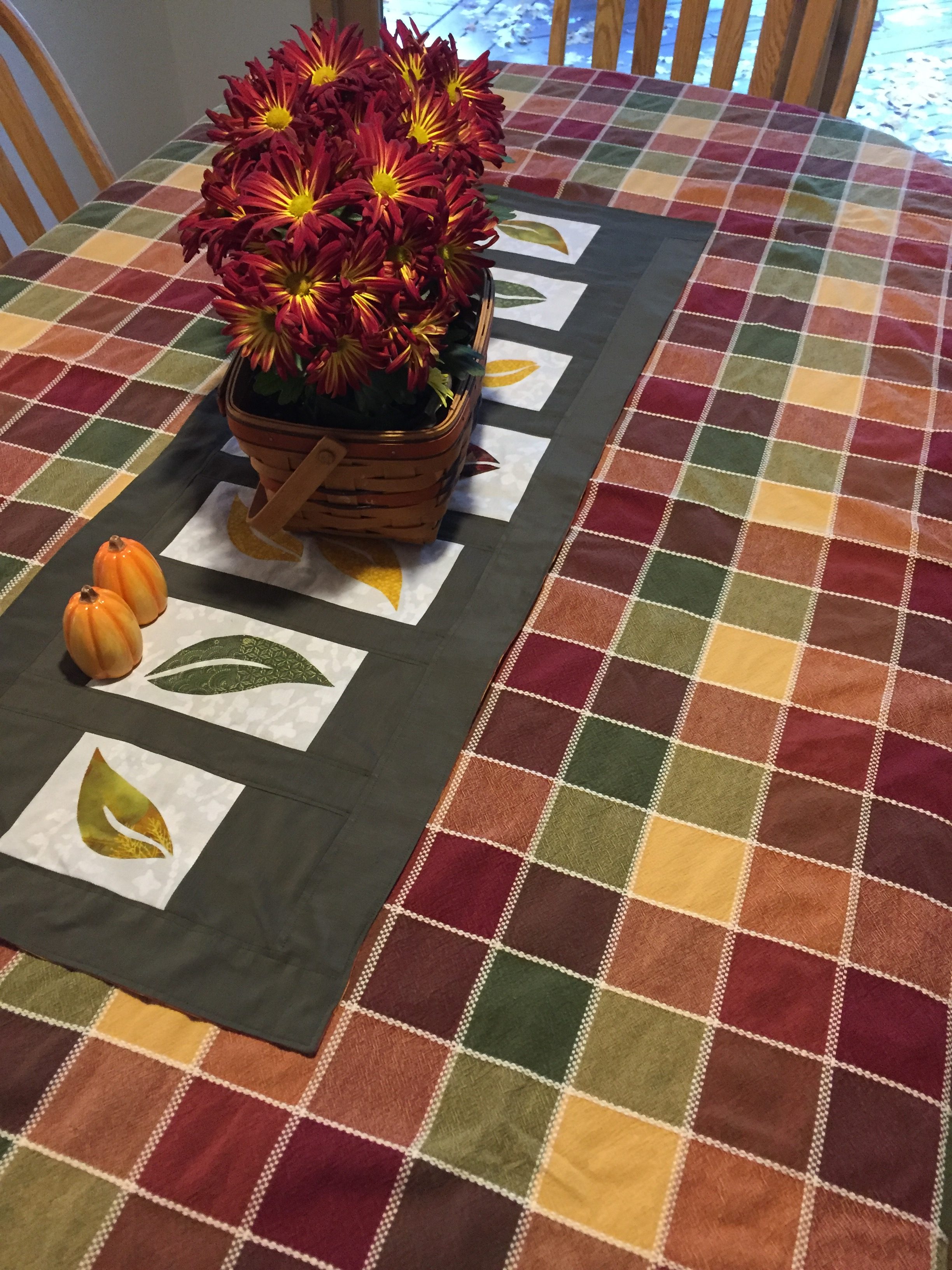 Once I had it pressed, I top stitched the outside perimeter at 1/8″ to close the opening and define the edge.  Then I top stitched the other edge of the border and also along the sashing between the leaves.  Finally I did a raw edge appliqué stitch around the edge of each leaf.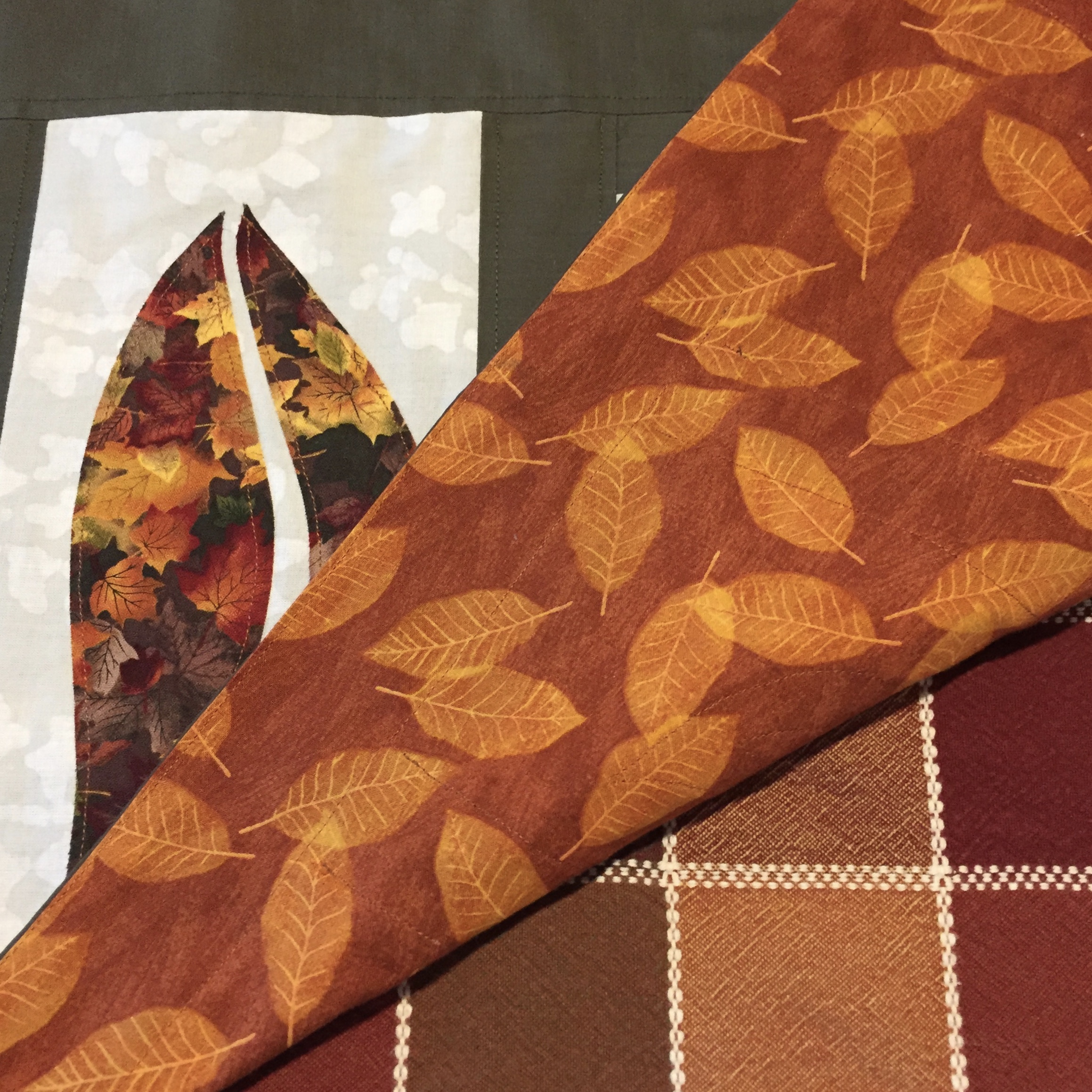 The backing is a fall leaf print I picked up at a thrift store a long while back.  I have used it in a number of projects as I really like the color (and I think the piece I bought was several yards in length.)
I am very pleased with the finished project.  It is fun to have a few seasonal decorations to put out each holiday and this works perfectly for this time of year. I highly recommend Vicki's pattern, especially if you are in the mood for a pretty autumn addition to your table. I noticed she has several other holiday patterns in her Craftsy shop that are super cute too.
Remember the October Blogger Bundle is on sale in the shop, 20% off through the end of today. Have you hopped over the Persimon Dreams to enter the giveaway for the October bundle?  If not, please do – it is such a pretty collection of fabric.  Giveaway is open until Monday, October 15th.  Good luck!!
Newsletter!
Have you signed up for my newsletter?  It is published every month or so and is full of information about my shop, new arrivals, sales, and events.  Click here to sign up!
Linking to all of my favorites – check out the list of linky parties at the top of the page, under Link Ups!