Well, I did great for the first three months of the year. My two RSC18 projects were worked on each month and one was finished in time for the next.  Somehow April and most of May slipped by and I didn't work on either of them. Knowing myself, I figured I had better get caught up.  Once I am too far behind, it becomes very easy to talk myself into skipping it altogether. We know what happens next don't we?  The blocks I did make end up in orphan block land, a very sad place to be.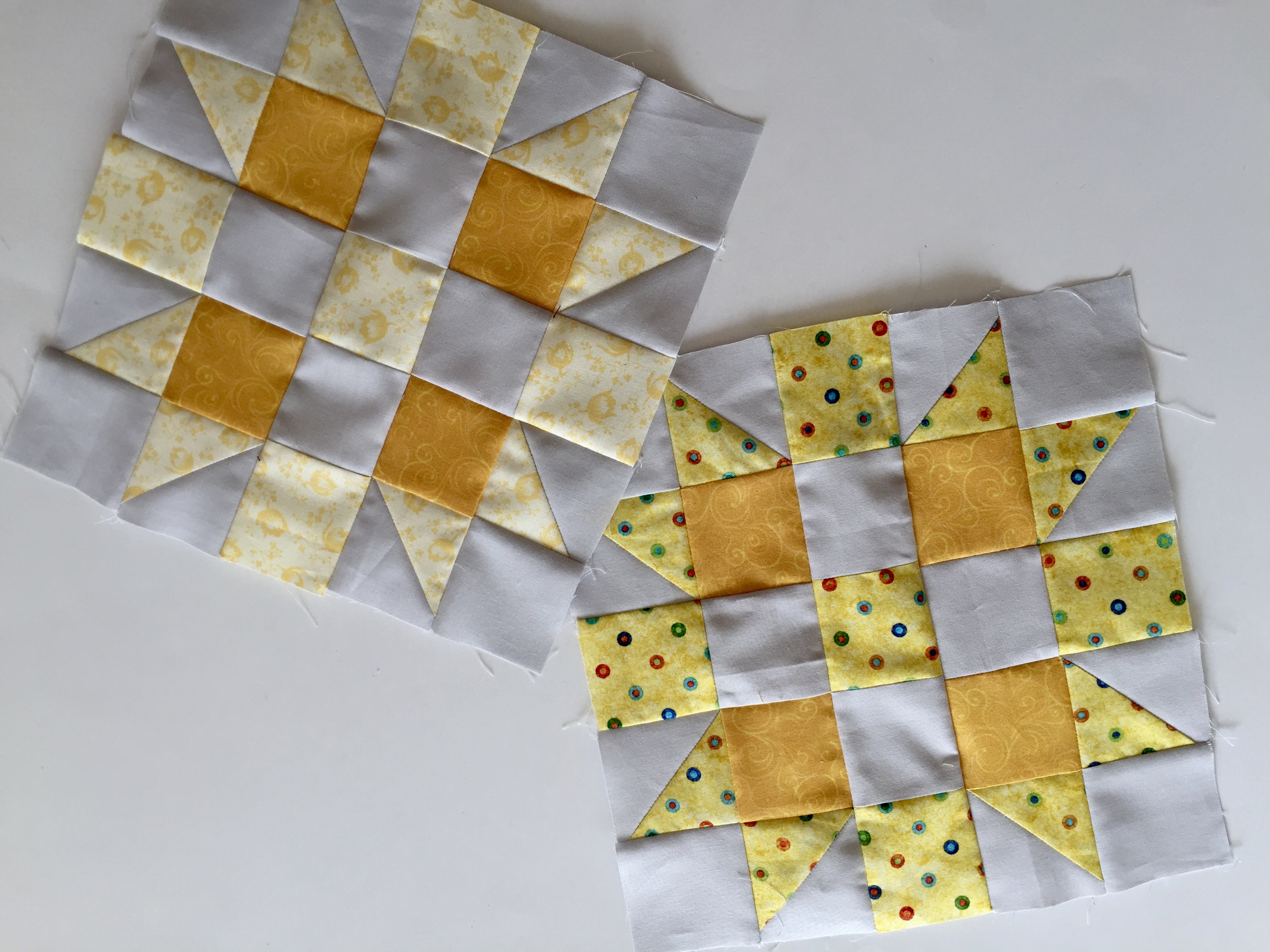 While I am not totally caught up yet, I feel much better with the progress I made. To remind you, I am sewing along with Angela and Mari's Squared Away BOM and I am making nine patch blocks for a separate project.  April's color was yellow with a touch of gold. The block tutorial for the month was the 4X Star, also known as the Carrie Hall block.  These made for super easy piecing  as only squares and a handful of HST's were required for each one.  I love both of these blocks – note that I used the same golden fabric for the four squares in the center but it looks quite different on each one. I was having a really tough time finding scraps of yellow for April because I only had such a small amount of yellow.  Mentioning this to Mari, she sent off a huge packet of yellow scraps. Though her idea of scraps might be different then mine because she generously sent a number of fat quarters. So, Mari's tutorial, Mari's fabric….. I wonder what it would take to get her to come to California to cut my pieces and stitch them up? Thank you Mari!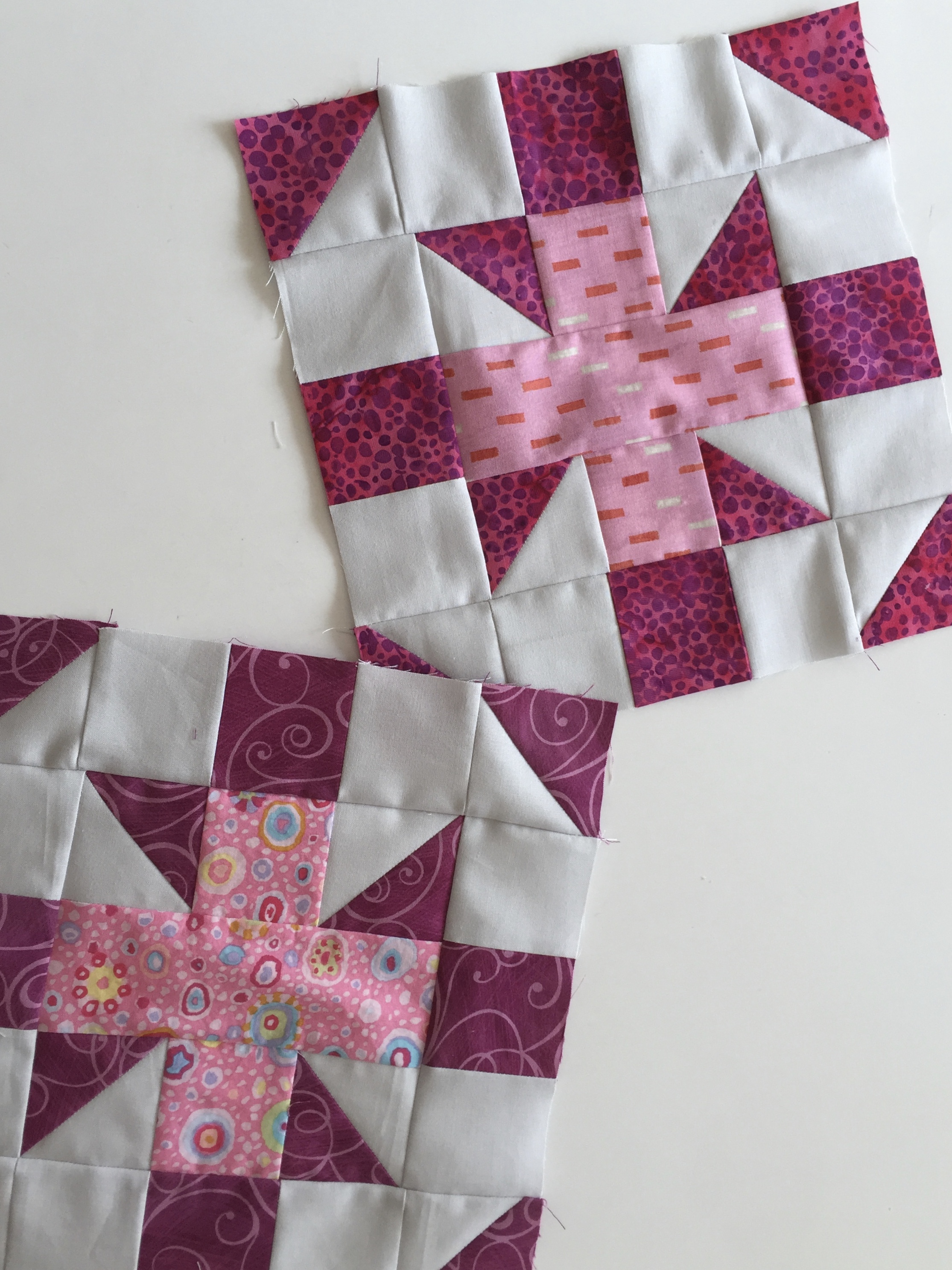 May's color is pink and rose.  This was easier for me as I have plenty of pink scraps in my stash.  I don't know if I really went with rose but I like the combinations I came up with thus far.  The block for this month is by Nancy Cabot, called Baton Rouge Square.  Mari describes it as a package with ribbons tied at the top.  I like that! Again, these are easy blocks to construct as long as you watch the direction of each HST.   At this point, I still need to make one more of each block for both April and May, and I will be good to go.  June's block will pop up on Saturday so I better get these done!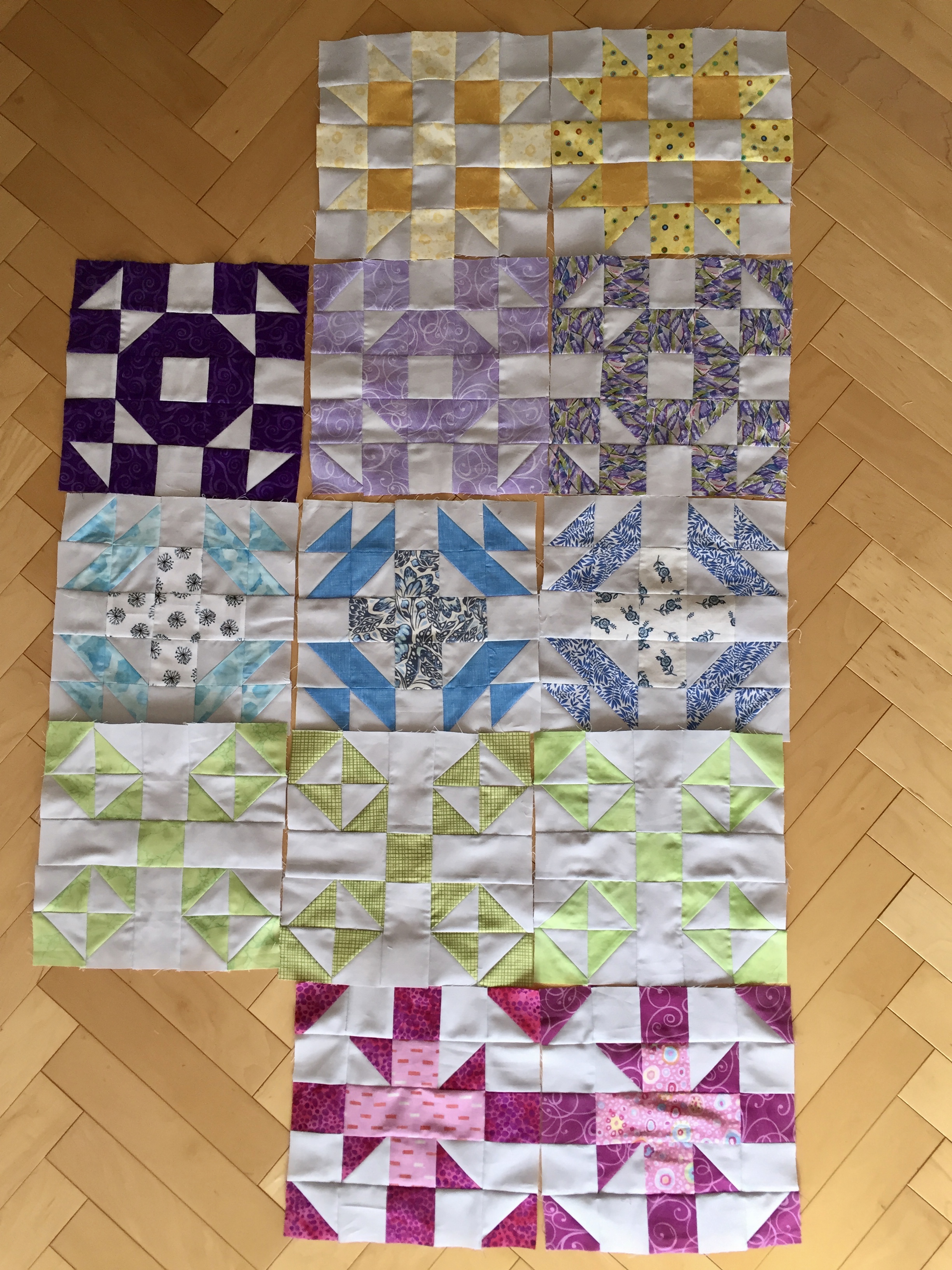 Here is a shot with all of my Squared Away blocks to date.  Looking good, with the exception of the missing pink and yellow blocks!  I am thinking of placing them on point and sashing them with a gray that is a tad darker than the background color I am using. But there is plenty of time to figure out those details.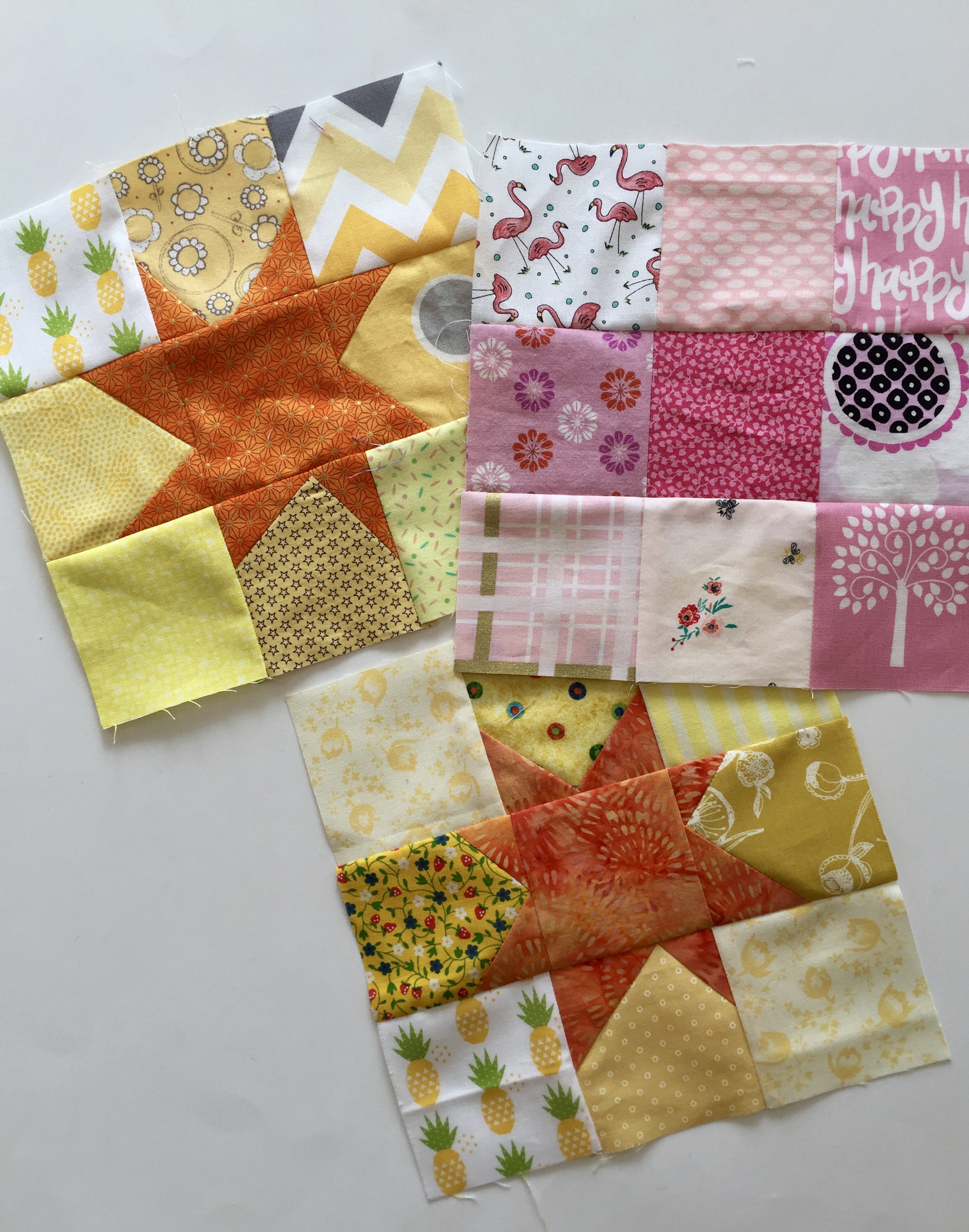 Finally I did make a few nine patch blocks.  I haven't made the wonky stars in pink yet, but these are quick and simple to put together.
Now I am off to the sewing room to make a custom Chemex Cozy for a customer in Virginia. Time to get busy.  Also, come back on the first of June as I have some updates about my shop to share with you.  Until then, happy sewing!
Linking to Let's Bee Social and Needle & Thread Thursday.  Info on both of these is found at the top of the page, under Link Ups.
Have you signed up for my newsletter?  It is published every month or so and is full of information about my shop, new arrivals, sales, and events.  Click here to sign up!
SaveSave