Today is the last day of May, which means it is also the last day of Me Made May for this year. I had hopes of making one new garment each week.  While I didn't quite get there, I am close!  I made a mauve t-shirt, a black and white t-shirt dress, a boatneck tank top and almost finished a pair of pants.  Not too bad!  I also cut out a pair of shorts but didn't get farther than that. It was really a fun series of projects and I feel like my rusty garment sewing skills are improving.
Let's take a look at the simple tank top I made.  In actuality, it wasn't as simple as I had hoped!  Combining a McCall's pattern (M7322) with a great piece of knit fabric called Morse Dot Blue, I cut out a boatneck tank top. The knit is from Art Gallery Fabric (it is available in my shop) and is just lovely – great quality and feels so comfy.  I chose to make a size large because I thought it would be easier to size down than up and my measurements showed me to be between a medium and a large. I also skipped cutting out neck and armhole facing pieces as I don't like having that extra fabric to tuck into place. It is a cleaner, simpler, finish to bind the arms and neckline with bias tape.
It became apparent right away that the shirt was going to be too boxy in shape.  I decided to cut in the armholes to give it more shape at the shoulders.
When I did this, it made the armhole openings too big.  Look at the photo above and you'll see they are cut too deeply.  Somehow I didn't notice how far off the fit was until taking photos! The camera doesn't lie.  🙂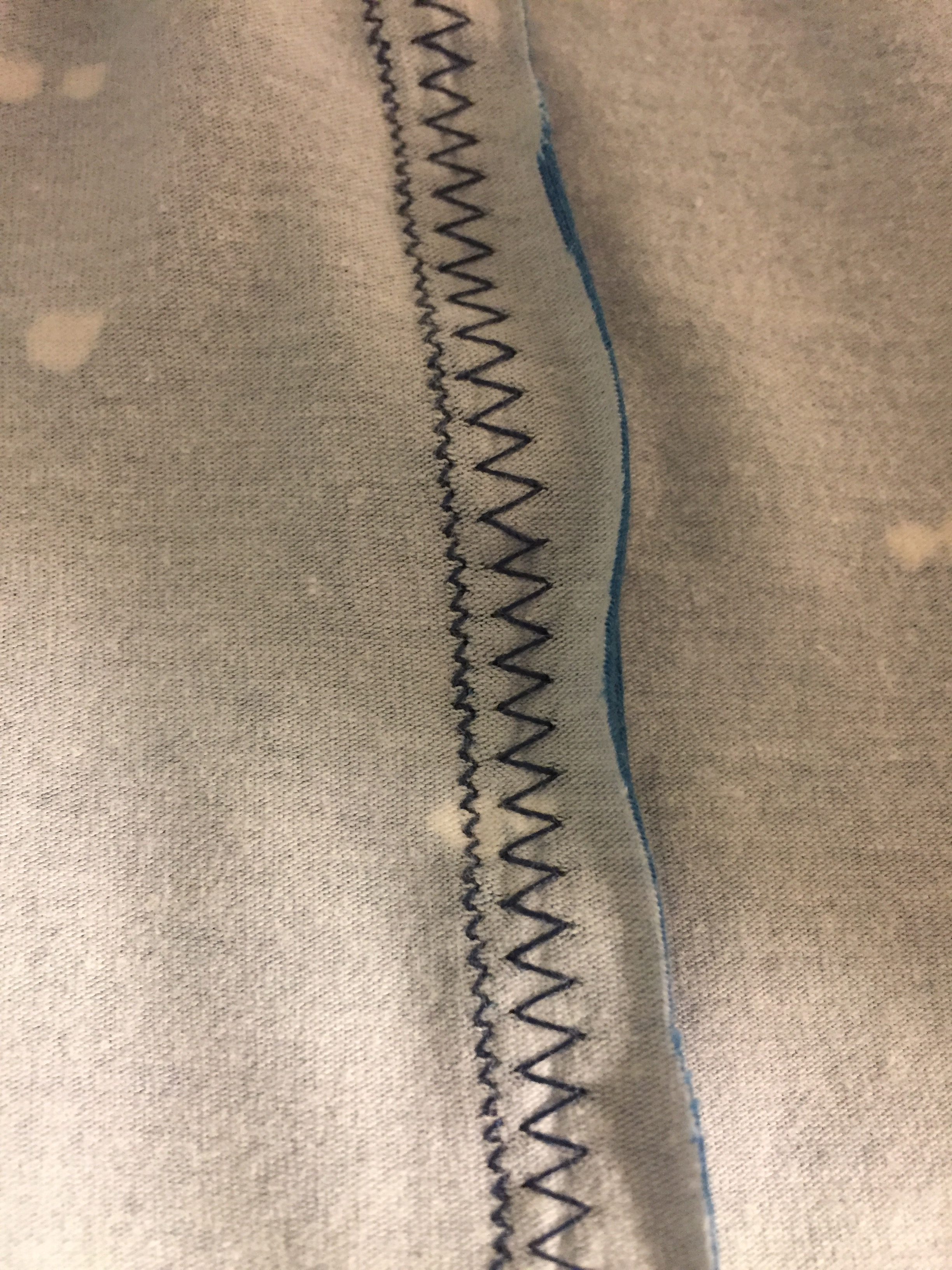 Ugh, at this point, the armholes and shoulder seams were sewn with a stretch stitch and then a zig zag beyond that. Determined to fix this, I decided I would need to take a wider seam at the shoulders to lift the shirt and then tighten up the underarms. This photo is a close up and you can see how tiny the seams of the stretch stitch are.  I couldn't unpick these without damaging the fabric, plus it was taking forever to rip out the seams.  Instead, I decided to cut the shoulder seam off completely and restitch it.  The seam binding finish wasn't as clean but it worked.  For the underarm, I cut a narrow strip out of the first three inches of the seam and sewed it back together on an angle.  Not pretty but at least it was served the purpose of closing up that armhole a bit.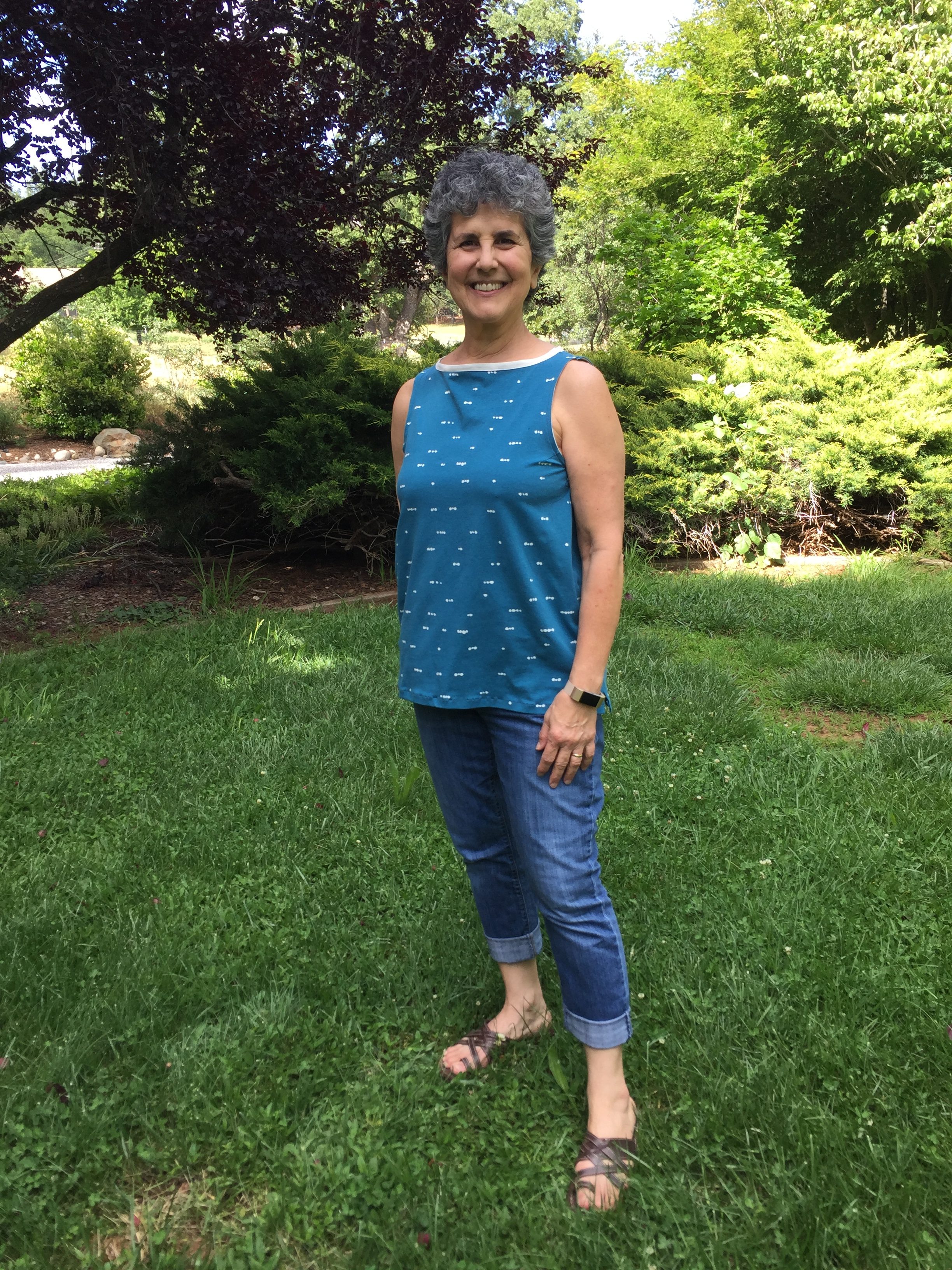 Looking back, I should have taken a picture with my hand on my hip again so you could compare, but it does fit much better.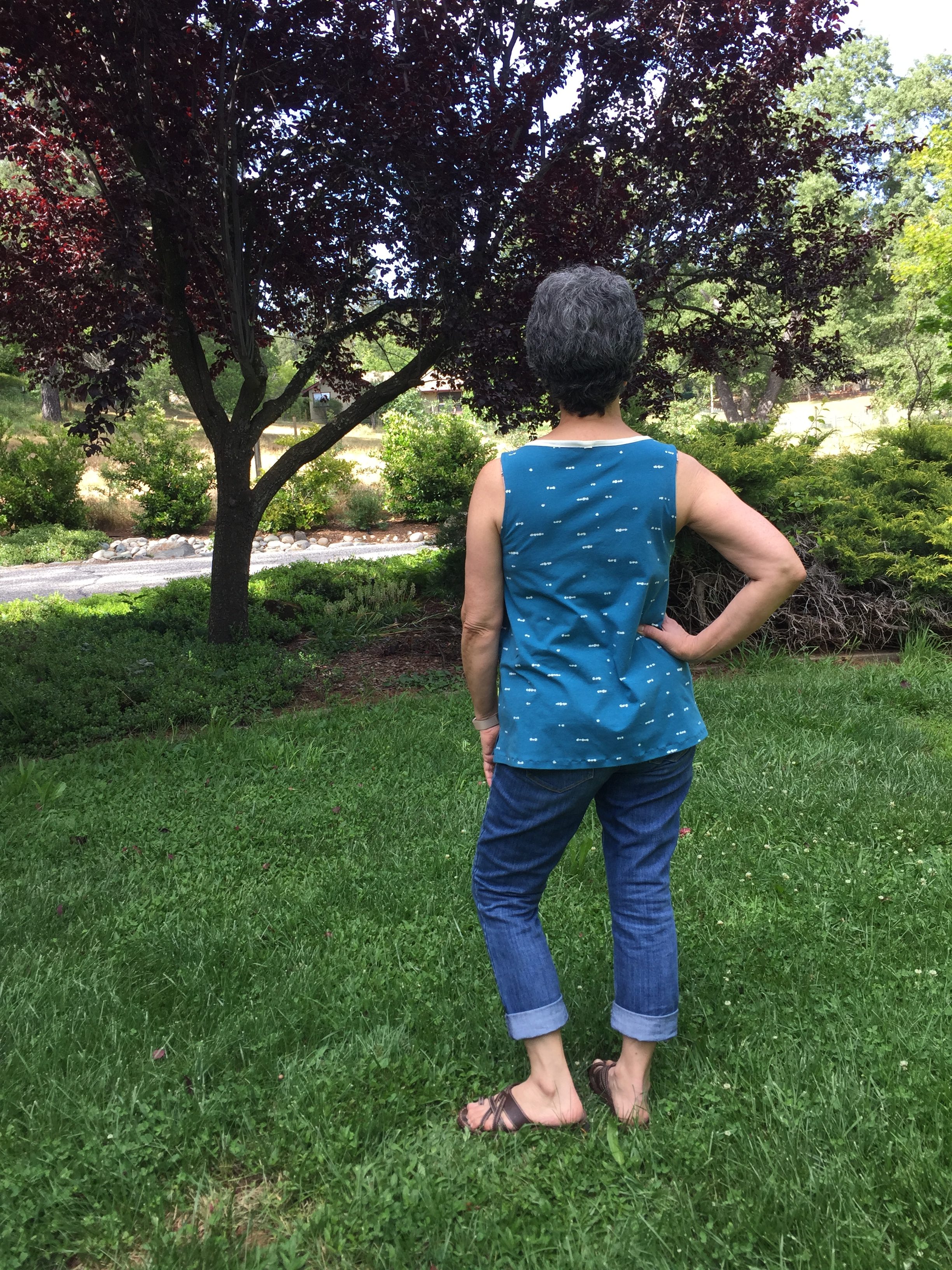 The fit is so much better with those two alterations. The shape of the armhole is what I was going for in the first place.  Side note, looking at the pictures, one has to wonder how on earth did my hair get so gray!? When Julia took the photos for me, I specifically asked her to make me appear taller, less gray and about 35 years old.  She promised to do her best but I am pretty sure I look at least 57 and barely 5'4″ in all of these shots.  (It is so weird to post pics of myself – Sigh…)
As I made these changes to the shirt, I pondered why I was willing to spend the money and more importantly, the time, to make such a simple shirt.  I can pop into Target or Ross and pick up a tank top for not a lot of money and no time at all.  Sewing something for myself is satisfying and I enjoy the challenge.  It makes me so happy to see a resurgence of interest in sewing, both in quilting and garment sewing.  Seems like the high school Home Ec classes I took are a thing of the past (unfortunately) so it is nice to see the hobbies being taken up.  Hopefully this means they will be taught to others and passed along to new generations of kids and grandkids.
The pants I made are pretty cute.  Once I hem them, I will share them with you.  The shorts will be set aside but not for too long.  I want to have them to wear this summer.
Linking up with my favorites.  To see the links I use, go to the top of the page and click on Link Ups!
Newsletter!
Have you signed up for my newsletter?  It is published every month or so and is full of information about my shop, new arrivals, sales, and events.  Click here to sign up!
SaveSave