Last year I didn't participate in the Rainbow Scrap Challenge held each year by Angela of So Scrappy.  I did participate in 2015 and 2016 though – it is a great way to use up scraps.  This year I plan to follow along with the BOM hosted by Mari of Academic Quilter, Squared Away.  I sewed along with Mari during her first quilt along, Classic Stitches, back in 2015.  I had a great time and loved the clear directions Mari provided with her posts each month so I am happy to sew with her again this year! If you want to see the row quilt I made, click here.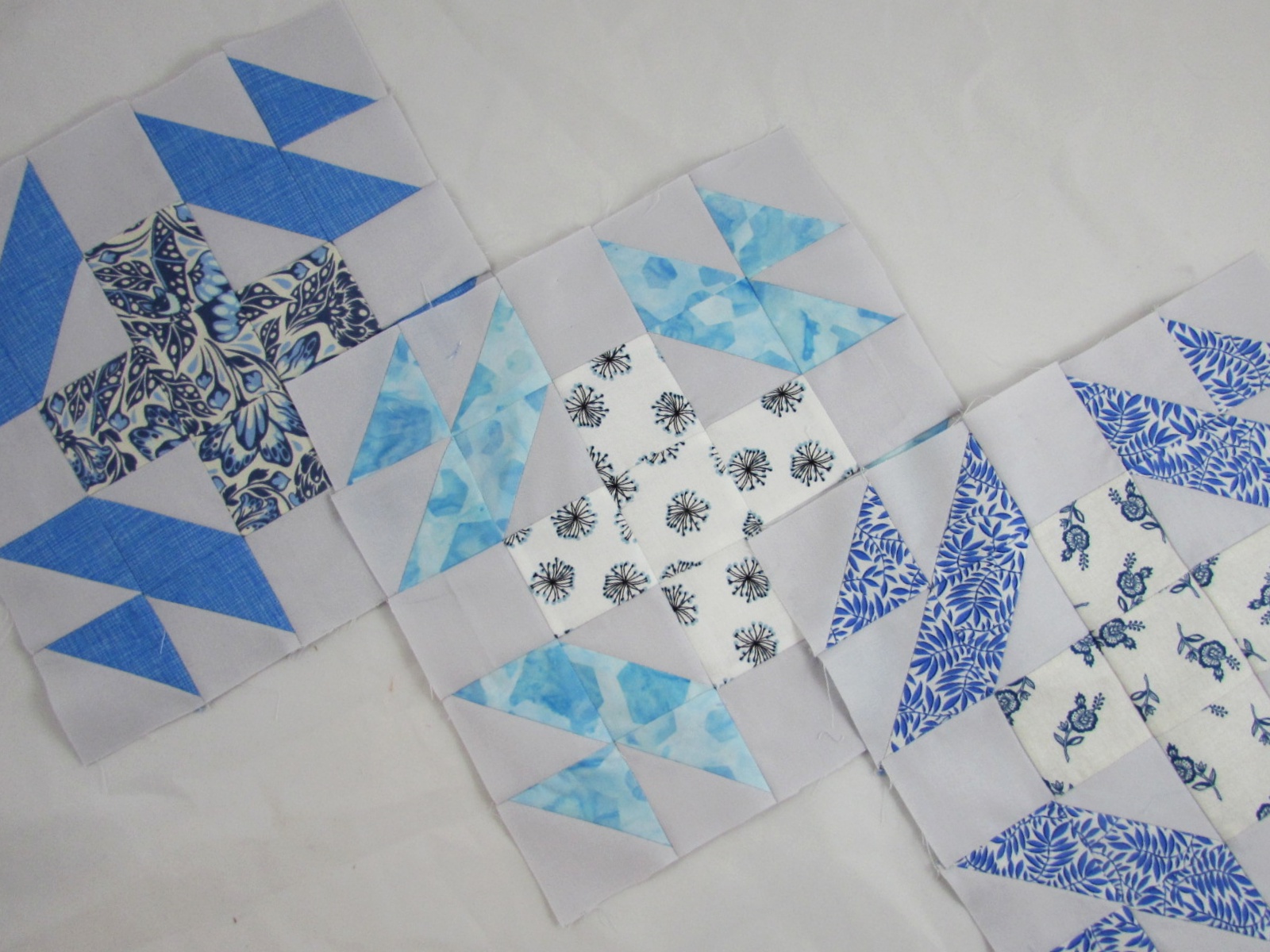 Here is the first month's block, Red Cross.  According to Mari, the block is a Clara Stone block that dates to 1906.  Traditionally, this block is made with red, but since the color this month is light blue, that's what we made it in.  I have a large piece of pale gray solid fabric (I am fairly sure it is a Moda Bella solid but I don't know which one)  I have set it aside in the hopes it will be enough to use as my background color for this year.  We are making three 10″ blocks each month which will make a nice size quilt by the end of the year.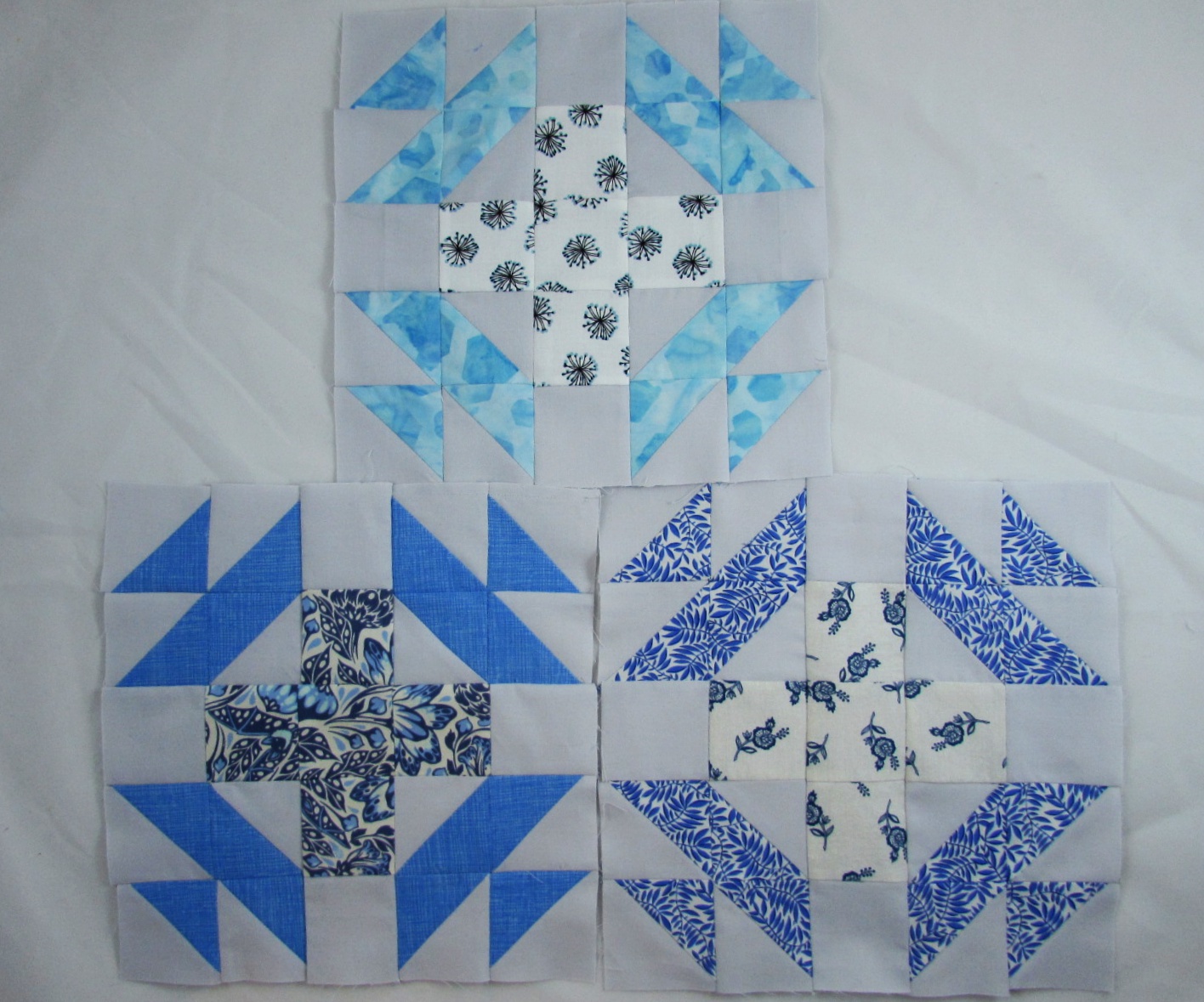 I am happy with the look of this first batch of blocks and they came together easily.  Not to say I didn't have to rip one apart though.  I had one corner section pointed the wrong way.  It hung on my design wall for quite a while before I noticed it.  At least it is early in the game and was a quick fix.
I am also making little 5″ square crumb blocks.  I want to finish this scrappy HST quilt I started in 2016.  I really like it but feel it would be nice to have it a bit larger before I finish it.  I am going to make a border by alternating five inch crumb blocks of all colors with the gray polka dot.  I think the gray polka dot will be rectangles, not squares, to make the border more interesting.  I have to look at the math on that, certainly not my strong suit as you all know!!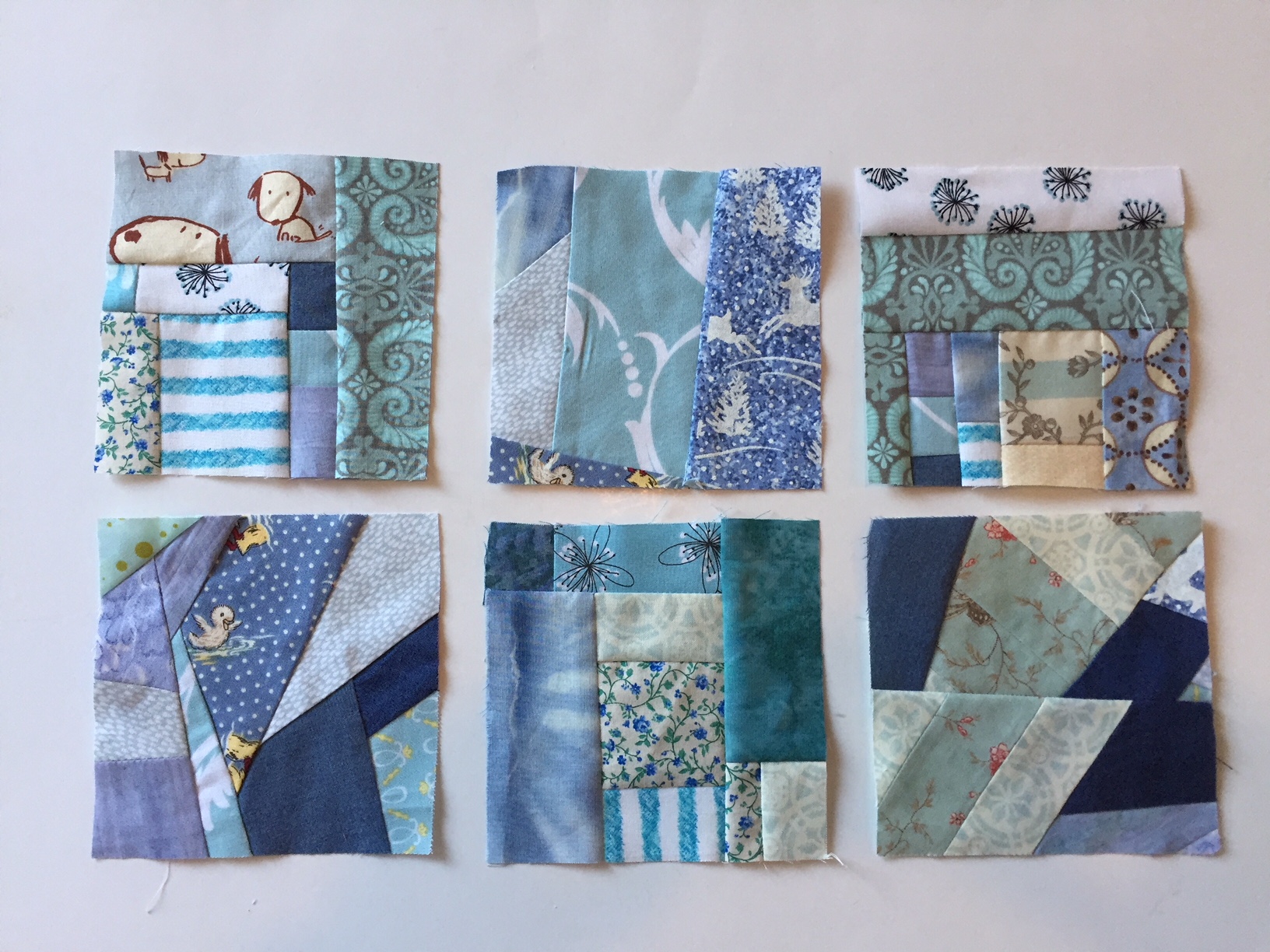 I don't plan to take all year to make these crumb blocks though (by following the color schemes of RSC18).  I hope to get this one finished earlier in the year.
Did you see the giveaway I am hosting on Facebook today and tomorrow?  Go check it out – might be your time to win.  🙂
In other wonderful news, I just had SIX days migraine free days in a row!  It was heavenly, like a gift, you know? It has been many months (probably didn't happen at all in 2017?) since I had that long of a run.  Unfortunately, I woke up last night with a zinger but I was able to sleep it off and I feel reasonable this morning.  It will be a good day to take it easy and play with my scraps.  Fortunately, one doesn't need to think too hard to make crumb blocks.  🙂  Hoping you have a lovely weekend and are able to enjoy some creative time!
Linking to Finished or Not Friday at Busy Hands Quilt as well as a few others.  Check the Link Ups tab at the top of the page!