It has been quite a while since I last started a round of Fabric and Fiction.  Somehow the autumn months went by and it just never happened.  With the beginning of the new year, I have been reading a lot.  I think it feels good to slow down after the hustle and bustle of the holiday season.  So far this year I have read Icy Sparks, by Gwen Rubio and The Undomestic Goddess by Sophie Kinsella.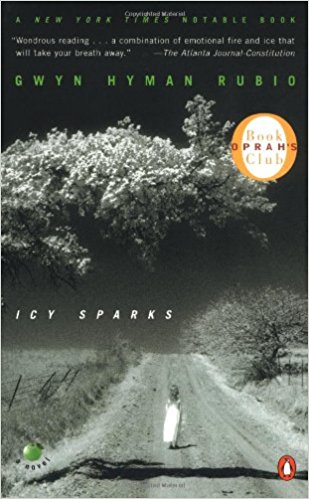 These two books couldn't be more unalike.  Icy Sparks, an Oprah book club pick from about 15 years ago, is a dark but somewhat humorous look at a girl growing up in the 1950's in Kentucky.  She suffers from Tourette's Syndrome which wasn't well understood at that time.  This feisty girl lives with her doting grand parents and suffers the wrath of her school mates, mean teachers and others who taunt her endlessly.  It made me sad to read it in part but I will tell you I liked the ending (I'm not saying more than that though!)  She befriends a very obese woman in town and they support each other as best they can, empathizing with each other as outcasts in their community.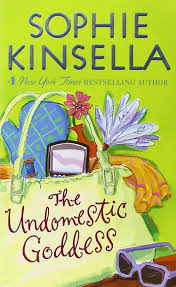 The other book, The Undomestic Goddess, is a book about a high powered attorney who makes a mistake with one of her clients.  Horrified and not knowing what to do, she runs away and takes a job as a housekeeper for a ditzy but wealthy couple.  She hasn't a clue how to cook, clean or do laundry and it is fun to read about her mistakes. Of course there is a sweet love story built in as well.
Kinsella's book reminds me of a grown up version of Ameila Bedelia.  Did you read that series as a child?  I loved it. There were over twenty Amelia Bedelia stories written from the 1960's through the 1980's.  I believe the original author, Peggy Parish, passed away and her nephew has written more Amelia Bedelia books since her death.   Anyway, The Undomestic Goddess is somehow similar, very light, lots of fluff, and a bit predictable but I really enjoyed the story.  Not everything I read has to be deep and carry life altering messages.  Sometimes it is just fun to read and be entertained.
Since I skipped the fall book share, let's go crazy and do two books this time!  Here is my plan.  I will open two book shares.  Six people can sign up for each one.  It might be best if you only sign up for one book so more people can participate. If we don't get up to six people for either of the books, then you can sign up for the second book.
In case this is new to you, the way it works is I will send the book and three fat quarters of fabric to the first person on the list.  That person reads the book (please don't keep the book any longer than three weeks or it takes forever for the book to go around) and then chooses three fat quarters and sends them along to the next reader.  It has proven to be too expensive to send the book out of the country so I think it is best to limit this to the US.  (I'm sorry about this!)  When you choose the fat quarters, try to select fabrics that relate to the book in some fashion.  Include a quick note about how the fabric made you think of the book (without telling too much and spoiling the book for the next reader!)
I have really enjoyed this book club of sorts and hope you will join in!  To throw your name in the hat, leave a comment and please tell me which book is your top choice.  I will try to create groups of six with you getting your book of choice, if possible.  It is first come, first serve.  Please, if you are reading this on Bloglovin, click through to my actual site and leave your comment there.  It is hard to track who was first to comment, between the blog and the Bloglovin reader comments.  If you have questions, leave them in the comments.
Thanks for sharing books with me in this way.  I love hearing from the group and finding out what each person thought of the book!  Now that I have finished the two books featured here, I am reading The Things We Keep, by Sally Hepworth.  It is a great read so far.  Maybe we will share it next time around!  What are you reading these days?  Share with us by leaving a comment.
*This is an affiliate post, meaning if you click through links on my page and make a purchase, I will be compensated.  My compensation does not change the price you pay.