Sunshine has been all to strong in my part of the world. We have had such an intensely hot summer this year. Craving fall, I decided to make something with this cute panel from the Red Rooster fabric line called Shine. This was designed by Jackie Paton and it is adorable. Autumnal colors, inspirational phrases, sunshine, kitties, owls — so much cuteness wrapped up into one fabric line! I have had it in the shop for a short while now and it has sold really well. Because I have a quilt show I am working later this month, I wanted to make up a sample with this fabric. It will decorate the booth a bit and maybe inspire shoppers to take a look at this sweet fabric.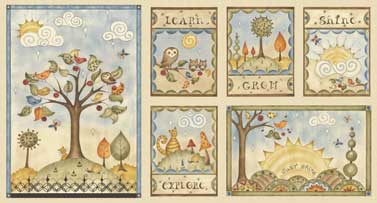 The panel consists of six different items that can be used individually or in one project. I decided to use the four small blocks from the panel as well as some strips of the border print. I also used a bit of each of the three accent fabrics I have available. It was so fun to sew something with these colors. C'mon fall!!
The piecing was quick – just some sashing of the four rectangles and then a few borders to add color and whimsy. The best part was choosing how to quilt it. I took some time and stitched around the perimeter of each rectangle to anchor things. Next I followed the print of the blue and green border and echoed circles around the print.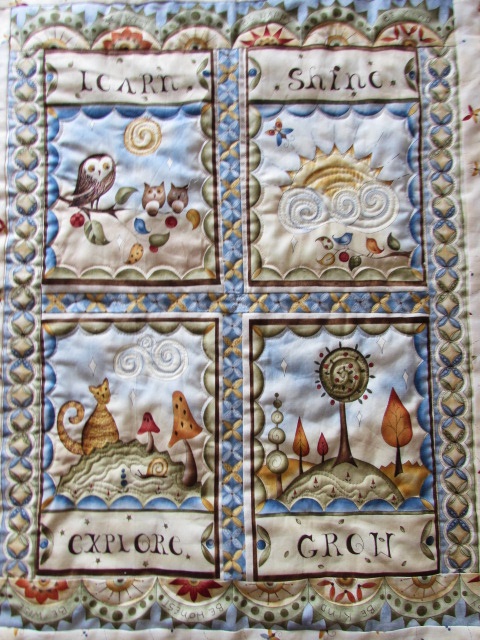 The panels are really sweet and I spent just a little time thread sketching some of the bits of the scenes such as the clouds, the sun, that sweet kitty and the wise owl.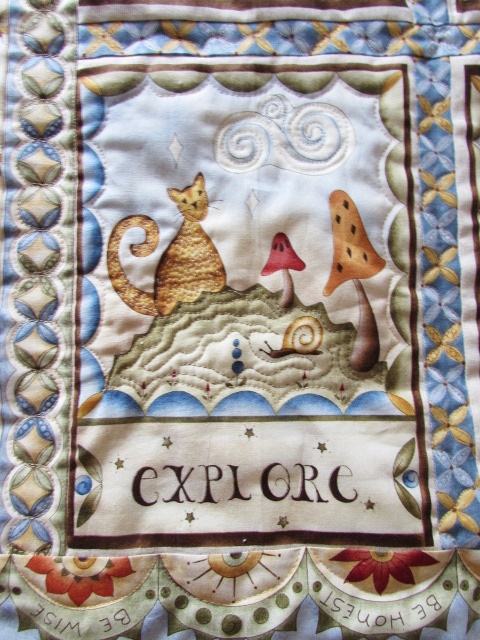 The outermost border was made with flying geese and rectangles. I love the way it came out.  (Shout out to Mari of Academic Quilter who helped me when I got stuck figuring out what size blocks would work best. Thank you Mari!) I like the deep rust color of this fabric. So much so that I also used it as the binding.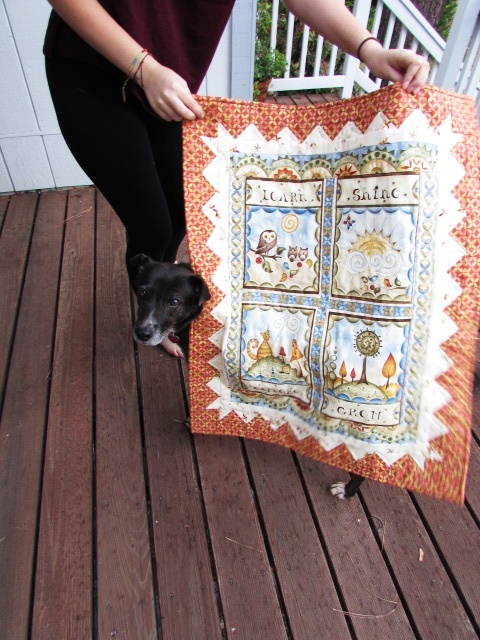 Lady really wanted to be included in this photo shoot.  She is also concerned that there are no dogs, only cats, featured in this fabric line. Why would I use such fabric?? Well, for one reason,  I like the little inspirational words – Learn, Shine, Explore and Grow. The fall colors make me happy and I could totally see this project of mine hanging in a classroom, library, kid's playroom – or maybe even downstairs in my shop! It will be a fun one to hang in my booth at the next show. I will be a vendor in Sacramento over the weekend of September 15-17th. This little quilt will surely add some fun to the booth.
Since I only used a part of the panel, I would love to share the two pieces that are left. I also have some of the border print that I cut into but didn't use up.  I will divide the border fabric and the two pieces into two bundles and give it to two lucky quilters who would like to use it. One bundle will have the larger piece with the tree.  The other bundle will have the piece featuring the sun.  I would love to see what you make with these!!
If you would like to throw your name in the hat, please leave a comment and tell me what recipe is your go-to fall food. I am all about muffins – apple, pumpkin, cinnamon & sugar – Yum.  Should you want the other accent fabrics you can find them here.