A while back, my sister asked if I would make a quilt with some of the jerseys her son, Sam, had worn over the years.  My sister's family is quite the opposite of mine.  They are all about sports – football, skiing, running, baseball, lacrosse – they all play something!  The family also follows pro sports, both football and baseball.  My family? Um, not so much. In fact, one year when a dance Julia attended (in junior high) was sports themed and the kids were supposed to wear a shirt from their favorite team, we had nothing. No favorite team, no t shirts or pennants – nothing!  She ended up borrowing a t-shirt from her cousin to wear for the dance, making her a Giants baseball fan for those three hours.
Sam just graduated high school and is off to college in Colorado where he will pitch for their baseball team.  He has played baseball for years and also played football in high school and with all of that, he has amassed quite the stack of jerseys.  It was fun to look through the jerseys he sent me, but wow, I was so hesitant to start his quilt. I have had the jerseys sitting in the sewing room since April. I would look and think about it but then fold them up and put them away. That slick jersey material and the rubbery numbers and logos made me nervous.
I asked around for suggestions and ideas and lots of people came to my rescue.  Namely, Sarah Craig, of Confessions of a Fabric Addict, who has made loads of memory quilts.  She and I emailed a few times and she gave me a few tips and also recommended a fusible interfacing by June Tailor that she likes.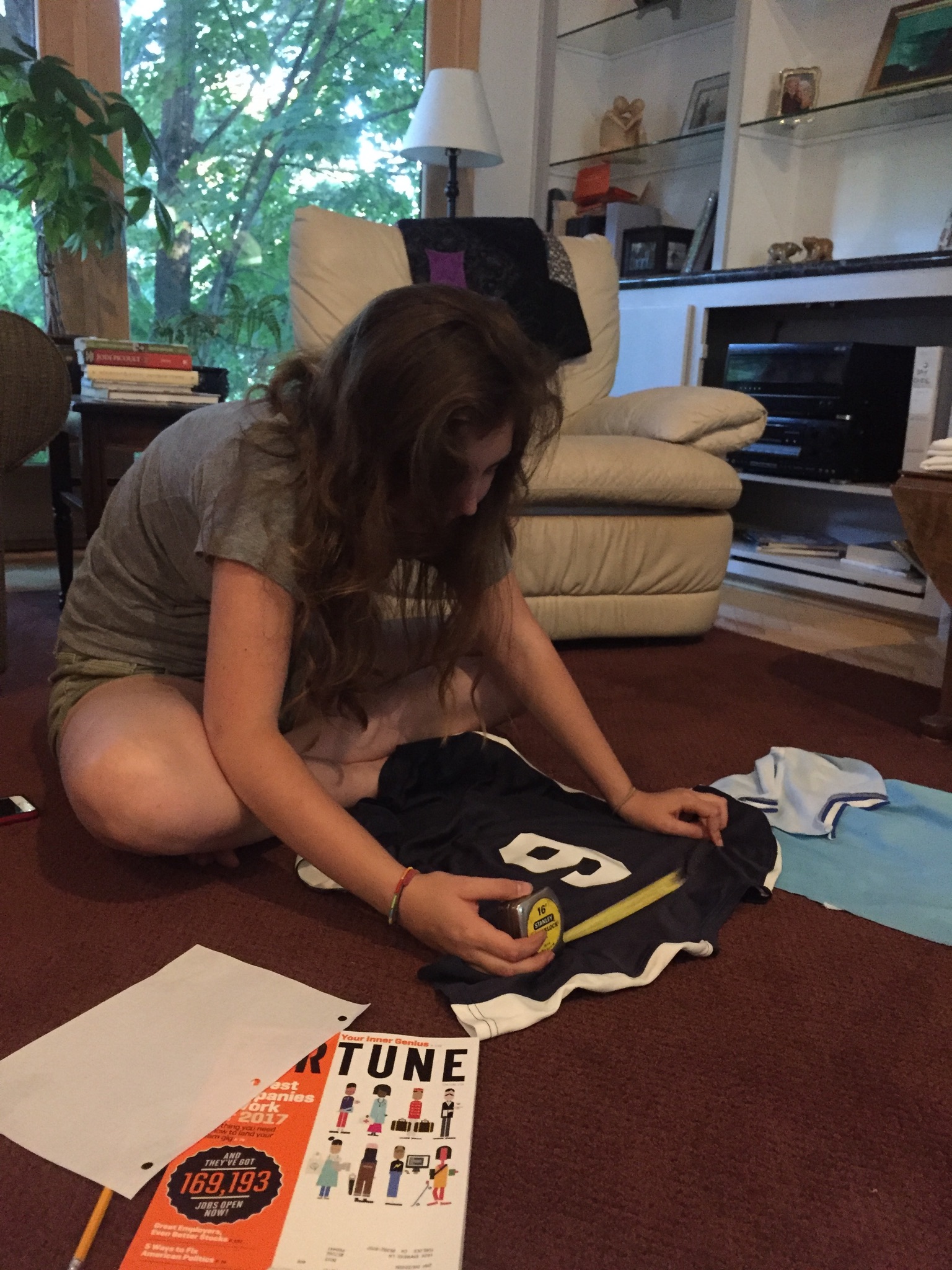 My first step was to cut the front from the back of each shirt at the side seams.  I also saved any smaller logos from the sleeves.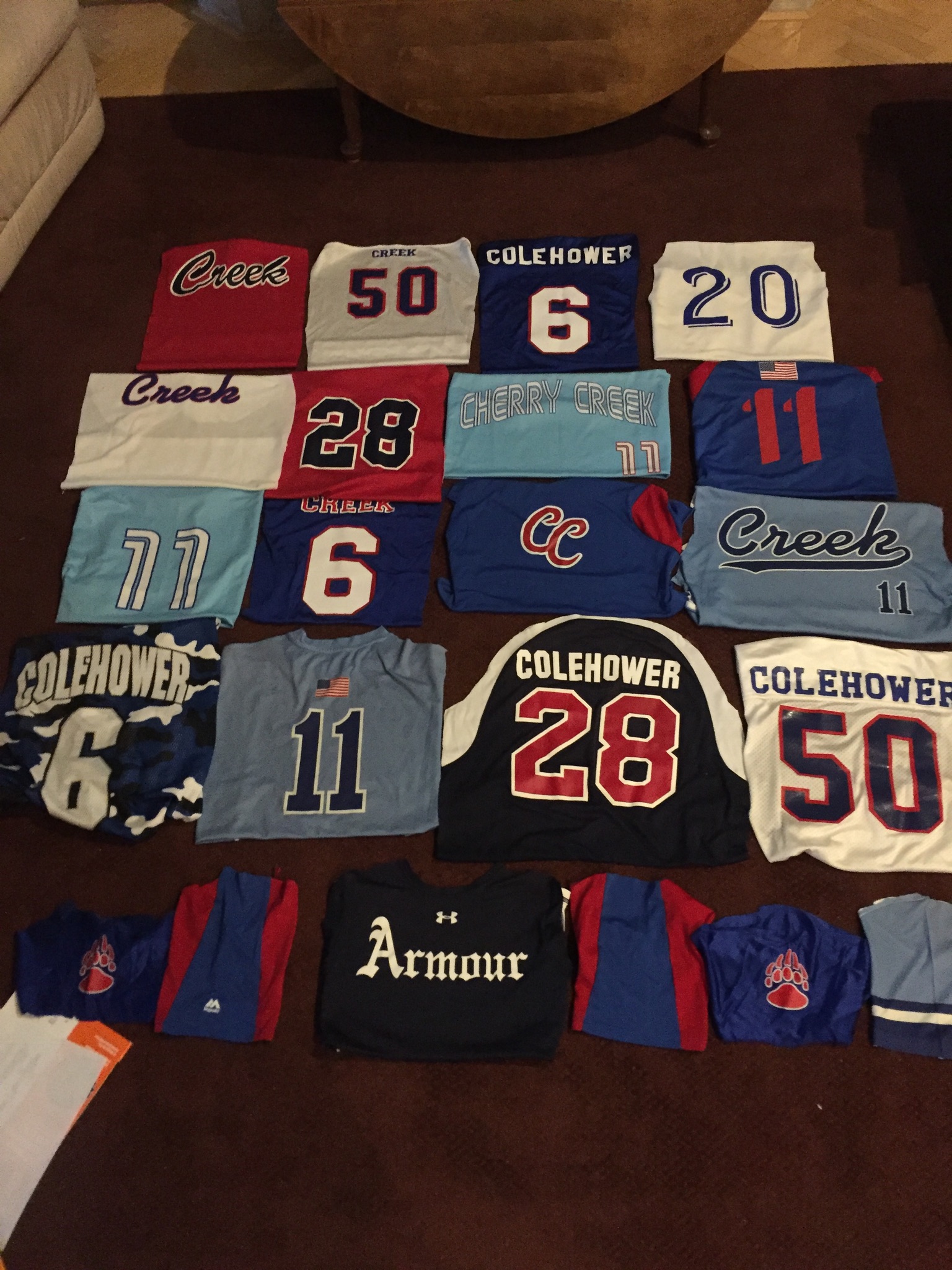 Julia helped me with this and we sort of folded the shirt fronts and backs into similar size squares and laid them out on the floor. Once I got to that point, I just didn't know what I wanted to do.  So, I did what any sane quilter would do and put it back in the bag and set it aside. 🙂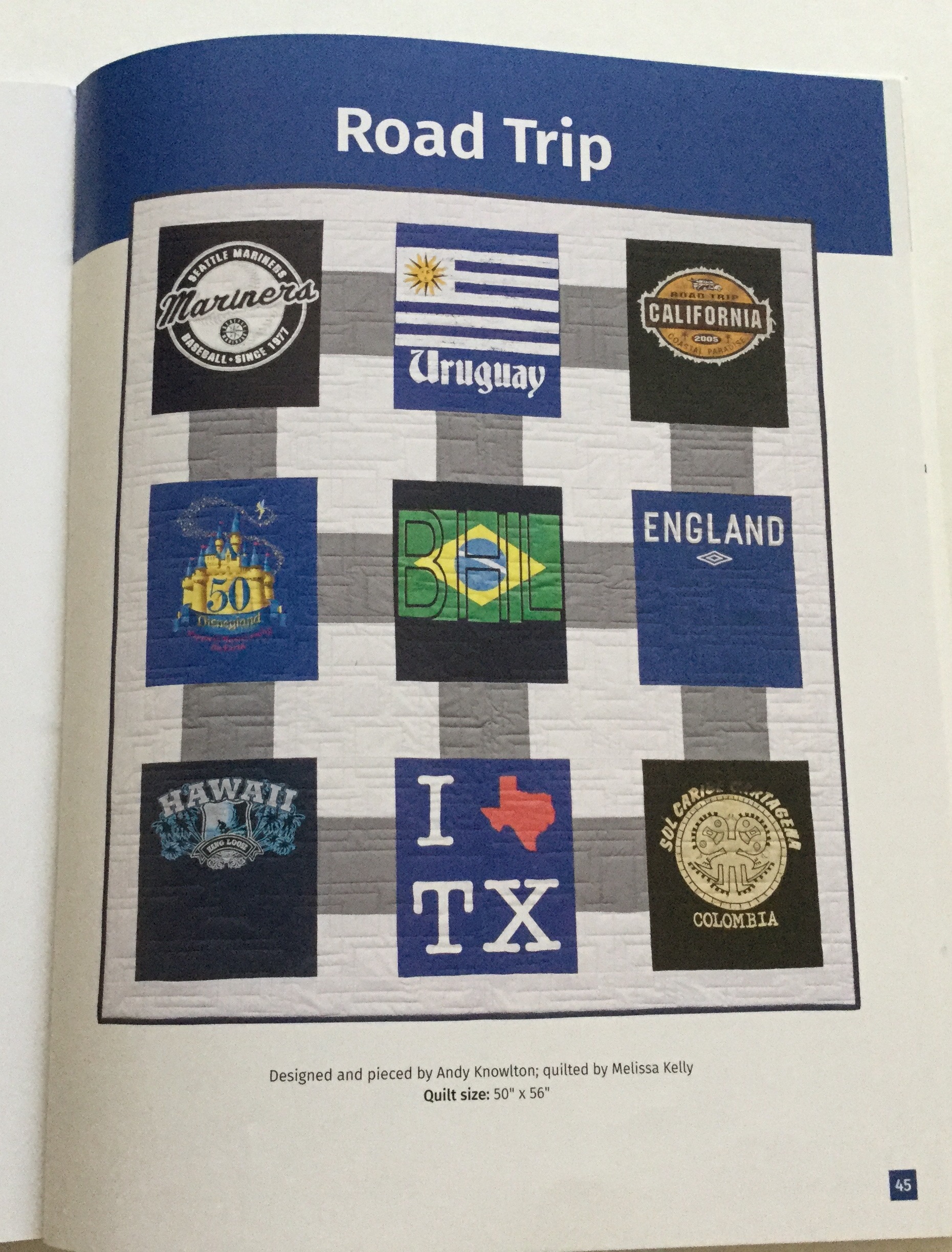 Finally, I did a little more research and found this book, Terrific T-Shirt Quilts, by Karen Burns.   It has been very helpful.  Somehow, I couldn't picture what I wanted this quilt to look like. It definitely needed to be masculine and with red, blue and dark blue jersey and logos, there was no question it was a guy's quilt. But it needed some sort of structure or organization.  When I saw this quilt, it gave me just what I wanted. This pattern calls for the shirts to be cut to 12″ x 14″ and stabilized with fusible interfacing.  The June Tailor interfacing recommended by Sarah worked really well. It is a woven fabric and adhered to the slick jersey fabric without any problem. Getting the logos to work within the 12″ x 14″ block was tricky.  Some of the logos were too wide, others were featured up at the top of the fabric (just below the seam line across the shoulders in the jersey). Because of this, the designs are not centered well within the blocks. This doesn't bother me a whole lot though.
After getting the jerseys prepped and cut, I started to work on the sashing and border pieces.  After checking in with Juanita (my sister and Sam's mother) I decided on gray and red for the fabrics. As luck would have it, I had a great gray and white polka dot in my shop. It is actually a wide back fabric by Red Rooster (and it just happens to be available here!!) In addition to the gray and white polka dot, I chose a cherry red textured solid by PB Textiles. (Why yes, thank you for asking, I do happen to carry it in my shop.  Click here!)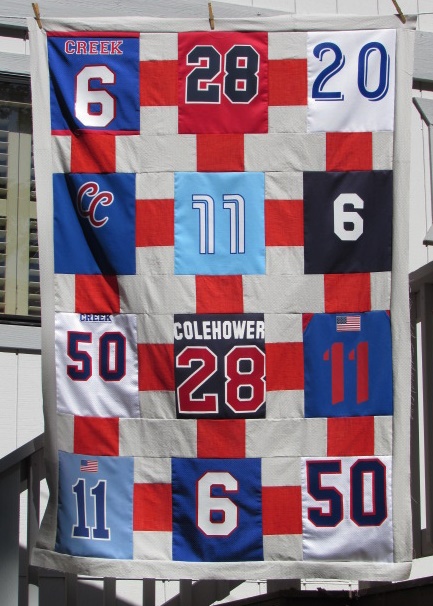 Doesn't it look great??  I am so happy with it and hopefully Sam will like it as well!  I added a fourth row of blocks so I could use more of the jerseys. Plus it needed the extra length – Sam is a tall guy.  With the fourth row, the length grew to 72″. I have some ideas about using the little logos from the sleeves, as well as some of the wider logos that wouldn't fit in the quilt top design, to make a pieced backing. For now though, I need to set this project aside once again.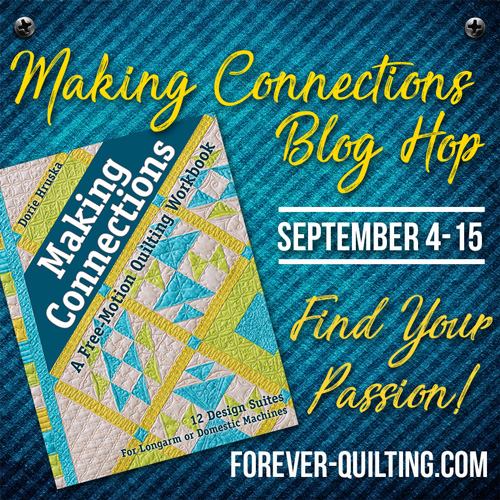 Before I can finish Sam's quilt, I need to finish a different project I am working on.  I am reviewing a new book by Dorie Hruska, called Making Connections. It is a great tool for free motion quilting or long arm quilting with a continuous flow, thereby avoiding starts and stops.  Remember my post about my entries at the fair when the judge commented she could see too many starts and stops?  Well, this is helping me correct that!! There will be a fun blog hop which begins on Monday (but my post won't come up until September 8th. ) I will be hosting a giveaway of one copy of the book so be sure to come back and check it out!
Have a great weekend everyone!  It is going to be insanely hot so I will be inside taking advantage of the A/C and sewing.  How about you?
Linking to my favorites – check them out at the top of the page, under Link Ups.
(This is an affiliate post, meaning if you click through and purchase Dorie's book, I will receive a small commission.)