Never have I said good bye so many times. This is getting ridiculous. But last night I finished my Pretty Gemstones quilt. How could I leave and give it away without sharing it? There aren't that many quilt finishes in a year (for me anyway) to skip one!  This will be a quick post, because you know, the wedding and all.  So much to be taking care of around here.
In all it's glory, here is the first quilt finish of 2017! By the way, pictures were all taken indoors and late at night so they are not of the award winning quality that you have come to expect from me.  😉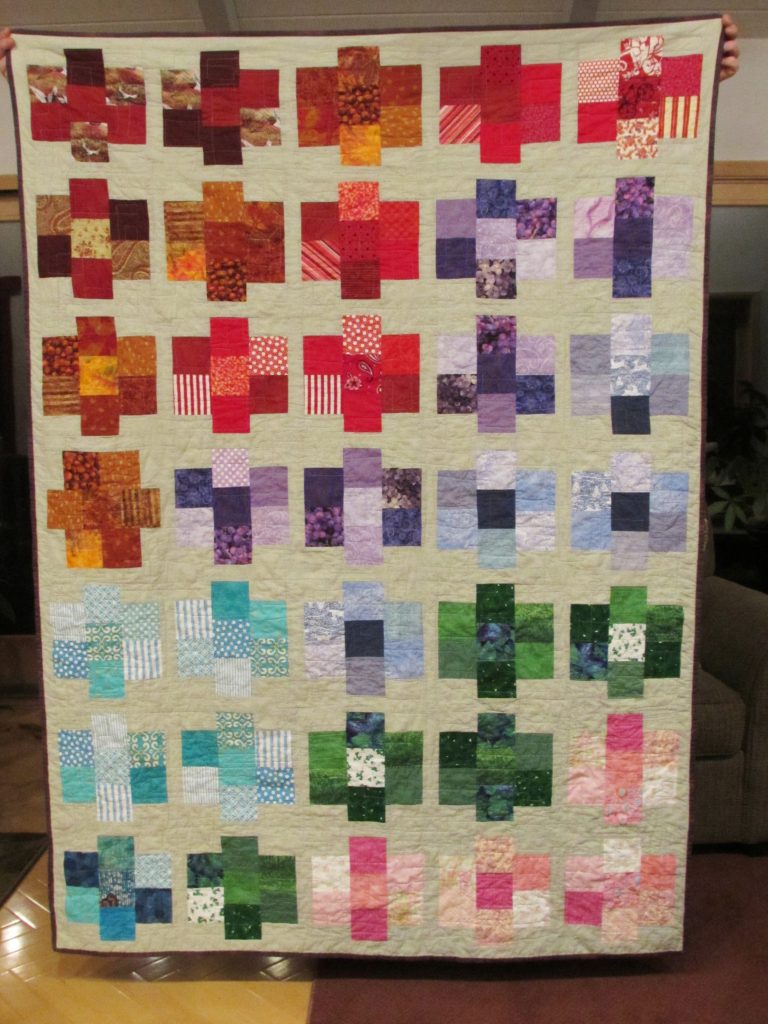 This quilt was made with a pattern called Pretty Gemstones. It was designed by the wonderful Cynthia Brunz of Quilting is Better than Housework (which is absolutely true!)  It was published in McCall's Quilting magazine in the January 2016 issue. The pattern is a breeze to make. I love a pattern with sashing. It means that my less than perfect piecing doesn't make me go crazy because there are no corners or points to match. (I can be so lazy!)
I started this quilt last January as one of my Rainbow Scrap Challenge projects. But to be honest, I didn't always follow the color prompts of the challenge. I was trying to use colors that are reminiscent of gems.  I think this came off quite well. There is are blocks which represent sapphires, rubies, topaz, tiger eye, amethyst and rose quartz. I skipped many of the suggested colors because they didn't work for this project. I am pretty sure that is allowed but, if not, please don't tell on me.
The sashing is done with Kaffe Fassett's solid (the color is Ecru). I found it difficult to work with this fabric. It is a thin cotton and has a great deal of give to it. It became almost stretchy, especially the long strips for the sashing. Honestly, I doubt I would buy it or recommend it to a friend. (Sorry Rowan Fabric and Kaffe.) I had to starch it and while that helped, it didn't completely solve the issue. This is the second time I used these solids.  The first time was in the jelly roll quilt I posted about here. I had quite a bit of trouble with awful stretchy waves in this project too. Part of the problem on the jelly roll quilt was I had to rip out stitches several times which distorted the strips. Now I also think it was this fabric. Seriously, it is very thin. After trying it twice, I doubt I would purchase these solids again. I have used Kaffe Fassett's gorgeous print cottons and they are wonderful. It is this line of solids (and his stripes) that I am not a fan of.  For the backing I pieced the sashing fabric with a deep purple remnant that I picked up a while back. See the label on the back? I am trying to be more diligent about labeling my quilts. The purple fabric was also used to bind the quilt.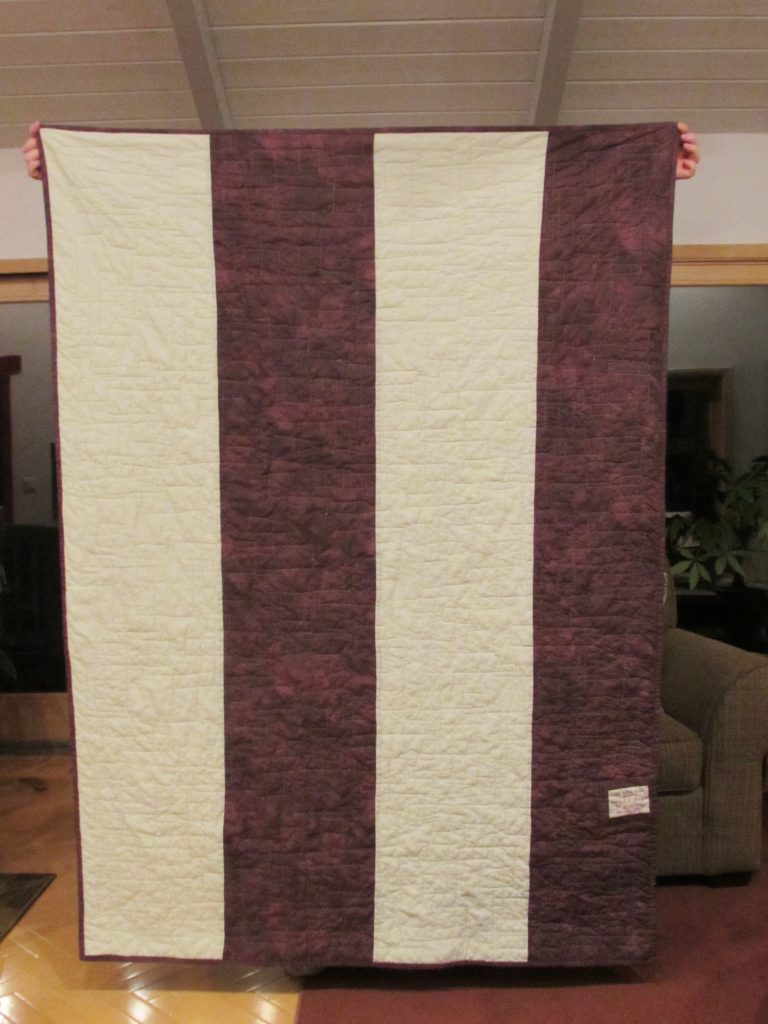 I quilted it with a motif of interlocking squares and rectangles of all sizes. This is the first time I have used this pattern and I loved it. The boxes are very forgiving. One interesting thing I noticed is that I can control the machine better with a square pattern than a round. Circles are more difficult for me to keep a consistent speed with as opposed to square. It felt more relaxing to quilt the squares.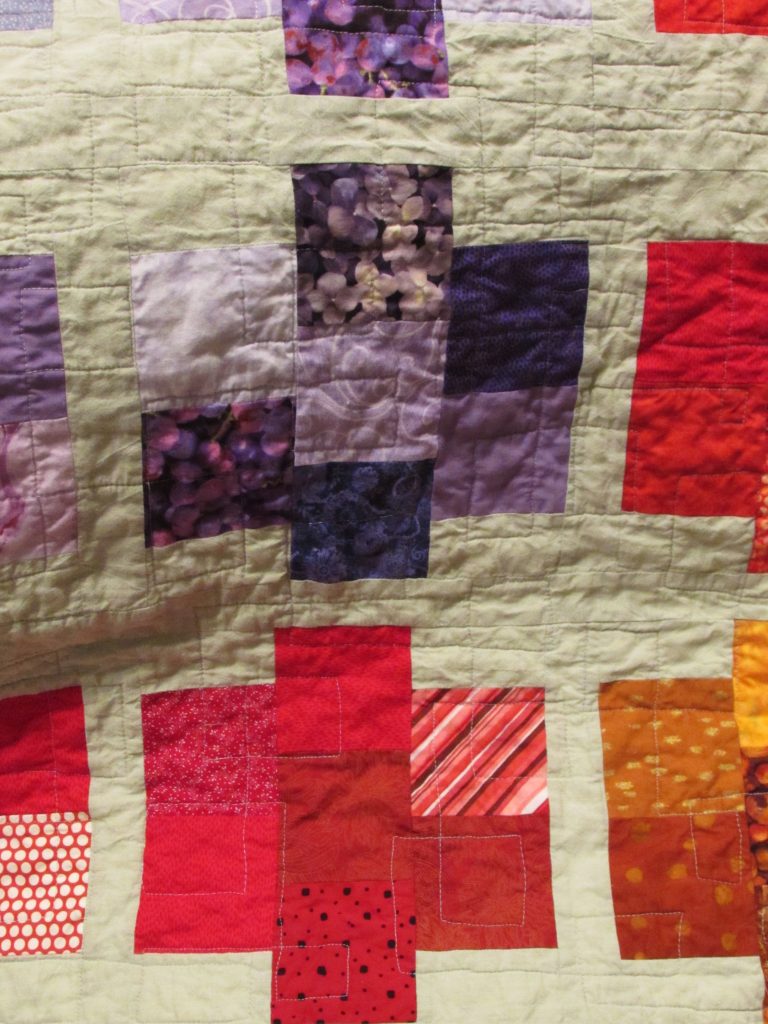 On the plus side for Kaffe Fassett solids, they are quite soft – especially after washing. This quilt crinkled up so nicely after a quick rinse. No color bleeding issues either. Yay for Color Catchers!
Finally, take a close look at the quilt. See my rather silly error?  I didn't catch it until about 1/3 of the quilting was done. Yikes!
I am giving this quilt to my new daughter-in-law's parents. We wanted to bring them something as a thank you for the events they are hosting for this weekend's wedding as well as to welcome them into the family. I hope they like it.
I am not going to promise this is the last post for the week. It probably is. But who knows?
Linking up with the lots of fun places. Check out the list at the top of the page, under Link Ups.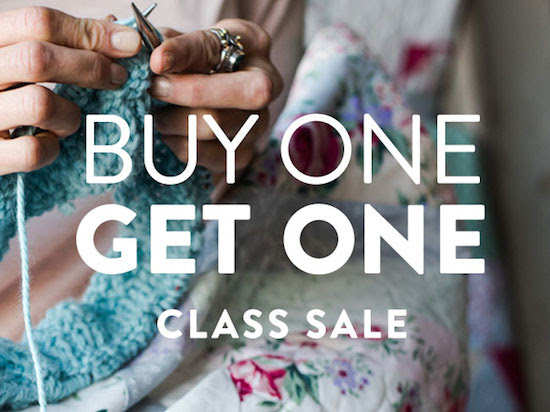 If you are shopping for a new Craftsy class, this weekend is a good time to do so. From Friday, January 13th through Sunday the 15th, the classes are Buy One, Get One. BOGO deals are great – two for the price of one! Check it out here.
(Note – I am a Craftsy affiliate. I am paid a small stipend for purchases made after clicking through the links on my site.)