Welcome to Handmade Halloween!  This is the first time I have hosted a link up and I am really excited about it. When I approached sponsors for prizes for this event, I was thrilled with the generosity of the gifts they provided! You are invited to link up your blog posts, be they brand new or from prior Halloweens, to this post. Each time you link a post, you will be entered into the drawing for prizes. You can link up one post or multiple posts, it is up to you! I invite you to read posts that are linked up. Surely there will be fun projects, costumes, and decorations to inspire you as we move into Autumn.
With fall weather approaching thoughts of all things autumn have begun in earnest. We have picked apples at my in-laws, harvested our mini pumpkins and three billion decorative gourds from the garden, and (finally) have weather chilly enough to wear a sweater. My parents came for dinner on Sunday and by the time they got home, there was a light snow falling. Certainly not enough to accumulate but I think this is the first time I have heard of snow here on October 2nd!
This is the time of year when children begin to plan their Halloween costumes. Julia has always been very independent. She is a person who very much knows her own mind. When it comes to Halloween, she usually comes up with an idea and there is no changing her mind. I thought it would be fun to share a few of the costumes she has picked over the years. While she comes up with the idea, it is up to me to figure out how to make it. She has only once wanted to be something with an easily purchased costume. That was the year she wanted to be a witch, "a pretty and kind witch, not a mean and scary one." That was the year I got off easy and we picked out a costume at Target. I think she was in first grade?
Her first time trick or treating was at the age of two. I made her a set of ladybug wings. She wore black pants and shirt with the wings. Using pipe cleaners and two styrofoam balls, I made little antennae that I attached to a plastic headband. She was adorable. She didn't actually trick or treat but I did take her to my husband's office.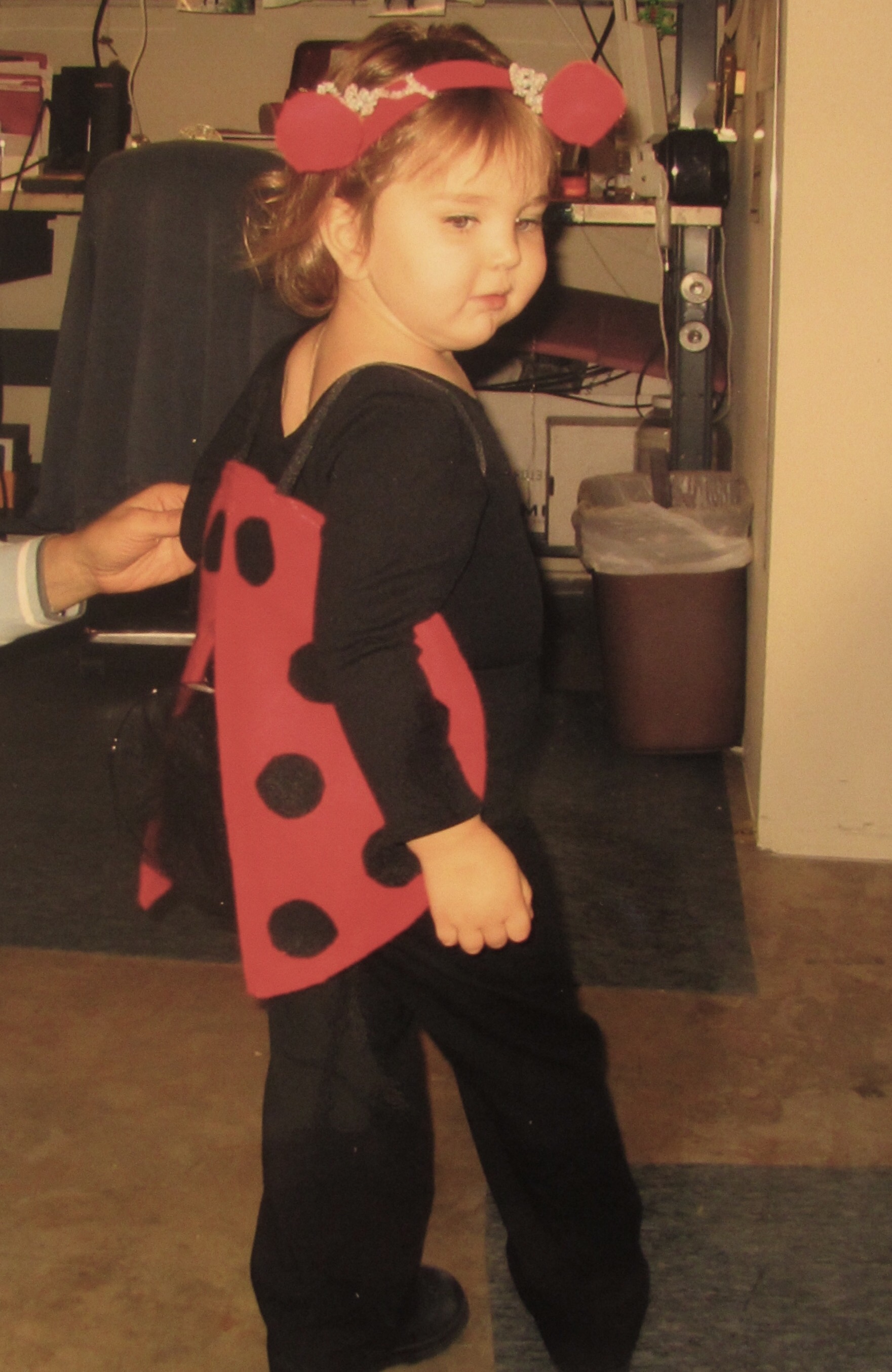 She also had a Halloween party at her daycare.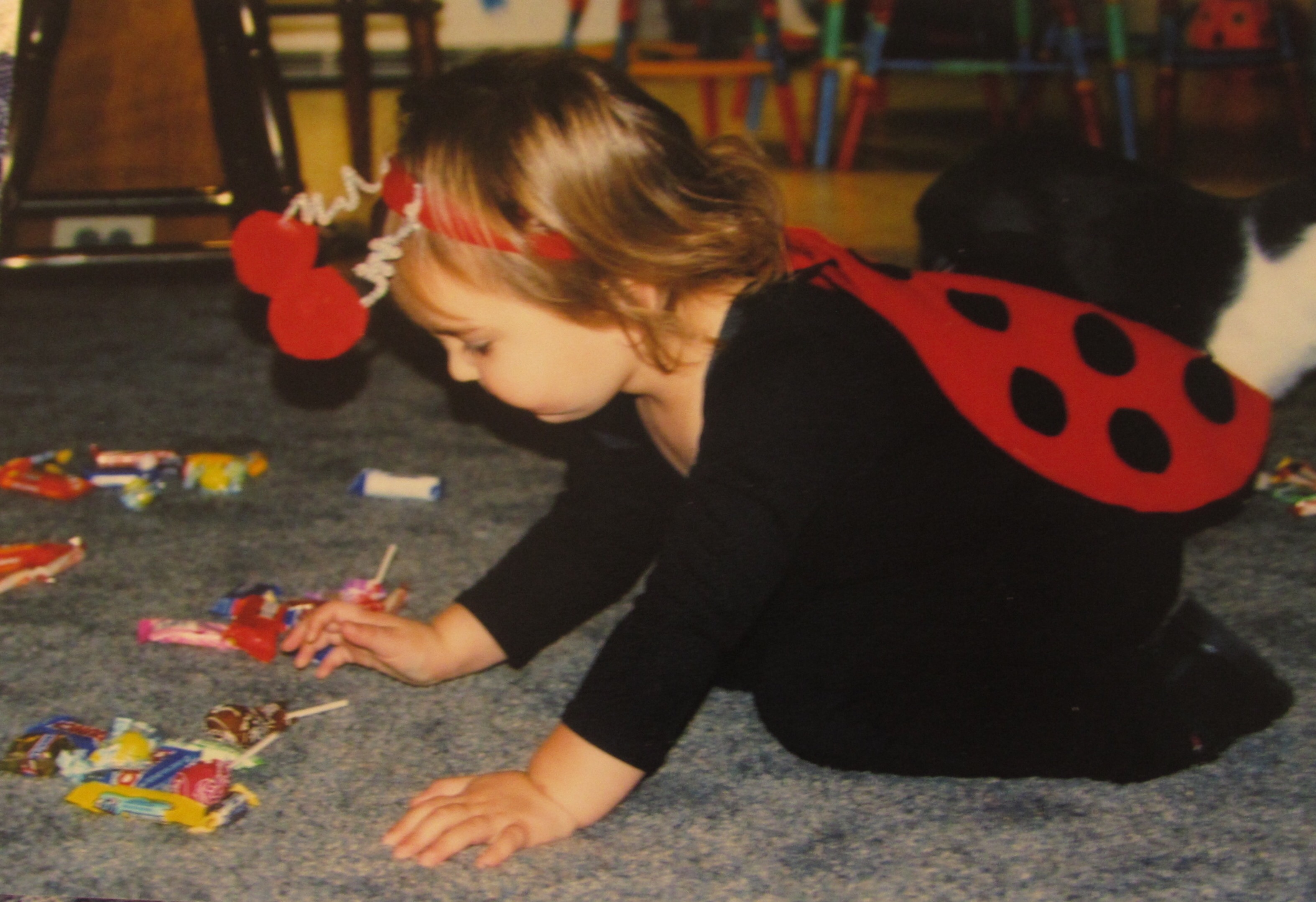 One of my favorites was in Kindergarten when she wanted to be…. Wait for it…. A pencil. What five year old decides to be a pencil? It was so funny. Off I went to buy felt in yellow and green.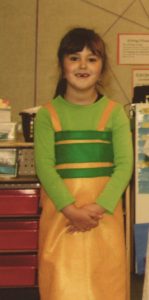 This was made mostly with glue sticks and simple stitching. I believe the back of it was fastened with Velcro. I stitched rectangles of green felt over the yellow to make the green stripes at the top of the Ticonderoga and made two little yellow should straps. I even made a little pink felt cap so it would look like she had an eraser on the top. At the last minute, she nixed the eraser hat.  When she got to school dressed as a brand new Ticonderoga, the kids would look at her quizzically and ask her what she was.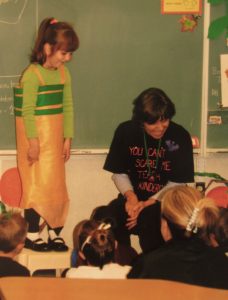 I am certain she thought they were all ridiculous not to see that she was a pencil. Ah, she was quite proud of that costume. She had such a fantastic teacher in Kindergarten. She had each child stand up and talk about their costume, making each one feel very special.
In 2nd grade she wanted to be a bat. I decided this would be a simple one. I made wings with black and silver sparkly fabric and hand stitched the wings to the inside seam of her sleeve and down the side seam of a black long-sleeved shirt.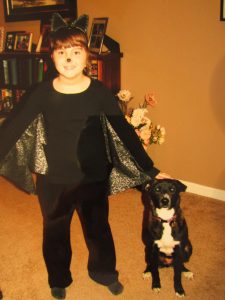 This was so cute. When she lifted her arms, the wings appeared. She also had little bat ears that I hot glued to a plastic headband.
Julia chose to be a jellyfish when she was in 3rd grade. For this she wore blue sparkly leggings and skirt. We took an old sombrero and covered it with fabric and tulle over the top (lots of hot glue went into this costume!) Then we cut many lengths of ribbon and Rick-rack and glued them all around the brim of her jellyfish/sombrero hat.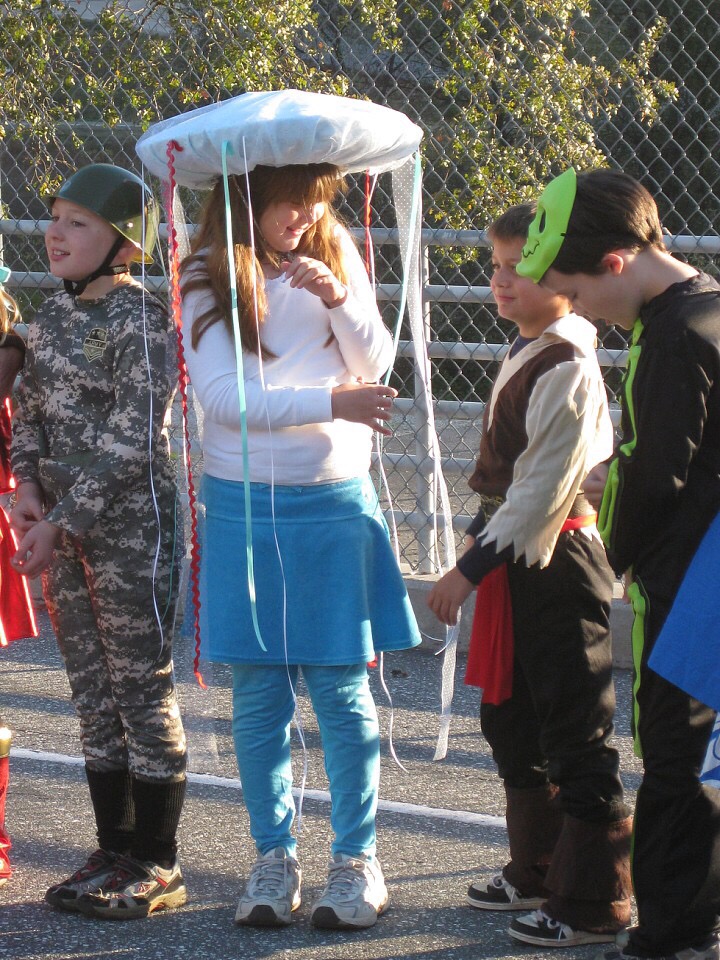 She looked adorable, though again,many kids didn't really get what she was dressed as.
In fifth grade Julia asked to be a black widow spider. I love this costume; it is definitely one of my favorites.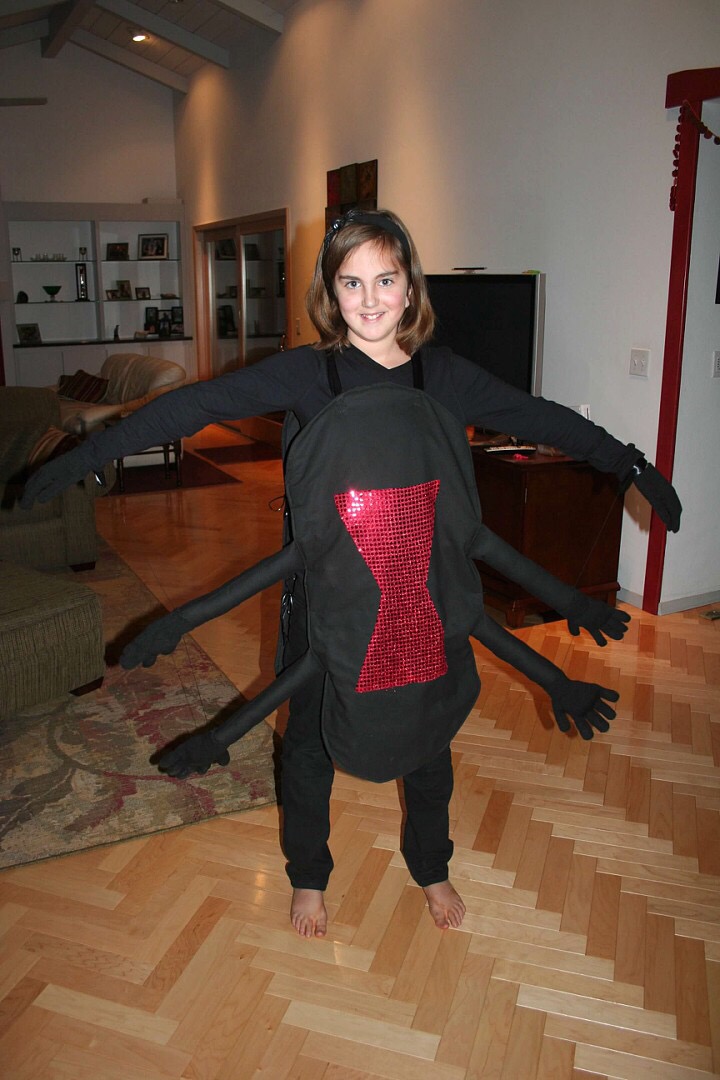 We used a black shirt and pants as the base. I made a large oval for the front and back and attached shoulder straps to each piece. Then I made 'legs' with black fabric, stuffed with poly stuffing. At the end of each 'leg' was one of those little black knit gloves that you can find in a bargain basket at Target. I stitched one hand to the next so that when she lifted her (real) arm, all of the legs came up with her.  We bought some flashy red, sequined fabric to make the tell-tale spot on her belly, signifying that she was a black widow.  This year the kids knew what she was.
In seventh grade Julia went to a Halloween party. She dressed up as Wednesday Addams, from the old tv show, The Addams Family.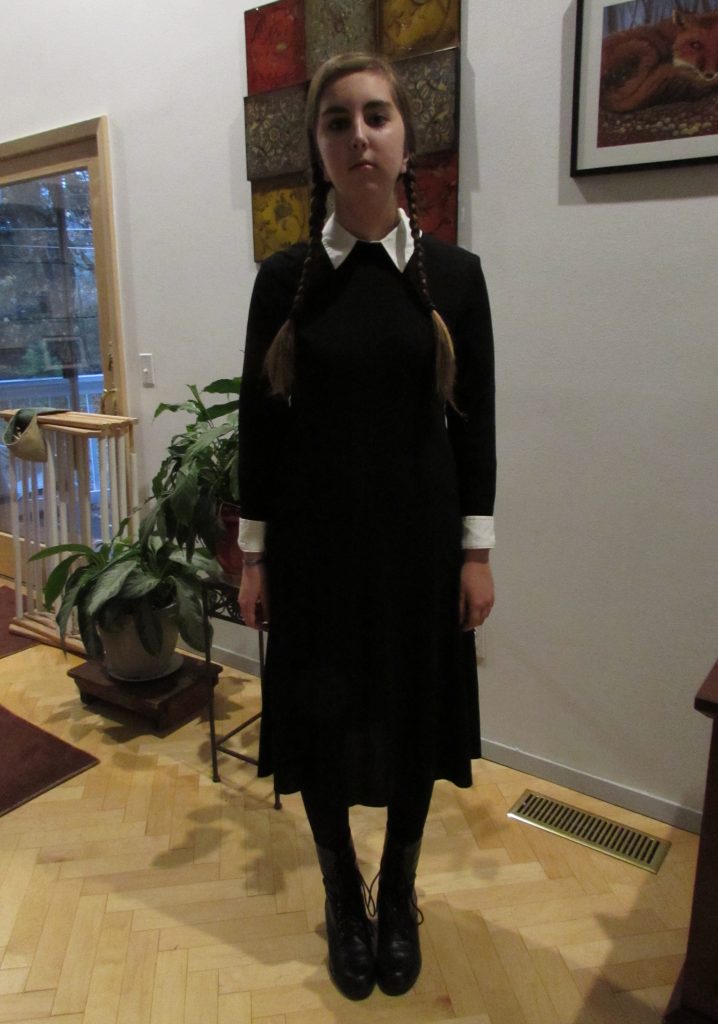 We found the black dress at a thrift store. It was a heavy knit dress and was far too long. I cut the bottom off and didn't even finish off the hem. She put a white collared shirt under it, added black tights and boots that she already had. In my opinion, the long braids are what really turned her into Wednesday Addams.
Last year she went to a Halloween Dance held by her high school. She had planned to use her Wednesday Addams outfit since she still had all of the pieces and this was a new group of friends who hadn't seen it when she first wore it. However, the afternoon of the dance she changed her mind. She decided to go with a more macabre idea and became a pedestrian who had been run over.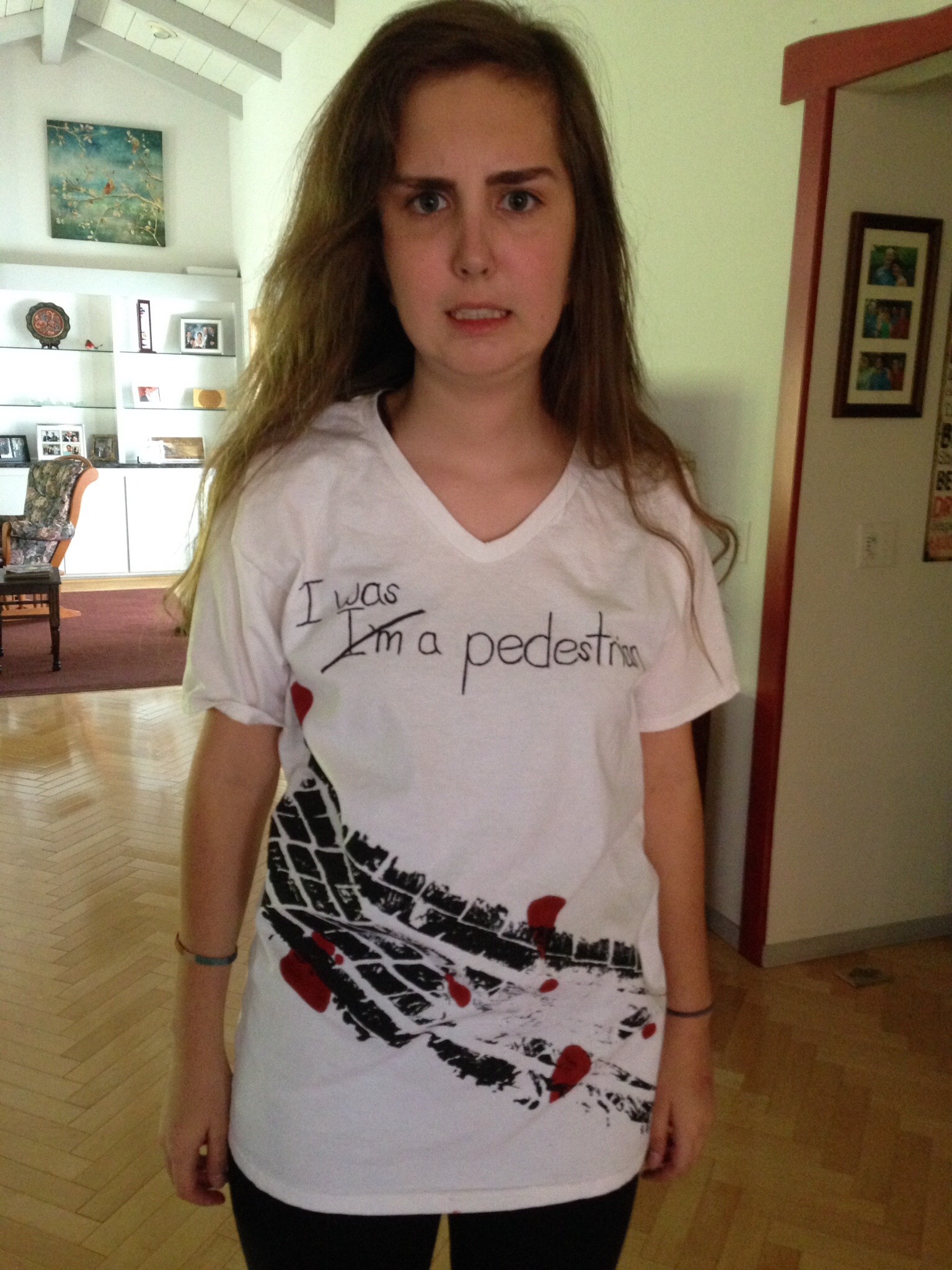 The process for making this tshirt was hysterical. Remember, this is the afternoon of the dance so we were working fast. She needed to make the shirt and have time for it to dry. We thought about it and quickly decided to literally run over the tshirt with my car to get the tire track marks. We took black acrylic paint and painted my tire and then strategically place the tshirt on the ground and slowly drove over it. We took a few test runs over pieces of cardboard first so we could see how much paint we needed to put on the tire. She, very wisely, put a fresh piece of cardboard inside the shirt so the paint wouldn't bleed through to the back side of the shirt. Once she was happy with the tire tracks, she ran into the house with it and dried it with a hair dryer. She added the fake blood and off she went. I thought it was hysterical and it was the fastest costume ever.
Here we are, in the first week of October and she hasn't decided what she will be this year. Hopefully she will come up with something before the day of the dance!
Halloween doesn't have to be too fussy or expensive. These costumes were easy to make and didn't break the bank. If you have any questions on the process for any of them, leave them in the comments.
Now for the real fun – let's talk about the giveaway prizes! There are some really fun gifts for you!
Lorna McMahon, of Sew Fresh Quilts, has provided a gift of $15.00 to her shop. If, by some very small chance, you aren't familiar with Lorna's patterns, click here and take a look. Lorna has some of the cutest quilt patterns, many of which feature little critters- raccoons, farm animals, fish, chickens, and squirrels for example. Lorna has so many fun and creative ideas.
Craftsy has donated five free classes! You know how I feel about the classes over at Craftsy. There are so many to choose from!
C&T Publishing has donated five $20.00 gift certificates. C&T publish many of the amazing craft, sewing, knitting and quilting books that are widely sold in bookstores and online.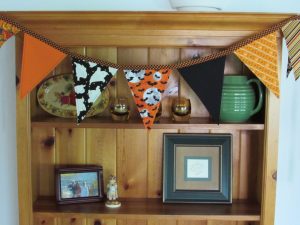 Finally, I made two Halloween buntings to give as prizes. They are similar to the one pictured above.
Each post you link up counts as one entry into the giveaway.
You are welcome to link up from your Instagram or Flickr accounts if you aren't a blogger or prefer that media.
Please take a moment and enjoy some of the other link ups. Leave a little comment love as you go.
Have fun and thanks for coming to the party!! Link ups will remain open through Saturday night so if you haven't finished your post, you can still link up over the next couple of days. Drawings for prizes will happen Saturday evening and winners will be posted first thing Sunday morning. (I will also email the winners.)