I did a little practice session (actually it took a few sessions) of free motion quilting. It's been a while since I last sat down and focused on it. Really, when it is truly a practice session and I don't have a lot invested in the outcome, it is very fun. FMQ is a skill (like most) that will never improve unless one invests the time.
My main issue is the whole look-at-every-wiggle obsession that I have. I have heard it so many times; when we sit at the machine to quilt, our line of sight is up close and personal. The finished product is usually viewed from a distance which improves the look of things tremendously.  As I played with this practice piece, I made many wiggles and hops that I was unhappy with. However, for the most part, I left them as they are. My strong dislike for the seam ripper makes it easier for me to ignore the less than perfect stitching. I don't need to make it perfect. I just need to keep stitching. If I spend lots of time ripping things out, the joy is lost; given up to the pursuit of perfection when really, good is enough for me.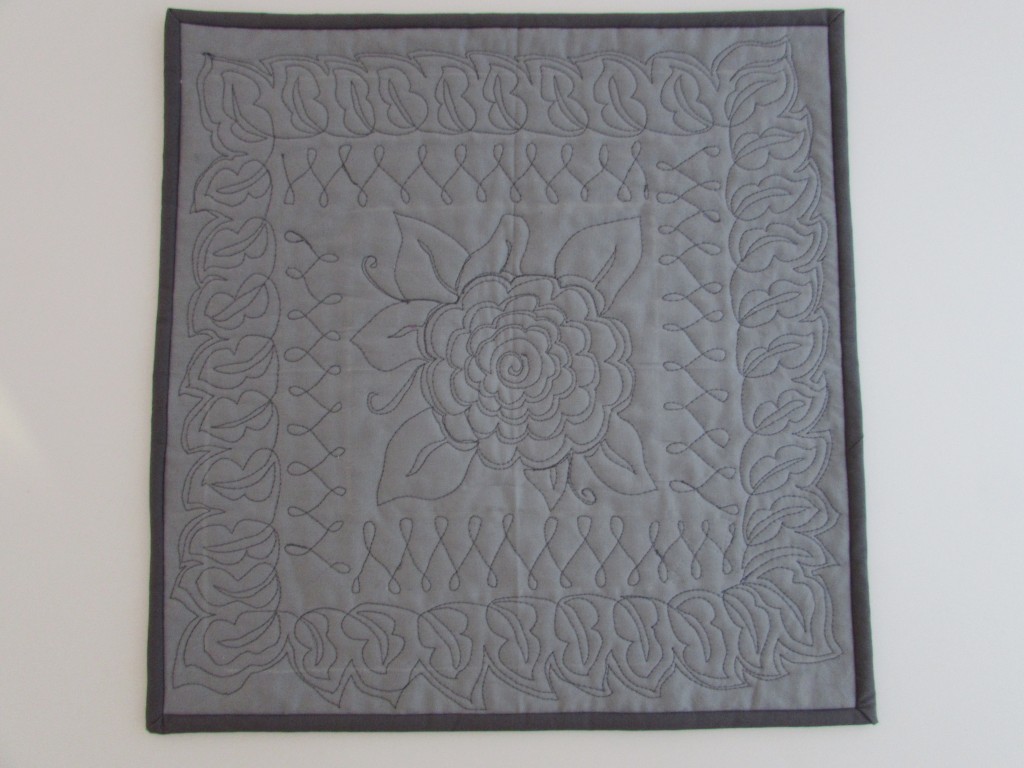 As expected (and hoped for) I learned quite a bit with this piece. First of all, in a Craftsy class, Machine Quilting Wholecloth Quilts with Cindy Needham, she suggests folding your practice piece in half and ironing a line and then folding one more time (so you have 4 quarters) and ironing again. You end up with the center marked well and four gridlines to guide you. The lines are still slightly visible on this piece.  Following that I worked on the flower in the center. The tutorial for this motif was taken from Lori Kenedy's site, The Inbox Jaunt. The name of the motif is Claire's Peony.  This flower is really fun to do.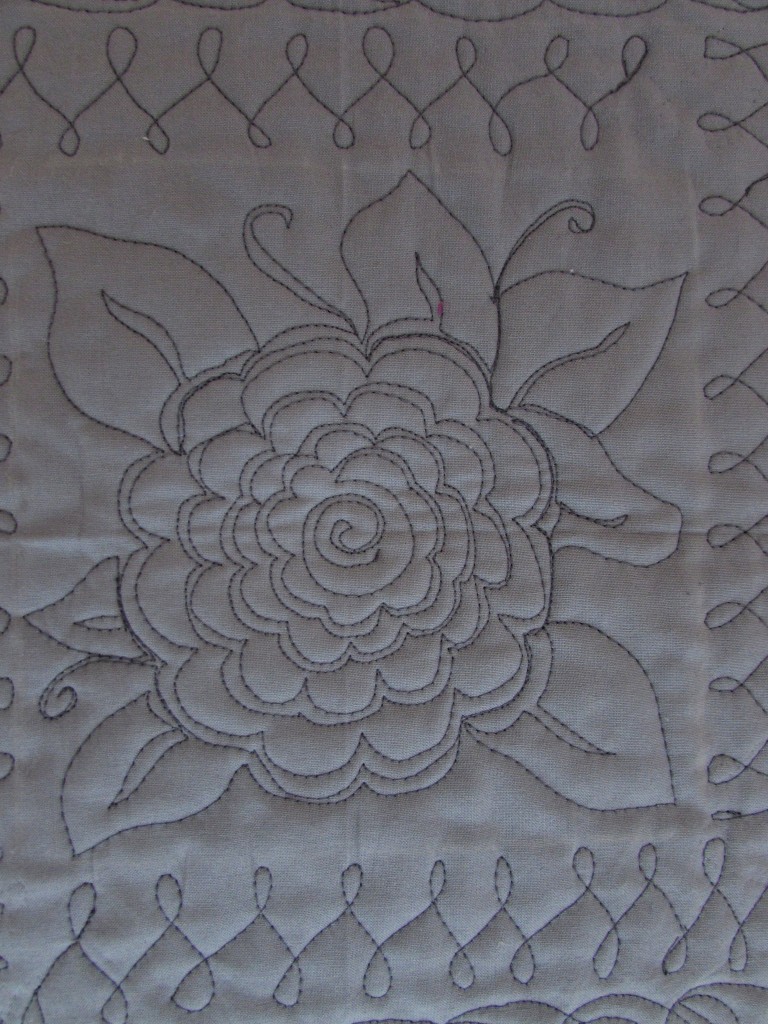 I bordered the flower with a simple twist. Here comes lesson number two. I found out that I had no idea how to deal with the corners. This design doesn't really lend itself to turning a corner. I tried, oh, I did try! With this one, I used my seam ripper and tried a few times to find a way. After a couple of tries, I just went end to end and gave up on the turn. It isn't award winning but then, this isn't going to a show, it's practice. So I am fine with it.
The outer border is inspired by another of Lori's tutorials, The Maypop Leaf. I doodled this one for a while on paper (actually I draw anything first, before stitching) but it is still a bit rough. Again, practice, right? I felt like it needed one last bit so I echoed the leaf border a couple of times.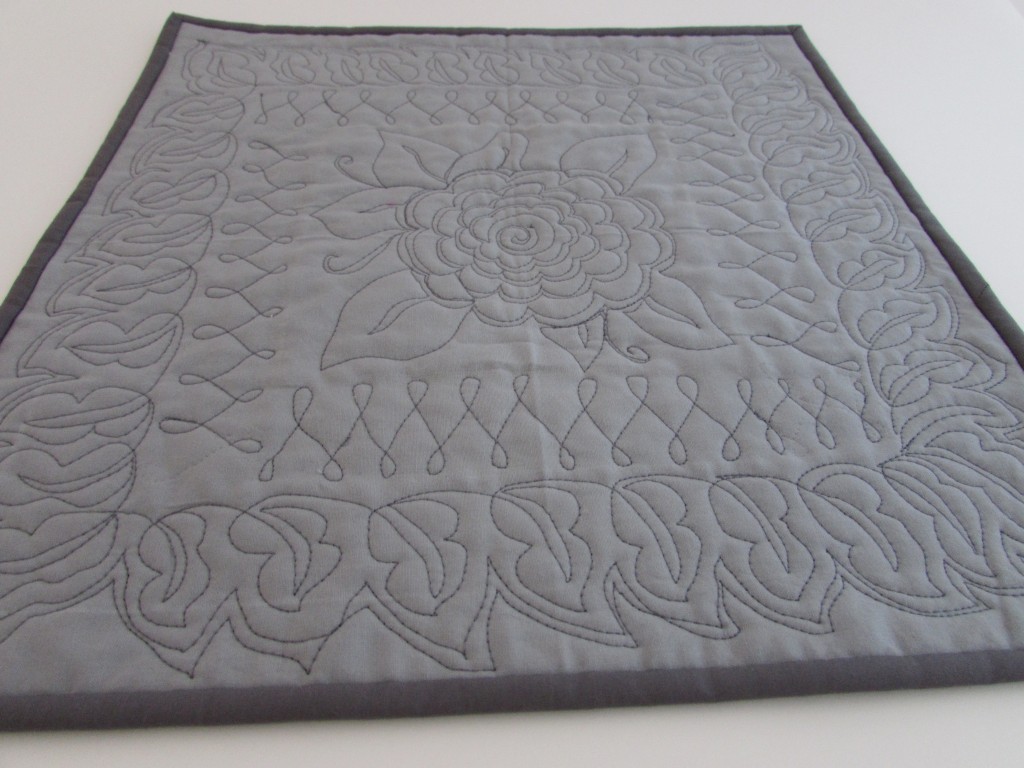 I was going to toss this into a pile of odds and ends but after looking at it for a while, I decided to keep it. I like the way it looks as a whole so I put a quick binding on it and kept it. It finishes out at 15″ x 15 1/2″ (I know – where did that extra 1/2″ come from???) Keeping these is a good thing – as I progress, it is nice to look back and see how far I have come.  You know, the hardest part of writing this post is to keep the critcism of this practice session to a minimum. I feel like if I am going to share these projects, I need to zoom in and explain or defend every mistake. But I am not going to. It isn't perfect but it is certainly good enough.
Linking to Freemotion Mavericks and other assorted wonderful linky parties. Info on all of them are listed at the top of the page, under link ups.