OK- I feel like I made the greatest discovery. Not earth shattering or life changing (well, maybe a bit life changing for me) but so cool!
I have been making clothespin bags which I sell in my Etsy shop. They are fun to make and I have sold a number of them. Today I wanted to trim one out and decided to use rick rack. I love the cheerful look that rick rack gives to anything! It is such a classic trim. However, I don't like the way it is usually attached. Often you will see it attached with a seam straight down the middle. However, this means that once it is washed, the edges of the trim will curl up around the seam. I debated sewing two straight seams down each edge to catch the edges but then you have stitching between each angle. This didn't make me happy. I did what any self-respecting seamstress would do and turned to Pinterest. As one would expect, there are lots of ideas to be had. Many people are embroidering the trim down. This looks really cute but is too laborious. I can't charge enough for these little bags to spend that kind of time stitching.  I came across a pin that linked back to Craft Nectar (which is the blog for Weeks and Bill over at Modern Quilt Studio). Weeks posted an idea about attaching rick rack by dropping the feed dogs and using your FMQ foot (aka darning foot).  Ah ha!!  Perfect. I never thought of that. It was so simple.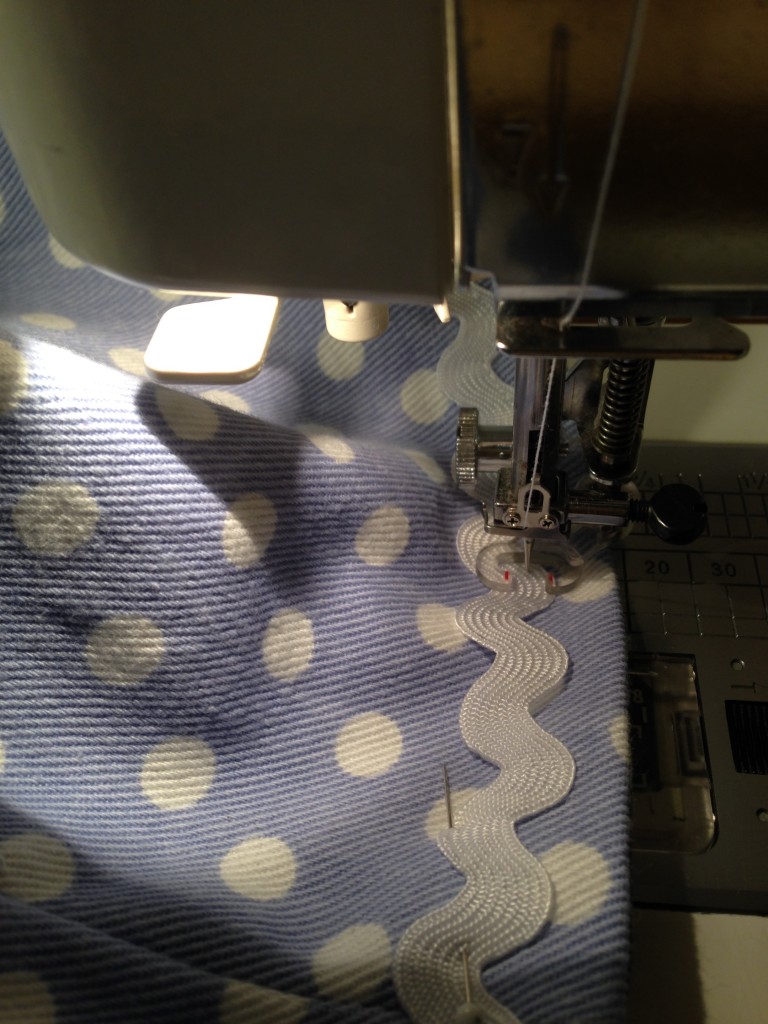 I did reduce the stitch speed on my machine – it takes a bit of effort to keep the trim straight and stitch along the edges. Next time I think I will pull out the glue stick and use that to attach the trim first. That should make it even easier. The inside looks pretty good!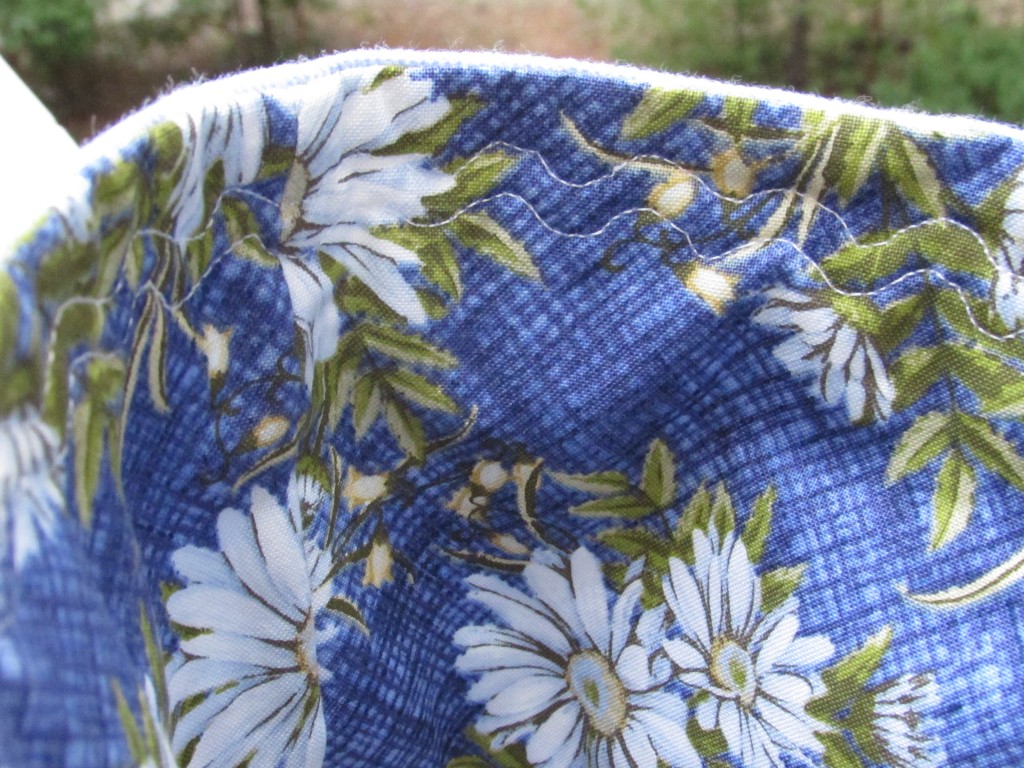 Here is the finished bag hanging from my clothesline.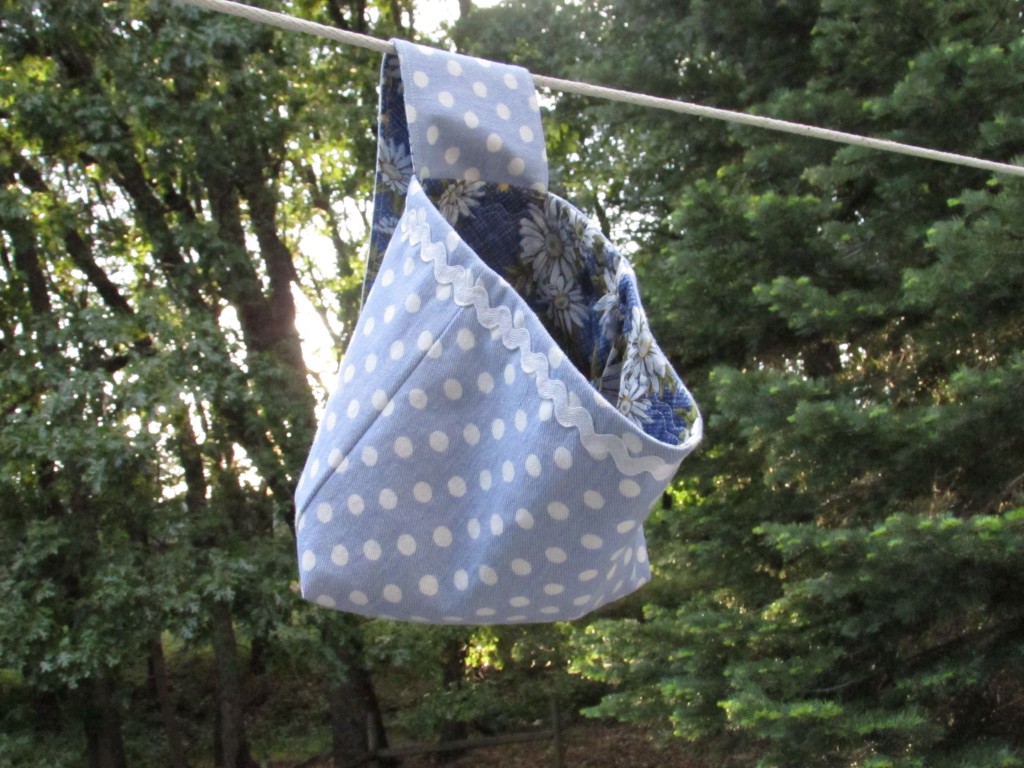 On an unrelated note, I am so excited about the New Quilt Blogger bloghop event that is getting started. Hosted by Yvonne at Quilting Jetgirl, Stephanie at Late Night Quilter, Cheryl @ Meadow Mist Designs and Terri Ann at Childlike Fascination, this is a great opportunity to learn more about blogging and to interact with others in the community. I signed up this morning and thought I would put this out there in case any of you are interested.
The parameters they have set for joining are that you currently have a blog:
mainly about modern quilting*,
for less than 2 years,
writing at least 4 posts a month,
are willing to agree to be actively involved in the blog hop through visiting and commenting on the other blogger's hop posts,
and have or are willing to open a Facebook account to participate in the group discussions,
If you are interested, please visit and fill out the 2015 New Quilt Bloggers Blog Hop Sign Up Form.
(*Modern quilting to you is modern quilting to us.)
Note: They plan to accept 100 participants for the blog hop this year. The sign up form will be available until May 31, 2015, or until they reach 100 participants.
This looks like an amazing opportunity and I am really looking forward to learning from everyone involved. If you feel like it would be right for you, I encourage you to check it out.
That's it for now! Hope you are all having a great week!
Linking to Connie at Freemotion by the River, and  Tips and Tutorials Tuesday.