One down, two to go!  In my last post I outlined some goals I have for my quilting in 2015. One of which was to finish my three UFO's before starting a new quilt. So here is the first one, the Aurifil Designer 2014 BOM quilt. You might remember that I only made nine of the Aurifil blocks and then did three blocks of my choosing.
The back (shown here by my lovely quilt model) is a sweet blue polka dot, one of Riley Blake's La Creme line.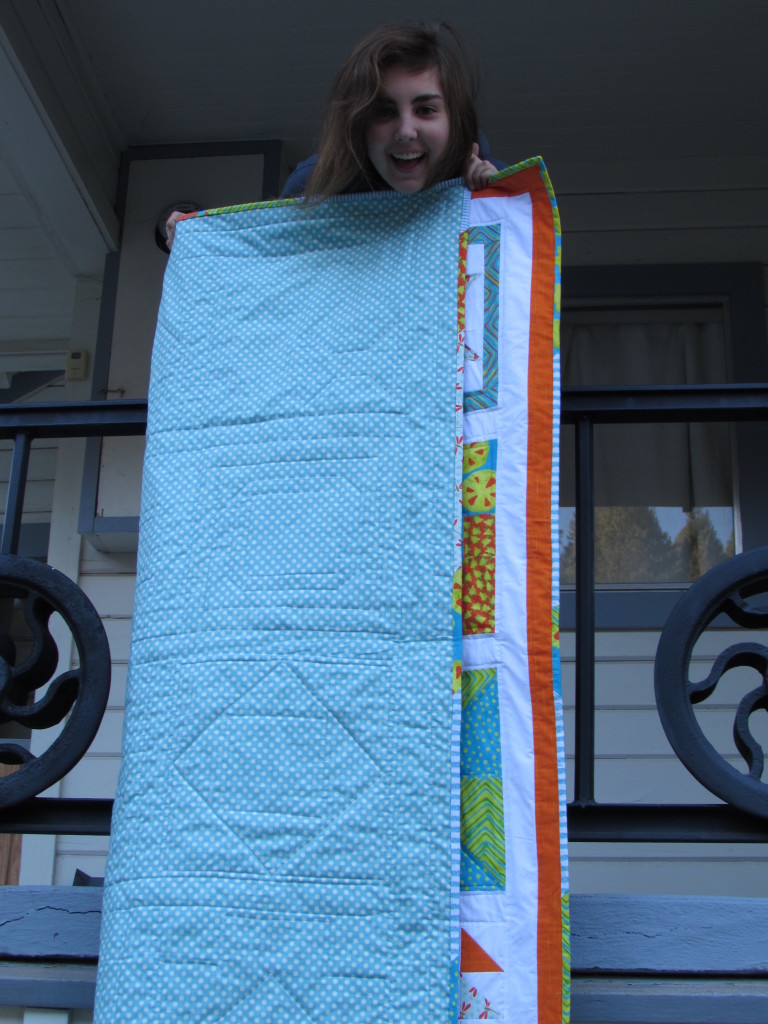 Technically I am calling this a 2014 finish because all I did yesterday was to sew the back of the binding on, the bulk of it was made in 2014. So bright and happy.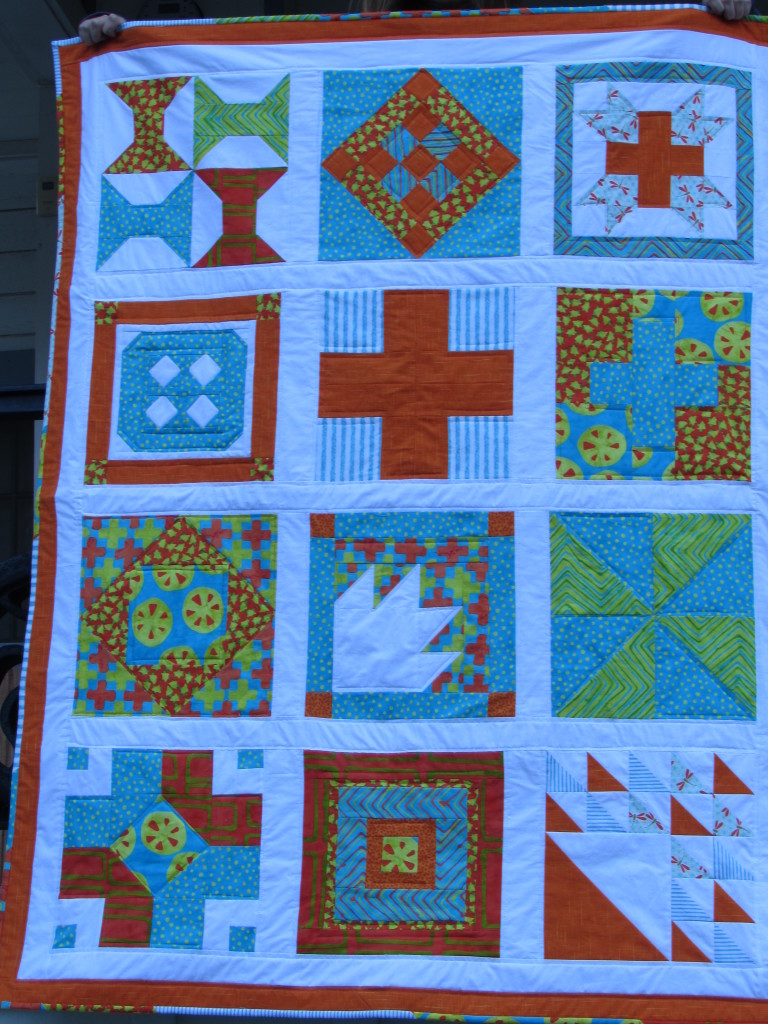 You might remember that I only made nine of the Aurifil blocks and then did three blocks of my choosing. To quilt it, I used my walking foot and outlined various shapes within each block. Also I quilted a 1/4″ line inside of each side of the sashing. I ended up using three different thread colors on the top, white, orange and a light gray. I kept white in the bobbin for all three colors though.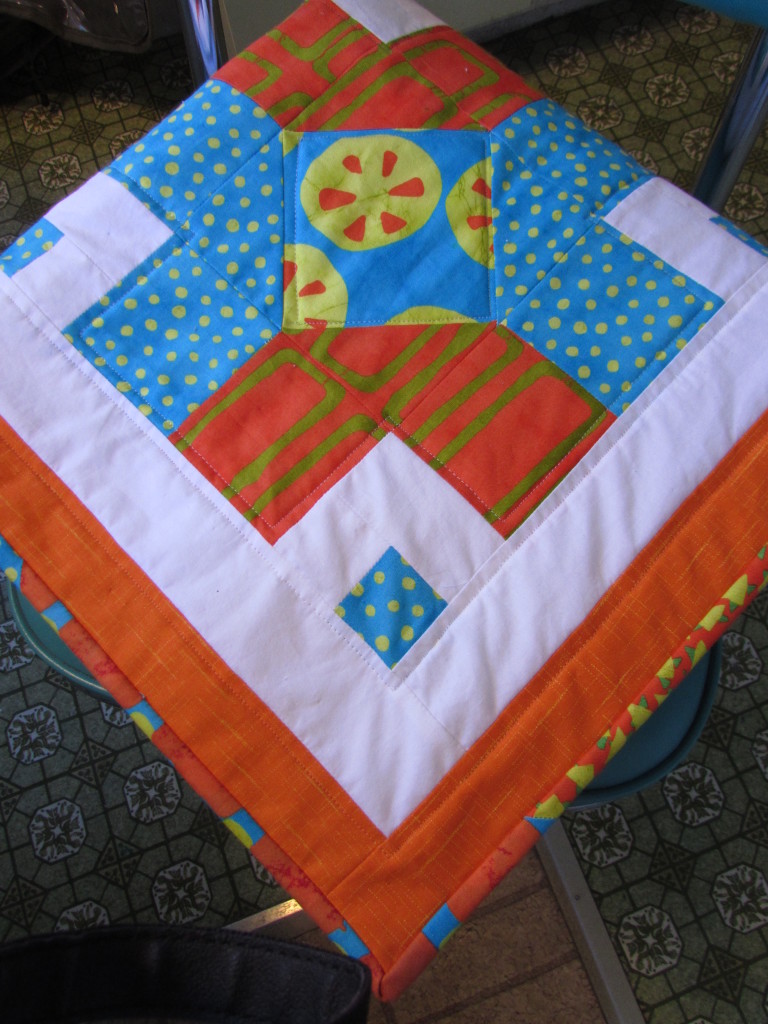 We we spent the New Year's holiday at the Downieville house. Remember, the tiny bungalow we bought after I saw it during a Quilt Retreat weekend up here? Ray has been coming up about every other weekend to work on it. Julia and I have come a couple of times to clean. This weekend Ray made great progress on replacing a large amount of the (very old and unsafe) knob and tube wiring.  Lots of this was done from the attic which is sort of unpleasant considering all the dust and insulation up there. Yuk. Julia pulled nails from the exposed studs in the bedroom. She also did some mopping. What a trooper. I sanded a few shelves in the kitchen cabinets and scrubbed down a bedroom that is technically in the basement but is actually one of the more normal rooms in this house. We are definitely making progress.
i think my next project will be to sash the blocks for the RSC2014 challenge. I am setting the finish of this quilt as my goaI for January. I am linking up with Sew Bittersweet Designs ALYOF (A Lovely Year of Finishes) which is a fun challenge for quilters to set a goal or two each month. It is a good way to keep organized and be sure to finish what you set out to do. I will link my goal(s) at the beginning of the month on her site and then report in at the end of the month.
I also plan to participate in RSC2015 as well (as always, this is sponsored by Angela at So Scrappy). This year I am going to follow along with a row quilt BOM that Mari is doing over at her blog, Academic Quilter. She will be posting the block for the first row on Tuesday of next week. I am very much looking forward to see what her plan is. (Completing the January row is another goal for ALOYF).  I appreciate that Mari has taken the time to sketch the rows out and do the math for the blocks as that takes time. Since she did it, I don't have to! It will be fun to work through this with her. If you are interested in using up some scraps, I expect this to be a great project!
Linking to Crazy Mom Quilts. If you haven't read her post today, please do. It inspired me to see all that she accomplished in 2014. Wow!! ALso linking to Sew Bittersweet Designs ALOYF.