I don't know how much this makes the news across the country but Northern California is basically on fire.  It is horrendous. We had a local fire about a mile from my house two weeks ago.  It burned 350 acres and caused a lot of local damage.  Before this we had a fire  up at Yosemite.  It burned 4,700 acres and is just about contained.  Along with this fire is the Happy Camp fire (the name is sort of ironic.) Burning still, it has consumed 132,000 acres.  It is in a wilderness area so it hasn't burned many structures. Closer to my home, we are dealing with the King Fire.  It is burning near the town of Placerville which is about an hour from my house.  But as the crow flies, it is much closer. This fire is now burning just over 92,000 acres. There are over 7,000 firefighters working it and it is only 35% contained as I write this.  The fire started over a week ago and has consumed 65 structures so far. It is a horrific fire.  The worst part?  It was started by an arsonist.  The suspect has been arrested. Just unimaginable. Crazy, smokey, frustrating times.
Here is a picture of the smoke we are dealing with.  This was taken this morning by my hub.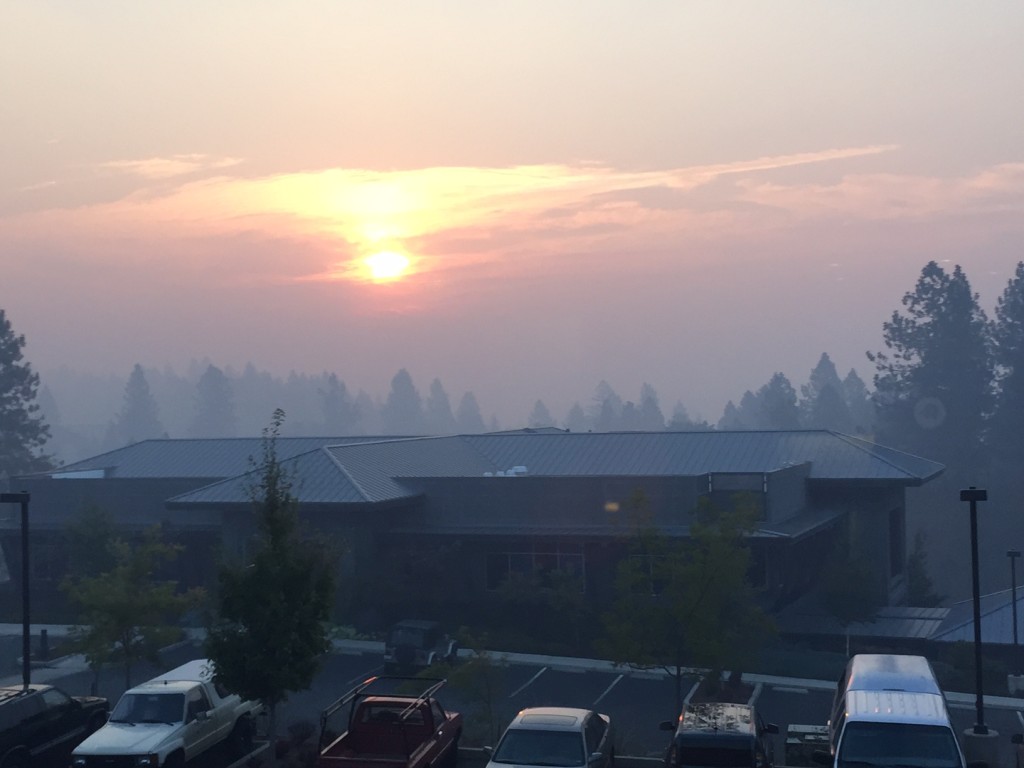 Luckily this afternoon a breeze came through and cleared the smoke for a while.  I am sure it will settle back in by morning.  They closed a number of schools on Monday.  For today and tomorrow they decided to keep the kids indoors and cancel after school activities.  It is completely unhealthy to be outside. The good news is that we have a 60% chance for rain on Thursday.  We are so excited!  Doing a rain dance for sure. Keep your fingers crossed for us.  We need to get the fires contained and we desperately need some (a lot, a lot, a lot!) of rain.
Since I was inside all weekend with the exception of one trip to the grocery store, I spent a great deal of time at the sewing machine. It was a good opportunity to work off my stash because there was no going to the fabric store.  Here are a few things I worked on.
I used more of the upcycled burlap that I love creating with. This pennant is hanging up above my (very fancy!!) design wall, inspiring me. On the design wall is a strip that I created with some holiday fabric scraps. I will add some lengthwise strips to the long edges to create a Christmas table runner but I need to find something at the LQS because none of my fabric worked. Love the banner though.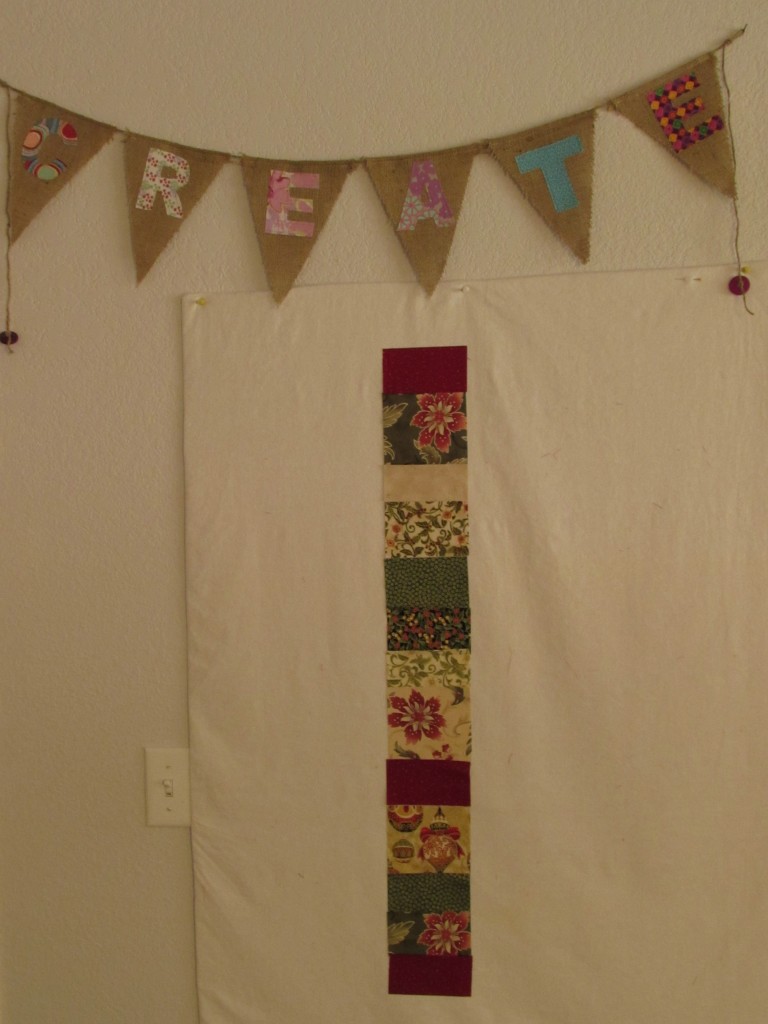 After making the "CREATE" banner I decided to make one for the holidays.  First I made this one: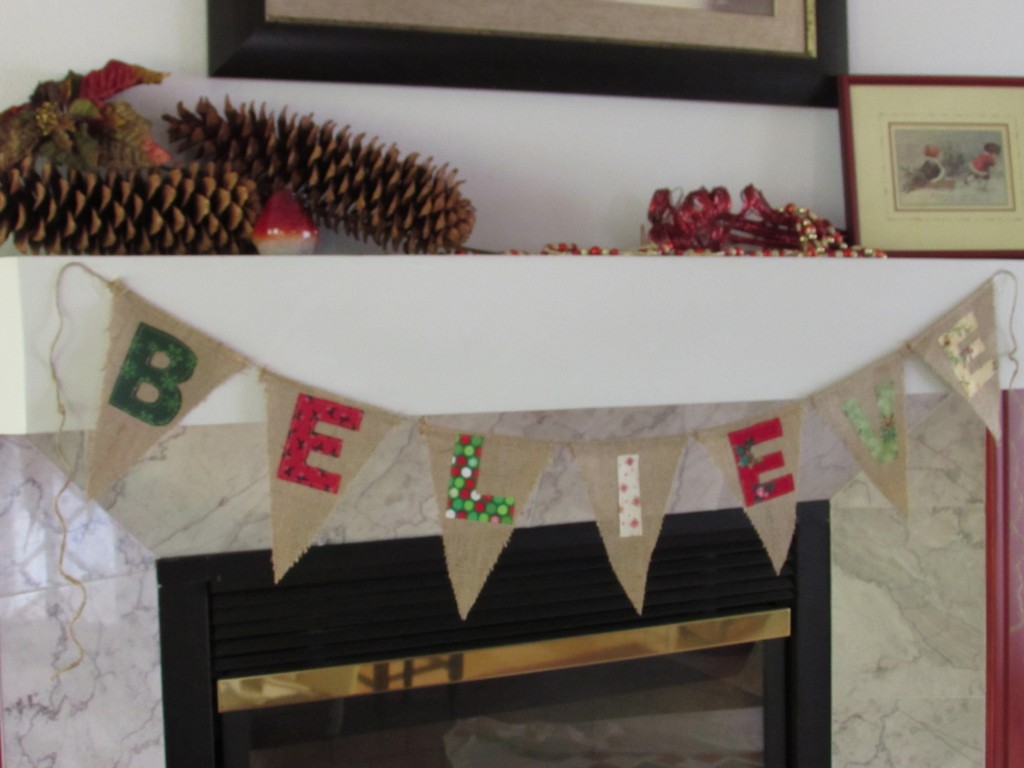 I put up a few odds and ends on the mantle to give it a holiday feel.  I like the pennant with the exception of the E on the end.  It needs to be a darker color so I will replace that flag.
This is the other one that I made.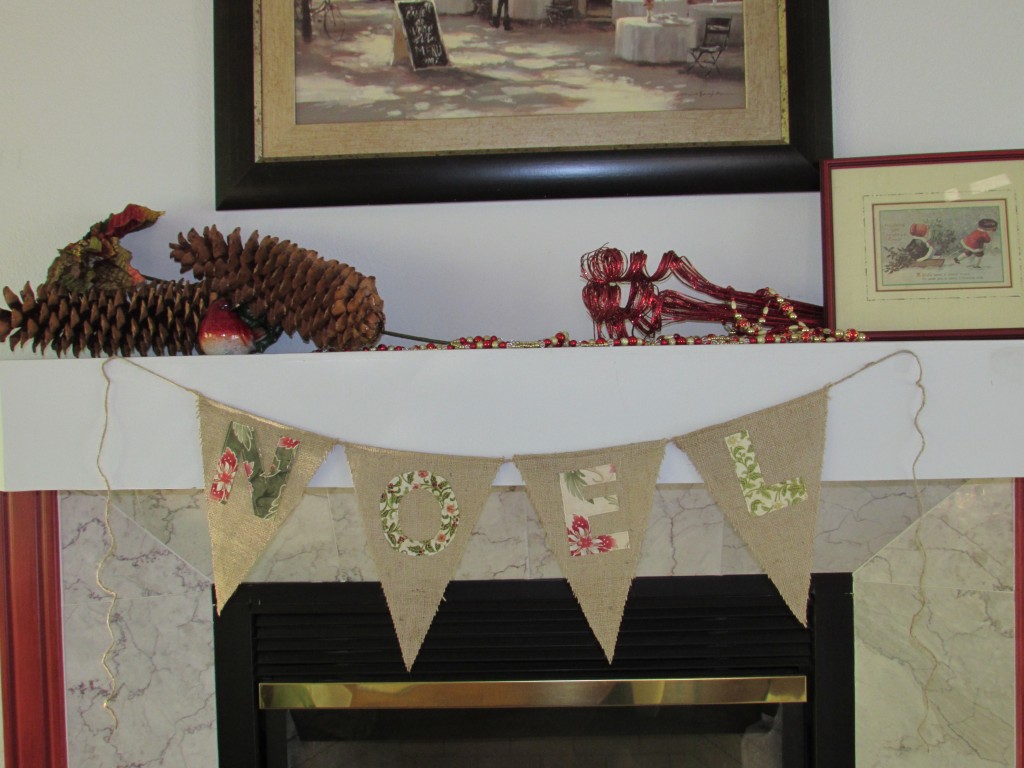 I like this one but it needs some embellishment.  I think I will add some buttons to the ends of the twine for weight and maybe that will dress it up a bit.
Finally, I made progress on a holiday lattice quilt that I am making.  It will be set on point and needs sashing.  I am thinking of using a fabric that is a deep cream color, tone on tone, for the sashing.  Again, I didn't have anything for this.  I need to get the sashing as well as a fabric to use for the corner and setting triangles. But this is coming along nicely and will sew together quickly.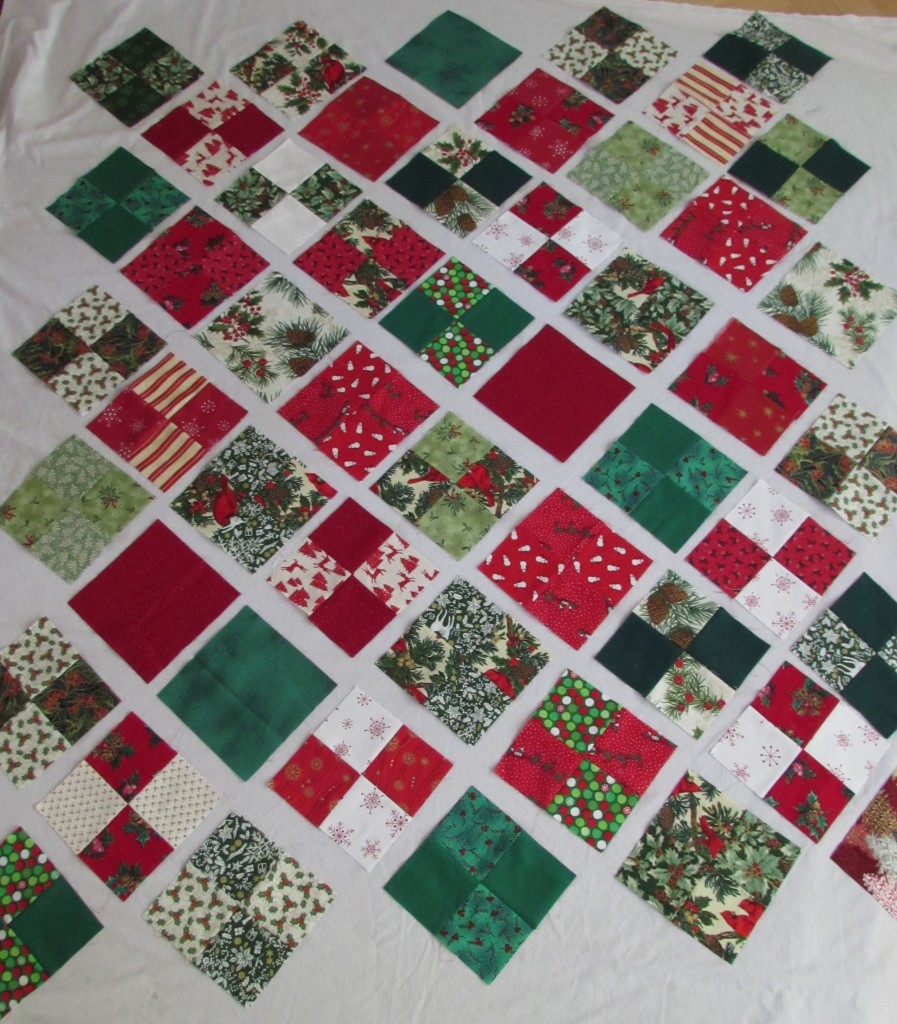 Not bad for a few days stuck inside! Hoping for clear skies tomorrow and a trip to the fabric store. Simple pleasures, right?
Linking to Stitch by Stitch, Freemotion by the River, Fabric Tuesday, WIP Wednesday and Let's Bee Social as well as Needle and Thread Thursday.  Links to these wonderful sites are found at the top of my page under Link Ups.