I have been playing with Dresden plates this week.  Never have done this because I thought it would require a patience level that I usually don't have. I was happy to learn that this isn't so.  Dresden's look so precise but they are actually quite easy, time-consuming, but still easy.  There is a pattern in the most recent Love of Quilting magazine for a table runner with three dresdens placed on it. I made it exactly as the pattern instructs.
Cutting the petals takes a bit of time.  I am wondering if I need to purchase a smaller rotary cutter. I have just the one (45mm) but maybe I need the smaller one for finer piece work.  Does this ring true to any of you?  Let me know how many rotary cutters you use and the best size – or is there little difference??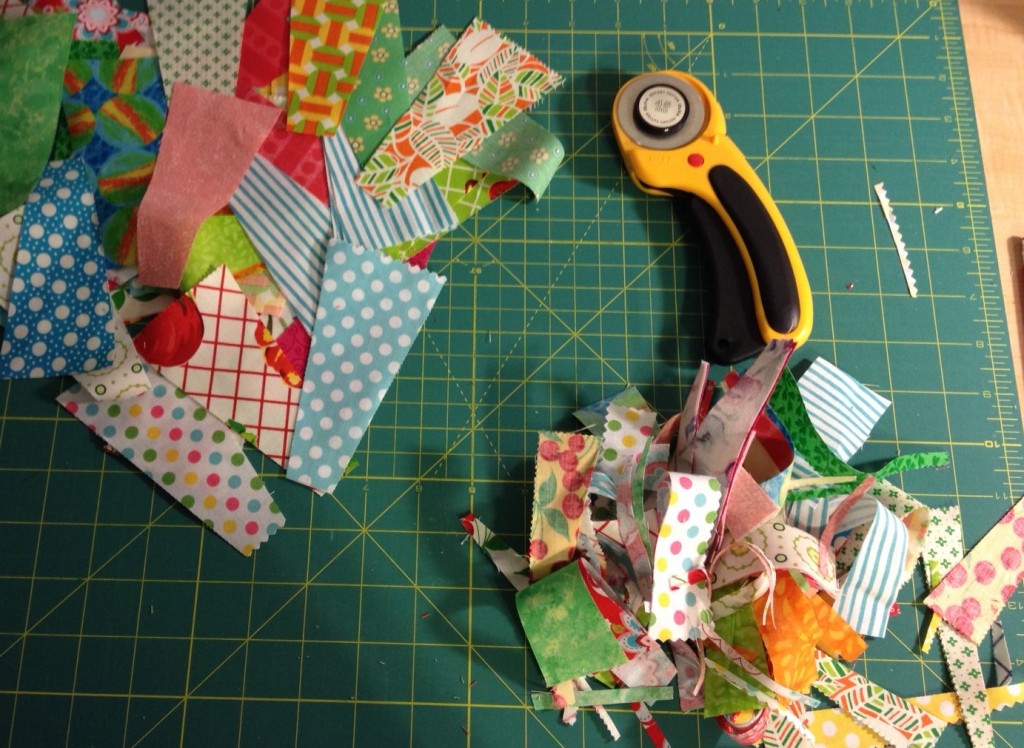 Learning something new is the greatest.  With this project I learned the dresden block as well as tried chain piecing for the first time.  What a timesaver.  Plus it saves on thread.  I don't usually think about that part of it, but really, I am always buying thread.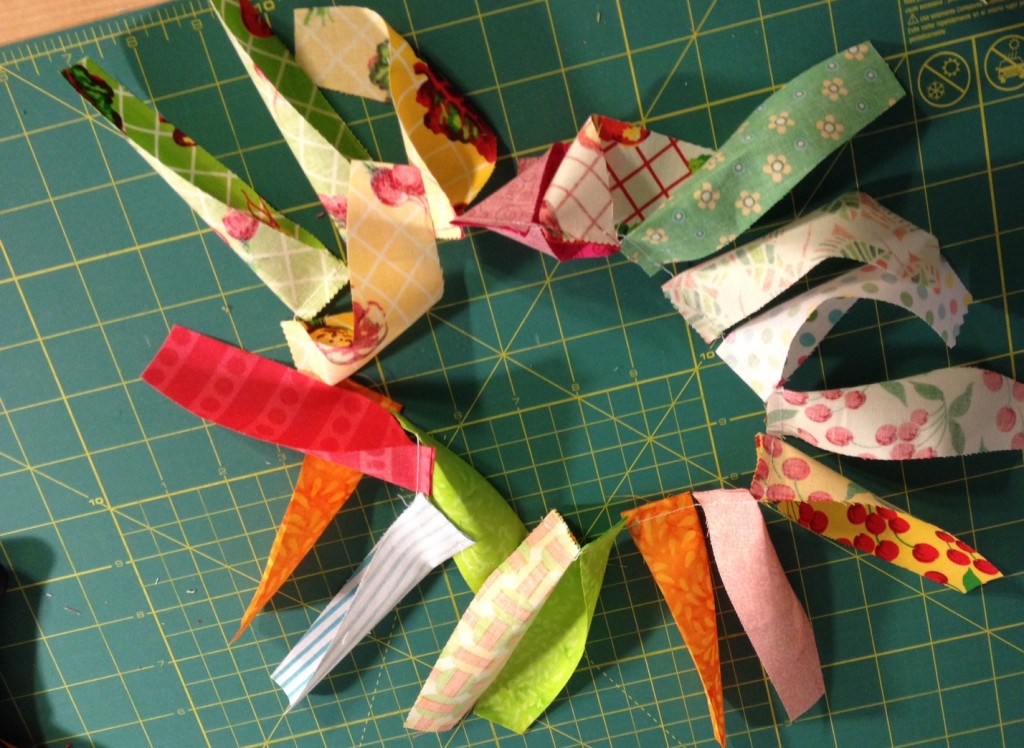 It all came together really quickly.  So cute!!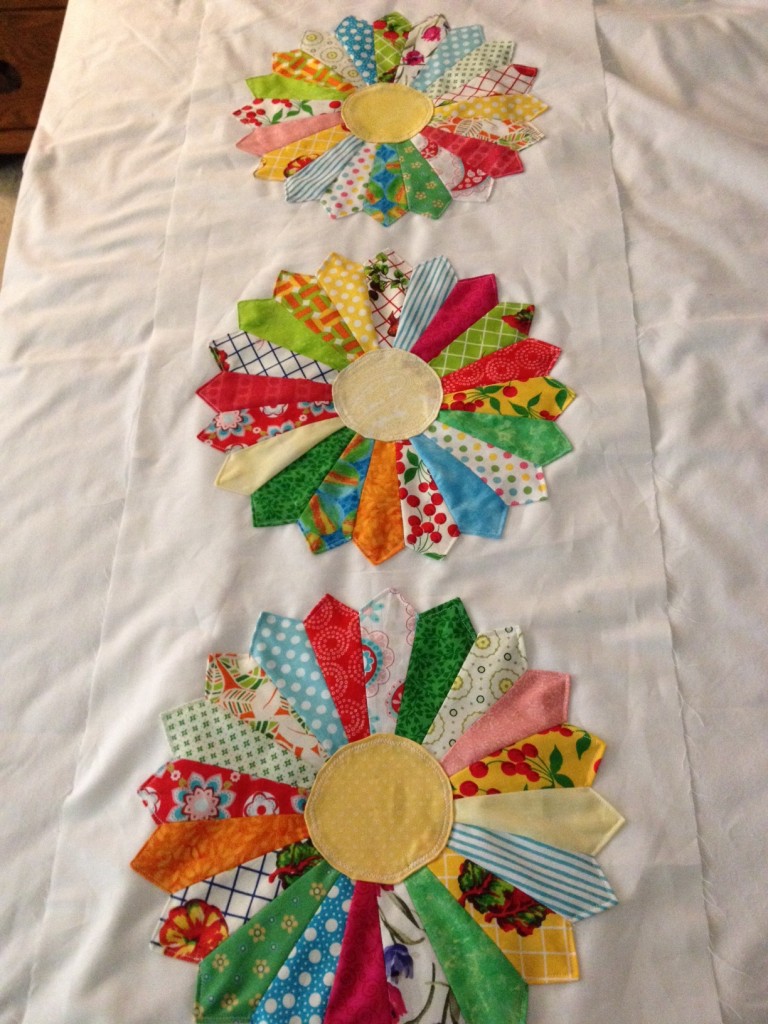 The pattern calls for borders that are 3 1/2 inches in width.  After attaching them, I think they are too wide. The runner will finish out at 45 x 20 inches. That is much bigger than I usually make for a table runner. I haven't decided if I will leave it this large and hang it on the wall.  Or I will trim the borders and make it fit my table better.  Thoughts on this??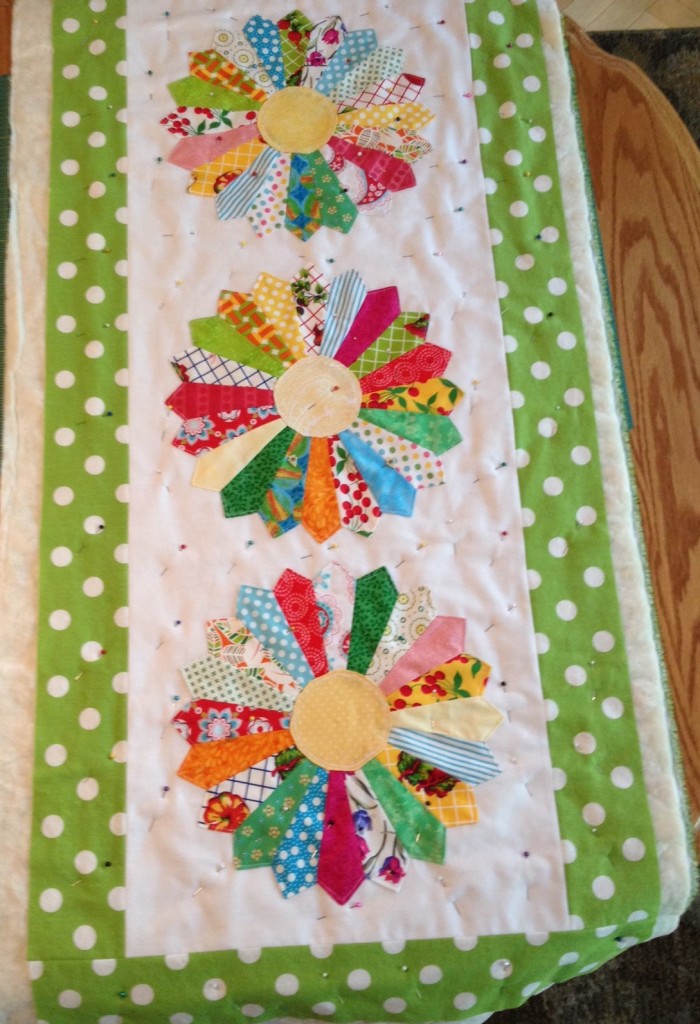 The green polka dot print will be used as the backing as well.  That was a great thrift store find at only $4.00 for two yards.  Not sure what I will bind it with. I have been trying to decide how best to quilt this project.  I want to enhance the dresdens and do a light meandering on the white backing.  Looking through Flickr is always inspiring and I found this idea.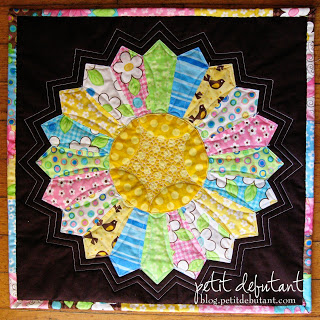 It is perfect for the dresdens though it looks a bit intense for my skill level.  I may have to tone it down a bit.  It's a good place to start though.
Hope you are all working on something fun!
Linking up with TGIFF, CrazyMomQuilts, and RichardandTanyaQuilt!  Happy Friday!