Today I found myself getting frustrated because I have so much I should be doing and no energy.  After a two day migraine it usually takes me two or three days to get back on track.  This weekend is a big one because my son is getting married on Saturday.  My kids all come home on Thursday which is so great.  Anyway, I felt like I should be cleaning house or doing yard work, etc and really my body is rebelling and saying I should take it easy.  So I went in the sewing room.  Time in the sewing room is often a cure-all, right??
I had most of this cute little dress made already.  I started it at the beginning of August and when it came time to put the buttonholes on it (a task I dislike) I hung it up in the closet and pretended it wasn't there. But it is so cute and it called to me this morning so I pulled it out. I wanted to make it for my grand daughter but it is late in the season so I made a size 3T in the hopes she will wear it next summer.
The fabric is called Radiant Menagerie (from Indigo & Aster) and was designed by the talented BariJ.  I LOVE her aesthetic and carry a lot of her fabric in my shop (Wild Bloom, Indigo and Aster and now Virtuosa.)  If you aren't familiar with BariJ, she is a talented artist whose work is often quite feminine and usually features large floral designs.  Her paintings are very pretty and some are quite whimsical.  Take a look at her work here.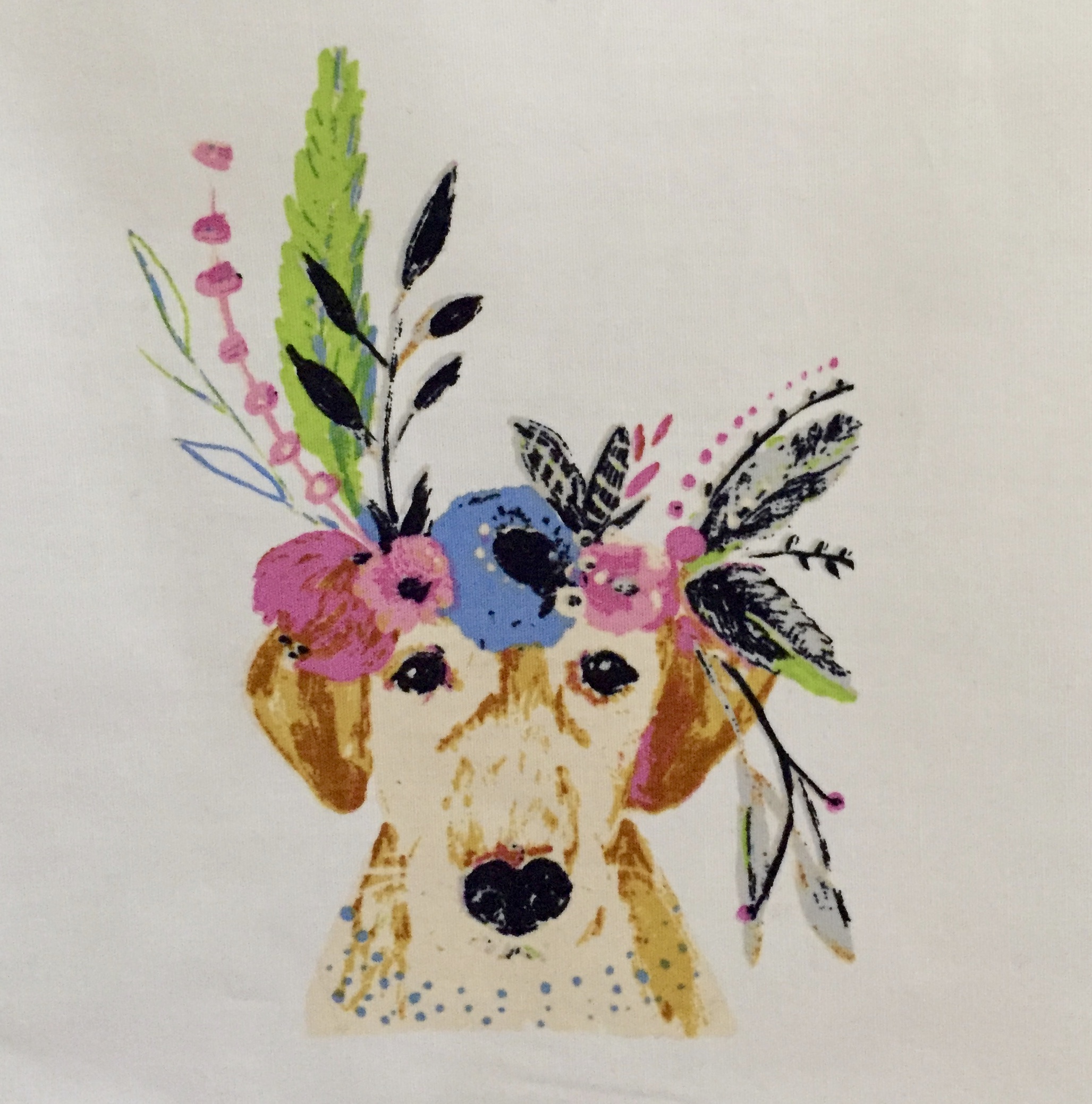 She has a lot of animals sporting floral crowns and I was thrilled to see her include them in the Indigo & Aster line (produced by Art Gallery Fabric).
The fabric that features the animals is called Radiant Menagerie and is a border fabric of sorts.   Each selvage edge is lined with the various animals.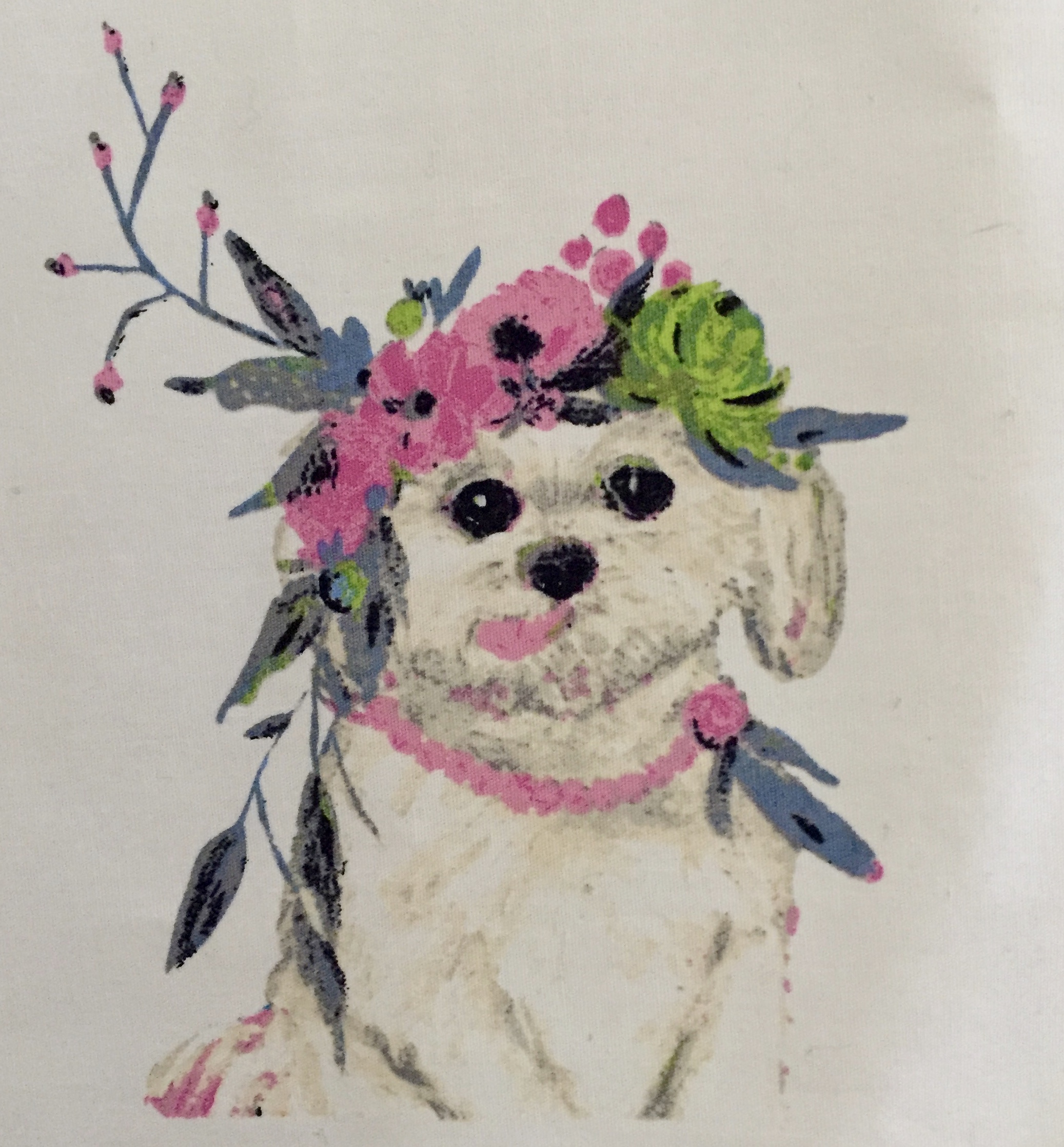 In between the selvages are stripes in coordinating colors or pink, orange, green and blue.  The stripes are actually dotted lines. So when using this piece in a quilt, it is simple to fussy cut the animals and then use the stripes as a coordinate.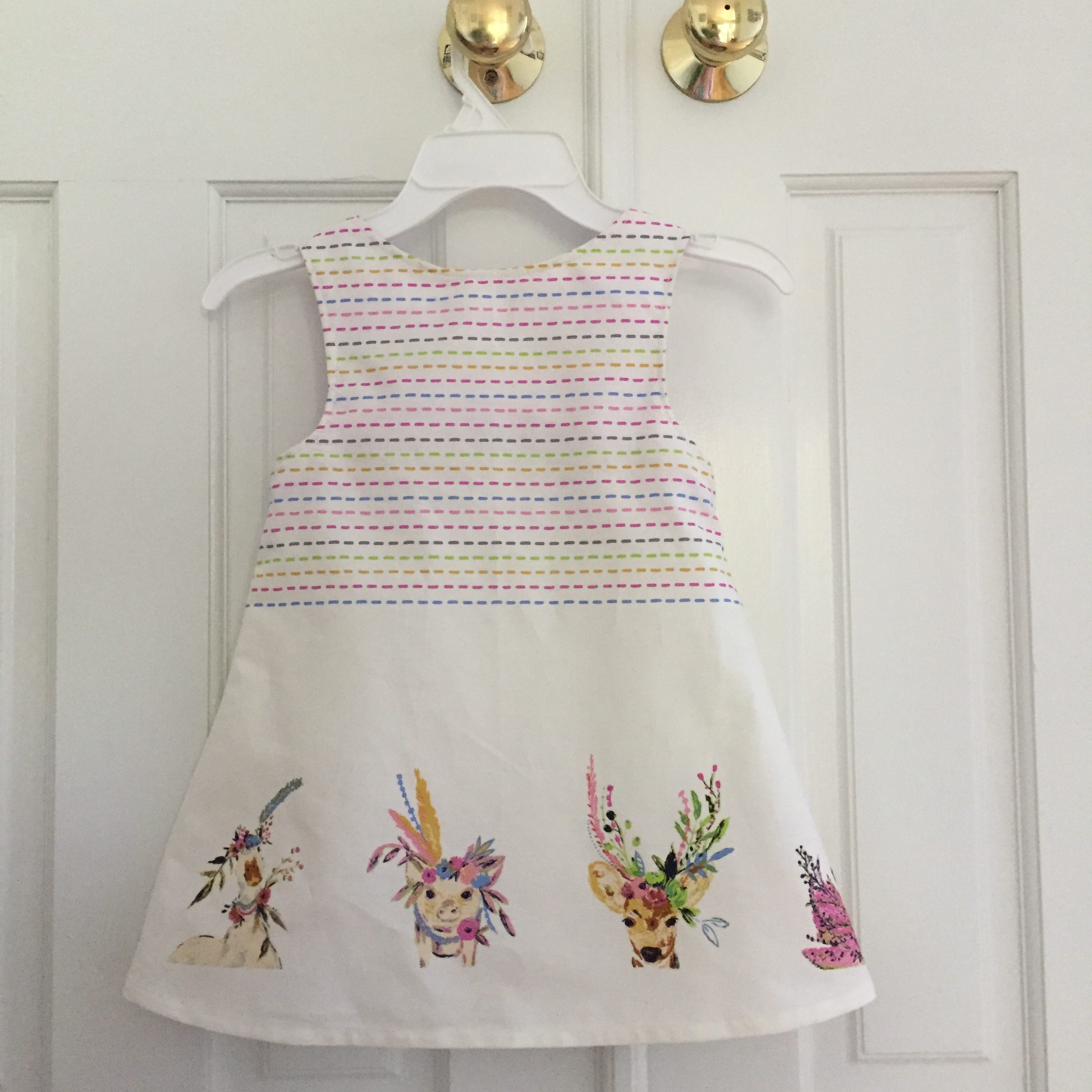 I wanted to use this as a dress so I was careful to choose a simple pattern with a straight hemline (as opposed to curved.)  This enabled me to use the striped portion as the bodice of the dress and the animals as the bottom.  The back side of the dress mirrors the front with animals parading across the bottom and the colorful stripe at the top.
As if it wasn't colorful enough already, I decided to take it a step further.  Using a four inch wide strip of La Floraison Lit (another piece in the line) I sewed a tube with the fabric and turned it right side out.  Then I ran two lines of stitching down the center (with a long, loose stitch) so I could gather that tube into a ruffle.  A quick hunt through my buttons resulted in these cute, colorful buttons to add to the ruffle.  I really like the extra detail this adds to the dress..
My serger is (still!) not cooperating with me so I finished the seams with French seams.  This will prevent any fraying.  I do love French seams.  They are easy and give a really nice finished look to the garment.
Because the fabric in a nice lightweight cotton, I didn't want to use the dress fabric for the interior facings around the neckline and armholes.  It showed through and didn't look very polished.  Instead, I used a scrap of a lavender solid (I think a Moda Bella piece)). It looks pretty to see that lavender bit popping through.
The dress is adorable and while I am certain it will be too big for now, I can look forward to seeing it on her next spring or summer.  These little projects are so much fun.  They don't take a whole lot of fabric and I love seeing her in something I made.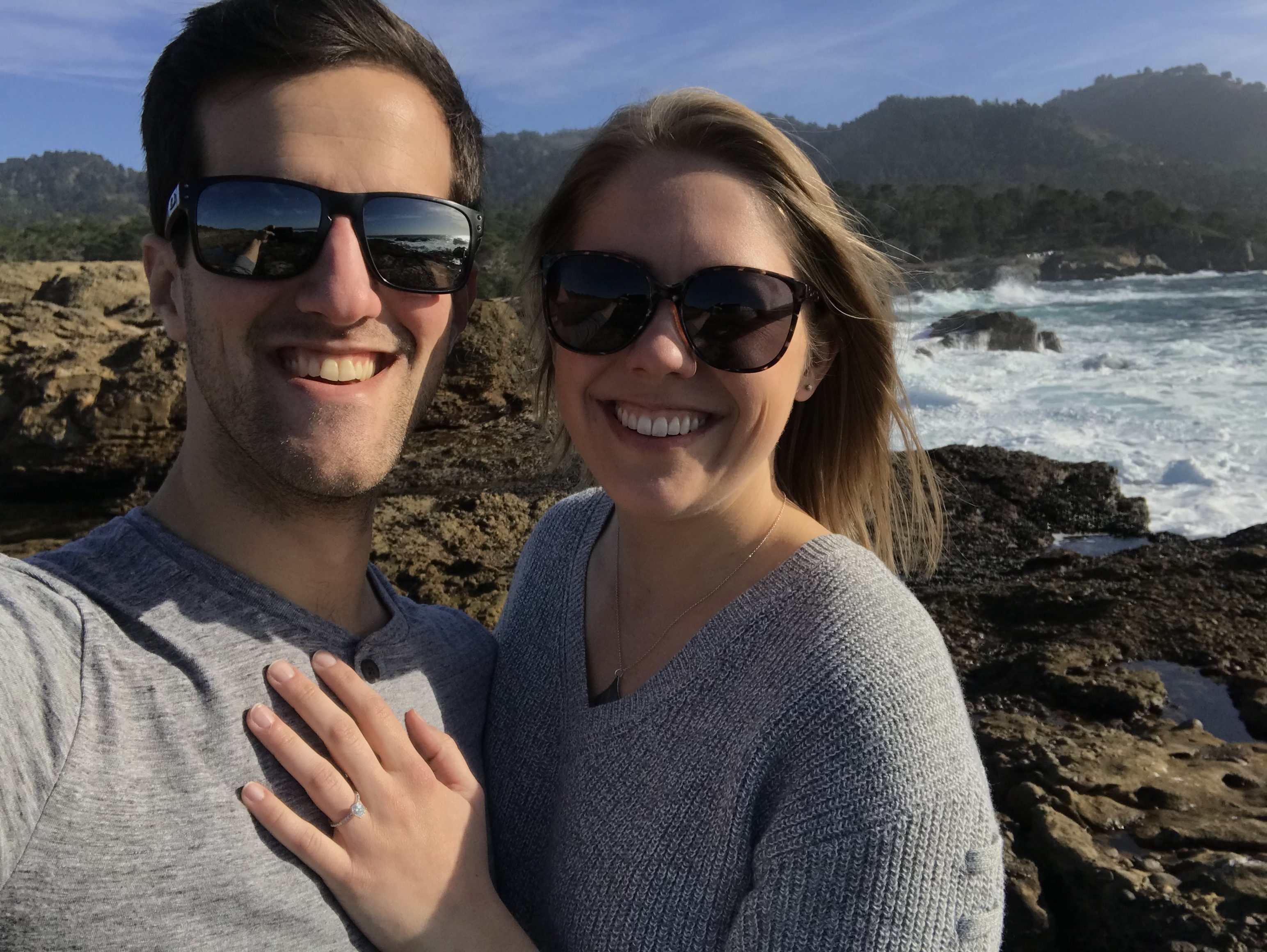 It felt good to sit and sew the bits needed to finish this little dress up.  Tomorrow I should have a lot more energy to be able to get things done for our big weekend.  I am over the moon about this wedding as I really think these two are perfect for each other. We are so happy to welcome Shar into the family! I will share more about the wedding once everything quiets down again.
Sharing with my favorites, including a new linky party hosted by Michelle at From Bolt to Beauty.  It is called Brag About Your Beauties and happens on the 2nd, 3rd and 4th Fridays of the month.  Be sure to check it out!
Newsletter!
Have you signed up for my newsletter?  It is published every month or so and is full of information about my shop, new arrivals, sales, and events.  Click here to sign up!