Last year I had the immense pleasure to start a friendship with Amy Jandrisevits, owner and creator at A Doll Like Me.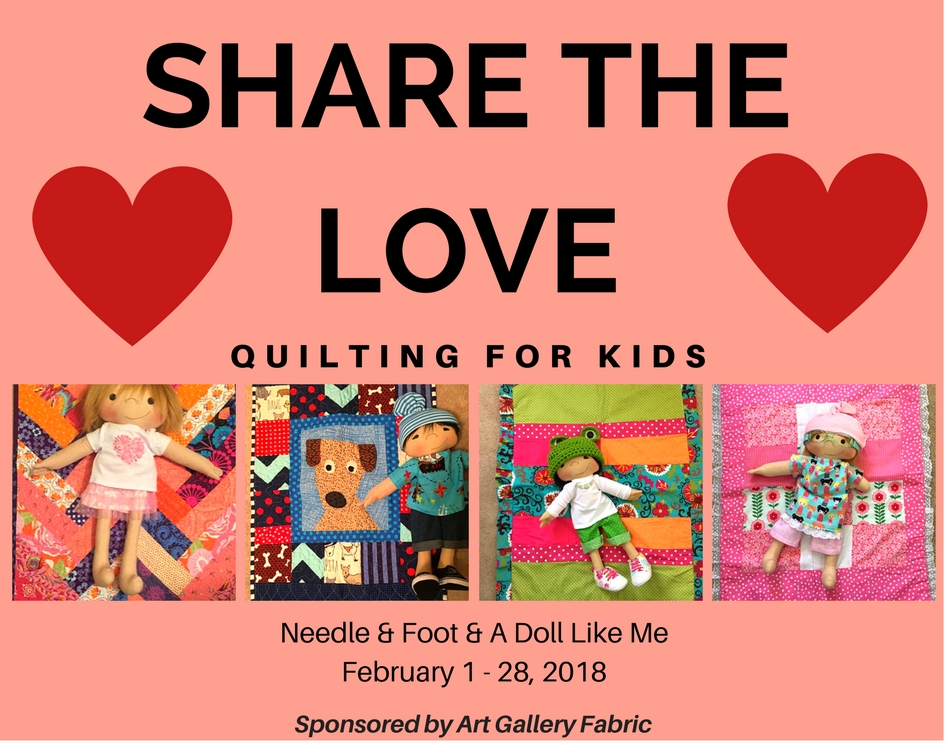 You might remember the Share the Love Campaign hosted here.  Many, many quilters joined in to make special doll quilts to be sent with the lovely dolls Amy makes for children with physical differences.
The campaign resulted in well over 300 doll quilts and I still receive emails now and then from quilters who want to send one to Amy.
I wanted to provide a brief update for readers as it has been nearly a year since the campaign. Of course the need for these amazing dolls is on-going and Amy continues to sew constantly in an effort to keep up with the demand. The amazing thing is Amy's work has been noticed!  Not just by us and the families she works with.  Lately, she has experienced a surge of interest by the media as they are made aware of the important work she does.
Media exposure is a wonderful thing as it helps to spread the idea that all children want/need/deserve representation.  They need to see themselves as 'normal', to know that their differences are not to be hidden or embarrassed by.  Receiving a doll that reflects them and looks like them helps them to do this. Having the media spread the word as they have been doing over the past weeks is going to teach a huge lesson in acceptance for readers who haven't necessarily thought in these terms or been exposed to this idea.
One of the ways this media excitement started was due to an honor bestowed upon A Doll Like Me by the Go Fund Me organization.  Amy has had a campaign running on Go Fund Me for quite some time.  Last December the organization really took notice of Amy by giving her the Hero of the Month award in December.  Each month Go Fund Me does a story on a campaign they feel is worthy in the hopes of spreading the word even further.  When they gave this award to A Doll Like Me in December Amy's campaign spread like crazy and donations in excess of $20,000 poured in.  The donations continue as does the exposure for this cause.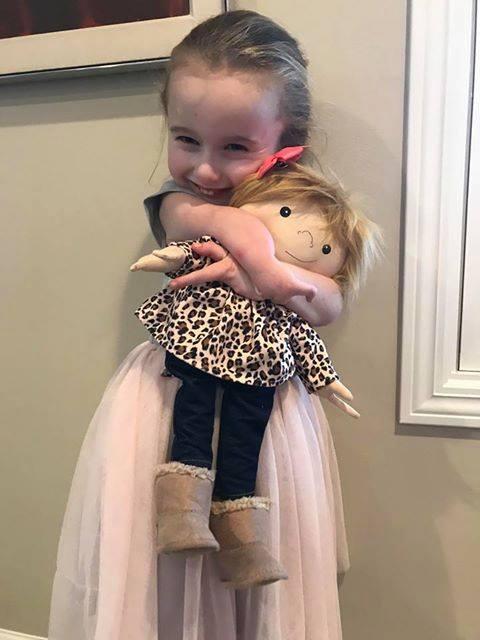 Largely due to the Go Fund Me award, many media outlets became aware of the work Amy does. The story was picked up by the local CBS station in Wisconsin, providing great publicity for this important work. Click through to see the five minute video segment – it is fantastic!
She has also been featured on many on-line sites including (but certainly not limited to)  MSN.com, Fatherly.com, Dipply.com, the Journal-Sentinel.
Amy's work was also featured in a blog post for Highlights Magazine – remember that magazine from when we were young?
I am so happy to see the increase in exposure for A Doll Like Me and the fantastic financial support Amy is garnering with the Go Fund Me campaign.  She will be able to continue to work on these special dolls and with the funding, provide them to families who might not be able to afford them.
I chatted on-line with Amy this morning to check in.  She has sent out in excess of 200 quilts since last year!!  She still has a supply to work with but it makes her so happy to have shared so many.  The quilts are such a special addition to the dolls and both child and family seem to value them greatly.
In addition to the doll quilts, several of us made tiny hospital gowns for Amy. She requested these because many of the children experience a high number of hospitalizations.  The gowns make the experience even more relatable as they can dress their doll in one when they are going to have another stay.  Pretend play and working through the anxiety of each hospital stay is made a bit more relevant with these gowns. When Amy sends one to a child she knows needs it, she gets marvelous feedback. The parents have told her it makes the doll a complete 'mini-me' for the child.  Some moms have told Amy the hospital gown brought tears to their eyes (and to one father's eyes as well).  These tiny gestures are incredibly valuable.
It turns out Amy is just about out of the gowns.  She has asked me to let you know this in the hope some of you would like to spend an hour and make one or two for her.  They are so simple to make.  See this post for details! It only takes a fat quarter, some bias tape and about an hour of your time to make one.  If you could, please do spend a little time on this!  I am happy to provide the mailing info for A Doll Like Me.  Just email me – I don't want to post the mailing information publicly on this post.  My email is [email protected].  There is no time limit on this – she would love to receive them whenever someone is inclined to make one.  Questions about this can be left in the comments and I will get back to you.
That's it for now.  I am so happy to see the word spread about A Doll Like Me.  Thank you so much for taking part in this earlier and for helping out as time goes forward.  Amy is humbled by and grateful for your support.
Linking up with a few favorites.  See the list at the top of the page, under Link Ups.