I started the month off by working on two scrappy projects. Kind of nice to play a bit and use up a few pieces from my scrap bins. Besides what else was I to do while the Super Bowl was on??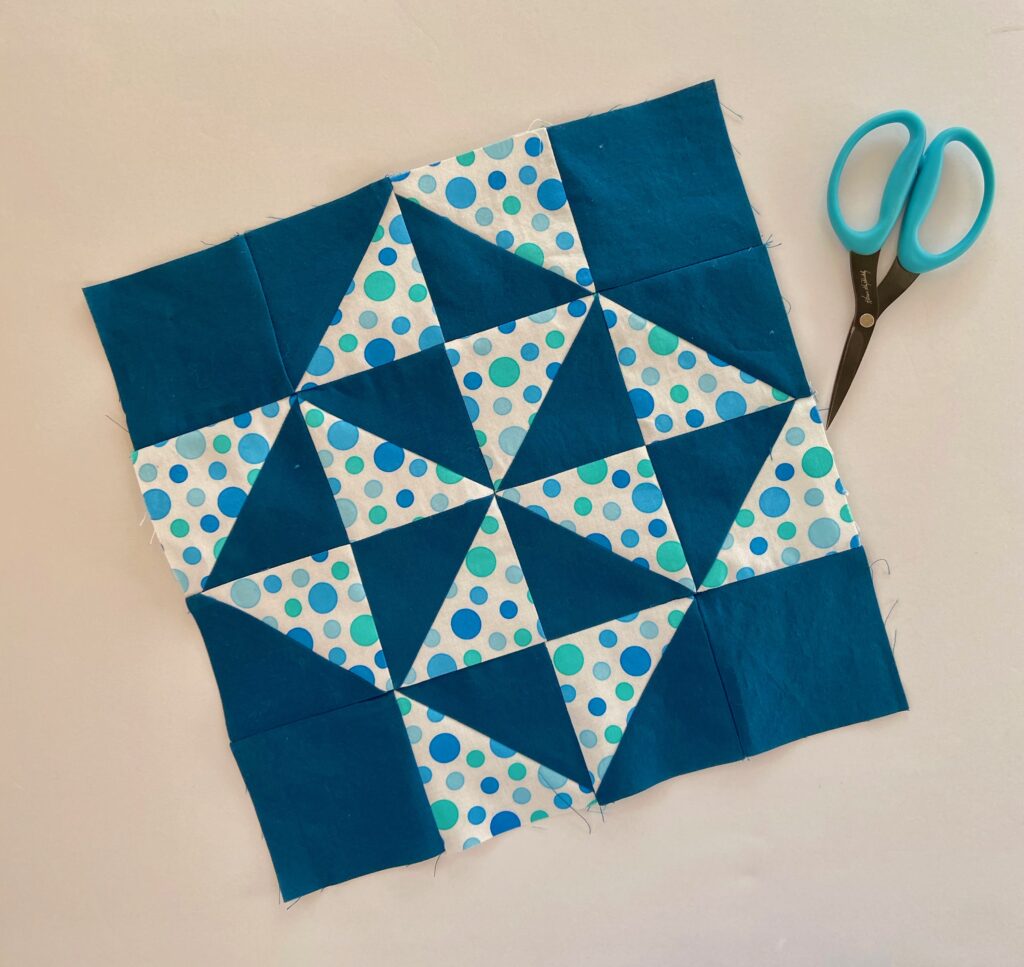 The first block I made is for the 2020 Monthly Color Challenge. The color is blue and the block was a quick make. Coincidentally, I used polka dots again this month (I used them last month too, but in yellow).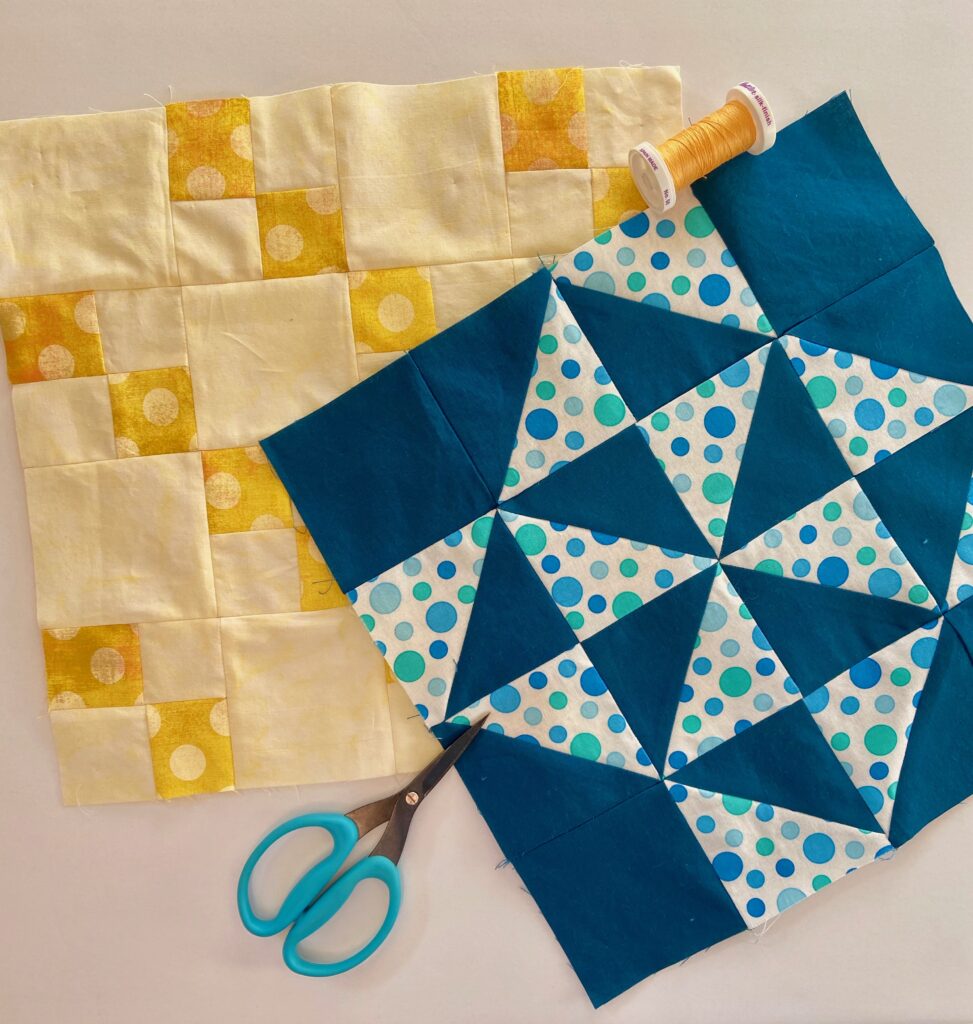 These look so happy and it is making me wonder if I should try to go for a polka dotted theme with this quilt. I need to check the bins and see if I have enough dots though. I am NOT going to buy dotted fabric to make this happen. Sort of defeats the purpose of scrappy quilting, doesn't it?? Jen does have the colors she will be focusing on listed on her blog. I will take a look and see how many dotted fabrics I have to decide if this might work.
After this block, I decided to pull my orange bin as that is the color for February over at Angela's RSC2020 challenge. I had absolutely no idea what I was wanting to do with them but thought I should make something just to use some of the scraps up. Plus, I was in the mood to play around.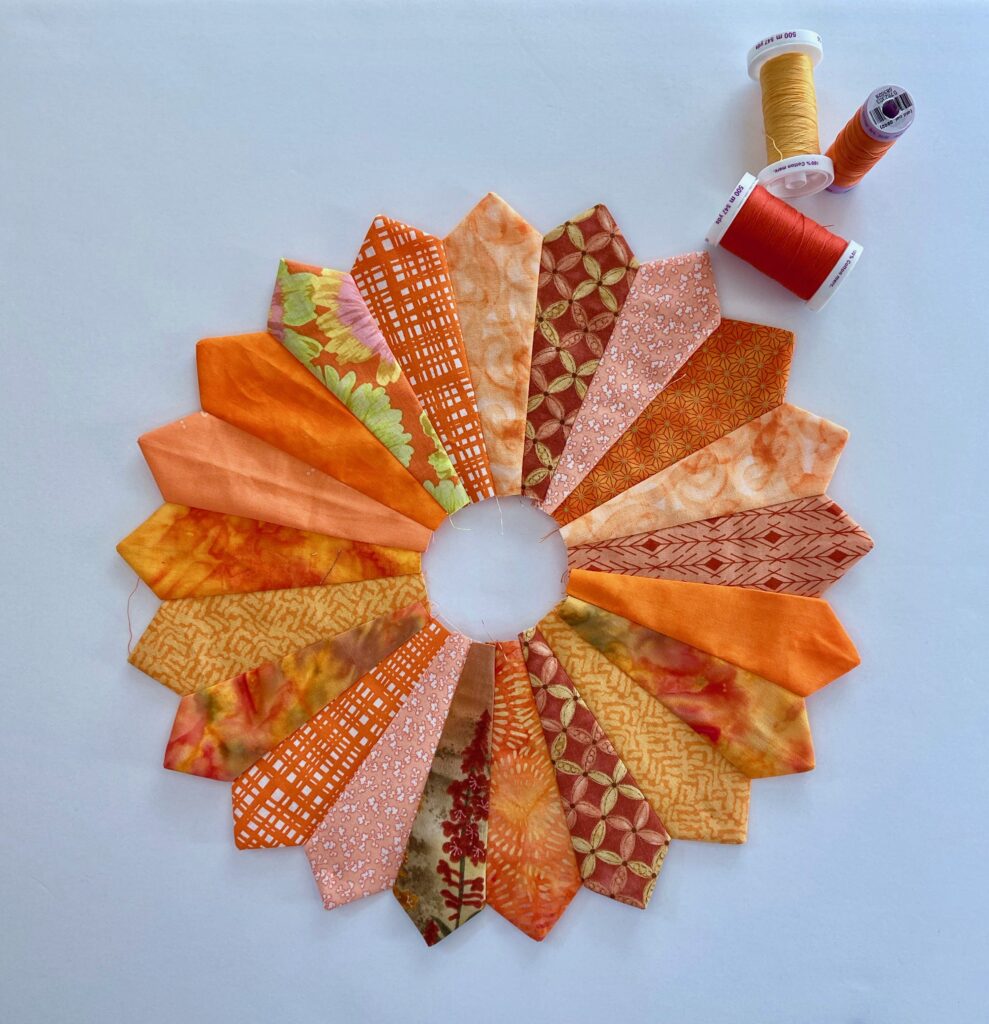 Somehow it popped into my head to make a Dresden block. I have seen lots of minis or wall quilts with a series of Dresdens of various sizes and colors, made to look like flowers. I think I will do something like this. I like the Dresden's with the curved tips and might alter a few to look like that as well. It will be a fun thing to work on here and there.
This week was our monthly guild meeting. My friend Sophia encouraged the guild members to make tree blocks for Australia's fire victims. The result was fantastic. There was a sew day with one local church group of quilters and quite a large stack of blocks was created.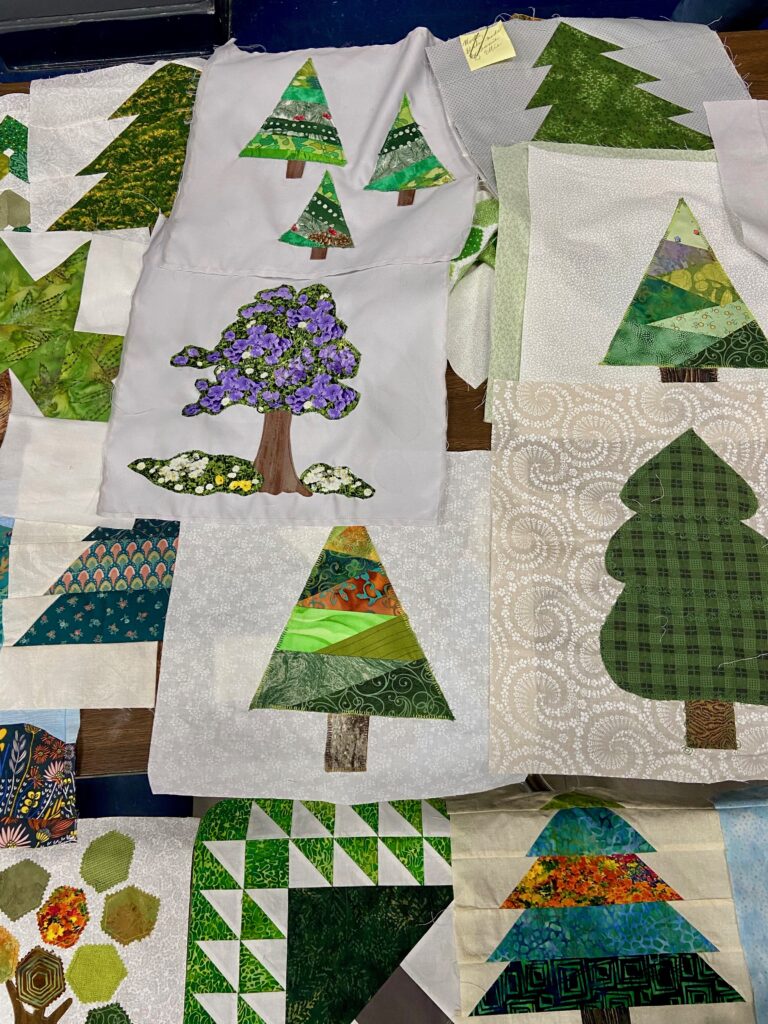 The variety of blocks showed a great deal of creativity. It was fun to look through them since I didn't attend the sew day. I did make two blocks though and you can see those here if you like.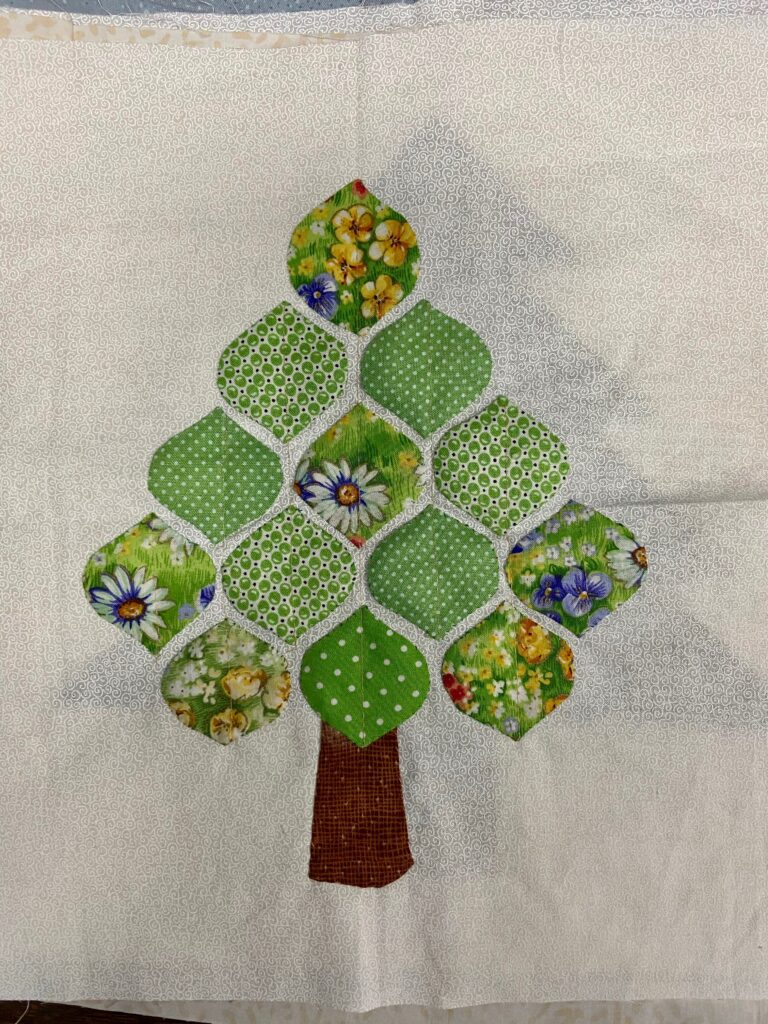 There were lots of appliqué, many strip pieced trees and an assortment of traditional tree blocks.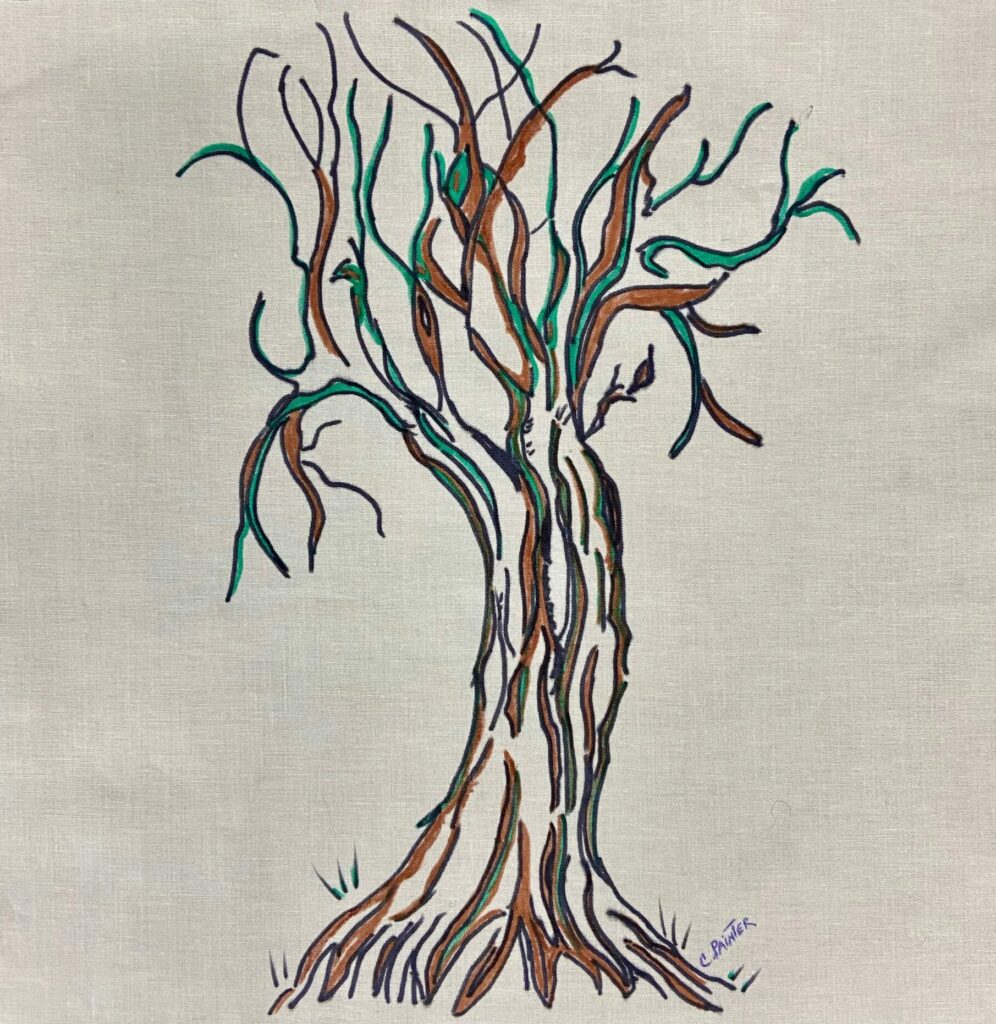 This tree was drawn on the fabric which I thought was quite clever. If our little guild came through with all of these, I cannot imagine how many the Wollongong MQG is going to receive. Wow!
Now that my scrappy projects are wrapped up for the moment, I am finishing up the assembly of my Mosaic Quilt top. The main portion of the top is put together. I keep looking at it to see if some portion is flipped the wrong way before I put on the borders. It is much harder to take apart once the borders are on. It looks good to me but I am going to stare at it a bit more before I take that last step!
Linking to Oh Scrap! and Jen's 2020 Monthly Color Challenge link (which I totally forgot to do with my yellow blocks!) Enjoy the week everyone!