I was fortunate to spend hours over the past week with Lori Kenedy!  She is the blogger at The Inbox Jaunt and I have mentioned her many times in various posts about practicing and learning to FMQ. She is a rock start when it comes to quilting! She has two classes available on Craftsy and I took one of them this week. 🙂 It was awesome!
I recently signed up with Craftsy to become an affiliate. (Note – this is an affiliate post and if you purchase products through the links in this post, I will be paid.  A very, very small amount, but yes, paid.)  When I finished the process of signing on, Craftsy asked whether I would be interested in reviewing a class. Knowing that Lori's class "Creative Free Motion Techniques: From Doodle to Design" was recently released, I happily agreed!
Purchasing a class at Craftsy means that you will forever have access to the class on your Craftsy account. It means you can watch it whenever and whereever you would like. For me, living in a rural area without access to a wide variety of courses, this is perfect. I have purchased a few classes so far at Craftsy. I have the Machine Quilting: Small Changes, Big Variety class taught by Angela Walters. Additionally, I have the class, Machine Quilting Wholecloth Quilts, by Cindy Needham. (Cindy's class is good but the quilting is too advanced for me at this point. Something to strive for though!) And now, I have Lori's newest class.
Of the three classes I have taken thus far, Lori's Doodles to Design is by far my favorite. If you have worked with Lori's tutorials, you already know that she is a huge proponent of doodling, or drawing, your design over and over to build the muscle memory up before stitching it. Doodling it also helps me to spot the paths I will need to take to move around with the design. I tend to get stuck in corners, or on edges, with no way to move out of them. In this class, Lori shows each motif, or design, by doodling it on paper and then she shows how to stitch it. At the end of each "chapter" Lori does a quick trunk show and displays quilting with that actual design. For me, each of these steps reinforces the lesson. By combining visual and auditory tips into each lesson, I was able to pick up my pen and follow along easily. Converting that to stitching was the obvious next step and it came naturally. In full disclosure, I will say that the designs she teaches in this class are available as tutorials on her blog. However, I am not a visual learner. I read blogs continually and love the tutorials and free patterns that are readily available. But it takes me quite a while to read about doing something and then take that knowledge and implement it. Listening to the instructions is how I learn. I need the auditory input. Taking Lori's class and listening to her describe what she is doing helped me to advance considerably. Everyone has different ways of absorbing information and this was perfect for me. Watching the video and listening to her instructions = personal success.
Watching a Craftsy class gives the student the option to use a 30 second repeat button. I LOVE this feature. I was drawing along with Lori while watching the class. I had large sheets of newspaper laid out on the table and was trying to doodle her designs with a sharpie. If I couldn't get a section, I would click on the 30 Second Repeat and, as you would think, that clip just plays over and over (much to the annoyance of my daughter when she is in the room.) It is really helpful though. Another cool feature is the ability to post notes to myself, or questions to Lori, at certain sections of the video. When she answers the question, her reply shows up on the side of the screen during that section of the lesson. Other student's questions and the reply to the question also show at the relevant point in the class. It is nice to see what people are asking and discussing.  Each class comes with a downloadable class materials file. Some classes have templates, required materials lists, or patterns. There is huge value and very high quality in Craftsy's class offerings.
I did a fair amount of practicing yesterday afternoon on scrappy quilt sandwiches.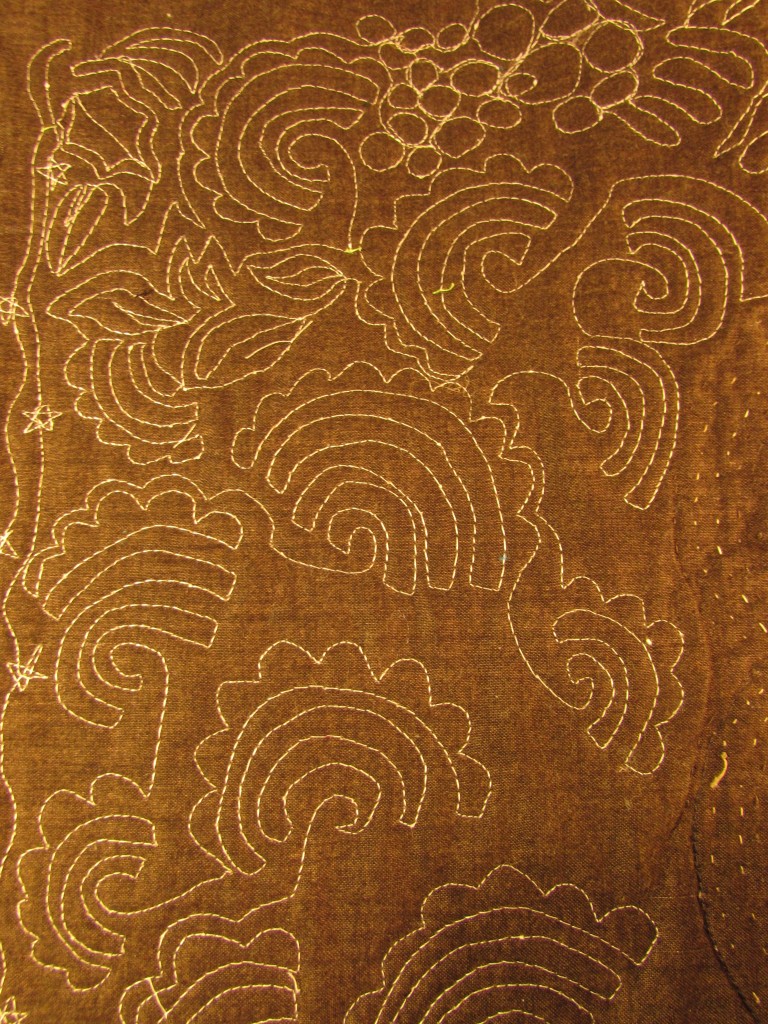 I was enjoying playing with the little rainbows. They remind me of miniature Baptist Fans. But you can see that moving around with the motif is a trick. I need to go back to paper and pen and draw more of them.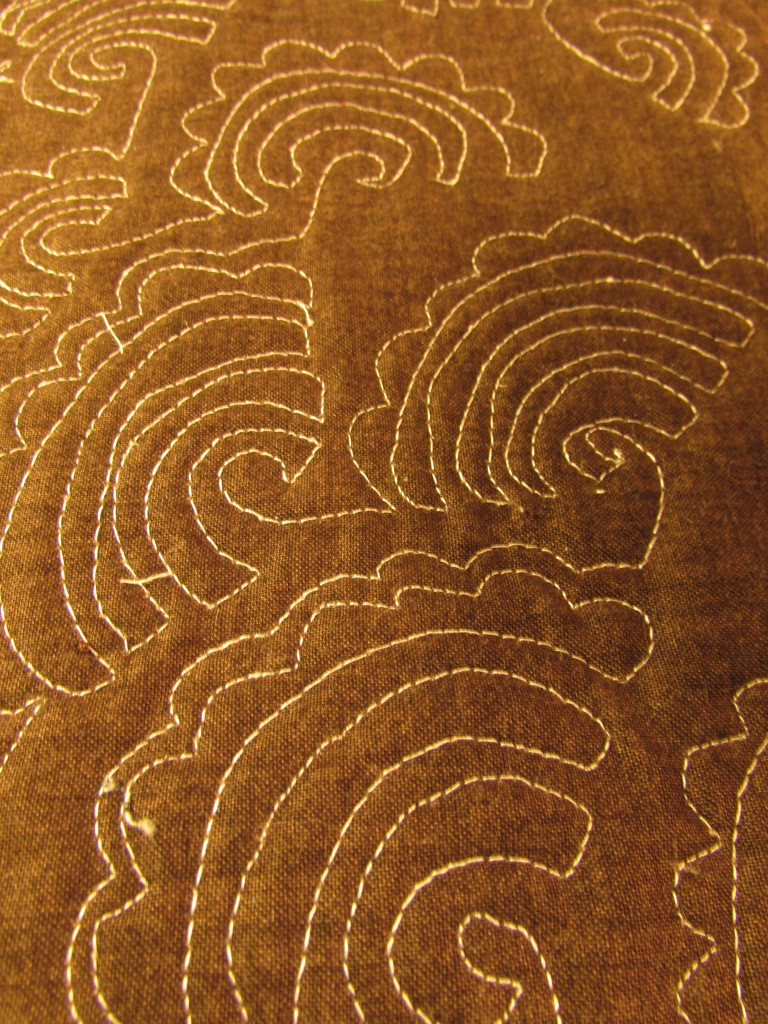 I am pleased to see that my stitch length is becoming more consistent. Also, the tension on my machine is so much better. This is in part because I am evening out the speed of my foot in relation to the speed with which I move the fabric. When I take these pictures taken at such a close range, I do cringe a bit at the herky jerky stitching. But I share them anyway.  I am almost certain that Lori or Angela had to stitch like this to become the quilters that they are now. The other day I came across a great quote on Creations by Nina.
"Everything worth doing is worth doing badly. If you ever want to do anything well, you need to be willing to do it over and over again. Badly at first. You need to be willing to weather that through."  I found the quote on Nina Marie's blog but she gave credit to Ellen Anne Eddy.  This is perfect, right? With free motion quilting (as with most things) the quilter has to be willing to put in the time to gain skill.
After taking the Doodle to Design class and practicing on scraps, I pulled out a long forgotten UFO and worked on it. I started this art quilt almost two years ago. For whatever reason, I put it in the closet and there it sat. On the far corner of my sewing table, I have had the fabric I was using, the stabilizer and fusible webbing all together in a neat little stack, waiting for me.
This provided a great project to practice quilting. Here are a few shots of various parts of the project. These swirls are (hopefully) going to represent wind, or swirling clouds.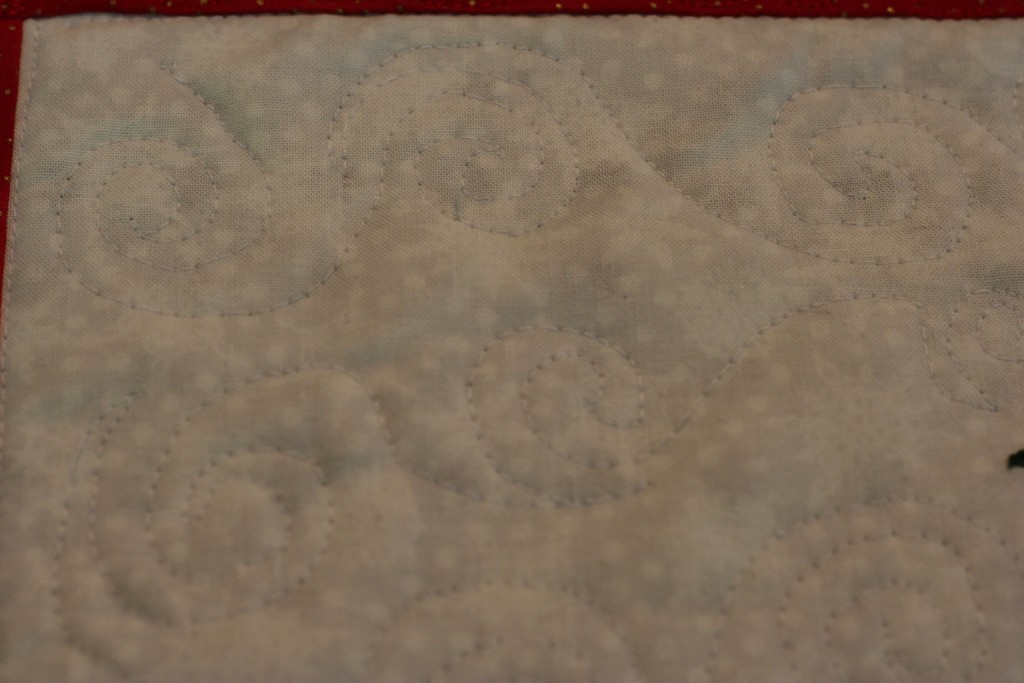 The next shot shows some ribbon candy stitching on the red border. That was really fun to stitch and I am pleased with the result. (Lori went over this thoroughly including variations of it, in her Doodle to Design class.) On the snowflake print, I did wavy lines with little snowflakes. Again, this was covered in Lori's class. It was satisfying to be able to put the lessons from her class to use right away.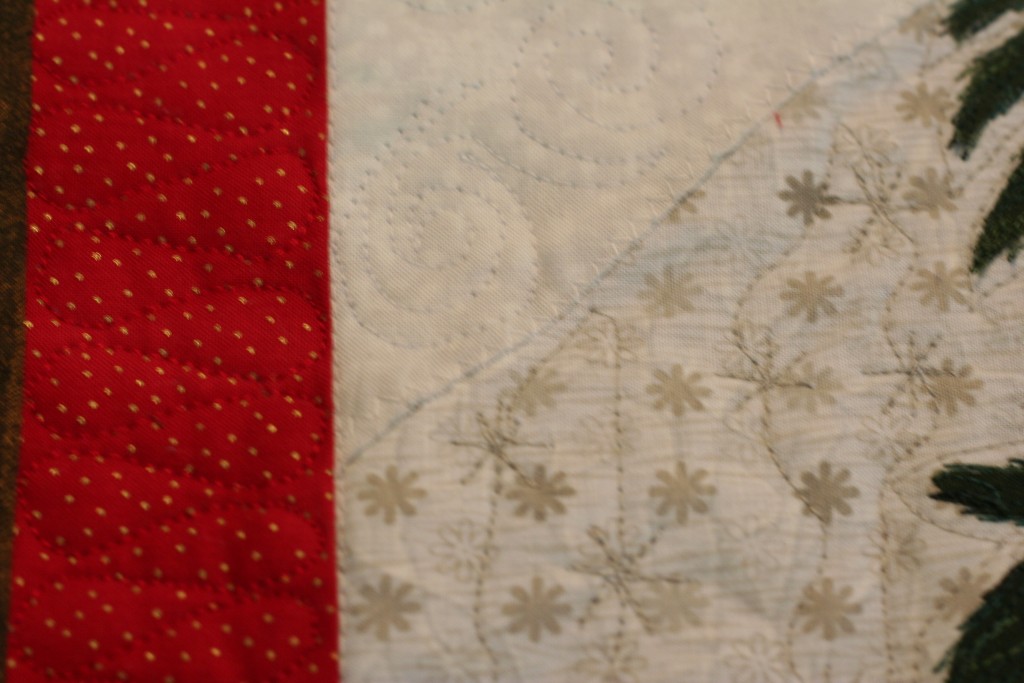 I have just about finished quilting this. I am trying to decide between binding it traditionally or facing it. Facing it is winning at this point. Hopefully I will have a finish to show you soon!
Check out the classes on Craftsy. There are so many to choose from. I love to be able to learn on my schedule and also love the quick interaction with the teacher. If you have questions, leave them in the comments. If you do click through to Craftsy from my links, thanks so much!

Linking for the first time with Sew Can She, Show Off Saturday! Also linking with Beth at Main Crush Monday. For all other link ups, check the top of the page, under Link Ups.