It is time for another Blogger Bundle and I am so excited to share it with you!  The July bundle was curated by Kim Soper of Leland Ave Studios.  Kim is an award-winning modern quilter, a blogger as well as being a stay at home mom to three boys. Once an attorney, she decided to stay home to raise her boys and like many of us, she looked to sewing to fulfill her creative need.  Kim's "about me" page is great and I encourage you to take a minute and read it, if you haven't already.  I especially like the part about how she came to name her business Leland Ave Studios.
You might know Kim from her Mr. Lincoln quilt which was awarded People's Choice at the 2017 Quilt Con. That is how I first became aware of Kim and her work.  I'd like to share the blurb she wrote when she submitted this quilt:
This quilt (passion project!) developed out of a desire to create an entirely improv-pieced, recognizable image without use of template, paper-piecing or applique. Using an iconic image of Lincoln that had been converted to WPAP (vector-based geometric pop art) by Ihsan Ekaputra, it was constructed using 6-inch blocks. The backing fabric is a repeating pattern of the original image of Lincoln. The binding is a nod to the vector-style of art on which the quilt is based. The end result is a quilt that is both identifiable as the intended image, and distinctly my own.
To read more about the process she used to design and create this gorgeous quilt, click here.
Following that, I began following her to read the weekly interviews she has been posting since the beginning of 2018 in The Creativity Project.  Oh my gosh – talk about a dose of weekly inspiration.  The series is wonderful and while I have enjoyed reading interviews with creatives I am already familiar with, I have really loved meeting many whom I hadn't been familiar with.  I am grateful for the work Kim has done to create this weekly series.
Suffice it to say, Kim is a huge inspiration to many in the quilting and creative community.  I was so happy when she agreed to participate in my Blogger Bundle series this year.  Want to see the bundle she curated?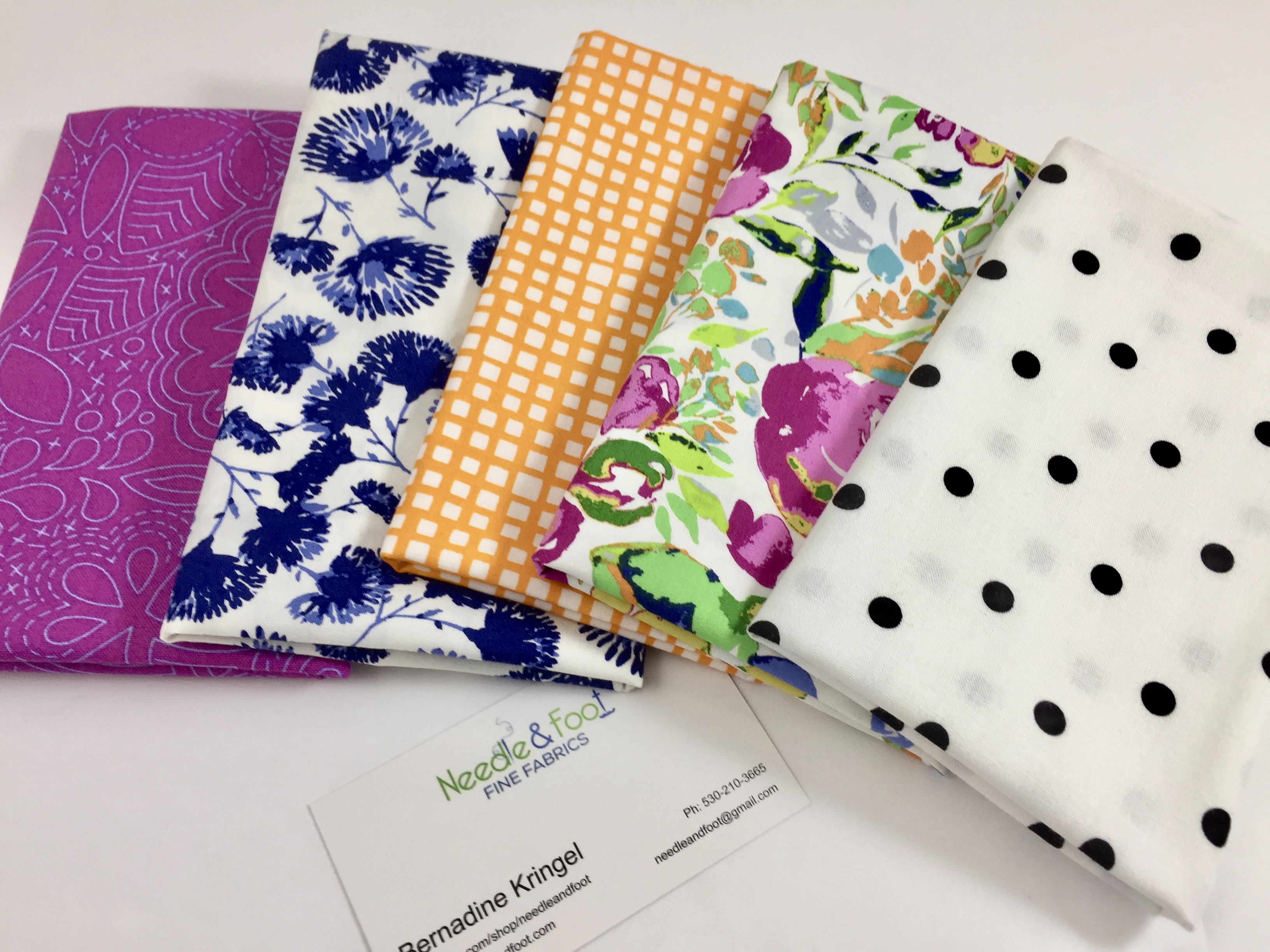 Kim wanted a modern collection that had a summer vibe. I think she definitely got it!  Both of the florals are from a new collection called Indigo & Aster by BariJ. She pulled in more fuchsia with the piece on the far left from Alison Glass' 76 collection.  To keep it bright and summery, Kim added Squared Elements in Mandarin, from Art Gallery Fabric.  Finally, she chose a neutral and added the black and white polka dot made by Red Rooster Fabric.  This might be my favorite move on Kim's part.  It moves the collection away from the femininity of the floral and adds whimsy to the bundle.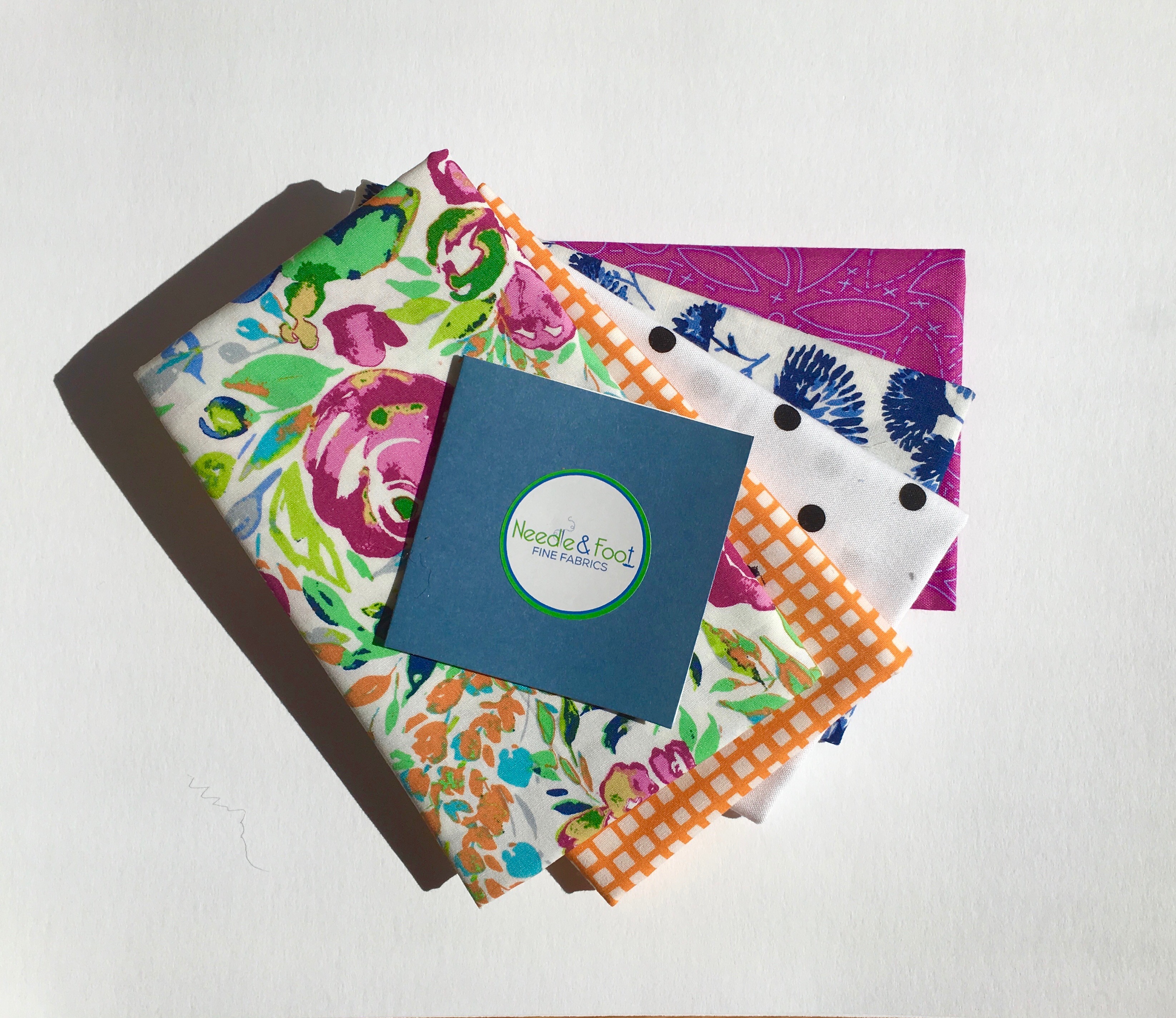 Once again, I have so enjoyed working with a quilt artist and seeing how she gathers fabrics from various lines in my shop and uses them together.  Kim made a really cool, non-quilty, project with this bundle.  Head on over to see what she made.  I just love it!
As before, this bundle (in either fat quarters or 1/2 yard cuts) is on sale in my shop for 20% off today through Wednesday of this week.  Also, there is a giveaway – one lucky winner will receive a fat quarter bundle to use however they please.  Normally the blogger who curated the bundle hosts the giveaway but this time, I will host it.  Kim is getting ready to go on a vacation to Italy with her family and we decided it would work best if I held the giveaway. She has enough going on getting ready for their trip.
To enter, please comment and tell me what you think of the bundle – why do these five fabrics work so well together?  Also, to be eligible to win, remember to follow me on here the blog, or on Instagram or Facebook. The giveaway is open through Wednesday of this week, just like the sale!  If you purchase a bundle and then win one (which has happened in the past) I will refund your purchase price of the bundle.
Thanks so much to Kim for the bundle she has curated for my shop.  I hope you are enjoying these collections as much as I am!!
Newsletter!
Have you signed up for my newsletter?  It is published every month or so and is full of information about my shop, new arrivals, sales, and events.  Click here to sign up!