Hello Everyone! I am happy to be hosting the second link up for The Positivity Quilt Along, hosted by Preeti of Sew Preeti Quilts. As you probably know, many of the quilts made during the QAL are destined to be donated to Mercyful Quilts. We are so thankful to Preeti for hosting this event and to all of you who have made, or are making, quilts for Mercy. I realize some of you have chosen to donate your quilt to a different organization and that is also wonderful! Your creativity, time and effort are hugely appreciated!
If you haven't yet started, don't worry! The blocks are a breeze to make and quilts are ALWAYS needed at Mercy Hospital. You are welcome to join in and make one whenever the timing suits you. As for my quilt….. I have been making very little progress. Summer has been so busy with lots of family time. In all honesty, I have only made eighteen blocks at this point. But, like I said, the need for quilts is on-going and I will get mine done.
Obviously, I don't have a finished flimsy (quilt top) to share with you today. However, I do have some finished quilts to show you!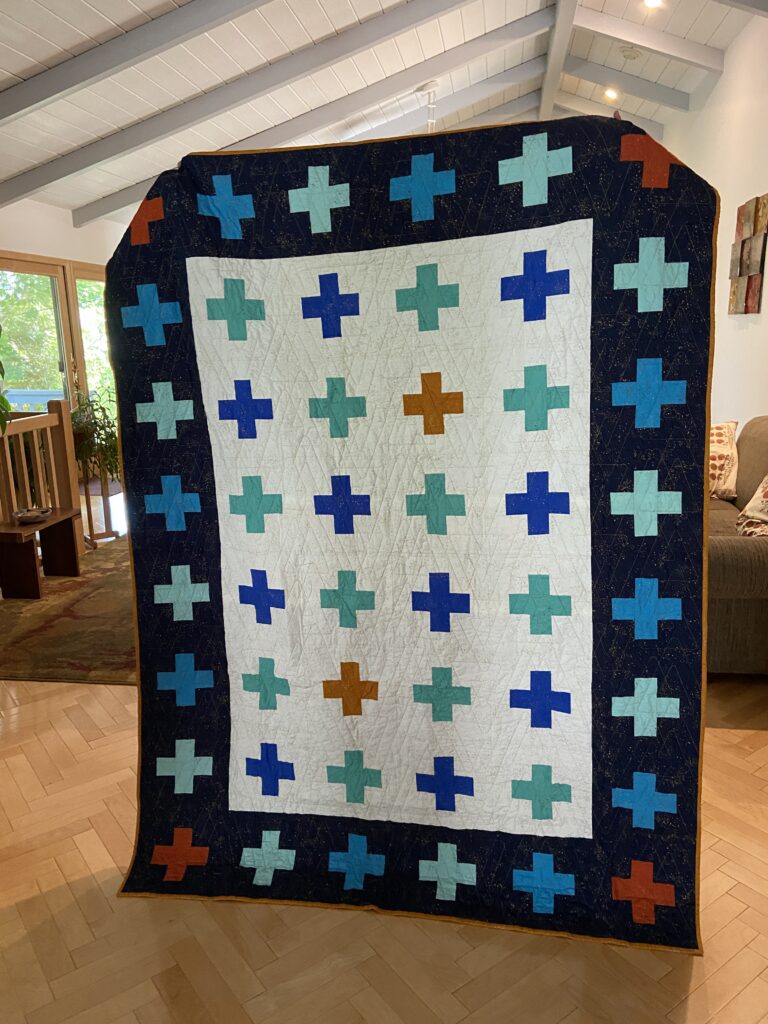 This quilt was sent to me by Rachel who is from Orgeon. She was the first person to send me a finished Positivity Quilt. She was really quick!! I love the colors and the arrangement of her plus blocks!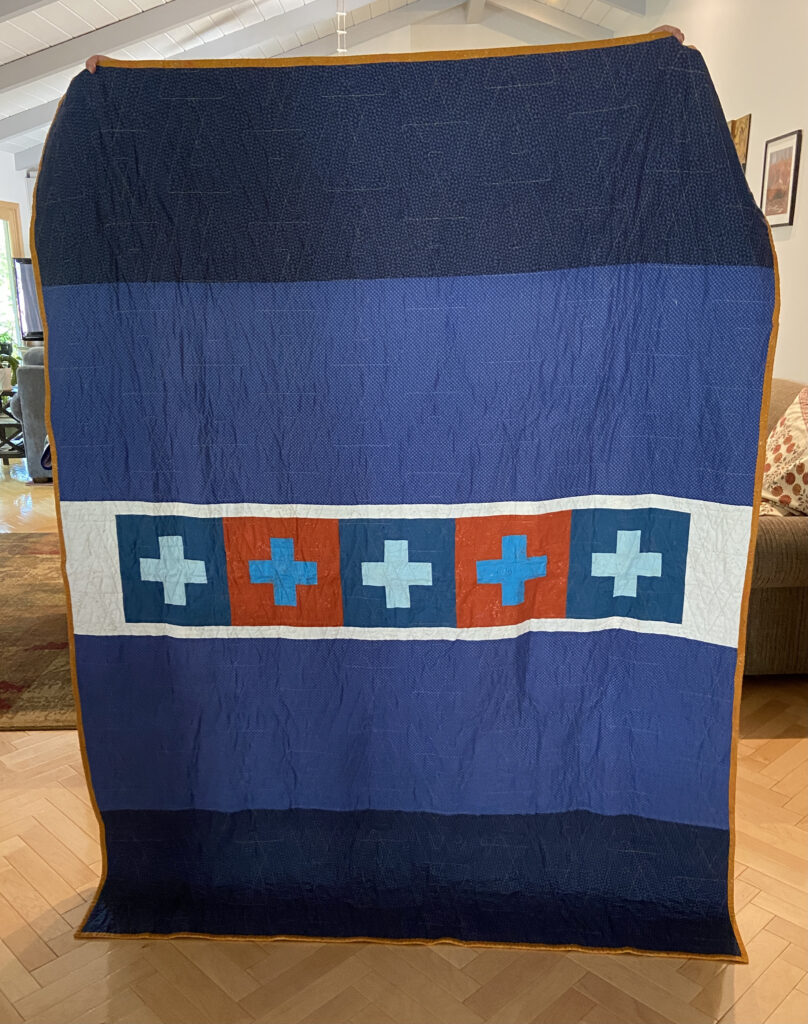 Rachel made a pieced backing, using some extra blocks she had. I think she did a great job with balancing the pieced blocks with the large pieces of fabric.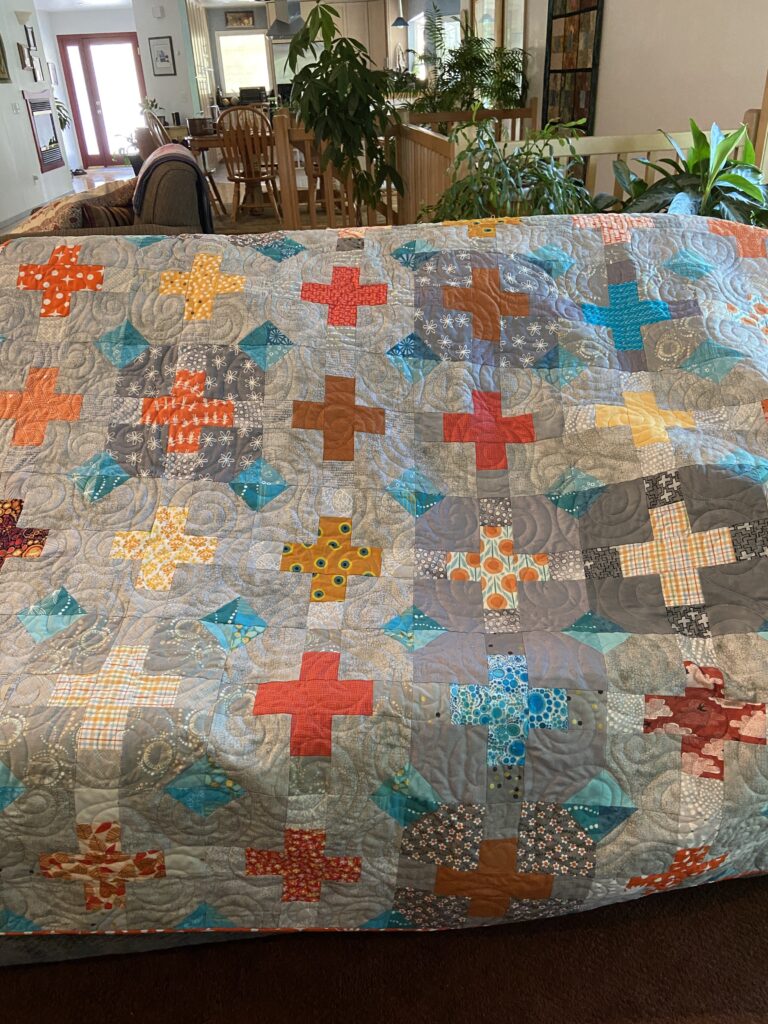 OK – on to the second Positivity Quilt that has been received (also from Oregon)! This one was made and quilted by Cyndy of Quilting Is More Fun than Housework. We all know Cyndy is a master when it comes to scrappy quilts and this is certainly no exception. Her use of turquoise and orange with a scrappy gray background is wonderful.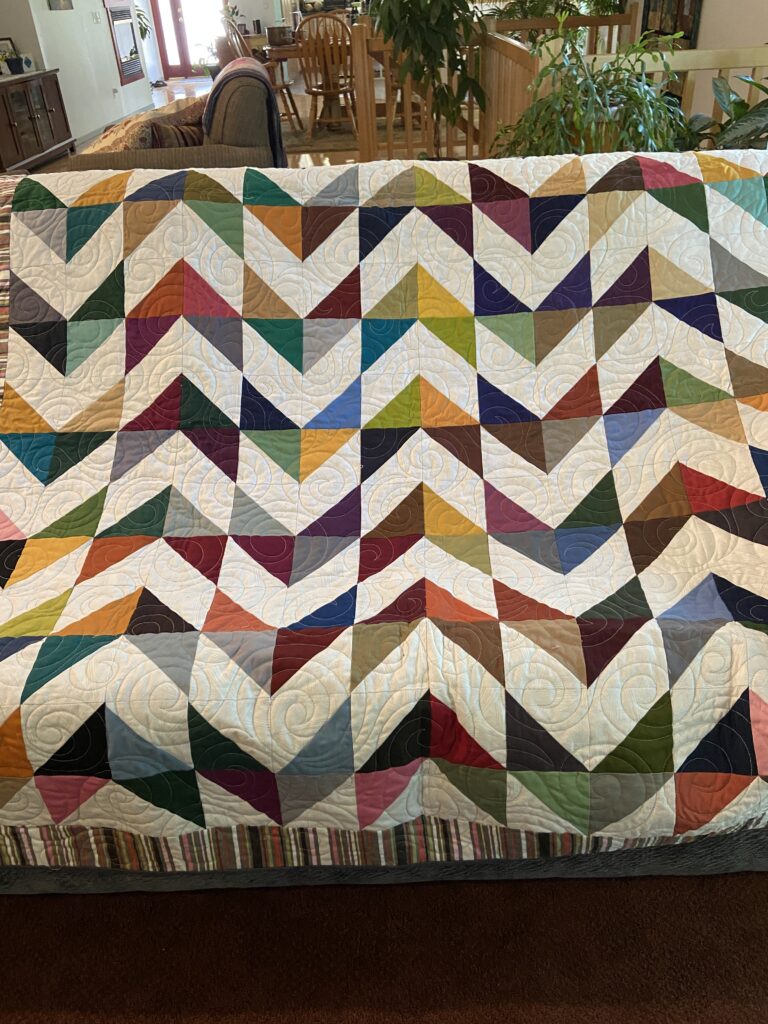 The HST quilt shown above was also donated for Mercyful Quilts. This beauty was made by Jolie D. of Oregon and quilted by Cyndy. I really like the color selection Jolie chose here. These earthy tones are warm and comforting.
It has been wonderful to replenish the supply of quilts for Mercy Hospital. The staff and the recipients of the quilts are always very thankful for the donations we provide. Thank you so much to each of you who have sent, or are soon to send, quilts our way!
Let's share the flimsies that are made. There are prizes for this link up too! On July 25th, names will be drawn to win one of five different gifts. Each of these prizes are PDF patterns donated by these very lovely quilt pattern designers.
1. One PDF pattern of your choice from Cynthia of Quilting is More Fun than Housework
2. One PDF pattern of your choice from Jayne of Twiggy and Opal
3. One PDF pattern of your choice from Denise of For the Love of Geese
4. One PDF pattern of your choice from Debby of Quilter by Design
5. One PDF pattern of your choice from Melanie of Mell Meyer
Please link up below. If you don't have a blog, you are welcome to email me a picture of your flimsy so I can add it to this post. Your picture will count as an entry to win!! Linky will be open through Saturday, July 24, 2021.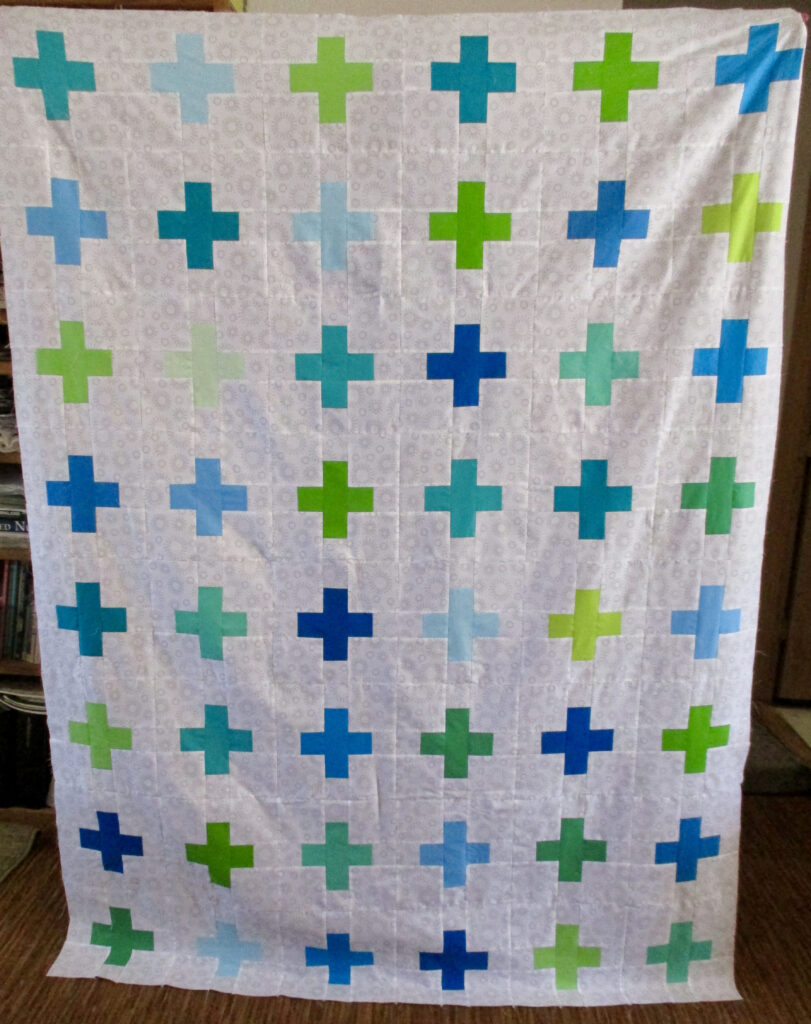 Here is a flimsy made by Rochelle S. Love the blues and greens. Does it remind you of seaglass?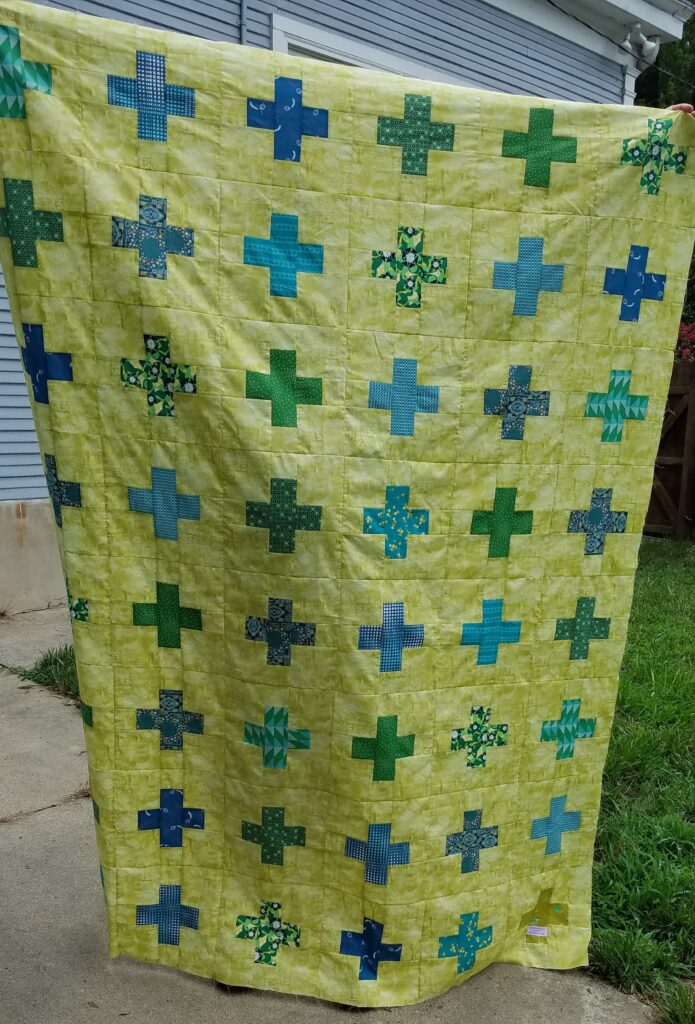 This quilt top was made by Nikki M. Notice that the pluses are basically the same tones as Rochelle's up above. But change that background color and it is a whole new. sunshiny look!! Love them both and can't wait to see them all quilted up. 🙂