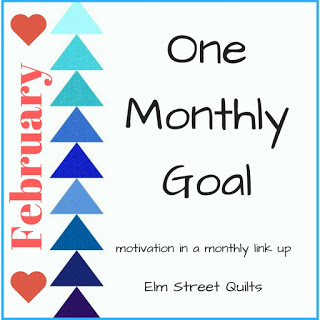 It is February!! A. new month means another goal to set for what I will accomplish in the sewing room. This month I plan to finish assembling the quilt top I am making with the Mosaic Mystery QAL hosted by Cheryl at Meadow Mist Designs.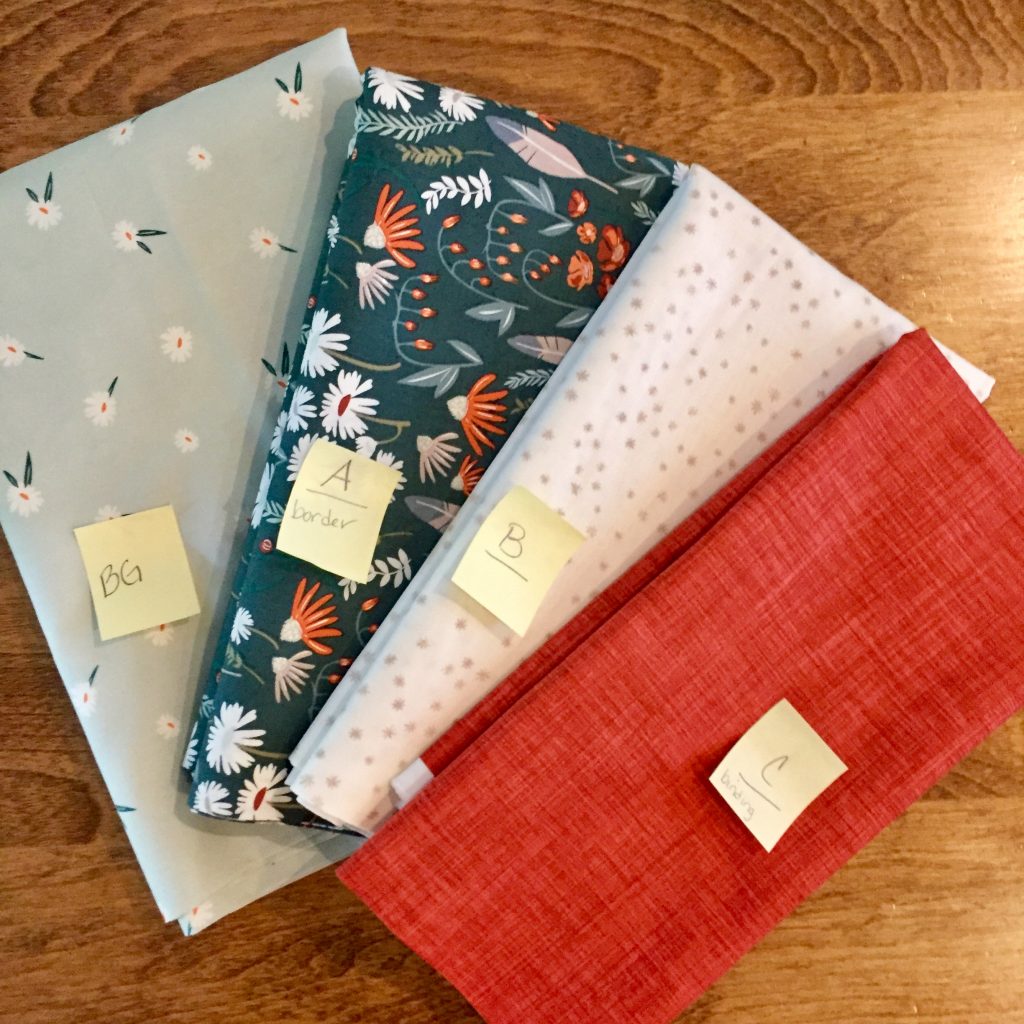 I have really enjoyed making this quilt and it is exciting to be this close to finishing up the top. Cheryl did such a great job with the drafting of this pattern. Her instructions were great. One would think this would make it easy for me to avoid errors. Well, what can I say? I haven't had to rip many seams – I think just a few little ones. Where I made mistakes was not piecing all of the blocks she instructed us to. I think I get going too fast and then don't read everything thoroughly. As I assembled the top, I found out I had totally skipped making a set of flying geese blocks. I should have been clued in by the extra unused pieces sitting in the project tub but I didn't really notice. Anyway, I have caught up and made the rest of the missing bits.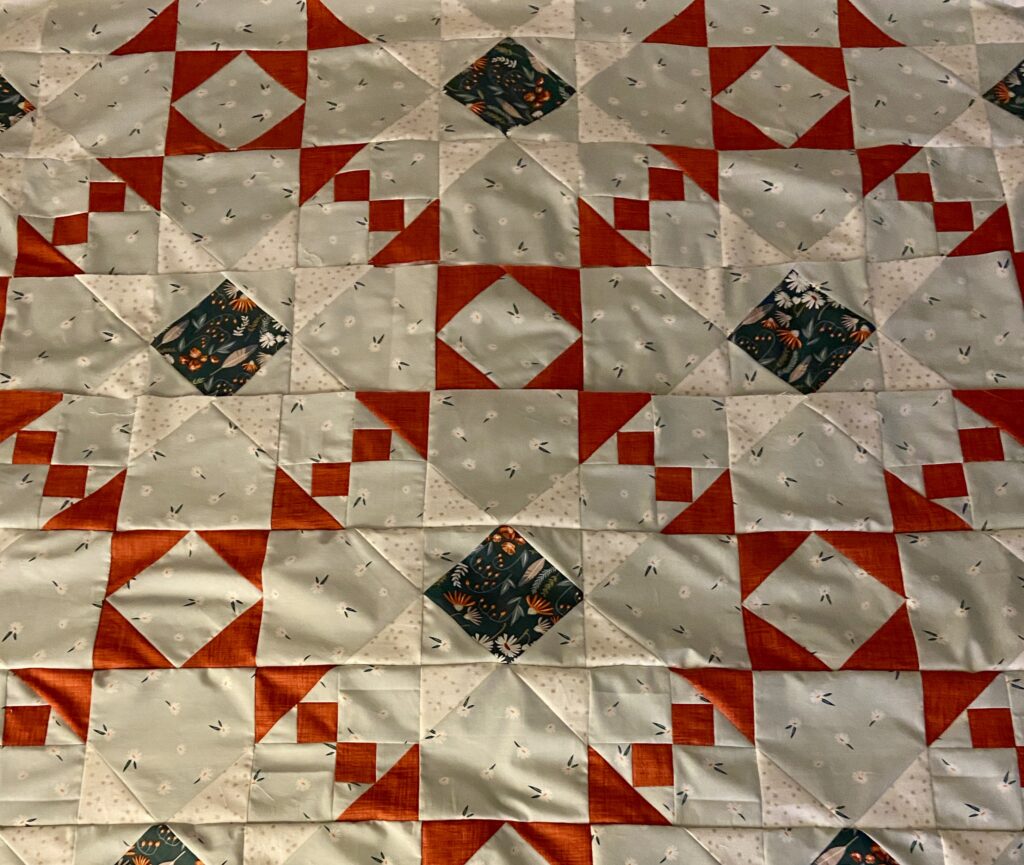 Let me ask you… when you are piecing a top, do you sew each row (eg all of Row A, all of Row B and so on). I don't. I am impatient and want to see the whole thing all laid out. So I have been assembling the rows on the bed and then lifting them and stitching each row together. I love seeing it take shape like this. The design is wonderful with the rusty textured solid creating a bold chain pattern across the top. The dark floral will be used as the border.
So, it should be very attainable because I have over half of the top assembled. Just need to do the rest of the rows and get the borders cut and stitched on. Who knows? Maybe I will even get it basted?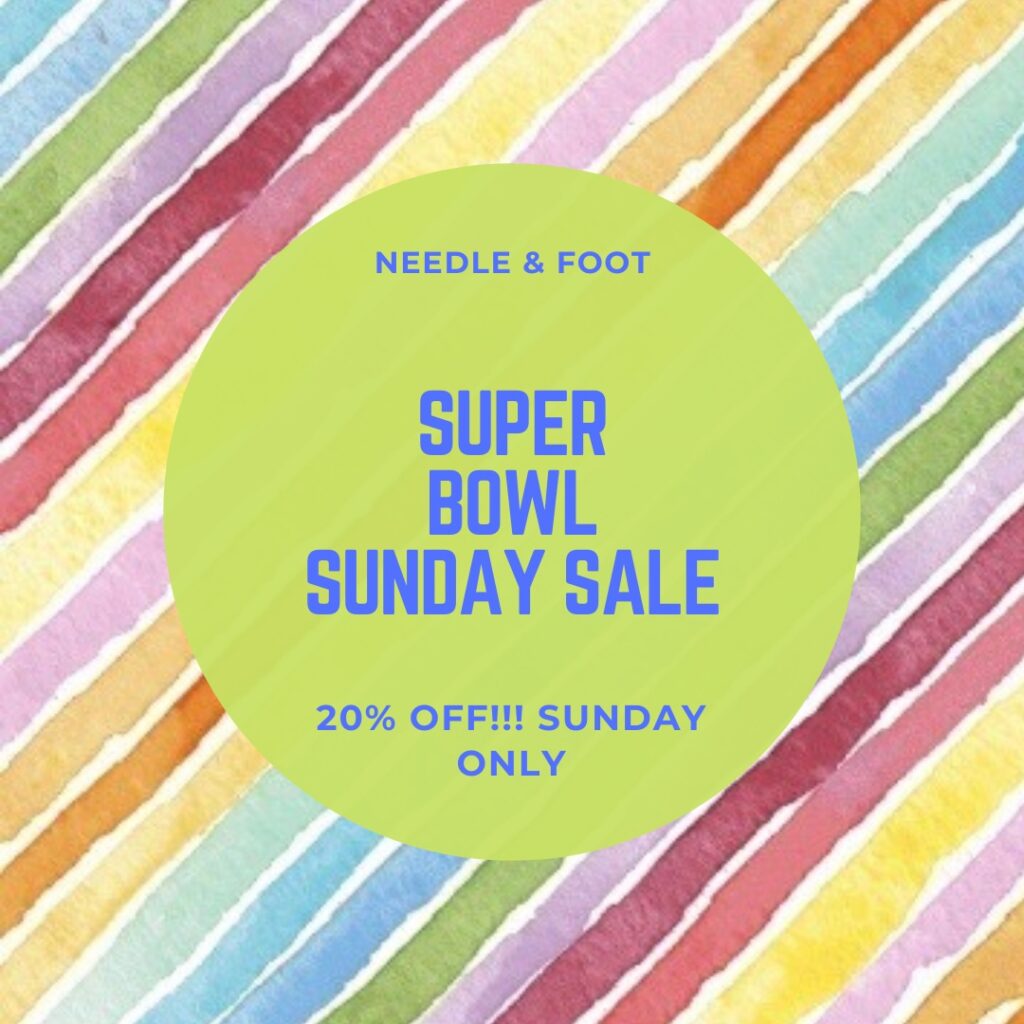 Even though I live just a couple of hours from San Francisco, I can't get too excited about watching the 49'ers play in the Super Bowl. Instead, I will be working on my Mosaic project. How about you? If you aren't overly excited about the game, hop over to the shop and take advantage of the Super Bowl Sunday sale!! 20% off of all yardage, pre-cuts, kits and clearance/remnants. So many pretty fabrics to choose from!
Linking up with Patty at Elm Street Quilts, host of the 2020 One Monthly Goal.