Hurray – It's Friday!! When you work at home, it doesn't really matter as much that Friday rolls around, does it? But I still love that feeing of heading into the weekend. It is probably just ingrained in me from the years of being in school, working, having kids in school – Fridays are a great day!
I am popping in with just a few things to tell you. Before we get started, you may have noticed the incredibly beautiful hatching chick in the picture above. Julia made it in first grade and it makes me smile to remember those days. Do you keep your kids Objet d'art from way back when?
Ok, the first point of discussion is about commenting on various blog posts. There has always been this glitch in commenting on certain blog posts since I use WordPress for my blog. I know about fixing the no-reply issue and I have done that a couple of times but things are always changing and once again, there are many blogs I cannot comment on directly.
Additionally, those blogs I can comment on (that are not on a WordPress platform) usually have a Captcha process to go through. I don't mind this for the most part. Many of the blogs have it set so I usually have to click one round of objects (you know, the fire hydrant, traffic light, bus, car, cross walk or store front) but there are some blogs where I have to go through five and six rounds. To be completely honest, after the 3rd round or so, I just give up. It becomes a bother.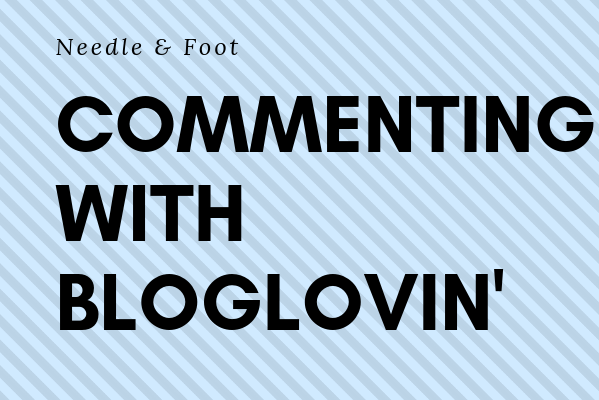 Instead of just reading posts and not commenting, I have started to comment directly by using a blog reader. I have used Bloglovin for years to organize the blogs I follow and to keep track of those following me via Bloglovin. A while back they added a feature where a reader can comment on a post right there. It is not heavily used but it is so convenient. It does mean the author of the post has to check Bloglovin to see those comments. I cannot figure out a setting where they will notify me if I have a post comment on Bloglovin. That would be a great feature, so maybe one day. I just wanted to let people know that they might want to check Bloglovin and see if there are comments from yours truly or others on their posts. Not the perfect solution but I am going to continue to do this and see how it goes. At least I am trying to interact and not just lurk behind the scenes.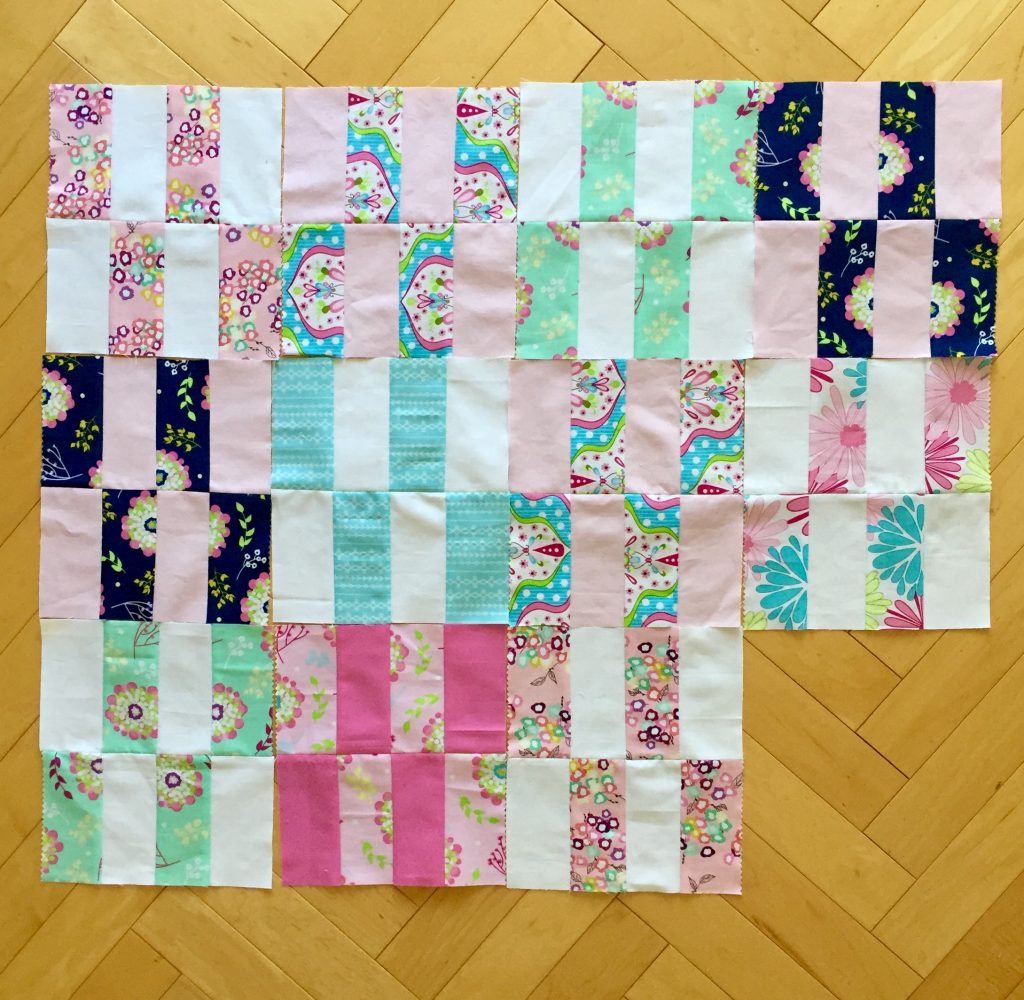 As for sewing, I have been working on these cute blocks. This line is called Floriography. I had purchased a stack of it at least three years ago. I began a Tula Pink quilt with it but hated the way the blocks looked. I clearly didn't know what I was doing and it gives me a headache just to look at those blocks! So, I decided to throw in some solids from my wonderful closet of stash and make these blocks. I want to make more blocks with the darker blue and pink before I really work on the layout. I am using a pattern (tutorial really) by Cluck Cluck Sew. I had pinned it long ago and decided this is a great use for it. I am looking forward to making more of these and putting it together.
This weekend Julia selects her piggy for this year. She is pretty excited (actually, so am I!). My son and his wife are coming for a little family time and my parents are coming to dinner tomorrow night as well. I am thinking steak and shrimp for dinner with peach cobbler for dessert. This should make for a great weekend! Family time, baby pigs, and good food. What more does this girl need?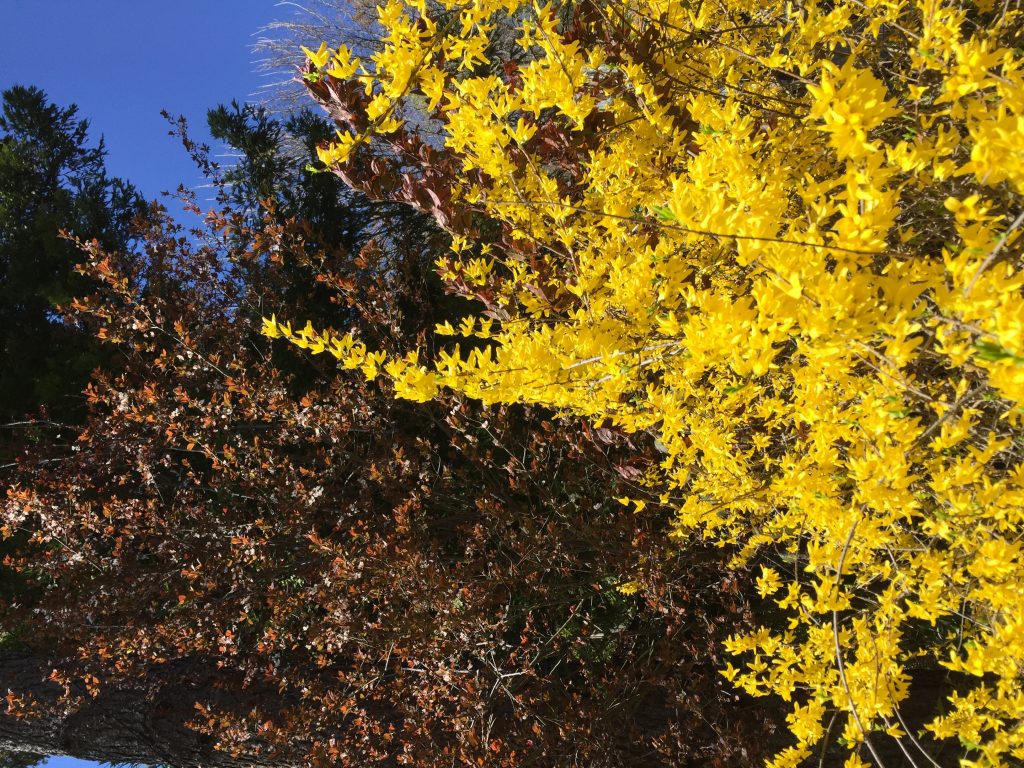 Check out my Forsythia blooms! So pretty this time of year!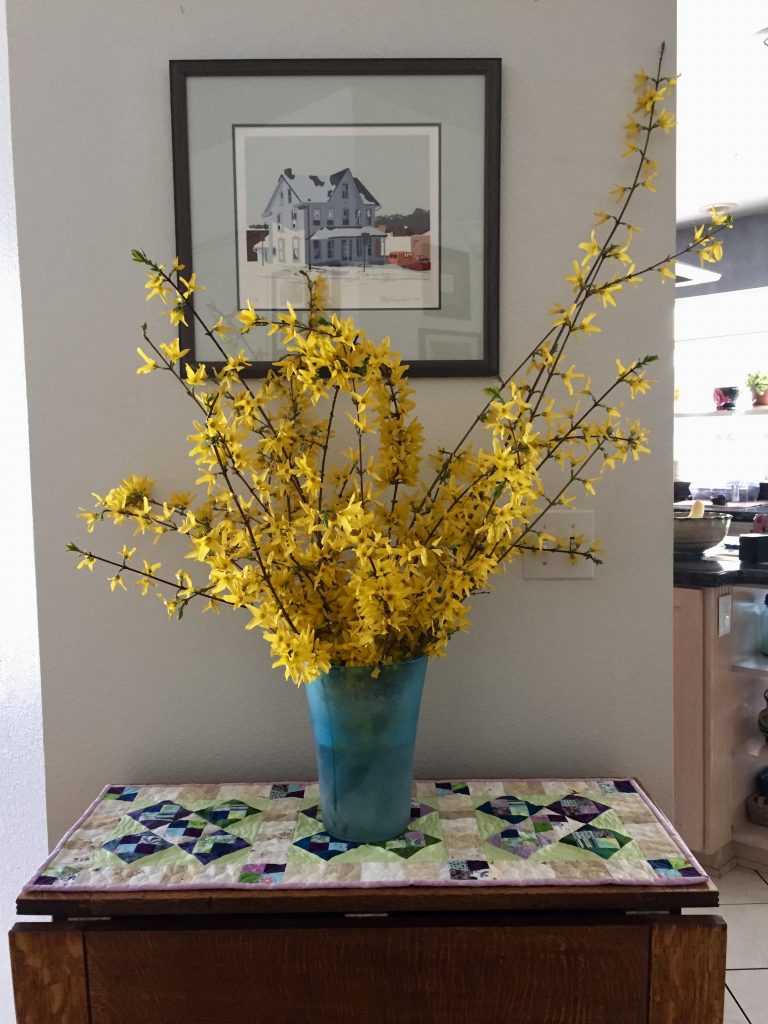 I cut some to bring in the house. The blossoms always drop everywhere but it doesn't bother me. I love the bright yellow indoors!

Remember – there is a great sale on Michael Miller Fabric over at my shop. Today and through the weekend, it is 50% off. There are some great stripes for quilt bindings and a few large scale prints that would make wonderful quilt backs. Come take a look! Have a great weekend everyone! Linking with Myra at Busy Hands Quilts for Finished or Not Friday.