As I mentioned, I am going to be spending several weeks in Vermont.  My DIL is away for a 4 week seminar and I have the privilege of hanging out with H for a bit.  Of course, I had to plan for some sewing time. This girl is a good napper so I should have two hours in the afternoon to sew.  Luckily my DIL has a machine she loans me while I am here!
I brought supplies with me – most of which are duplicates so I plan to just leave them here. That way I know I will have the basics when I come to visit. (Thanks Wendy for the great idea!  Up to now, I have been carting them back and forth with each trip.) I think I may have been a bit over-zealous when planning projects but I wanted to have choices!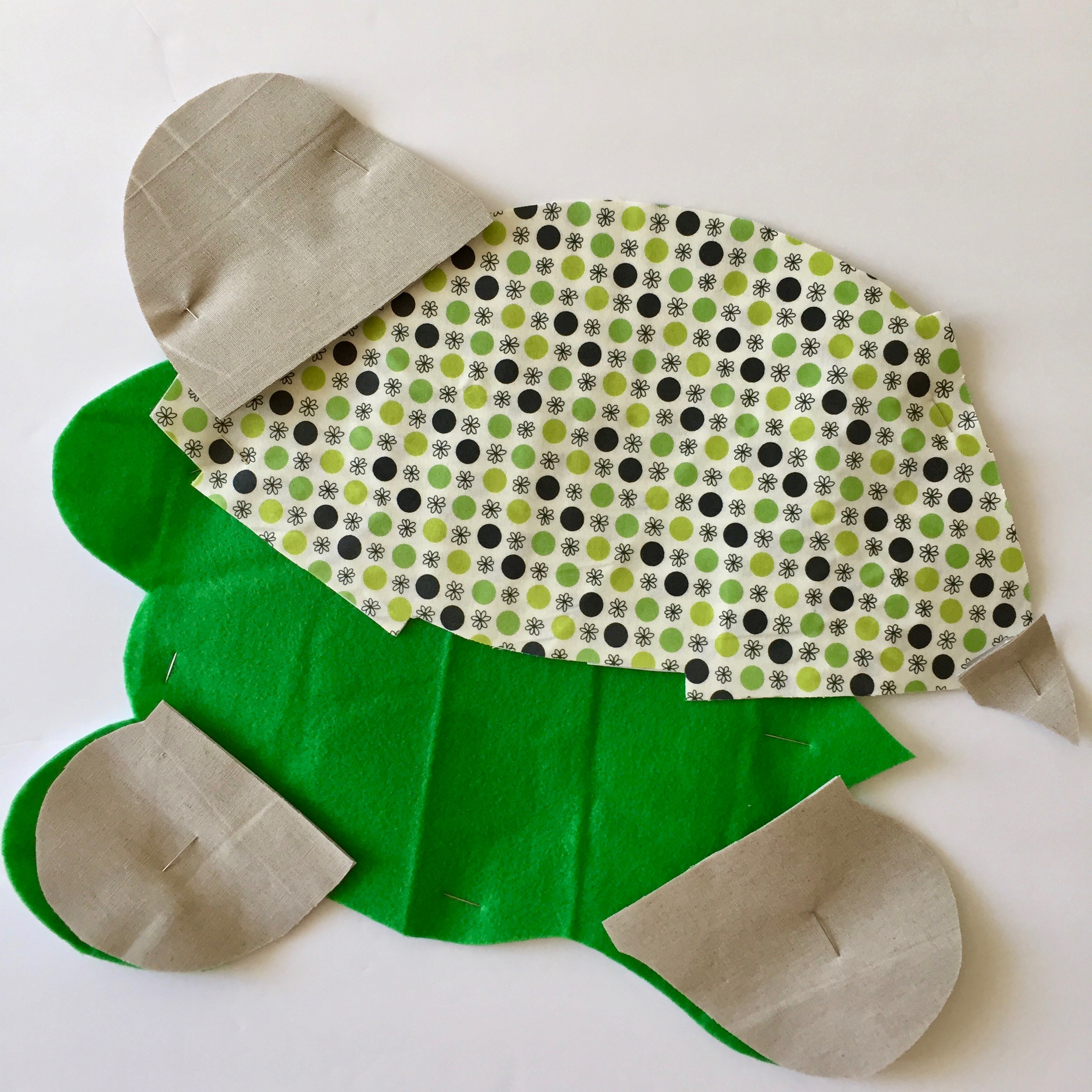 I plan to make this cute turtle for H.  I thought she would enjoy helping me stuff it when I get the body made.  The (free) pattern is by Purl Soho and can be found here.  I think the Denyse Schmidt print will be so cute for the shell and I have some Andover linen blend for the hands, feet, head and tail.  Wool felt will be used for the tummy.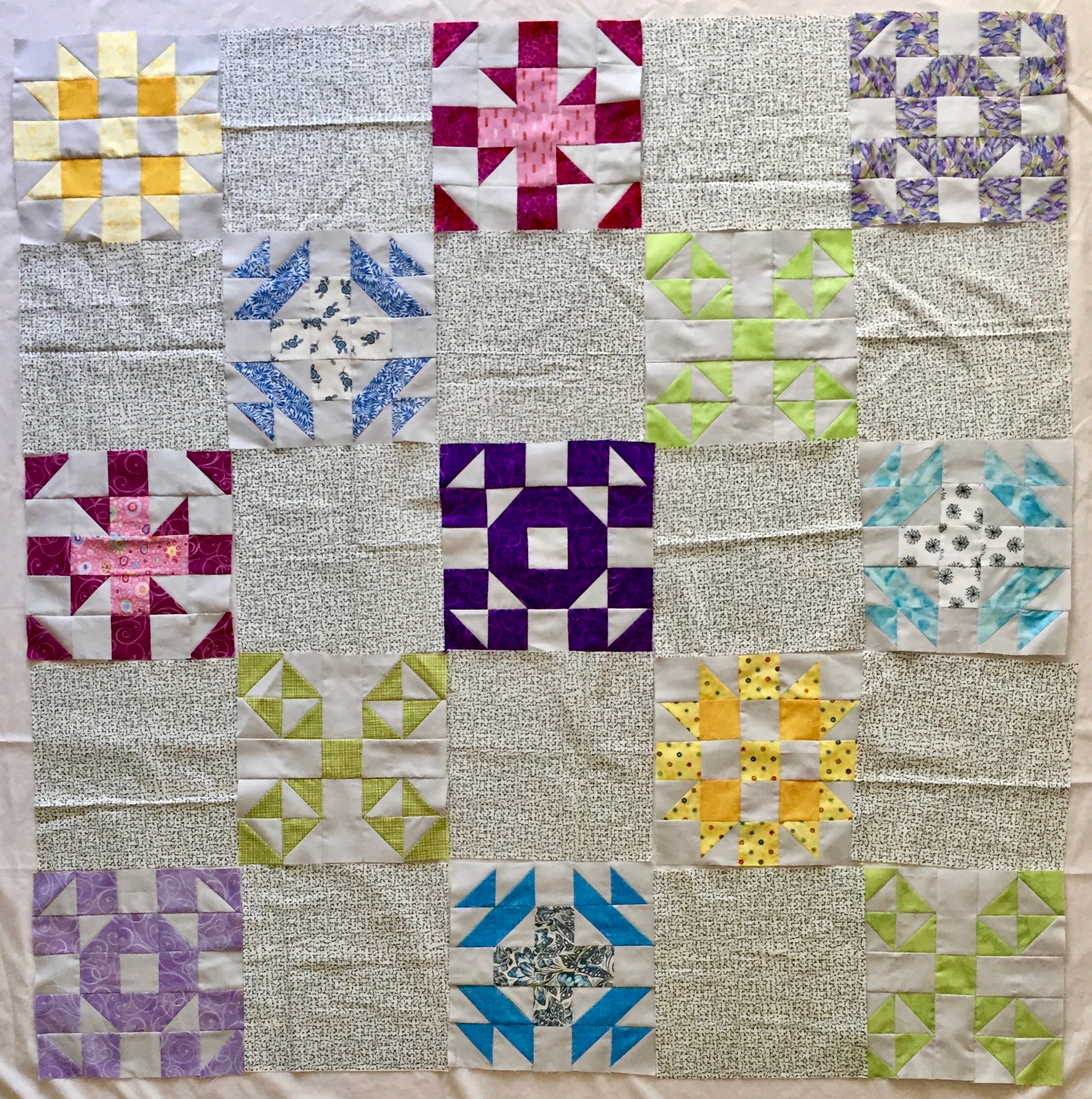 I also brought a stack of blocks I made last year during the Squared Away BOM hosted by Mari (Academic Quilter). I started this but didn't finish it.  I do have thirteen blocks though and Mari suggested I just alternate them with a neutral fabric to make a quilt.  I think this looks great!  I need to square the blocks and then will stitch the quilt top together.  It will need some borders but that can wait until I get home.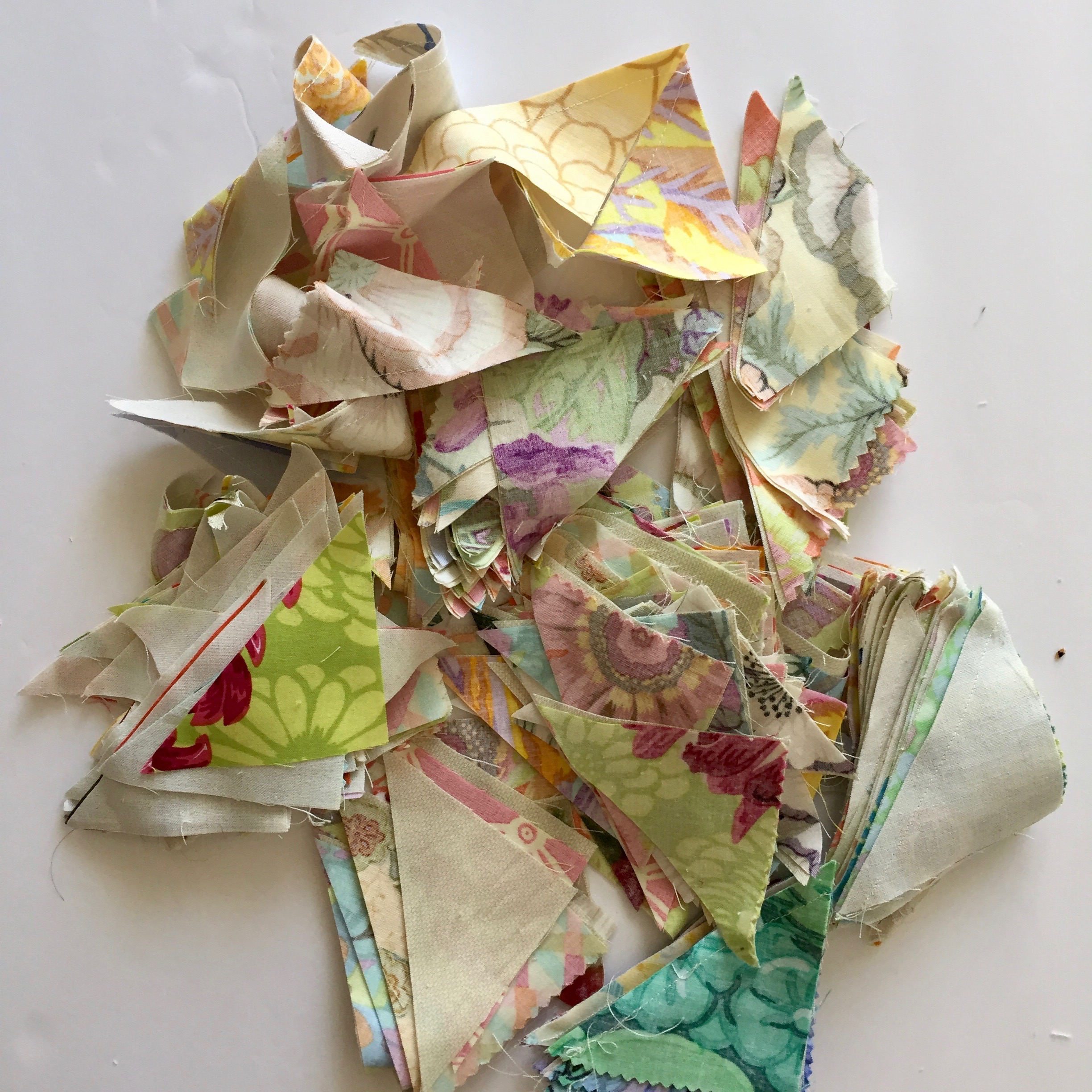 This pile of scraps is the leftovers from my Twisted quilt.  Some of them are already stitched together and need to be squared but many (MANY) of them need to be stitched and squared.  I am excited to get this done because I think it will be fun to use these somehow.  Maybe a baby quilt or a springy floral mini?  The majority of the fabrics are Kaffe Fassett and it will be fun to have these to play with.  First I need to get through the tedium of squaring them all up though.  Have to pay to play, right?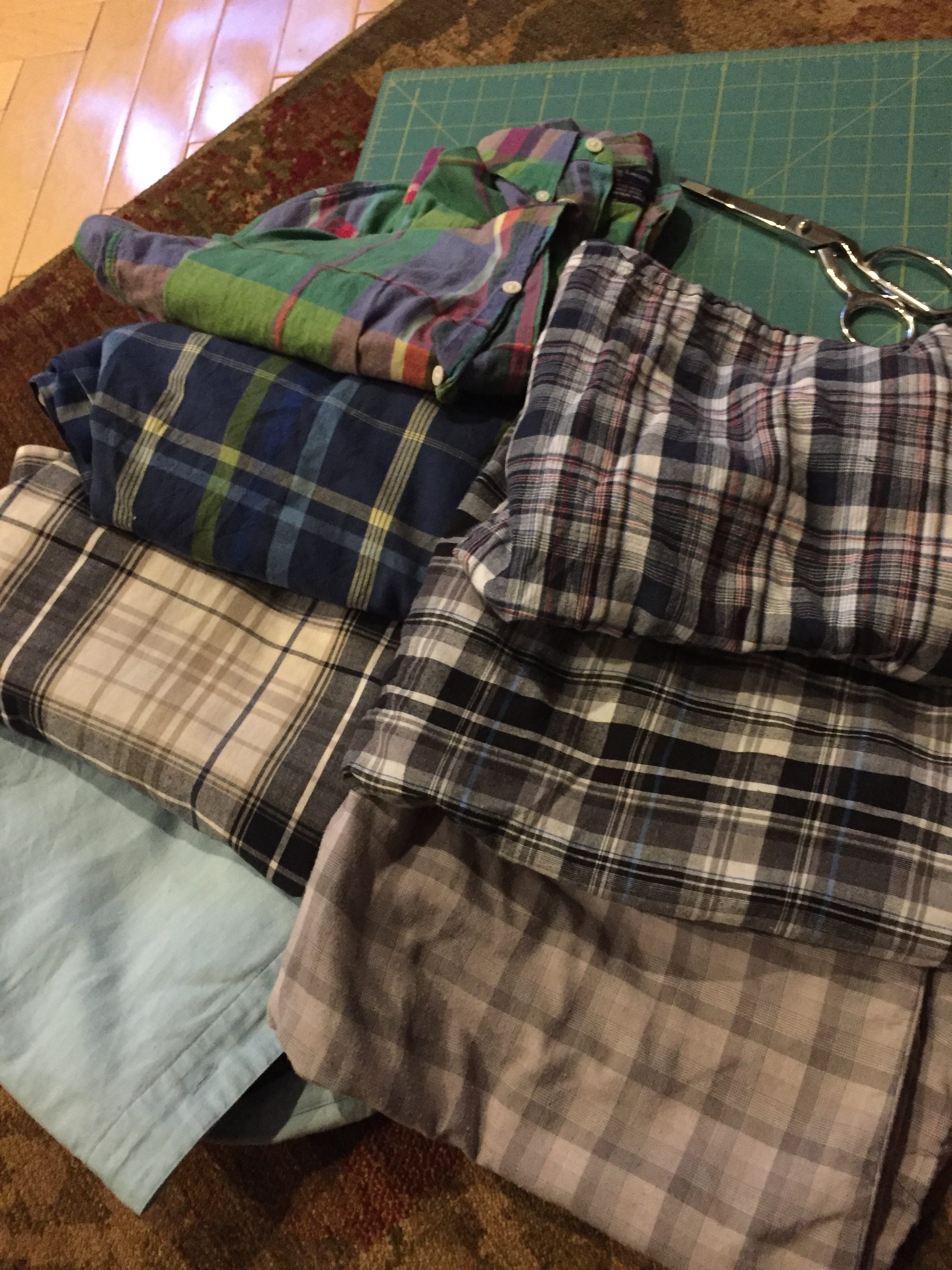 Other than Myrtle the Turtle, this is probably my top priority.  I posted this picture on Instagram two weeks ago.  My friend Susie lost her husband to lung cancer in September 2018.  She is ready to deal with his clothes now and asked if I would make a memory quilt.  Of course I am happy (honored actually) to do this for her.  I have cut the shirts into four inch squares.  Some of the shirts were kind of thin but she loved them and wanted to include them. I reinforced them with a very light weight interfacing and I think they will work fine.  We looked at patterns and she chose a simple patchwork. I am doing four patch blocks and sashing them with a neutral, low volume fabric in a creamy off-white. She also gave me two photos she had printed on fabric of the two of them. Those will be incorporated as well.  I am hoping to get the four patch blocks stitched up during the trip.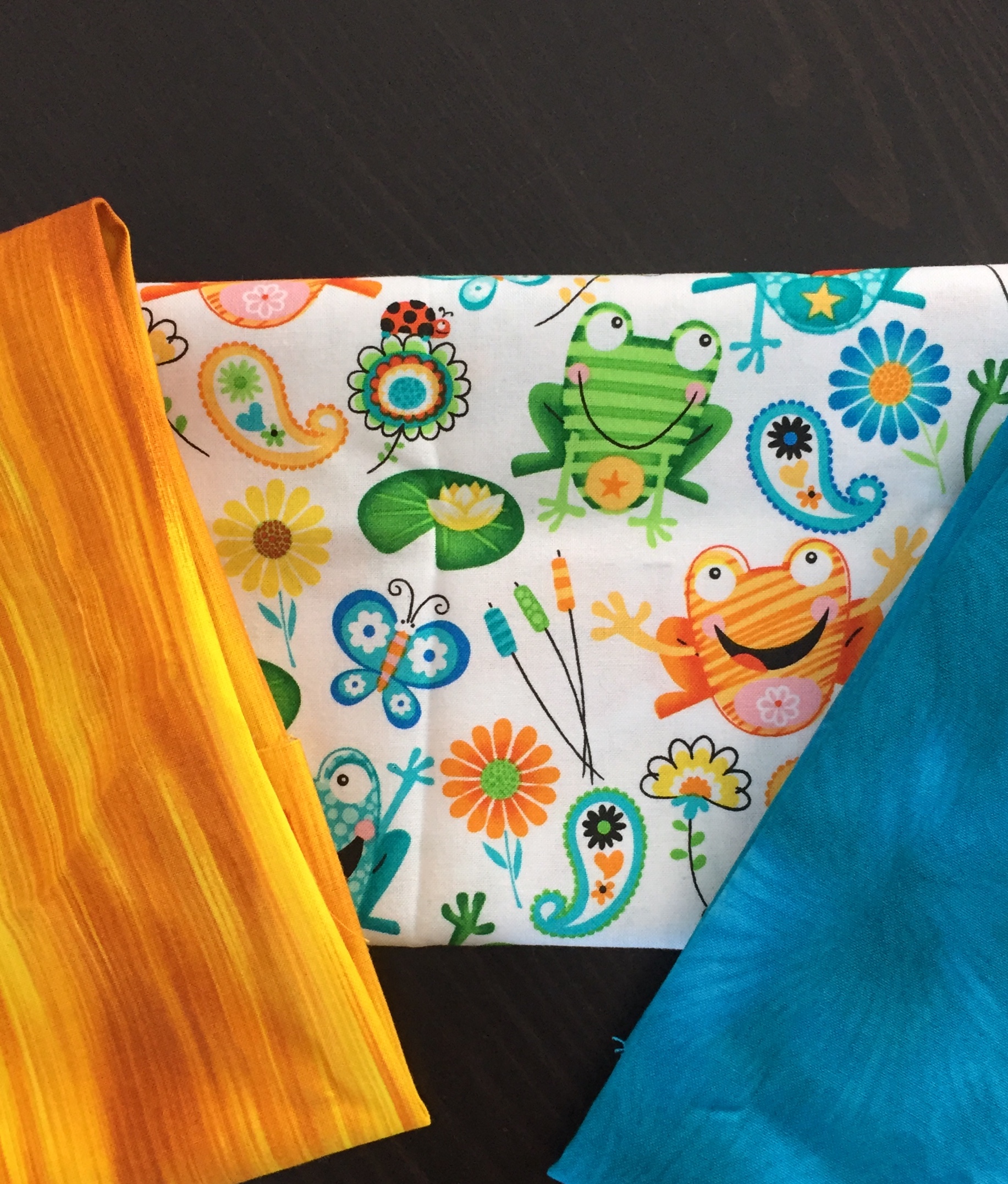 I know, this is sort of ridiculous but I have one more project.  A while ago, Sarah of Sarah Goer Quilts sent me these sweet fat quarters during a book share I hosted.  I love them and thought they might make a cute purse for H to have.   There is a tutorial here, created by Pat Bravo.  I think it will be perfect though I plan to reduce the size a bit.
What do you think?  How much of this will happen during nap time over the next three weeks?  It's anybody's guess!  But I look forward to sewing when not playing with H.  She is such a cutie pie and we have lots of plans.  There are tea parties to enjoy, the children's museum to visit, and maybe a trip or two to the library. Such is life while visiting in Vermont!