Happy Friday!  Before I get going here, I want to thank everyone for the great response to the July Blogger Bundle.  It is a beauty and I am happy to announce that Kathie L will be receiving a bundle in the mail soon.  She won the drawing for the giveaway!  Yay for happy, squishy mail – it's coming your way Kathie!
I actually do have a finish to share – not a quilt finish but something to check off the WIP list nonetheless.  I began making a pair of pants in May – Well, I actually bought the fabric over a year ago and it sat on a shelf until May.  But then Me Made May rolled around and I got excited about making some clothes.  I got these nearly done in May – they only needed to be hemmed.  It took me until mid-July to hem them.  Why??  Now it is too hot to wear pants.  Silly me.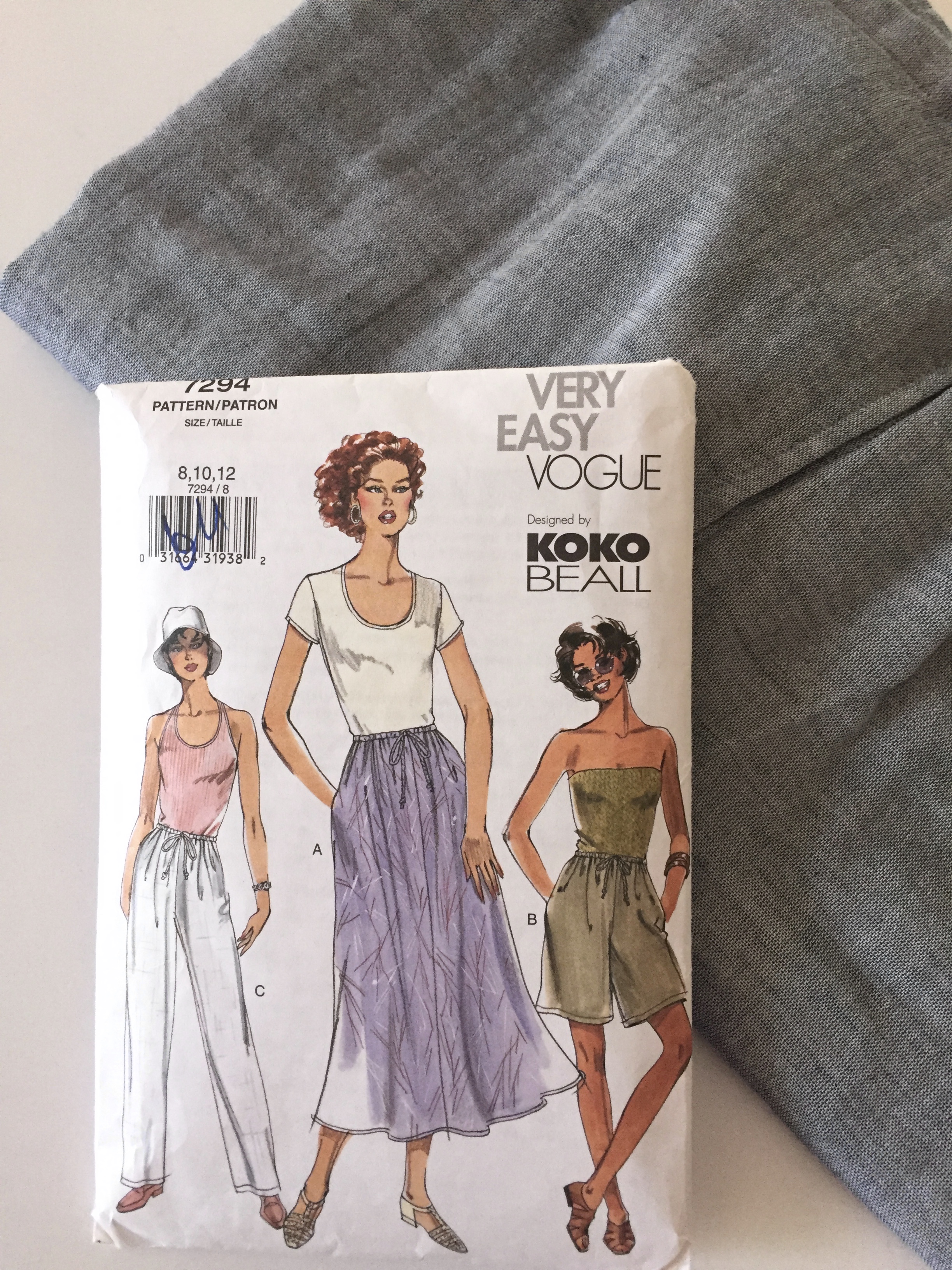 So these were a very easy make. The pattern for these was Vogue 7294.  The pattern was from 2001 and the pants had a high waisted cut.  I took a few inches out of the rise so they would hit me below the waist. There isn't a waistband – just a simple elastic waist.  I don't tuck my shirts in so this won't be an issue.
The biggest issue I ran into was the fabric I chose for the pants.  It was not a good choice at all!  It is too light weight and it frayed continually, making it a pain to sew with. I did the best I could, making sure to finish each seam with a zig zag stitch to help with the fraying.  My plan is to hand wash these (in the washing machine – my washer has a "hand wash" cycle) and hang them to dry.  I really have no idea how long they will last?  For all I know, they may disintegrate upon first wearing.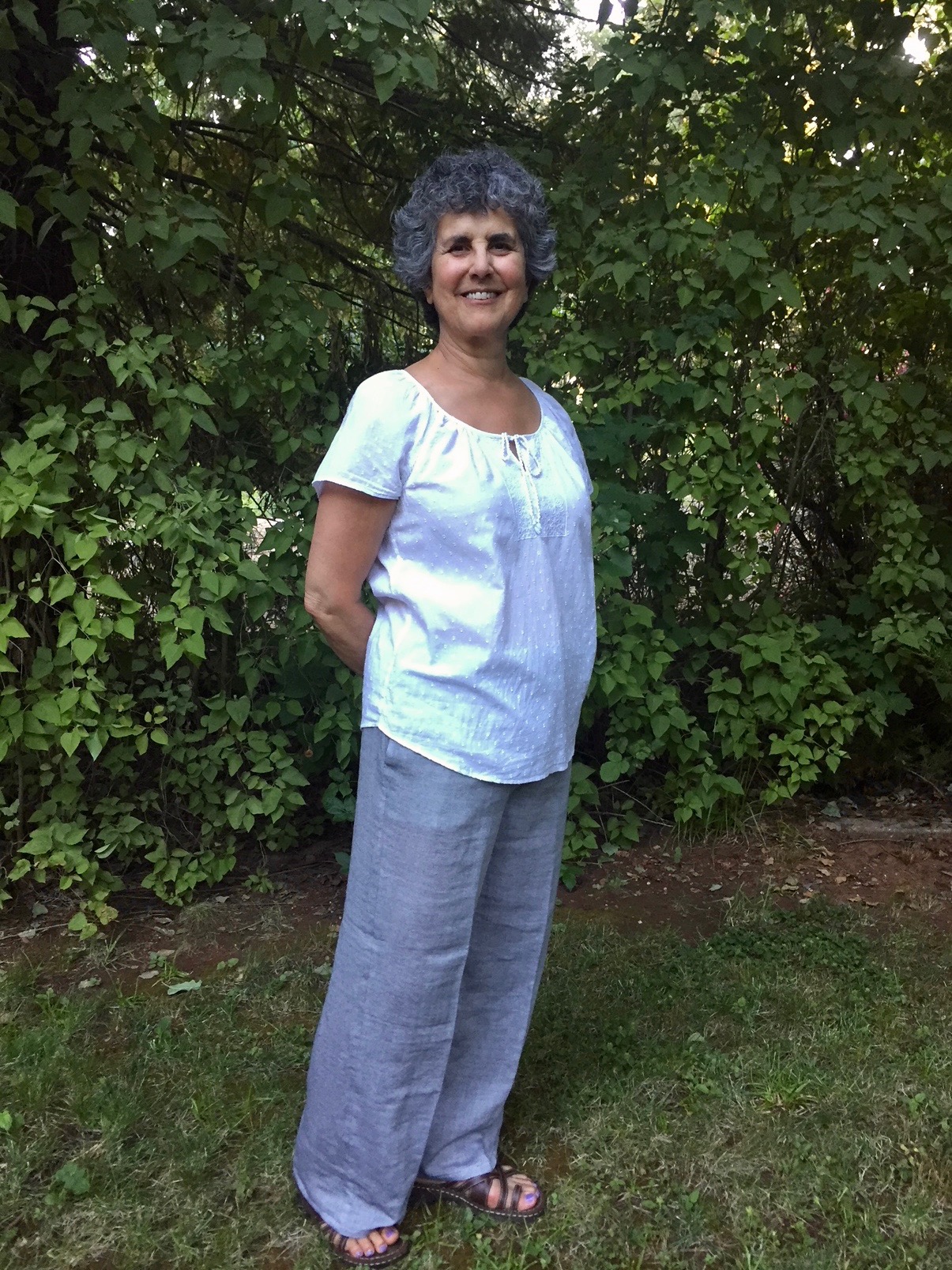 I was concerned that this lightweight material would make the pants look like pajamas.  To be honest, they do look a lot like pj's.  But I like them anyway.  They are comfortable and they have pockets in them!!  However, I am afraid to use said pockets because of the lightweight, easily frayed fabric.  Yikes, these are going to be some high maintenance pants!  😉
In closing, does anyone need a good book to read over the summer?  I just finished two and both of them were excellent.  The first one was The Spool of Blue Thread, by Anne Tyler.  I am a huge fan of Anne Tyler's.  She writes such great stories about regular people. I love how she develops her characters. The reader always comes away feeling like he really knows those people.  Great read!
The second book I read is the The Book of Unknown Americans, by Cristina Henriquez.  It iss a timely novel about several families who came to the US from various countries such as Mexico, Puerto Rico and Venezuela.  The relationships between the families, their history, and a love story between two young teens make this book hard to put down. Have you read anything good lately?  I am ready for another book.
Hope everyone has a great weekend.  We are having lunch with my in-laws on Saturday and then we will be home all day Sunday.  Supposedly it isn't supposed to be over 90 degrees this weekend so that will be a nice break from this crazy heatwave.
Linking to lots of linky parties.  See them at the top of the page, under Link Ups.
Newsletter!
Have you signed up for my newsletter?  It is published every month or so and is full of information about my shop, new arrivals, sales, and events.  Click here to sign up!
SaveSave
SaveSave
SaveSave
SaveSave